The English language has immense importance in today's life. If you enrol yourself at a top-rated college, you will see that the mode of education is English. And the same is applicable in corporate life, where seminars, presentations are carried out in English as well as competitive exams. Thus, you have to be proficient in English writing and speaking.
Related Post: Practical Ways to Motivate Yourself to Work on Your English Skills
Mentioned below are some English grammar apps that will aid you in your journey to master the language.
English Grammar Learning Apps for Competitive Exam
1. Learn English Grammar

One of the most straightforward app for grammar is Learn English Grammar. The app contains over 100 common grammar topics with reasonably simple explanations, photos, and examples, along with over 2,000 grammar questions. You certainly can't get this one through in a few days. For basic practice, particularly for those in high school or early college, it works well.
If you go by the name, you might not find it to be attractive. But, as they say, you should not judge a book by its cover. If you want to use this app, you can opt for the free version and the $2.99 version. The app is available on Google Play stores.
Price: Free
Installs:  1,000,000+
2. English Grammar Learning Free Offline Grammar Book

One of the most intriguing English learning apps is Offline Grammar Book. It is an interactive English learning app that increasingly guides users in real-world, immersive contexts through language analysis. You can use this app free of charge and offline also and is congruent with Android and Apple devices.
It also promotes peer learning, as users concentrate on constructing sentences and combining words to form a sentence together. Users are given a number of words to unscramble and form into a full sentence within a time limit to play the game, with the additional difficulty of losing time when selecting an incorrect answer.
Download From Play Store Download Apple App Store
3. Improve English: Vocabulary, Grammar, Flashcards

Improve English is a popular English learning app. Improve English: Bite-sized Word Games lessons allow you to improve your English skills, and an advanced scientific algorithm backs it. This is especially beneficial for those who are studying English as an additional language. To learn new words on the go, it's one of the best English vocabulary builder games.
You will learn grammar, spellings and phrasal verbs through this interesting word game. The free app is intended for those who have gained a basic understanding of English and want to enhance their vocabulary, reading, communication, and writing skills. The app also serves well for those preparing for competitive exams like GRE, GMAT, IELTS, TOEFL, etc.
Courses: English Vocabulary, Grammar, Idioms, Phrasal Verbs, Math tips and tricks, Ratio and Proportion, Progression, Averages, Percentages etc.
Price: Free
Installs:  1,000,000+
Download From Play Store Download Apple App Store
4. Duolingo Learn English Free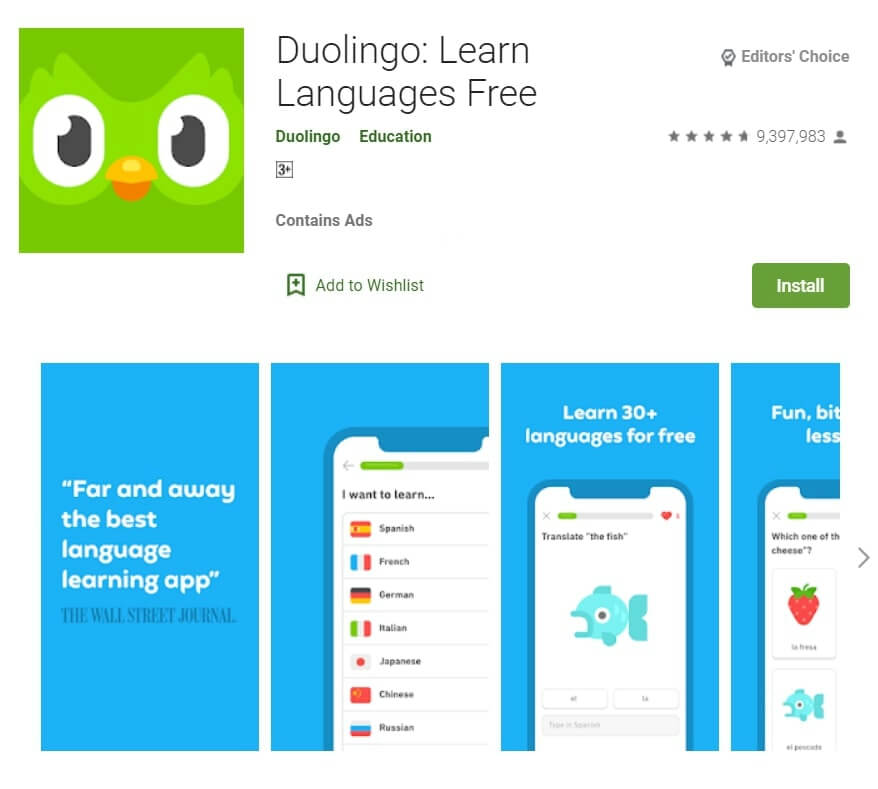 Today, Duolingo is the most popular free English learning app in the world and a highly recommended app for beginners in English. Learning with this free English learning app is enjoyable and addictive, with more than 300 million registered users. Interestingly, it can be accessed on Android, iPhone, iPad devices.
Duolingo lessons consist of a variety of tasks and are tailored to the learning style of the users. By only investing twenty minutes a day, the apps gamified learning system lets you learn English easily. To help users learn new words and vocabulary efficiently, Duolingo offers customized options. It helps you become an expert in English grammar.
Price: Free
Installs: 100,000,000+
Download From Play Store Download Apple App Store
5. Memrise: Learn Languages Free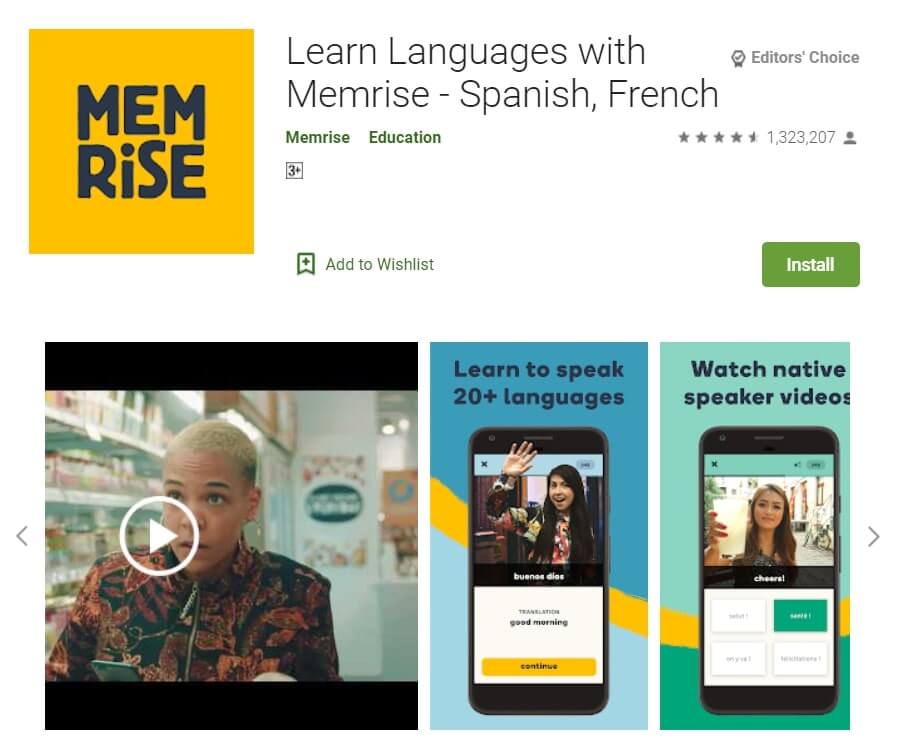 Memrise is one of the best apps for learning English that helps to kickstart your journey with some beginners' English lessons. To make this process enjoyable, simple and addictive, their intuitive language learning system plays a pivotal role. This is a great app amongst English learners that is gaining more popularity.
You can download the app easily on your Apple or Android devices. Their simple English course incorporates practical vocabulary, grammar lessons, and helpful phrases to learn English in real life immediately.
Price: Free
Installs: 10,000,000+
Download From Play Store Download Apple App Store
6. Merriam-Webster Dictionary

Dictionary apps are a sort of norm for learning English. The Merriam-Webster dictionary shows you the words' meanings, the types of words, pronunciations, and examples. Vocabulary puzzles, a voice search, a thesaurus, audio pronunciations, etc. are also included in the app. All the above features come with the free version.
When you notice any write-up written by an content writer, you will see that their content is filled with mellifluous words. However, they do not overdo it and try to keep it simple and use good sentences and transition words to maintain a smooth flow.
Price: Free
Installs: 10,000,000+
Download From Play Store Download Apple App Store
7. Oxford Grammar and Punctuation

The software clarifies over 250 rules for grammar and punctuation and explains them. For better learning, it uses simple verbiage, plenty of instances, and supplementary lessons. The free app also consists of an OCR. That means that you can look up words with your camera. The app can be accessed free of charge, and the full version costs $10.99.
If you want no advertisements, then you should opt for the full version. If you intend to become a successful English writer or a novelist someday, you should definitely use the app. You will have a good grasp of the eight parts of speech. You will know how to use adjectives, pronouns, adverbs, verbs, etc. You will also learn how to write simpler sentences.
Price: Free
Installs: 1,000,000+
Download From Play Store Download Apple App Store
8. Learn Languages: Rosetta Stone

Rosetta stone is a simple app for learning English that is designed very differently from other apps. In other words, the app teaches us English the way we would learn it, if we were kids beginning to learn the language. It has worksheets designed to help you get better as an content writer. With the help of this free app, you would also develop good speaking skills.
Rosetta stone manages to teach you many fresh words and phrases. Rosetta stone has optional tutoring sessions and a new live streaming feature, in addition to the core lessons and bonus materials. You will learn English by listening to native speakers.
Price: Free
Installs: 10,000,000+
Download From Play Store Download Apple App Store
9. Babbel – Learn Languages – Spanish, French

Babbel is one of the best English learning apps that has a heavy emphasis on lessons in vocabulary and grammar. Babbel focuses mainly on helping learners of the English language develop basic skills in conversation. Sound Recognition, Image Recognition, Spelling and Fill in the blanks are four common approaches to the app.
Similar to some other apps on the list, it is congruent with all types of platforms. Rather than the number, Babbel focuses on the quality of your learning. Babbel also uses a custom target system that allows users to set benchmarks while learning English and also to track their progress. If your purpose is to efficiently learn new words, then the app for you is Babbel.
Price: Free
Installs: 10,000,000+
Download From Play Store Download Apple App Store
10. Hello English

You can use this app on Android and Apple devices. A popular app for learning English is Hello English. Hello English, with more than 50 million learners, is one of the world's largest free spoken English learning sites. The software lets you learn English from 22 other languages and develop it.
475 interactive audio and video lessons, offline assistance, a 10,000-word dictionary, are included in the app to help you out. You can also get in touch with teachers, who offer sessions. The app also uses enjoyable methods of teaching, such as daily news, audio and video clips, and even ebooks.
Price: Free
Installs: 10,000,000+
Download From Play Store Download Apple App Store
Hopefully, you will find these English grammar related apps to be helpful. You will observe that in no time, you have improved a lot.
Some Popular English Grammar App For Android
These are the list of Android apps you can find on the google play store to download and learn English grammar for free for all competitive gov. exams like SSC, Railway, UPSC and Schools classes like 7, 8, 9, 10th Board exams. Just download any 2 apps and hard work on it.
| | | |
| --- | --- | --- |
| Apps Name | No of Downloads | Play Store Download URL |
| English for All Competitive Exams | 100,000+ | Download From Play Store |
| English for Competitive Exams | 50,000+ | Download From Play Store |
| English Grammar Book | 1,000,000+ | Download From Play Store |
| English Grammar | 1,000,000+ | Download From Play Store |
| English Grammar Complete Handbook | 1,000,000+ | Download From Play Store |
| English Grammar in Hindi | 100,000+ | Download From Play Store |
| English Grammar Master | 1,000,000+ | Download From Play Store |
| English Grammar Test | 5,000,000+ | Download From Play Store |
| English Grammar Sikhe | 1,000,000+ | Download From Play Store |
| English Listening | 100,000+ | Download From Play Store |
Related Post:  Top Mobile Apps for Competitive Exams Preparation
·        10+ Best Apps for Bank Exam Preparation
·        Best Current Affairs and GK Apps for Students
·        10 Best Apps for College Students and Freelancers