Language learning apps are a step towards the progressive future. They're already changing the habitual way people start speaking a foreign language! With the convenience of having our favorite devices right in our hands, we can certainly take advantage of the apps that use machine learning to be our personal tutor or foreign language teacher replacement. They'll help us read, remember new words, understand grammar, listen, and record the phrases that should be repeated, have conversations, the app will even cheer you on as you go!
In this piece, we'll share reasons why language learning apps deserve your attention, what they can help you learn, as well as give you a detailed overview of the top applications for learning English.
Why Apps Are Good For Learning English
Mentioning some of the reasons why having a mobile application on your device for learning a second language is a great idea:
1. Gamification
The thing that makes learning apps attractive is that they contain a big portion of entertainment. You're asked to put together sentences in word puzzles, drag and drop words with pictures, or to repeat phrases, etc. But it's not just a game! Smarter apps use recurring algorithms that help a person to memorize the words or rules that they have the most trouble with, allowing them to little by little grow their skills.
2. Accessibility
Having a mobile device grants you the opportunity to learn on the go and spend your free time more productively. Any time, any place. This is especially relevant for developers and those who have full-time jobs and who need to constantly improve their English. For instance, you can invest time in learning a language using an app as you're making your way to work on the bus or during your coffee breaks. Plus, there's no need in carrying around heavy textbooks or notepads to jot down unknown vocabulary, the app thinks all of that through.
3. Consistency
Having a learning app won't take away all of your time. In fact, a person is more likely to spend thrice as much time scrolling their Instagram than on using their language app, so why not spend time in a healthful and advantageous way?
Depending on the selected program or settings, a user can choose straight away how often they wish to use the learning app, say, no more than 20 minutes per day. Using notifications, your learning app will motivate and remind you to spend time learning the language.
4. No Age Restrictions
Anyone can do it at any age, even small kids! It all goes down to having the device to learn on and the desire to do so.
5. It's Affordable
Unlike language courses, schools, private tutors, or expensive books, language apps are very affordable solutions.
Many of them are actually free! Therefore if you wish to study a new language, not getting an app to assist you in your efforts seems even silly.
What Can Language Learning Apps Help to Learn
1. Improving Vocabulary
Expanding your vocabulary base is among the biggest perks of language apps. Words are sometimes broken down topically or grouped by the level of the user's advancement. Thus it becomes simpler to start speaking a language and memorizing more words based on the topic.
2. Practicing Grammar
Generally, the apps split grammar rules into small pieces. The material is then consolidated via the given exercise sets. Of course, practice makes perfect, therefore repetition of the previous material is also an often-used point in learning apps.
3. Listening & Video Comprehension
Small video chunks or short audios make the learning process even more fun. These tasks are aimed at understanding native speakers and to be quick on the draw to learn phrases of spoken language. Moreover, using the built-in microphone of your device, you are at times asked to repeat a phrase and record it! This will, indeed, help grasp the conversational phrases in a single flash and to become more fluent.
4. Preparing For Tests
Those who are studying for an upcoming exam or test on a foreign language can also find apps handy. Depending on the aim of the test that you are to pass, various apps can help to strengthen your skills and dedicate time to polishing up your weak points.
5. Passing Proficiency Tests
Finally, there are apps that provide the opportunity to even pass a test to prove your knowledge level. The results of some of these tests, such as the paid Duolingo English test, are widely accepted even in universities as proof of certification.
Overview of the Top 5 Applications for Learning English
Now that we've covered why learning apps are a good idea and listed a couple of things that they can help to get ahold of, let's move on to actual examples of learning apps worth considering to download.
1. Duolingo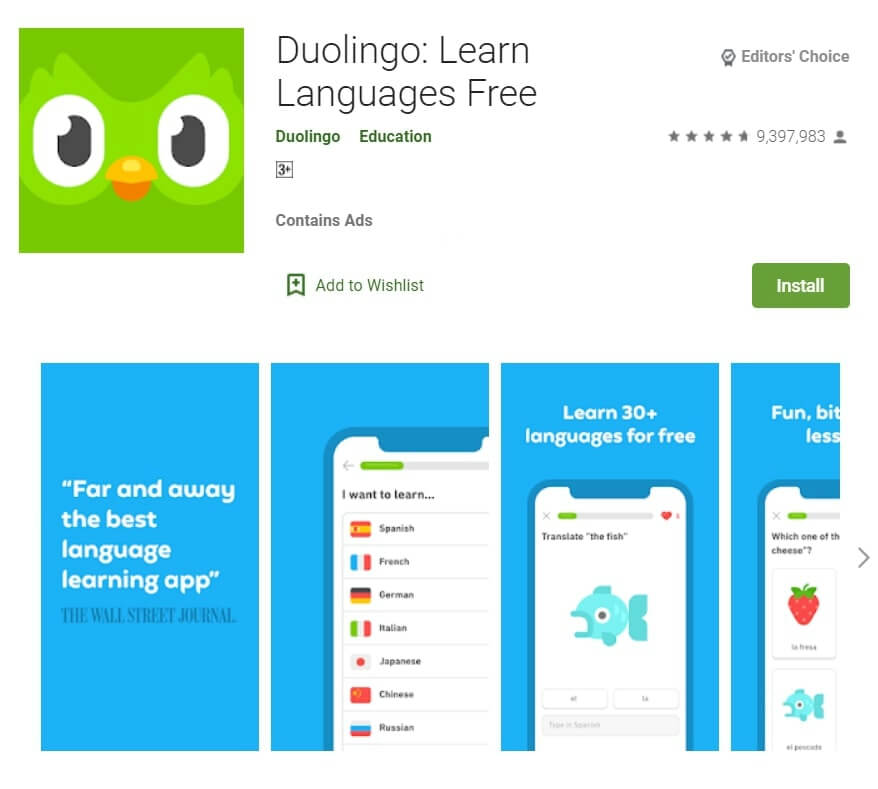 One of the most well-known applications, Duolingo, certainly deserves a spot on the list. This hyped app that's used by millions of people all around the globe is based on extensive research on linguistics and has artificial intelligence at its basics. Apart from solutions for learning English, Duolingo has programs for more than 30 languages, including Spanish, French, Portuguese, Russian, German, Chinese, Italian, and Japanese.
Duolingo provides a game-like experience for learning a language. This includes earning points for passing tasks sets and lessons correctly and losing lives if you make mistakes. The effective solution is also adaptive, meaning that those words that you've got wrong will appear more often. Among the top perks of the application to be named is the fact that the application is aimed at giving quick 5-10-minute lessons, therefore the knowledge pieces are "bite-sized". What's for the types of tasks, they're on new vocabulary, making sentences, listening, reading, and speaking.
Current rating 4.7 out of 5
Payment terms Free (yet the paid "Plus" version allows to remove ads)
Age category 3+
Suitable English level Beginners and +
Apps available on Google Play and App Store (for iOs and Android)
How it works Introductory Video on Youtube
2. Babbel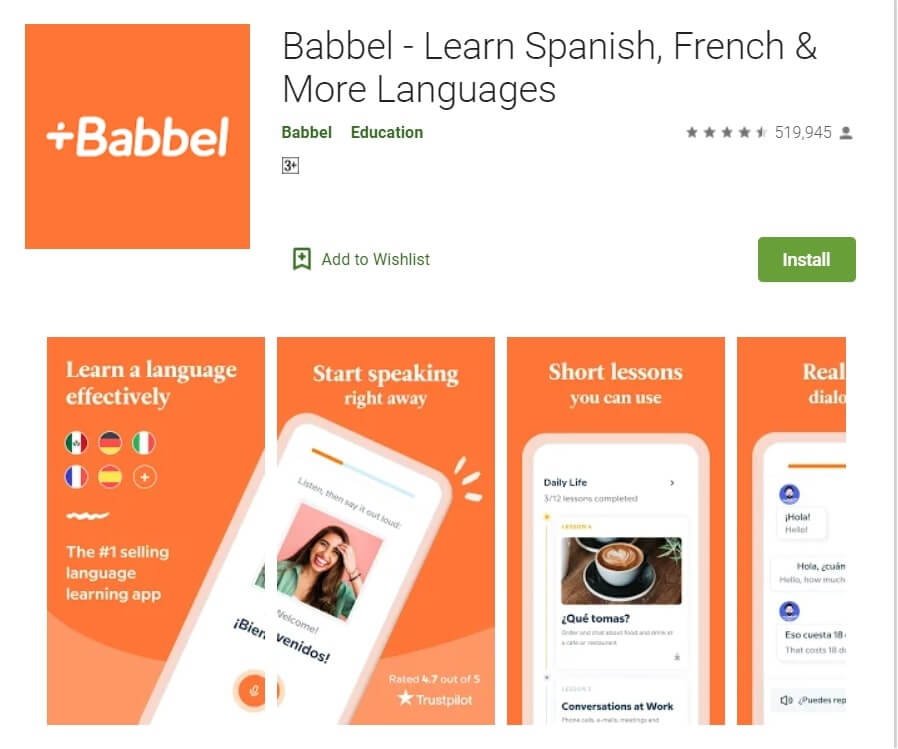 Another popular application, Babbel, offers an expert-developed framework for language learning with a special accent made on verbal communication and every-day spoken language. Importantly, the programs are developed taking into consideration the specifics of the native language of the user. As of today, there are programs for learning 14 languages with English, Spanish, Portuguese, Russian, and Swedish being among them.
The Babbel approach fractions lessons into 10 or 15 minutes and saturates each of them with as much practical language tips, phrases, and words as possible. Naming some of the unique features of Babbel, the app imitates conversations, meaning that users have to type in what they've learned in simulated dialogues.
Current rating 4.6 out of 5
Payment terms Free at the start (paid subscription plans from 6.95 USD)
Age category 3+
Suitable English level Beginners and +
Apps available on Google Play and App Store (for iOs and Android)
How it works Introductory Video on Youtube
3. FluentU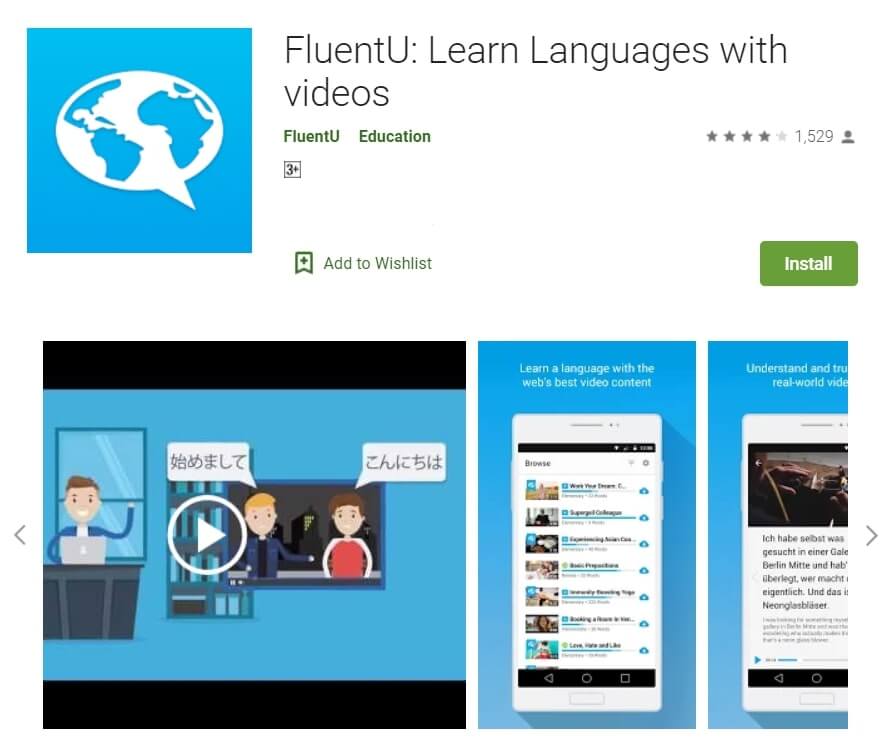 FluentU is an app that'll especially suit the tastes of those who enjoy learning a language with films, videos, clips, music videos, trailers, or songs. This interactive app does everything possible to make the process of learning fun and engaging. Some of the languages that the app offers to learn are English, Spanish, German, Japanese, Korean, and Italian.
The app segments the lessons into modes, including a Learn Mode that offers word definitions and explanations that are backed up by videos, and the game mode that turns learning into an entertaining activity. Furthermore, it tracks your progress, allows you to make your own flashcards, and gives reminders.
Current rating 4.0 out of 5
Payment terms 14-day free trial
Age category 12+
Suitable English level Beginners and +
Apps available on Google Play and App Store (for iOs and Android)
How it works Introductory Video on Youtube
4. Memrise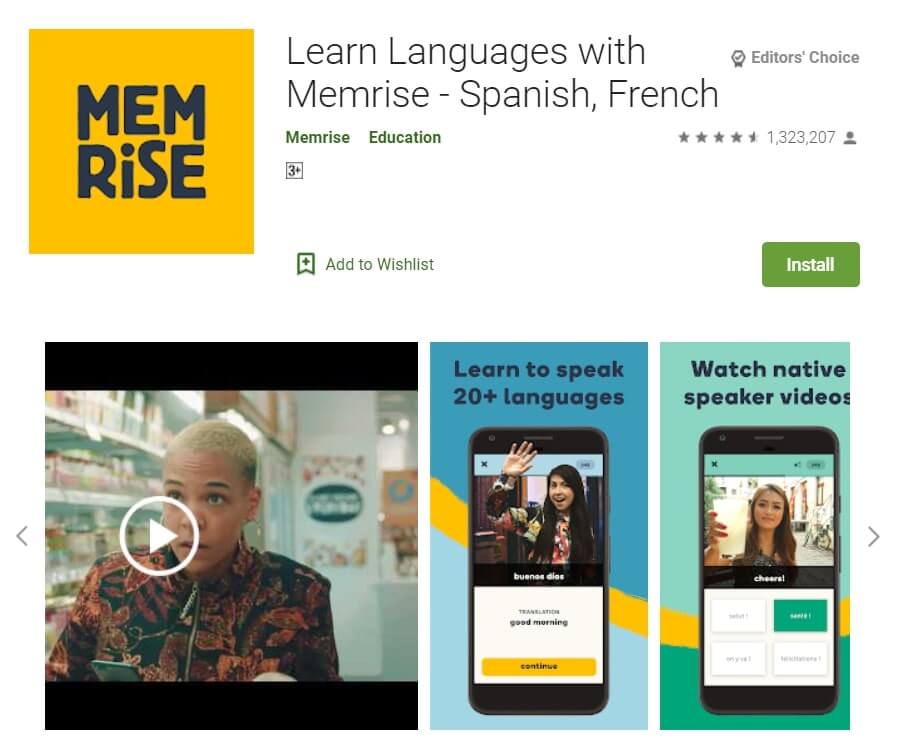 One more app on our list is called Memrise. Its main unique feature is that it shares lessons given by native speakers. It focuses a lot on phrases that are used on a daily basis so that users can pick up handy conversational words. The languages available for learning are English, Spanish (European and Mexican), French, Japanese, Korean, among others. The app also sticks to a game format and is quite fun to use.
Current rating 4.6 out of 5
Payment terms Free to start (plus several subscription plans from 8.99 USD)
Age category 3+
Suitable English level Beginners and +
Apps available on Google Play and App Store (for iOs and Android)
How it works Introductory Video on Youtube
5. Rosetta Stone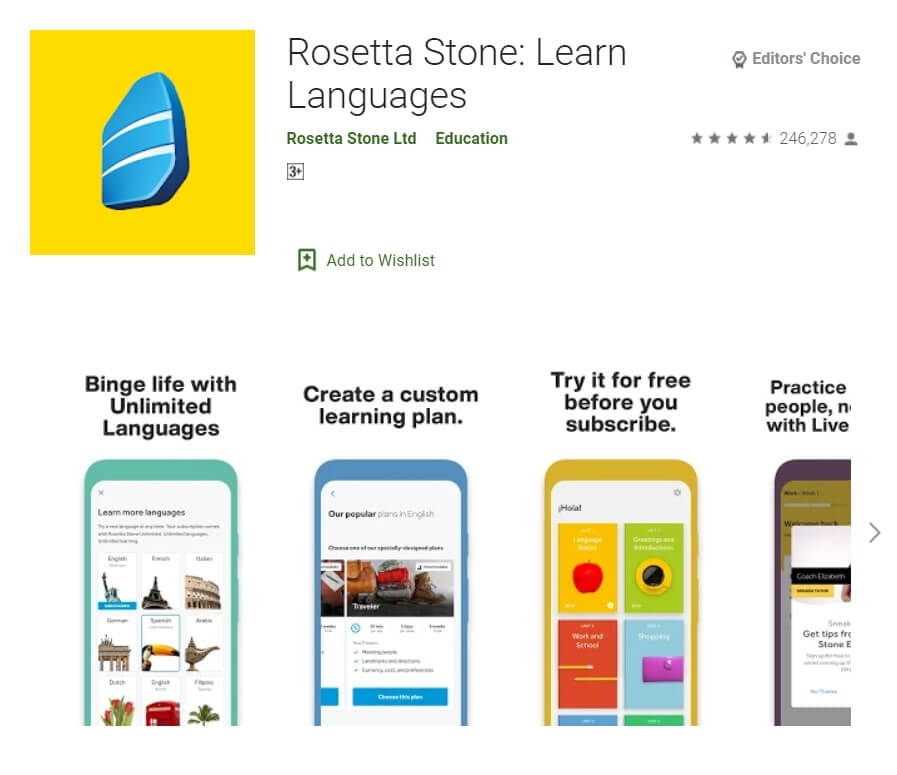 Closing the list is the renowned Rosetta Stone, an app that was developed by the company that's been in the language education sphere for several decades. The extensive list of languages to learn has 24 to select from. The app has an advanced algorithm for speech and is useful for learning a foreign language. It not only gives grammar and vocabulary basics but also helps to improve pronunciation and spoken language.
Current rating 4.6 out of 5
Payment terms Free (3 and 12-month subscriptions available)
Age category 3+
Suitable English level Beginners and +
Apps available on Google Play and App Store (for iOs and Android)
How it works Introductory Video on Youtube
Summing up, learning a new language is always a good idea, especially for travel purposes or for work. Textbooks and other old-fashioned learning methods are, without a doubt, great, so is attending courses or working with an actual teacher. Yet the apps are a great tool that can combine leisure with learning, they're accessible, affordable, and always at hand.
We really hope that you've found this piece to be useful. Do you enjoy learning apps? Do you have a personal favorite application for learning English? Feel free to share your experience!
Read More:  Top 10 English Learning Apps for Android
Practical Ways to Motivate Yourself to Work on Your English Skills