English is among the most spoken language all around the world. We all have different reasons for learning English language. Maybe you are planning to visit a foreign country, or maybe you aim at becoming an effective English speaker. The reasons for English learning can be endless. After all, it is used in many countries and required by many companies.
In the beginning, we all are fired-up and excited about this foreign language. However, there comes a time when we struggle to move ahead and feel like pouring all the efforts down the drain.
So, is your story depicts the same picture?
Well, the good news is that you are not alone – it happens with most of us. A lot of factors go into learning English and becoming an effective communicator. It is essential to make tweaks and adjustments to reap maximum benefits out of it.
You no longer need to be stuck on the language-learning plateau. It is the Time to switch things up!
Learning English Is Fun and Easy with Mobile Apps – know How!
In the technological world, it is hard to imagine a world without smartphones, as they have become a ubiquitous part of today's world. For those who find it challenging to attend classes can enhance their skills and flair in English with the help of their mobile phone.
Yes, here we've compiled a list of Android apps that can help you learn the English language from the comfort of the places at any time.
Top Best English Learning Apps For Android
 Busuu-Learn Languages – Spanish, English & More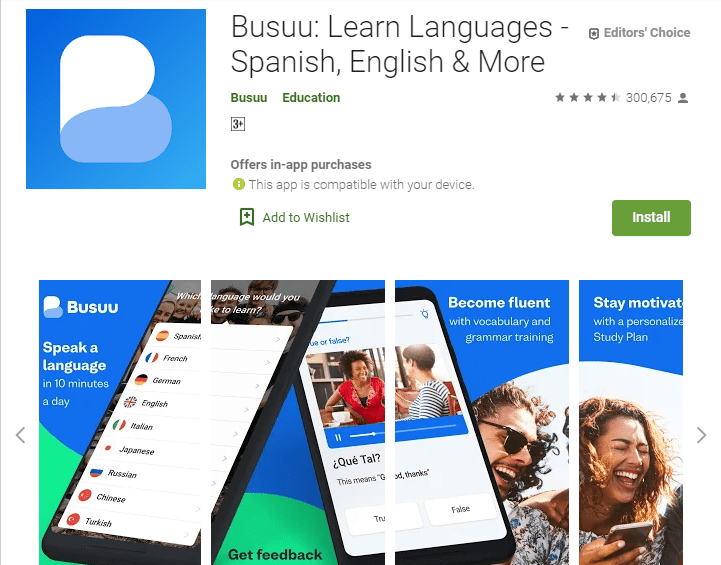 As internet technology develops, learning English has become easier than ever. Thanks to Busuu, a popular learning app, practicing English directly with native speakers is possible. This is a global application, so regardless of your country, you can get this prominent application.
The learning skills include speaking, listening, writing, and reading. Besides, the application comes with both free and paid versions. The reason why we've put this on the number one list is that around 50 million users all around the world use this application. From spelling, words, phrases, grammar, you can learn everything from the educational experts. The integrated chat allows you to know people worldwide.
Whether you are looking for a beginner, intermediate or advanced level of English, you will get everything in one place. The only thing that bothers people is the yearly subscription, which is a bit high. However, you get options to use the free version and enjoy content without any cost.
 Duolingo-The world's best way to learn a language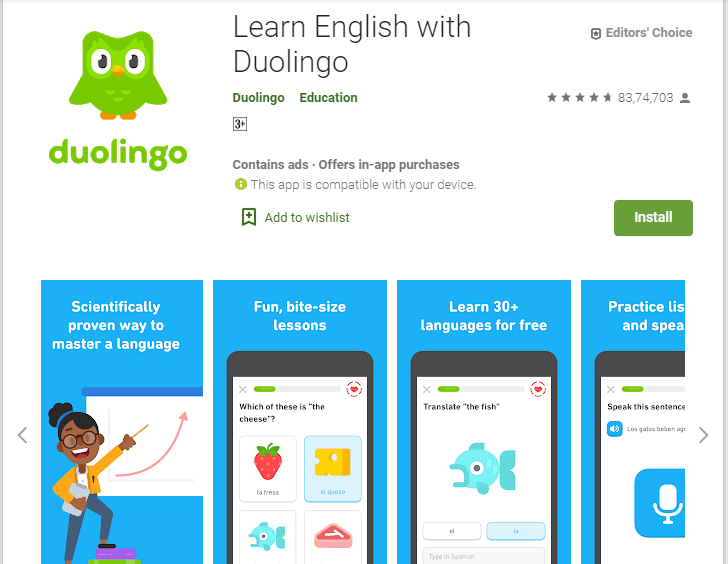 Learning a new language within a few weeks is no longer in the realms of fairy tales, but a reality. With Duolingo app, you need not struggle with learning English anymore. Unlike Busuu, it uses modern approach to help users improve their language skills.
Whether you want to learn to make phrases, sentences and use verbs, the application helps you make it happen with the help of interactive games. Since the app allows users to learn 23 various languages, you will have to select the English language to get started.
Speaking, vocabulary and writing lessons are also available to improve the language. You will get options whether you want to start from scratch or improve. As you progress, the app provides material accordingly. If you want to get rid of unwanted ads, get the premium version of this application.
 Hello English-Learn English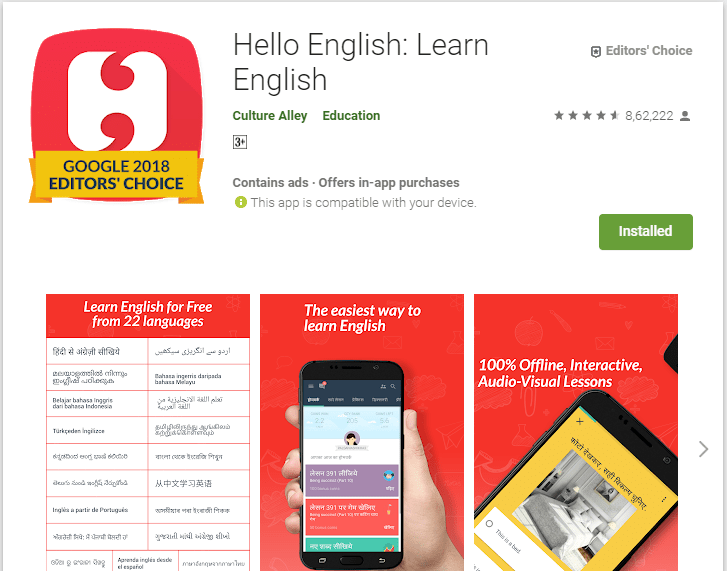 The application is among the top three English learning Android apps because it covers all the aspects of English learning, such as grammar, spelling, vocabulary, translation, and so on. Some fantastic features of this application that make it stand out from others include a 10,000-word dictionary, 475 lessons, offline support, and a teacher to help you in this learning journey.
Another reason many people prefer it is because of the fun teaching methods such as video, audio, and eBooks. Also, the subscription is quite reasonable, so you get good bang for your bucks. Getting yearly subscription, you save a good amount of money.
The only downside of this application is that you do not get any option to learn the preferred language from scrap. It means that you ought to be able to understand the alphabet and the basic structure of the desired language.
NOTE: Apart from providing eminent services to the users, these top ten apps keep their digital marketing process game top-notch, and hence they come among the top English learning apps. If you, too, want to see your app among the top list, consider using digital marketing and grow your popularity worldwide.
 Memrise-Learn a language. Meet the world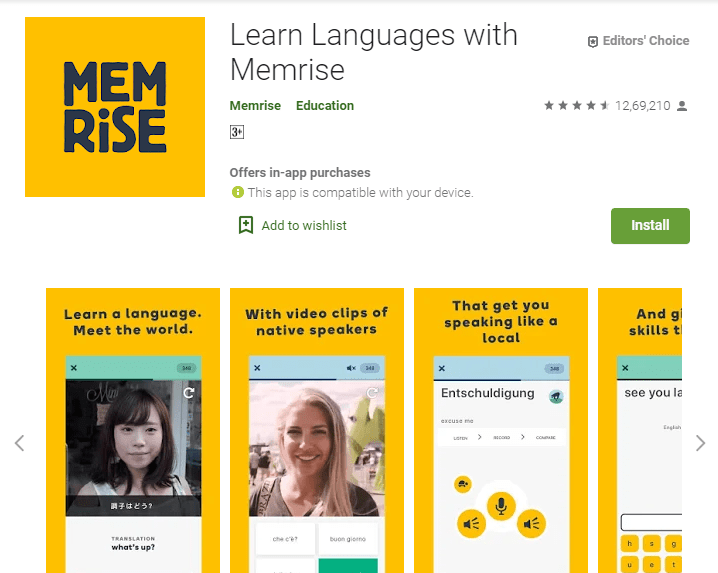 Practice your speaking, writing, and reading skills with Memrise. The demand for this powerful application is soaring high due to the variety of languages that the app supports. The app helps you learn English language through various teaching methods, including gamified grammar lessons, conversational English, basic vocabulary, and a lot more. The offline support of the app is also amazing.
The crowd-sourced learning app covers around 30,000 easy-to-understand English learning videos along with interactive chatbots. Using this app, you remember words easily because they are taught creatively.
Though the app is a bit expensive as compared to others, it provides excellent value for your money. So, the app has a bagful of content to keep you engaged for many hours.
 Lingbe-Free language practice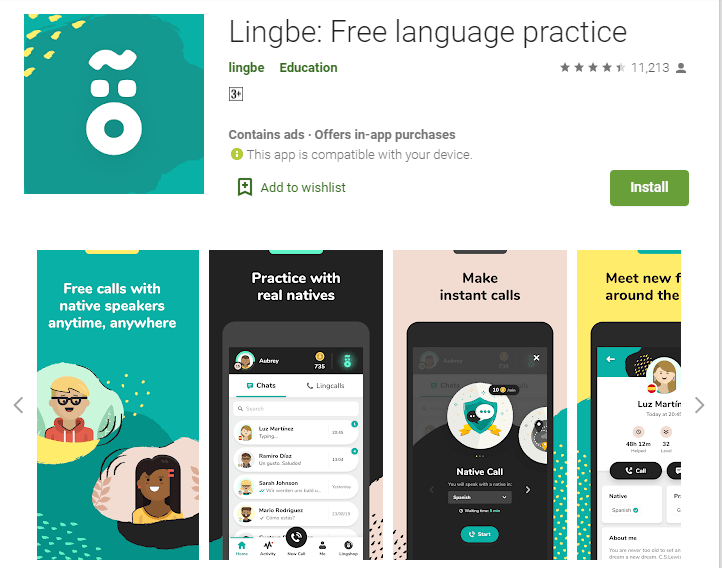 It is of the most talked-about apps worldwide it helps you practice your comm. Skills in the real world. The community-based application lets people connect and share common language.
The app is designed keeping all the modern learning requirements in mind. You will be required to select two languages – native language and the language you desire to learn. It works through language exchange system where you get talking minutes after talking with a native user.
It is a free application where are you are both a learner and a teacher. It is also a great way to make friends online. User-interface of this application is simple, which makes it stand out from the rest applications.
 Drops: Language learning – learn 35 languages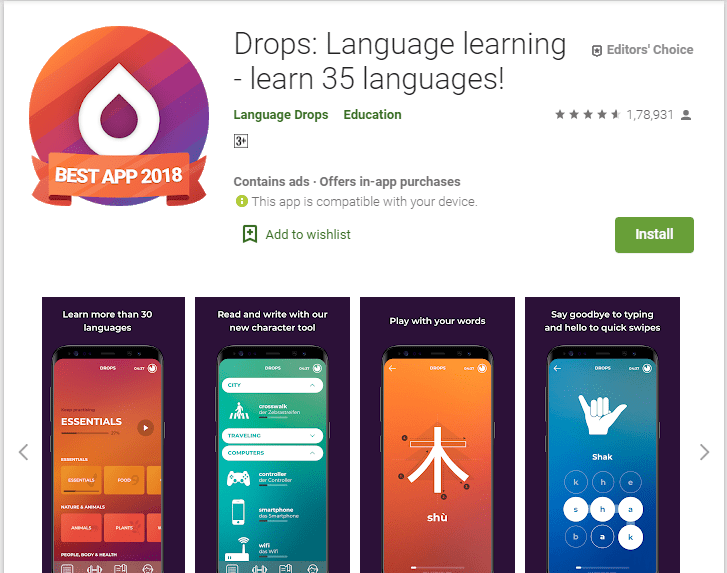 For many people, English is the hardest language to learn because of the confusion between American and British English. Using an aggressive vocabulary method, the app has gained massive goodwill in the market.
Drops allow you to choose among the learning apps – British English and American English. The application doesn't go deep into the English subject and skip the grammar because the objective is to teach conversational English.
This way you do not put effort learning grammar rules but automatically learns everything through conversation. Games and offline support are added advantages you will be benefited from while learning language. The app is ideal for those who have time constraints learning tiring grammar rules and vocabulary.
 HelloTalk-Learn Languages for Free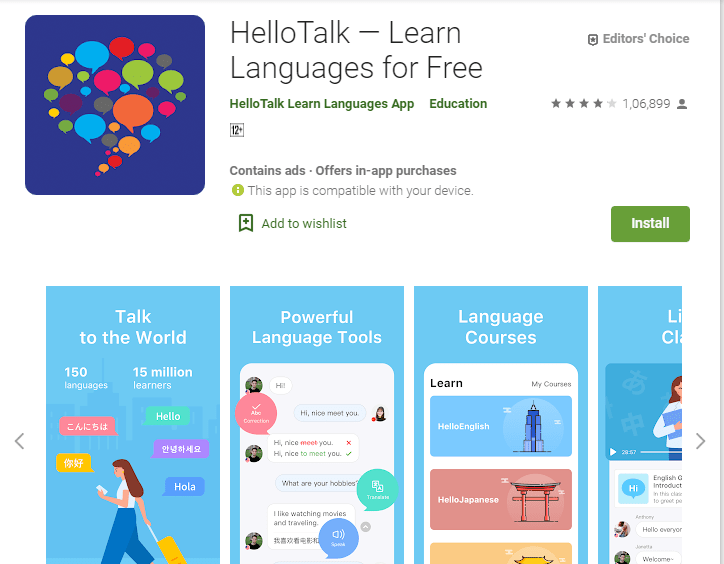 Similar to Lingbe, the app allows you to learn English by connecting with native speakers. Once you are paired up with other users, you learn their language and teach your language in return. The app creates a win-win situation for all the users interested in learning or teaching a language.
From grammar, vocabulary, and conversational English, you can learn everything with the help of this eminent application. You can do video calls with people around the world and choose the method of communication – texting, audio messages, or picture messages. The app is globally popular because it supports around 100 different languages.
 Learn English Phrases-| English Translator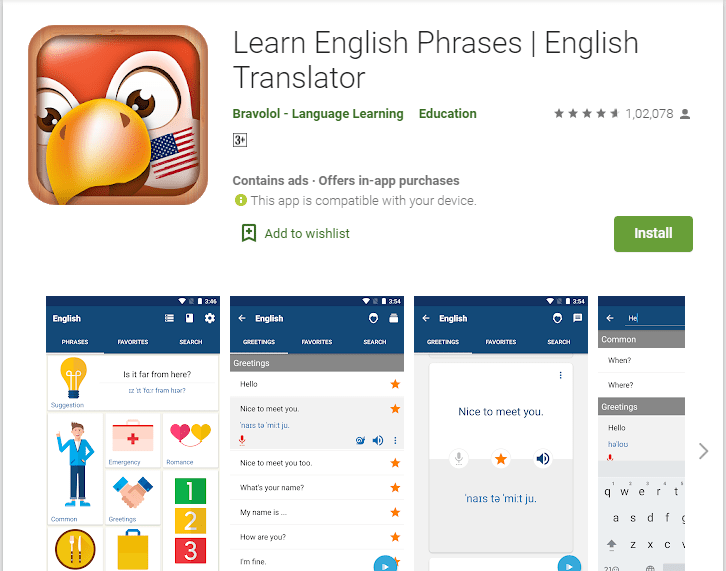 In today's rapidly growing world, fluency in English has become the need of the hour. Learn English Phrases is an excellent application for learning English fast. The app contains a plethora of phrases and words. Also, learners are benefited from British and American pronunciations.
The tone is an essential factor when it comes to communication. The app lets you record your voice and listen to it so that you get to know how you sound. Though it works best as a study aid, many people love this learning app and use it on daily basis. When combining with other apps such as Busuu or Duolingo, it helps you read the maximum benefits.
 Google Translator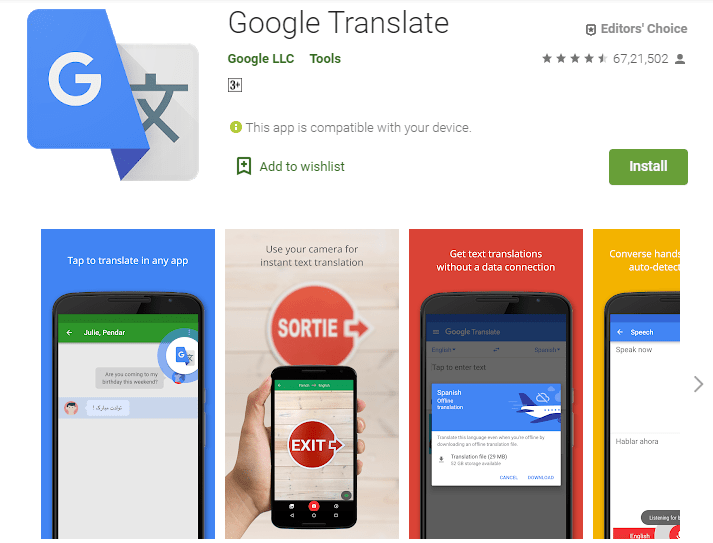 The free to download application is known for its three features – text-to-text translation, 103 online languages, and translating speaking in real-time. As the name suggests, this app is from the search engine Google. So, you can rely on it just like you rely on your best buddy.
Features such as handwriting, word lens, and conversation mode make it unique and highly efficient. The only downside of the app is when you translate long phrases, it doesn't provide effective results.
 Johny Grammar Word Challenge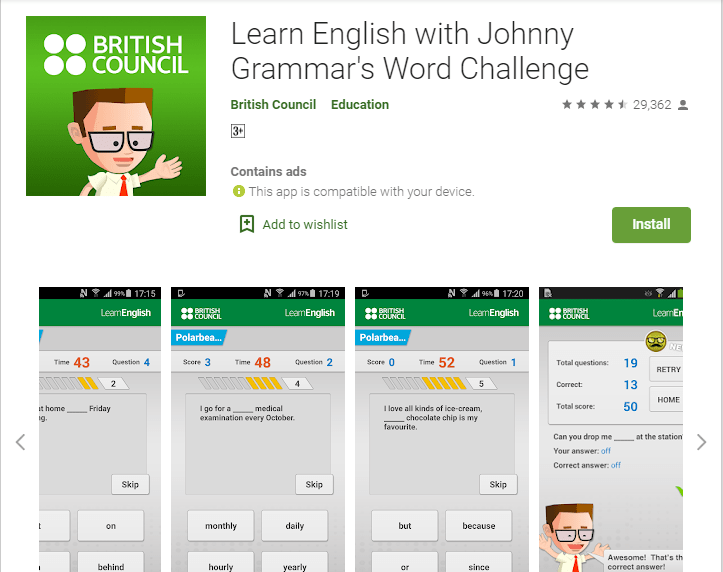 Developed by the British Council, this application has three difficulty levels – Beginner, Intermediate, and Expert. You can choose the desired category as per your needs such as grammar, words, or spelling. As you progress, you earn badges, which you can share with other users.
If you interesting in a specific topic such as travel or food, you can do it as well. If you desire to compete with other learners on a global leader board, the applets you enjoy this benefit as well. Besides, you also get feedback for each wrong answer.
A Take Home Message
English language isn't just an added skill but has become a necessity in this highly competitive world. Being fluent in English is a journey that takes consistent efforts to reach the goal. There you have it! Considering the above English learning app for Android, you are ahead of the game. Hope you liked best English learning app.
Here are a few more articles that will help you become a better.
·        Top 5+ Android Gaming Apps for Brainstorming
·        Top Mobile Apps for Competitive Exams Preparation
·        5 Best Free Android Apps For Book Lovers
·        10+ Best Apps for Bank Exam Preparation
·        Best Current Affairs and GK Apps for Students
·        10 Best Apps for College Students and Freelancers