It said that the brain is wider than the sky and it has no limits, it also said that the brain is the most outstanding organ, it works 24/7, 365 days, and people are always looking for growth of their brains. In ancient times people were using riddles or outdoor games, in midge people were using books and chess and other kinds of indoor games so that their children's minds can develop.
Nowadays people taking the help of brain games apps to brainstorm. Brainstorming games are available everywhere for phones and tablets and most of the people are using it daily, hence they are getting better results also. These games include different themes and niches, as we will explain in the next few sentences.
You can get lots of things from brain games like strong memory, focus, great observation power, and energy.
In addition, lots of people downloaded and play cards and Indian games. It has been proven that games and card games help with the brain functionality and help to stimulate the cells that relate to memory, focus and other functions. Although here we aren't covering any of these games this time, we definitely will do it on a later stage. These games also bring a lot of fun and action to the participants. Many of the games exist for hundreds or even thousands of years until today, which only proves that this kind of games is connected with the human's nature to stimulate their brains. Now, there are plenty of brainstorm apps also available for both android and iOS platforms. I love these games and tried a lot of them, and they are good for mind growth which is why I am listing the best brainstorm apps as per my opinion. Almost all the apps have levels from beginner to expert, however, the level can be unlocked by completing the current riddle. Have a look:
Here we are going to list the top 5 brainstorming android games you can play daily that will help you to grow your mind.
Best Apps for Brainstorming
1. Skillz – Logic Brain Games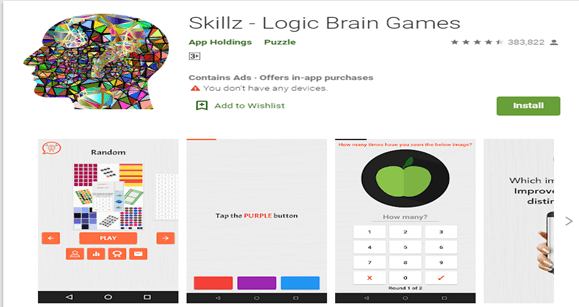 Skillz – Logic Brain is the best fun game for the development of memory Power, it also helps in brain muscle exercise. You can test your brain at any time with this app. It also helps in distinguishing between colors. You can play with your friends or with random players. It is packed with different kinds of tests that improve your skills and abilities. Here is how –
• Improve your memory
• Train your reflexes
• Increase your accuracy
• Prove your touch ability
• Increase your speed
• Learn color coordination
It has 10M+ Installs.
2. Logic Master 1 – Mind Twist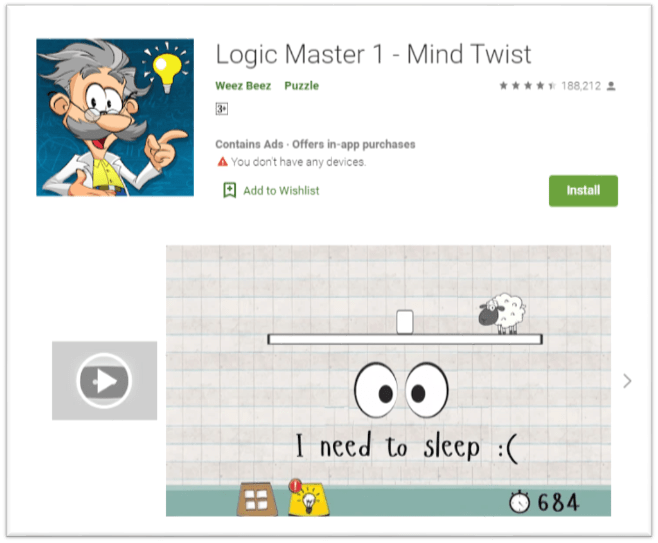 It's another crazy game with tricky questions that need a sharp mind and a positive approach to play. It has logic development questions you have ever seen. Solving more than 200 unusual problems & funny question you can become a mastermind. This crazy game is an ingenious puzzle with a series of funny brain teasers and absurd solutions that you will never think before.
Key features of the Logic Master 1 – Mind Twist app.
• You can track your performance
• You can play offline too.
• It supports multiple languages.
• It has 200 puzzles.
• It will improve your memory, concentration, and mindfulness.
• Fun music and sound effects
• One finger touch or drag controls
• It's a single and multiplayer app
It has 10M+ Installs.
3. Brain It On! – Physics Puzzles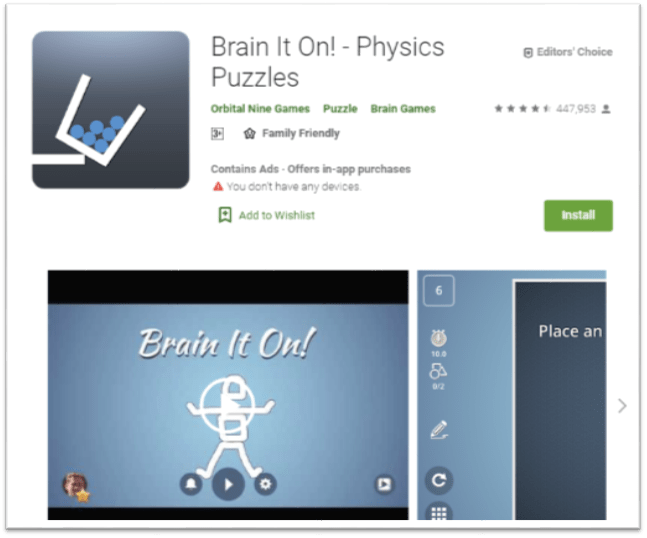 Fun, challenging, and can be played without data, it's a physics puzzle app where you can draw different images to solve the problem. It will boost your mind even though you can play with friends also and compare your score with them. App has different levels and passing with each level coming with mind puzzling questions and fun activities. The games start simple and get more complex and you learn as you go along. Some puzzles appear impossible, but all can be done. I hope you enjoy Brain It On!
Key features of Brain It On! – Physics Puzzles
• Addictive mind games
• Good physics, really makes you think
• Free of cost
• Dozens of games
• Will boost your memory power
• Increase your physics knowledge
It has 10M+ Installs.
4. Smart Puzzles Collection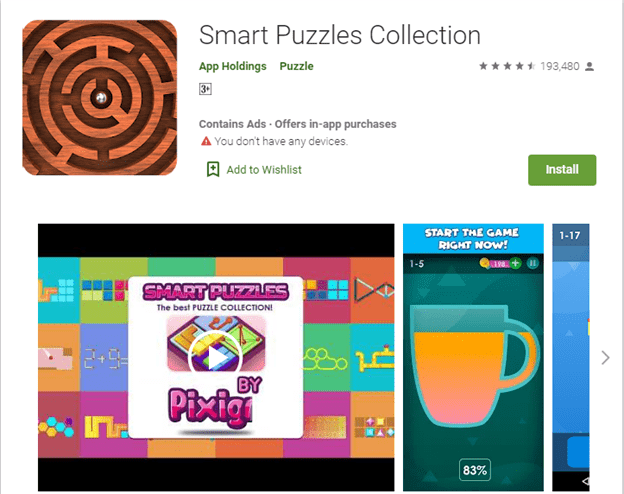 Smart Puzzles Collection is a very colorful Fun game app. It has dozens of games inside one game. It is suitable for those who like brain games, brain training or logic games. Their games include Block Puzzle, Hex Puzzle, Pipe games, Symmetry, One-line puzzle game, Path, Puzzles with matches and Crystals. Lots of fun and practice to figure things out. Apps Keeps the mind thinking when you playing, things that might take figuring out. Smart Puzzles Collection app is well worth a download. You won't be disappointed!
Features of Smart Puzzles Collection App
• It will work offline also.
• Great game to play with one hand.
• It takes very low phone memory, so you can install on low memory phones.
• IT has 5000 levels and games with different blocks, shapes, and form
• It contains memory booster & logic games.
• Smart puzzles are suitable for both children's and adults
It has 10M+ Installs.
5. Roll the Ball – Slide Puzzle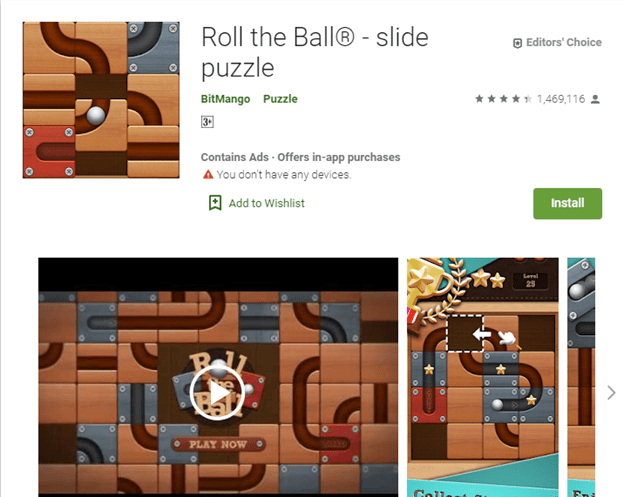 Roll the Ball is an old type puzzle with tricks. It's a brainstorming addictive game over 3,000 challenging LEVELS to solve. Very fun and lasts long! It's difficult but not as much to make it impossible, there are a ton of levels and the sound effects are pretty good too. And if you don't want to see the ads just turn off the Wi-Fi or data, you can play without it!
Key features of Roll the Ball
• Tons of Levels.
• Multiple players
• Play Offline too.
• Free
• Games hints are available
• No penalties & time limits
It has 10M+ Installs.
Honorable Mentions