Keep in Mind: Anything which is online can be hackable.
Are you one of these people who are using the Telegram app for personal messaging? But after reading the security-related issues of Telegram, you want to delete your telegram account.
In 2013 the Telegram messaging app was introduced. If you see the telegram's settings, you will clearly see that the app does not encrypt the sender and receiver messages. This is the primary reason for the massage insecurity of the Telegram apps.
Permanently deleting the accounts does not make your whole data history fully deleted as the data is not encrypted from both ends and the telegram server is storing the data, and you can retrieve the data history very easily.
Since 2017 there are many security-related issues found in the telegram. Many times, the hackers are trying to break the system, and they succeeded. The end-to-end encryption is an essential system for maintaining the app's data security.
Encrypting the message is the first step to maintain the data history. Now the hacking is also becoming very easy without targeting the phone. Even the hackers can hack sms without a target phone.
How to Delete Telegram Account Permanently(2 Methods)
The telegram account is not a very simple work. The data are stored in the telegram server, making the data deletion without leaving any trace of the previous record is becoming challenging.
Here is the process which lets you delete your account details without keeping any trace of the data. And if you again reinstall the app, the data revoking is not possible.
Step by Step Process of Deleting the Telegram Account(2021)
Method 1. Adjust the Account Self-Destruction Settings (Schedule Deletion)
The self-destruction method is one of the most popular security features of Telegram. Self-destruction is the option that you can reset as per your choice. The default setting of self-destruction is giving you the option to delete your account when almost six months, your account is not active.
This is a default option, but other than these, you can reset the timing as per your choice. You can reset the timing in short and a longer period of time.
Step1: You have to first enter in your telegram accounts settings (Left top 3 horizontal bars).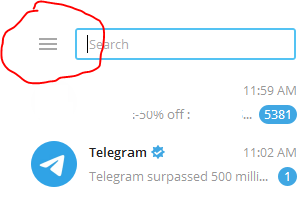 Step2: Then click on the Setting Option.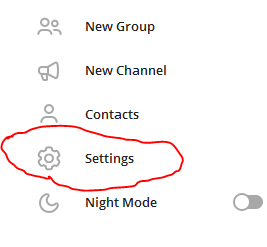 Step3: Then click on the privacy and security options of the settings.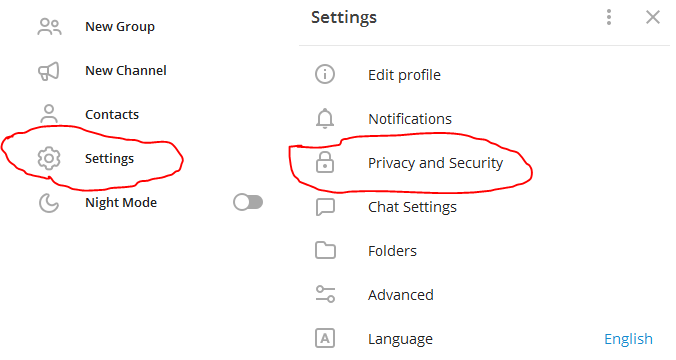 Step4: From the privacy and security section scroll to mid or bottom side, you will get the delete my account option, click on that and get account self-destruction options. By default it shows 6 month of inactivity account will delete.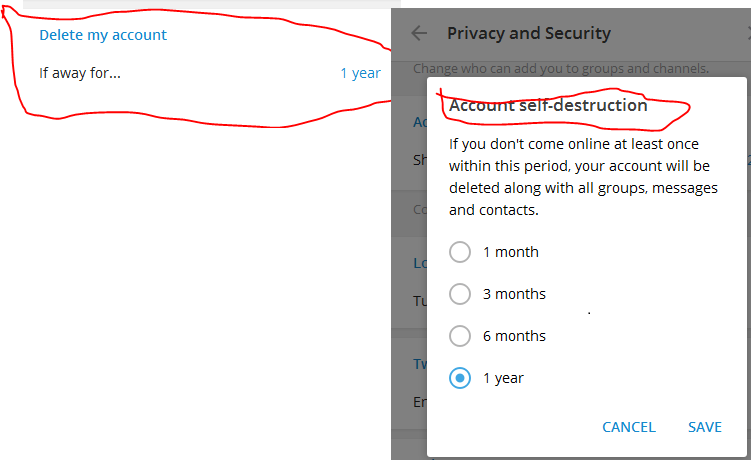 Step5: Here you will get four choices of timers one month, three months, six months, and 1 one year. From these four options, you have to choose only one.
Step6: After choosing one option, if you do not use your account for that time period, your telegram account will be automatically deleted from your phone.
Method 2. Manually Deleting the Account
The self-destruction method is taking time to delete the account. It will take at least your setup timing, but if you want to delete your account immediately, you must follow the manual steps of deleting the account.
Step1: There are no deactivation options you can see in the mobile apps(Android & Ios), so you have to visit the deactivation page of Telegram website here https://telegram.org/deactivate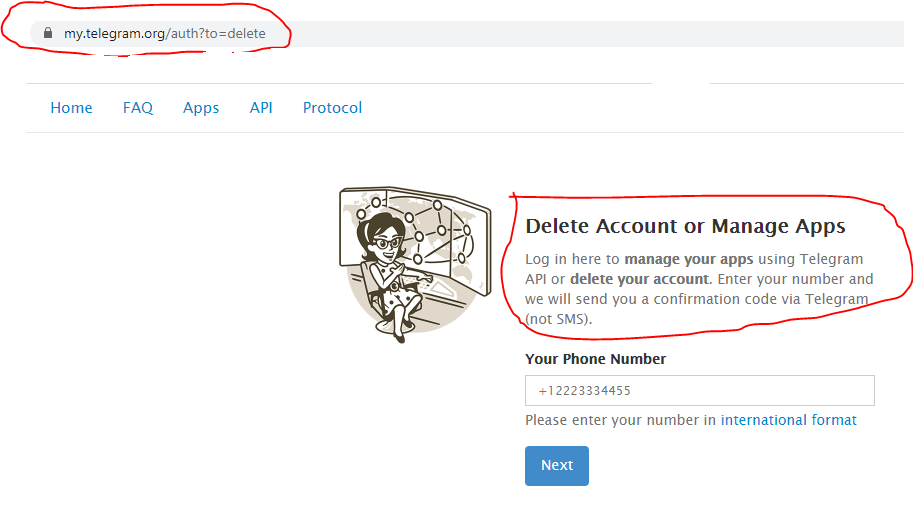 Step2: In your deactivation page, you have to give your telegram app register phone number. After that, click the next option. One time confirmation code will come to your mobile to verify you.
We recommend using a non-mobile browser for this process.
Note that you'll receive the code via Telegram, not SMS.
Step3: In the next page, there are two empty fields at the one field, you have to give your contact no, and in the other area, you have to give the reason behind the action of leaving.
Step4: After fill-up the form, you have to click on the done option.
Step5: After filling up the form, you will get a notification of deleting the account or giving it a second try.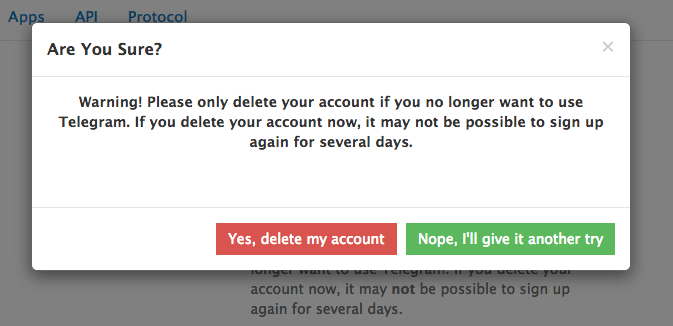 Step6: If you want to delete your account immediately, then click on the yes delete my account option.
This is an immediately effective method of deleting the account.
3. Export (Backup)the Telegram Data
You may delete your telegram account because you feel insecure about the data security of the telegram. But if you want to take the backups from your telegram account, then that is also possible.
Step 1: You have to install the telegram desktop latest version.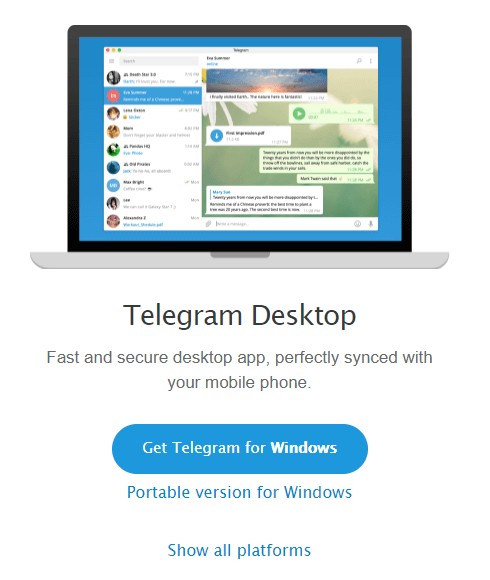 Step 2: From this application, you have to click the setting of the desktop.
Step3: Go to advanced option and There you will get the option of exporting the data options.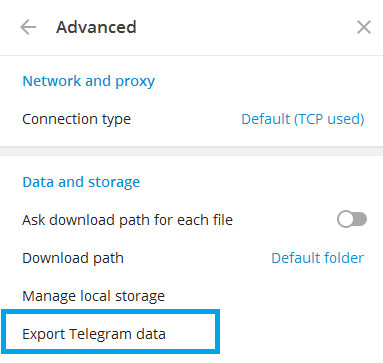 Step4: You will get the option of exporting the chat history, Account Info, Contact List, Groups, Media.
Also you can Increase/Decrease the download file size limit according to your need.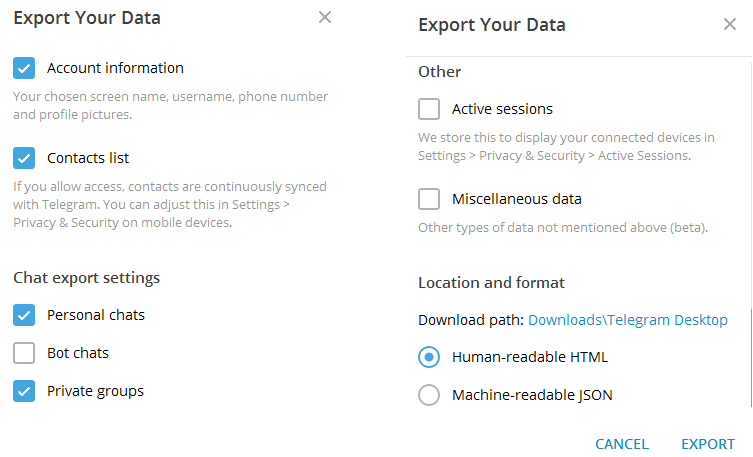 Step5: Now you can download the data history in the HTML, JSON format, and you can view your data offline.
The Bottom line
Data security is now becoming the most important and crucial factor for the users of the telegram. But in 2021, every time, the data can be hacked by hackers. Not only telegram there are many more secure apps that are present on the internet. Hackers can easily crack down their system and can take away their data. For keeping your data secure, there are no alternatives rather than the authentic use of the VPN. And if you are in the digital marketing field, then these data can cost you a very big amount of money.
Suppose you are getting flowers from social 10x, and you are investing money for getting the preference. If hackers can crack your android phone, then they can easily direct your followers to your other competitive sites. These all activities can be handled with an authentic and legal VPN.
FAQs About How to Delete Telegram Account
Q.

How do I delete my account permanently?
Ans. Visit above and follow the method 2 for Instant account deletion or Visit telegarm and do the needfull process.
Q.

What happens if I delete my Telegram account?
Ans.Your all data will be erased from telegram systems, You will never get it.
Q.

How to get my Telegram account after deleting it?
Ans. You can't get your account once deleted, Make a new with same number.
Q.

How to use Telegram on PC ?
Ans. You have 2 options. Visit Telegram web like whatapp web and Sign in.
In Option 2 you have to download Telegarm desktop version, then Install and Use it.
Q.

Devices where I can use Telegram
Ans. You can use Telegram on smartphones(Apps), tablets, and even computers(desktop app & Telegram Web).
Q.

How Many devices I can login at a Time in Telegram
Ans.You can log in to Telegram from as many of your devices as you like — all at the same time.
Q.

How to join Telegram channel?
Ans. Search the channels or type of channels you want like technology, you can click and join channel.
Q.

How can I delete my Telegram account from iPhone?
Ans. Go to setting >privacy & security> Delete Account> Select month
Q.

How to logout from Telegram web?
Ans. Click on top left bar, go to setting & logout.
Q.

My Telegram account got deleted automatically?
Ans.Telegram automatically deletes your account if you don't use your account for 6 months. You can change the duration in app setting.
Q.

How do I delete my username?
Ans. Go to settings and save an empty username.
Q.

My phone was stolen, what do I do to use telegram.
Ans. First try to get same number from operator,  and use it, or Get new number. Don't forget to terminate your Telegram session on the old device by going to settings > Devices (or Privacy & Security > Active Session.
Q.

How to delete contacts on Android
Ans. open a chat with the person, tap on their profile photo in the top area of the chat screen, then tap on '…' in the top right corner > 'Delete'.
Q.

How to delete Telegram messages(Chat, Group, Channels)
Ans. Tap the Message and you will get the option to delete it
Q.

Telegram app is from which country
Ans. Origin is Russia due to local IT regulation moved to later moved to Germany, now working from Dubai. Headquarters UK, Telegram was launched in 2013 by brothers Nikolai and Pavel Durov in Russia.
Read: Top 10 Video and Voice Call Apps for Android & IOS