As evident as the fact is it is also certainly true that the best representation of any business is made by the software it uses. Making it a daunting task since there are a vast number of tools available making it extremely difficult to search for the precise application that will best adapt to your business functions. Being specifically true in the case of a mobile app selection. As most applications are innately tied to a desktop software which is a process that has to be taken into consideration and can't be ignored, unfortunately. Though yes there are numerous business mobile apps in the market that contribute to the various business operations.
With the current and competitive market perspective that a business operates 24hrs 7days a week (24/7) which is circulating around. Now to acquire such definitely it does require the assistance of advance and modern tools to create the best outreach of the businesses. Since the desktop functions are only limited from 9 to 5 during the weekdays in an office which is not enough to compete with such a mindset. Which means that the implication needs to be treated accordingly and the best way to do such is via the adaption of mobile apps. Business mobile apps most certainly allow an entity to operate in producing positive outcomes that help in taking on such a mentality.
This listing has been composed to help businesses select from some of the Best Business Android Apps that are popularity available.
1- Quickbooks – Invoices & Expenses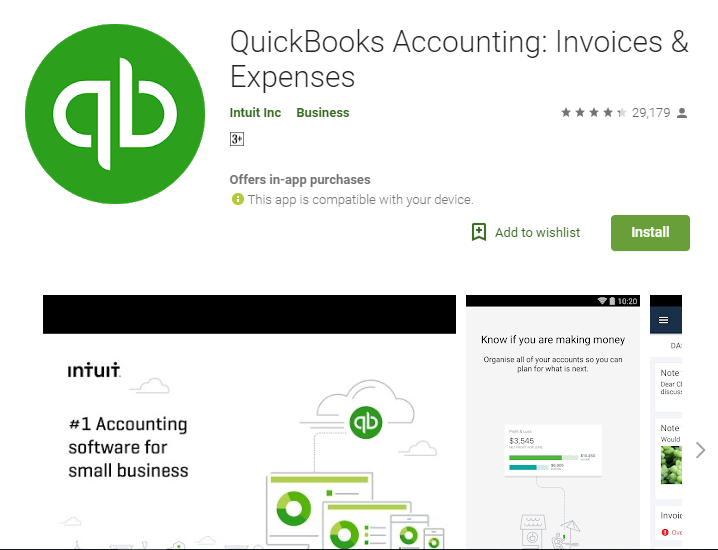 Quick books is an online mobile app that is designed to best assist in taking on tasks related to accounting. It is accessible to both users of Android and iOS. Businesses make the best of this mobile app by making transactions and by keeping a record of it through their personal portable devices while also being on the go. Quick books app is able to keep records of invoices, sent reports, customer expense and lots more. It helps entrepreneurs to conveniently and instantly check their business's accounts/reports (Balance Sheets, Income Statements and etc.) via the app Quick Books.
2- Freshbooks – Invoice+Accounting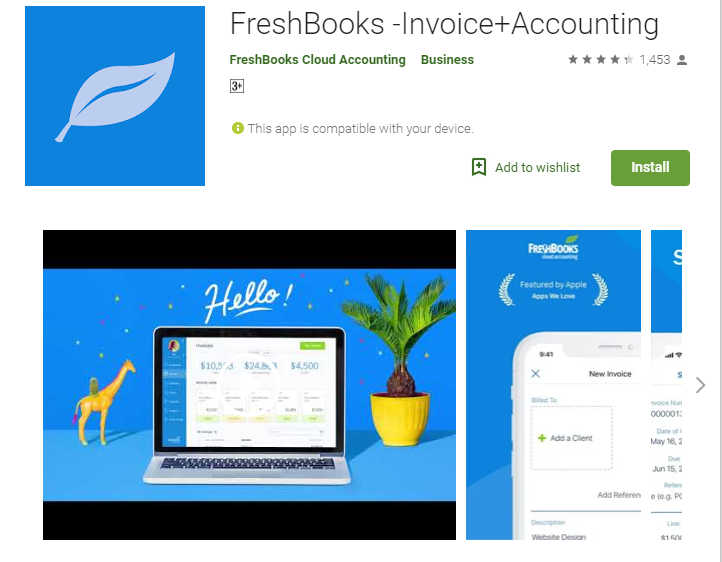 Freshbook is a mobile accounting app that is better designed to be of aid to small businesses. The app is efficient and effective on every Android device. Giving out features to provide productivity in terms for the owners to stay continuously in tacked with the business while being on the move. The app Freshbook is primarily used by the entrepreneurs to keep track of time, invoicing clients and also to record expenses. It is a quite reasonably priced app to purchase. It has a nominal subscription monthly fee but through the initial trial period of 30 days the app is free.
3- Expensify
Expensify is a business app that helps to handle one of the most difficult parts of a business which is used to manage the business's expenses. It helps to cater to your business expenses quite easily by taking account of reimbursements, receipt scanning and much more, as these only being the two key highlights. Expensify is an award-winning app which has also been mentioned in an article from Forbes as a business app that every entrepreneur should know about. As it has amazing key features to automatic credit card import, work with receipts of every currency, it also has an upgraded accounting integrations with lots more.
4- Evernote
Evernote is a highly popular app as it conveniently helps to create sketches, to-do lists and it also helps to have a few other things done relatively quicker through its assistance. The main focus of developing this app was to enhance the productivity of businesses. So that entrepreneurs can stay in track of their priorities which surely they have been able to be achieve via this business app Evernote. The basic version of the app is available for free even though it has variant versions to it. The premium version is priced $7.99 per month and the business version costs $14.99 per month.
5- Files Go
Files Go is a more suitable android app that better helps it's users to browse their phone's storage. Even though every Android device has an inbuilt file explore. Files Go app is found to be more convenient and user-friendly for most businesses stakeholders in terms of its interface. The very reason it was rated as the best Android app in an article from Business Insiders. The app Files Go allows you to easily find large files, to even send and receive them offline via Bluetooth. Adding to be an influential asset to businesses.
6- Squareup
Squareup is a trusted platform that operates as a free spot and a sales app that gives out every requirement that is needed to help you grow your business. As an added feature that your businesses can take advantage from this business app to proceed with further expansion. The app is mostly used by business owners and other associates to process and access credit payments. It also has the ability to manage and monitor inventory on your android devices. Squareup app gives the businesses a plus to access the funds that get visible and transferred to them within one or two business days.
7- SmartLine
Smartline is a very popular business app in the current time since it is an app that secures all the private contacts of the business or entrepreneur. Due to the privacy and security requirements today nearly every business owner is found indulging in this app. By using the Smartline a second phone number is provided that helps to evaluate an incoming call to inform if it is a private or business number. The entrepreneur is able to keep its personal number separate and private while entertaining businesses through the designated different business number provided at smartline.
8- HootSuite
Hootsuite app has the ability to manage all your social media networks under a single app. It is an extremely helpful app as nearly every business is using social media platforms as a marketing strategy. Hootsuite allows these businesses to keep track of their social media accounts so that they can keep trace of their marketing investment such as quality explainer animated videos. The app mainly features to share and publish contents on social media networks while also receiving updates and notifications. With HootSuite app they can manage and monitor the brand's socials network and lots more in a single view.
9- Slack
The Slack app is an ideal business app, especially for small businesses. The app is a collaboration hub that allows employees to work remotely. Slack brings the correct information and people together under one place allowing them to organize a team's workflow into different channels while giving the ability to easily chat/communicate with each other. The free version has a limit of 10,000 (ten thousand) archive messages from your team while the paid version provides unlimited access since you can archive unlimited messages.
10- Salesforce Mobile
The business app Salesforce Mobile is a business to business (B2B) application that is accessible on the go. The app is able to provide its users with spontaneous access to your business's CRM data through the use of a smartphone or tablet. With the use of Salesforce Mobile app, the business is able to endorse their goods without having to purchase the setup, management or even the infrastructure. It is a remarkable android business app which keeps track the business's progress and it adds up for the business to gain profits/growth by attaining sales.
11- Wave
The Wave app is quite a basic and simple business accounting app that is most productively used by small-sized businesses. Mostly it is used by private contractors and sole properties. The app is an absolute amazing tech that truly empowers small businesses and their owners. As the Wave app provides them complete control on tracking sales, manage expenses & invoices while also contributes to handle customers and to prepare reports. It is also a great help in comparing competitors as it offers unlimited estimates, bill tracks, balance sheets and even the ability to evaluate profit and losses.
12- Time Doctor
Time Doctor is an astounding app in terms to presenting data to you in real time of the duration consumed by the employee in a specific task. The business app is a good management tool. The app Time Doctor best operates to keep track of time, while also staying in tacked with your to-do list. It especially is a very productive app as it helps to accomplish a task in a specific time frame. The app is easily downloadable and it has a 30days free trial period. The app is reasonably priced.
13- Google Cloud Print
The Google Cloud Print app is very efficient and convenient as it allows to connect wirelessly with adaptable android devices to command prints. Business apps are found mostly that are integrating with cloud-based advancements in them to better feature their usage. It is a much-demanded app for all those business owners who are on the move and instantly require prints on documents such as their invoices or any sort of confidential items without physically being available near the printer.
14- Asana
Asana app has proven to contribute in a much helpful manner since it is best suited for small businesses to organize their tasks and have the projects managed while being on the move. Small newly established businesses really utilize the Asana business app which is compatible with every Android device. It helps the entrepreneurs to stay focused on the goals, daily tasks and project coordination for smooth operations to gain the highest results. An attracting feature of the app is that it is free for a team with up to 15 users.
15- Insightly
Insight is an ideal business app perfectly adaptable for simpler operational businesses. It is key featured to boast up businesses by managing the projects and as a prime relationship management app. It could be considered as a single stop app where most can be made for small businesses. It has the feature of categorizing contacts with tags, it also integrates various social profiles and even helps to manage leads/sales.
16- G Suite
G-Suite is a business app that has been developed by Google itself for businesses. By using G Suite you are able to access numerous powerful google applications such as Forms, Calendar, Hangout and much more. May it be any sort of documents like images, documents, videos, and even presentations are all kept secured on G Suite because of the cloud-based storage which is an easy way to store anything on the web. The monthly cost of the app is $5 which is the basic version and the other business and entrepreneur versions both respectively are priced $10 and $25.
17- Skype
The app Skype is one of the first names that come to mind when video calling in mentioned. Even to date, Skype is quite popular after having a number of competitions it has the strength of 74million users all over. It is one of the best apps for video calls and is highly used by businesses to conduct various operations such as video conferences, data sharing and more. It also allows up to 25users free video calling and is yet able to provide vividly clear video calling. The skype business app also has a number of versions to avail according to the businesses preference.