Today everyone wants to do government jobs in India because all of us think that if I have got government job, then we can make my life successful & cheerful. But most of the candidates are face difficulty to search government job vacancies & apply for them. Aspirants who are preparation for government jobs, they are confused to find best websites that provides the correct information about the latest government jobs in India.
Here are the lists of top 10 websites that provides latest government jobs in India. You can check all the details of upcoming government job vacancies, result, admit card on particular jobs. Some job portals also provide the study material, Current Affairs update, GK, mock test that helps to students for preparation for government jobs. So, in this article, you can get the details of top 10 job portals in India where you can search a job in free.
Best Site to Check Government Jobs Notifications
1. Free Job Alert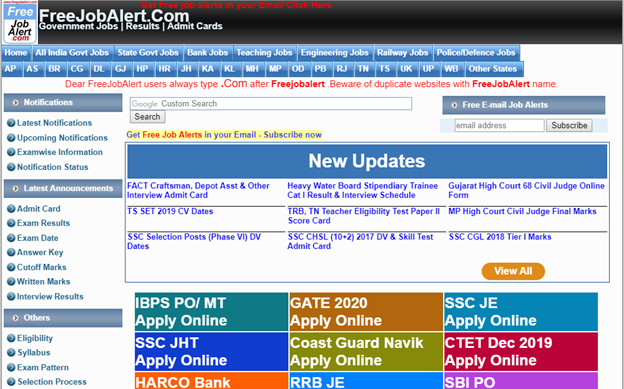 Website: freejobalert.com
This website is one of the top & old websites that provides all the information about latest government job vacancies. This job portal is very popular among the students for its quality content & way of information. In this website, there are proper categories like state govt. jobs, bank jobs, railway jobs etc. that students can easily navigate it & find the jobs.
• It is very popular among job seekers
• Provide True Information
2. Jobsfocal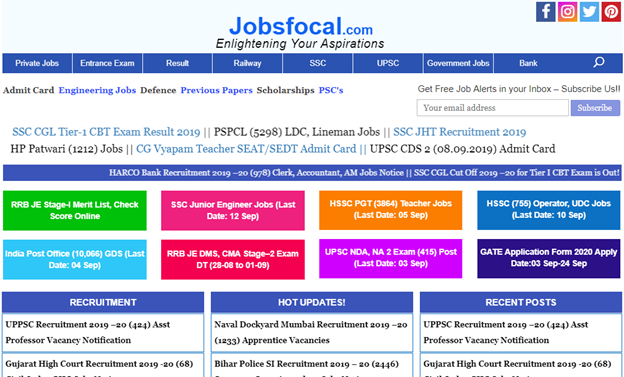 Website: jobsfocal.com
Jobsfocal is another top website that you can get the proper information & details about any upcoming vacancies in government or private jobs. This job portal is popular rapidly among the candidates for its regularly news & updates about the latest or upcoming jobs. It also provide official link to apply the government jobs.
• It provides updates very quickly after official announcement
• It has a very attractive user Interface and loved by audience
• Content is presented in very pleasing and easy way
3. SarkariResult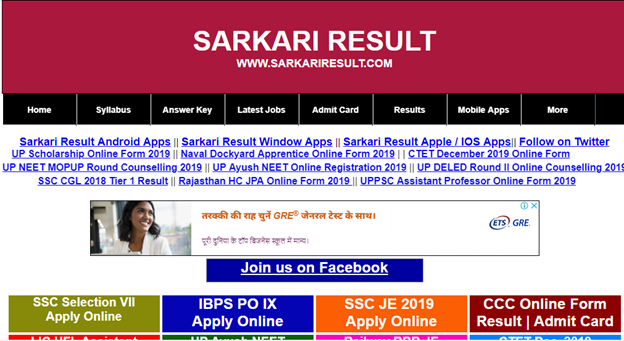 Website: www.sarkariresult.com
Sarkariresult is also the top websites that help to search you for find any new government jobs in India. This is most trusted job portal by the students for its quality of job information & easily navigates them. You can get the latest notifications in your email by subscribe the website.
• Very Popularly Used and have good rank in India
• Provide precise information
4. Sarkari Exam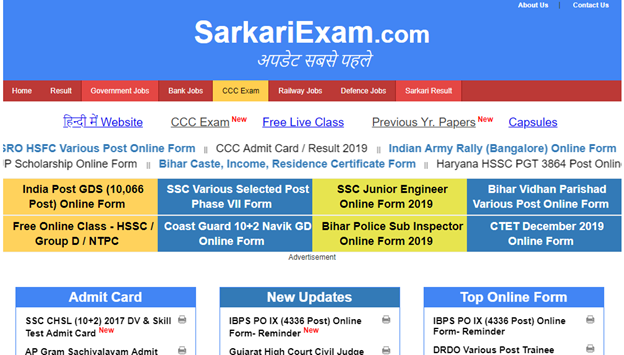 Website: sarkariexam.com
This is the job portal that help the students who are interested in government sector jobs as well private sector jobs. It has proper categories such as government jobs, railway jobs, defence jobs etc. that you can easily find the job as per your requirement. It also has result category where you can check the result of any government job recruitment.
• Very Pleasing way to provide Info
• Clearly visible of whole content in 1-2 scroll
5. Jobriya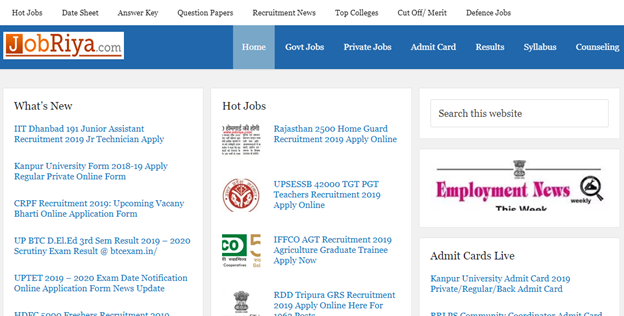 Website: www.jobriya.in
This is another top job websites in India. Due to its content quality & way of information, this job portal is making a popular job portal among the aspirants who are preparing for government jobs or any competitive exam. There are also proper categories like govt. jobs, private jobs, admit card updates, result & syllabus on its website that you can get the proper information.
• Frequently update the pages with latest information for visitor
• Properly gives the information in detail.
6. College Duniya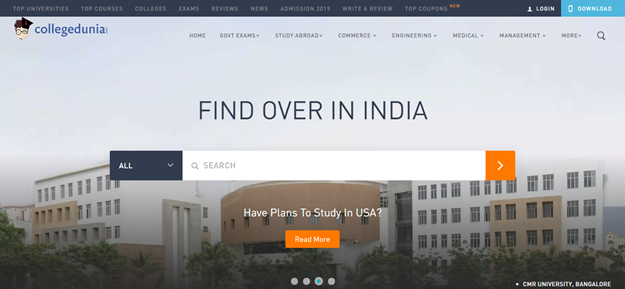 Website: collegedunia.com
Collegeduniya.com is one of the newest & fast growing website for candidates who are searching the government jobs as well private jobs. It also provides the state wise colleges names for students who are interested to take admission in B.Tech, Medical, MBA, BA, B.com etc. It also has study abroad categories for students who want to do study in abroad. It has very good reputation among the jobseekers for its UI & use interactive graphics.
• Provides complete knowledge of University, Colleges and Institutes
• Gives all Information of Admission and Entrance Exams to students
7. Rojgar Result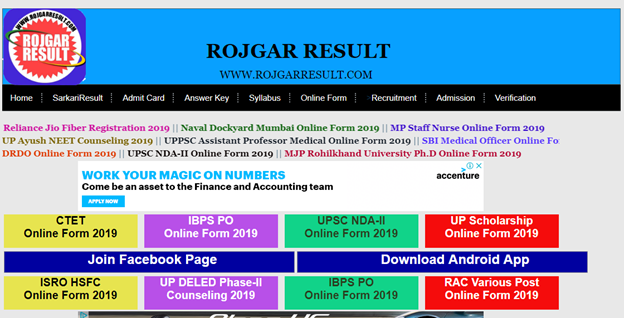 Website: www.rojgarresult.com
This websites is also one of the top website that provides the information about latest or upcoming job vacancies in India. Interested candidates can search the exam syllabus, admit card details, answer key, result notifications and much more details to visit this website.
• Very cheerful look of the website
• Information available via apps as well
8. Sarkari- Naukri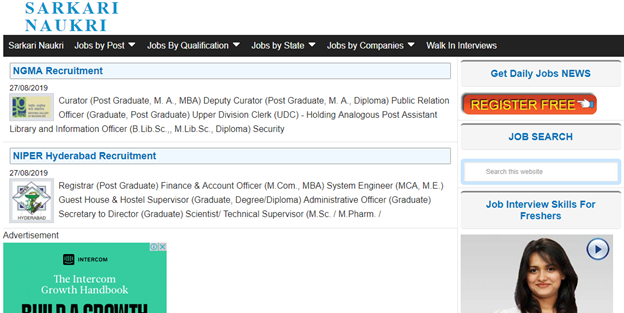 Website: www.sarkari-naukri.in
Sarkari-naukri.in is one of the best government job website that you can search government jobs .You can find the government jobs as per your interest, qualification, state wise jobs etc. You can get an updates in mail by subscribe the website. It can always stay update on social media channel where you can find any information regarding government job.
• All Jobs Directly Available on Homepage
• Easily available of all the updates at one place
9. Recruitment Portal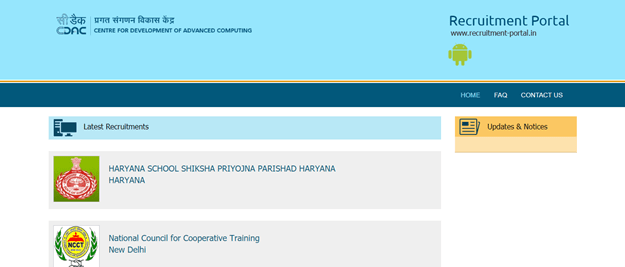 Website: recruitment-portal.in
Recruitment Portal is one of the best websites for government jobs notifications in India. Here you can get all the information about the types of government jobs. This is very simple website where you can search jobs easily.
• Very simply available of Jobs
• Organization wise details are also available
10. Recruitment Result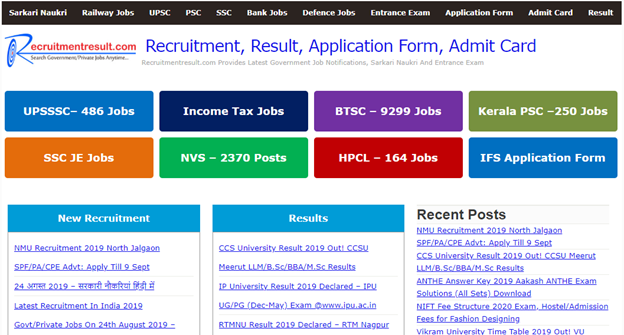 Website: recruitmentresult.com
Recruitment result is also one of the top website under job portal category. Students can get the latest notification in email after releasing any new recruitment on government website. It provides all the details of any upcoming job like exam syllabus, admit card details, no. of vacancies, age limit etc.
• Covers many wide ranges of topics and areas
• Provides information in Question answer form as visitor gets the info of every question
Benefits of Online Job Portals that Provide Government Jobs in India
Here we are mentioned the various benefits of job portals for those aspirants who are preparing for Government
Jobs:
Very Much Affordable: The major benefits of online job portals are i.e. very affordable & cost-effective. Aspirants can search latest or upcoming government jobs in any field without having to pay any fee to the job portal.
Get Regular Notifications: The Online Job portals provide regular notification about any upcoming government jobs on regular basis. You will get all the updates such as exam schedule, admit card release date & result declaration etc. on these jobs websites. Students can also get any notifications in his email by subscribing the websites. So, candidates don't miss any government job opportunity.
On-time Updating: Aspirants can get on time update for release any new or upcoming jobs. You will get job notification within hours after the update any upcoming government jobs on its official website.
Maintain Authenticity: These jobs sites are maintain authenticity among the aspirants. It always provides correct & genuine information along with official link & notification for apply the government jobs.
Beware from Fake Advertisements: These job portals are aware to aspirants from fake advertisements about government jobs. Few websites are uploading the fake job advertisement on its job portal. So, students should always be aware from fake advertisements or news about government jobs.
Complete proper information: These jobs websites provide proper information about the jobs. Aspirants can get all the details like name of post, no. of vacancies, age limit, educational qualification, application fee, salary package etc. before apply any upcoming government jobs. Candidates must check the advertisement details before applying it.
Career Guidance: These sites guides the students by informing about the entrance exams (engineering, medical, law, management etc.) dates, eligibility & other criteria. They make articles which helps the student to select that in which field they have interests and what exams or career building they need to achieve their career goals.
Mobile Apps: Just not only website which helps users to search for job but there are many mobile apps for gov exam preparation available in play store or iOS store of these which provides the details on your finger Tips.
Searching Jobs  is very difficult in old days as many have to go through to many locations and checkout many newspapers for many openings but now all the jobs are visible on your fingertips. Technology made job searching so easy and convenient that by just scrolling over it candidates can check many jobs and also apply for it via online mode sitting at home or anywhere. There are bulk of Government Jobs and Private Jobs available on these sites you just need to go through them. These sites also beware the student for the fake notifications and update the true fact about them on their website just as Jobsfocal has done on its website beware the students about SCCL Recruitment circulating fake advertisements as well as also tells about the list of 23 fake universities disowned by UGC.
Here, these are lists of top 10 job portals in India that you can find the government jobs by its websites. In these websites, they can also get all the exam details like latest job vacancies, result, admit card, answer key & other information.
Jobsfocal is an online portal that provides the complete & proper information about any latest or upcoming government job in India. To get the more details about any latest government or private jobs logon to website jobsfocal.com. For any query or suggestion leave a message in comment box section given below.