After Google, YouTube stands to be the second largest search engine. It offers millions of hours of video streaming and an ever-growing number of videos being uploaded. Among so many if you are a content creator, it will take a lot for you to stand out. Keyword tool are a great help in this aspect. They help you find relevant keywords to be used in the title, description, and hashtags of your YouTube video. Keyword tools also help locate related terms and they show what the audience wants to view to make your video more audience-oriented.
These tools also come in handy if you are looking out for generating new ideas to make videos upon. In simple terms, a Keyword tool is your best buddy on the journey of growing your YouTube channel. Luckily, here's a list of the 8 best tools (Free and Paid as well) who could make great buddies to you:
YouTube Keyword Research Tools
1. YouTube Autocomplete


That's no separate tool but the YouTube search bar in itself is a great starter tool for keyword research and planning. Simply type up a word in the YT search bar and YouTube will ping with the most-searched and popular keywords related to it. YouTube will itself tell you what the audience wants to view most and the trending keywords.
This is perfect for getting a basic idea of keywords and their related ones as well. For example, if you type the word 'English' into the search bar and the first and most plausible auto-suggestions come up with terms like 'English speaking', 'English movies', 'English songs', 'English breakfast recipes' etc. which means that if you are aiming to use the word 'English' in the title of your video, you should probably make a video on these most searched topics related to the keyword.
(Pro Tip: Use an underscore for a blank between two words to find the most searched queries in a particular niche. It generates more ideas with popular hits on most searched keywords).
One downside of using tool is that it does not show the search volume and how much more is one term popular in comparison to another one. It is the most closely legit tool for Keyword search on YouTube and best part is that it is completely free! If you are quite serious about keyword planning then it is highly recommended to pair up this tool with another more refined and fine-tuned keyword research tool.
2. Ahrefs Keywords Explorer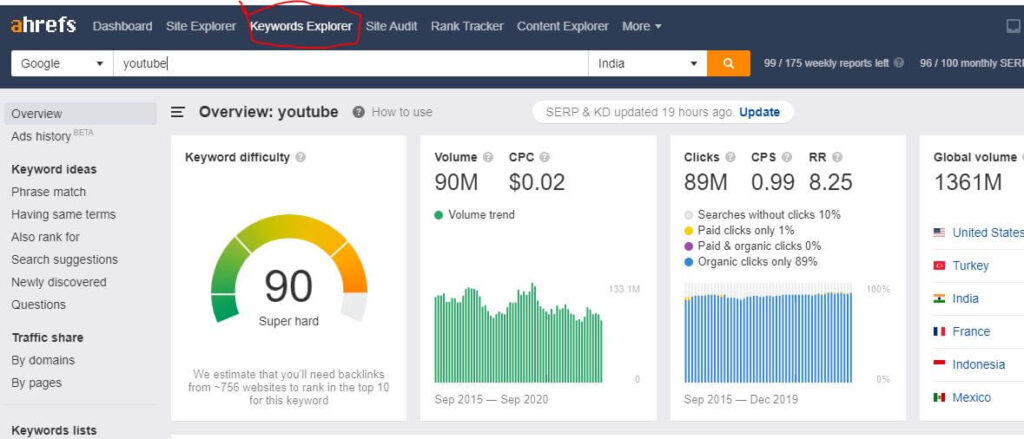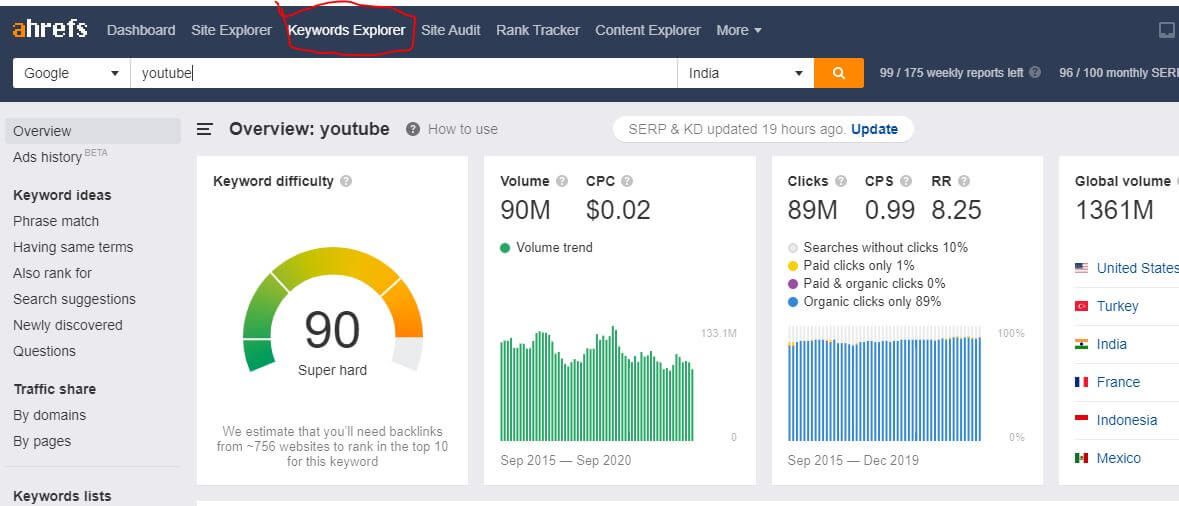 Ahrefs Keyword Explorer is literally the best tool out there for YouTube keyword research with an amazing database of over 640 million keywords for YouTube. It offers reports and data on almost every keyword that you search.
Here's a list of some of its best features:
• It offers nearly thousands of keyword suggestions for a single keyword seed that you search, from an ever-growing database that is updated every month by the site.
• Ahrefs Keyword Explorer is supported in 171 countries and it provides you data from the whole world quite literally.
• It also has a feature that offers a keyword difficulty score (KD score) that calculates how difficult it will be for your video to rank for a given keyword based on the current top-ranking videos for that keyword.
• Ahrefs Keyword Explorer is the only tool that shows the clicks metrics for a certain keyword. It means that this tool shows the number of clicks by viewers for a particular keyword.
• The tool also provides advanced SEO metrics like return rate, clicks per search, percentage of paid clicks and more.
With so much to offer and more, Ahrefs Keyword Explorer also provides variety of affordable paid plans to suit needs of every user. Their pricing plans range from $82 to $832 when paid annually and $99 to $999 when paid monthly for number of users ranging from 1 to 5. It also offers a 7-day trail for all its plans for a cost of $7.
3. Keywordtool.io


Keywordtool.io is a great tool for bulk YouTube keywords. When you enter a keyword, it hits up with results into four tabs of keywords containing numbers, questions and hashtags. It has the following features:
• It makes use of Google Autocomplete to provide accurately searched keywords. In simple terms, when you enter a keyword on this tool it will run a search for the same keyword on Goggle and give a string of autocomplete suggestions for the most accurate results.
• The list of longtail-keywords that is generated is arranged in alphabetical order for easy reference.
• The free version generates more than 750 suggestions for every term that you type in and the paid version
offers more than 2000 suggestions.
• The tool can be used directly without the hassle of creating an account or signing up.
• The paid version also provides large amount of data on search volumes for location specific searches.
With almost every feature available, Keywordtool.io is perfect for every user whether you plan to use the free version or the paid one. The paid plans are for $199 per month when billed monthly and $79 per month when billed annually. The tool has so much to offer and is worth the price. The free version is also great for beginners and users having budgets.
4. Google Trends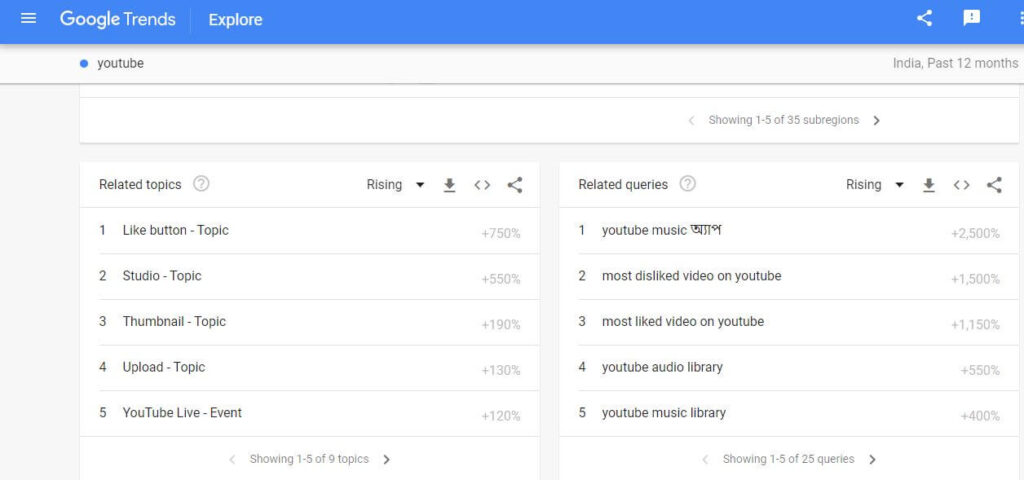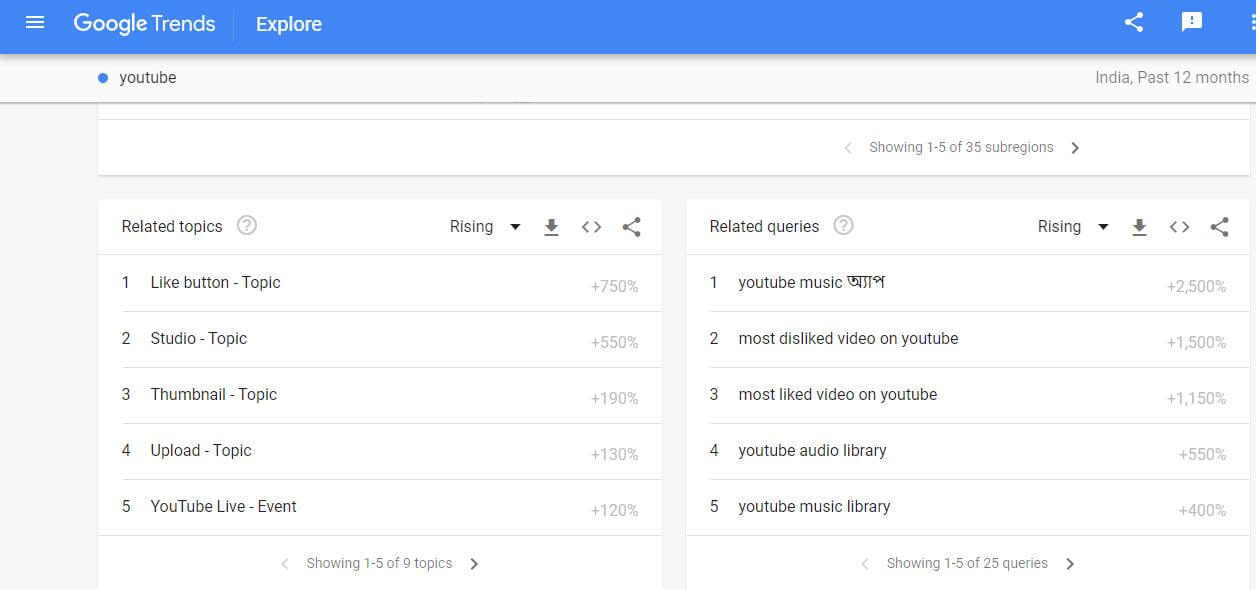 Much similar to YouTube autosuggest, Google Trends is a free tool by Google that features graphical representations showing the rising or falling trends for a certain keyword. It is a great tool to know on what keywords a video should be made and plan strategic uploads. It also has a feature for comparison for two keywords showing comparative trend lines. You can adjust variables location for the trend pattern, time period and specific categories. One greater feature Google Trends has that is it shows the related keywords drop-down list as well. It is useful for getting new ideas and conducting a better keyword research. (Note: You just have to select 'YouTube Search' from the selection bar).
In terms of downsides, Google Trends does not offer reports like search volume, click rate and others. It is best suited when paired with another tool. Google trends tells you on what keywords you should make a video rather than how to rank your video for a particular keyword. Nonetheless, it is a great and useful free tool by Google that can come in handy always!
5. Ubersuggest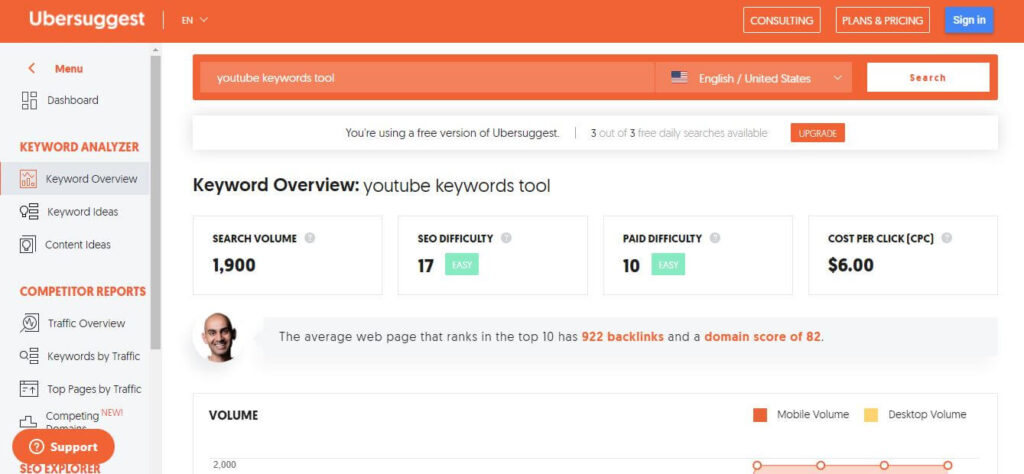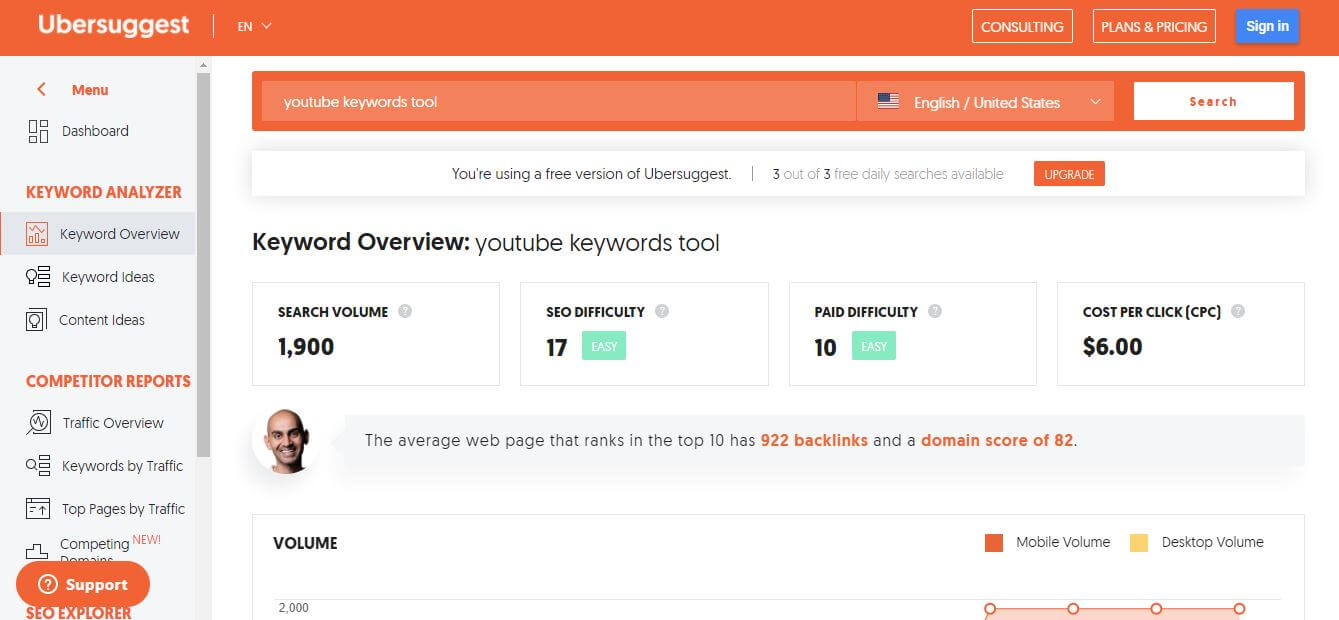 Ubersuggest is a tool by the SEO expert Neil Patel. It is one of the best tools for getting data on specific keywords and is completely free to use. Here's some of its features:
• Ubersuggest offers hundreds of keyword ideas ranging from head terms to long-tail keywords for a specific topic.
• The toll also displays the search volume, competition and seasonal trends analysis for a keyword free of cost.
• It provides a list of keywords based on competitor data and what keywords people are typing into Google search bar.
With wide range of utility for this tool ranging from rank building to idea generation, Ubersuggest is worthwhile to checkout at least once. Adding to it, its free and trusted status make it a widely-used and favorite tool for YouTube creators.
6. TubeBuddy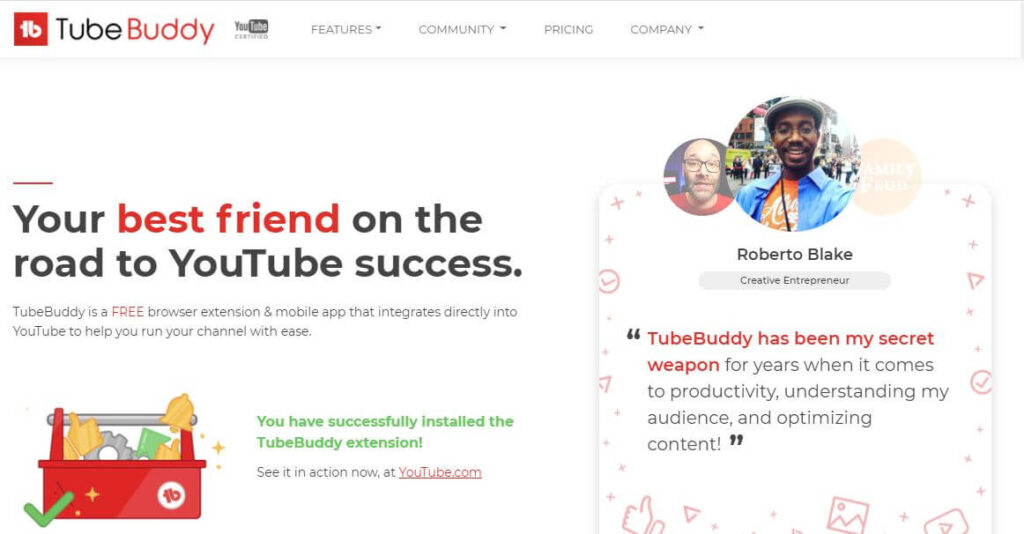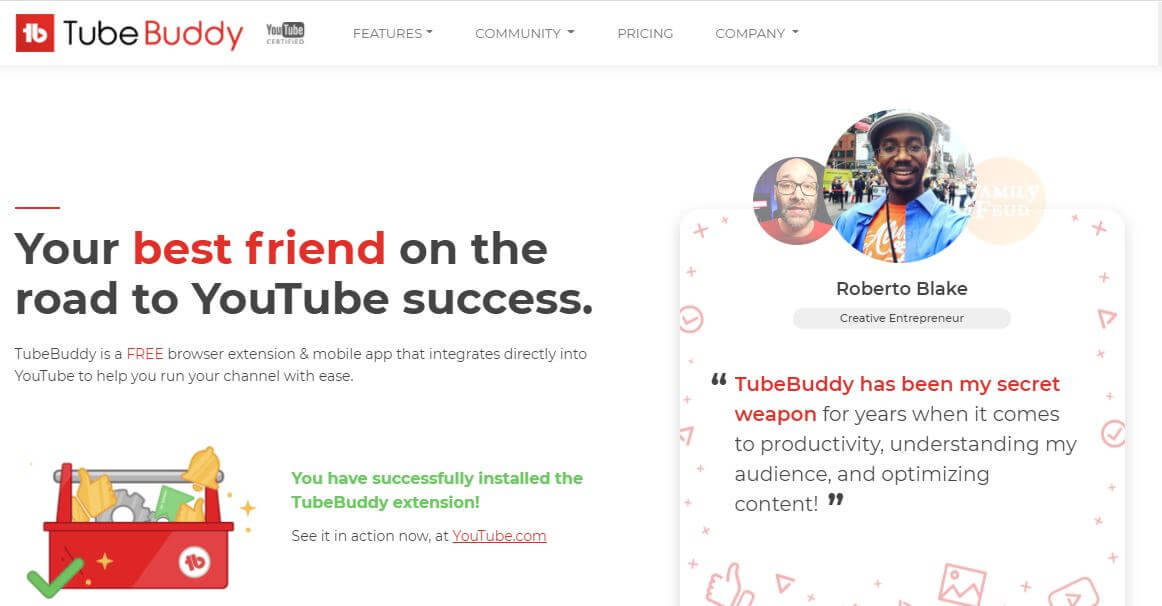 TubeBuddy is a free extension tool for Browser. It adds another sidebar on your YouTube and enables view of various SEO and keyword analytics. Here's a basic gist of some of its features:
• The sidebar shows search volumes, competition, and an estimated overall score for the keyword out of 100.
• It also has a tab for keyword statistics that show subscribers, views, publisher's info and other useful
data.
• TubeBuddy extension also shows a list of most-used tags and related searches. Only 3 results are shown in the free version and upgrading to a paid version will allow to see full results.
• On a video page, the extension sidebar shows details related to a video too. While uploading a new video the extension also suggests keywords.
• TubeBuddy also has a feature for copying and listing all the tags that you feel useful for future reference. It also takes care for not repeating same tags again.
TubeBuddy also has a mobile app for greater convenience of users, though, it is completely free, and you can enable some of its advanced features by opting for one of its paid plans. These plans range from 49 to $49 form monthly billing and $7 to $39 when billed annually. It is an amazing option to use for growing your YouTube channel and ranks.
7. VidIQ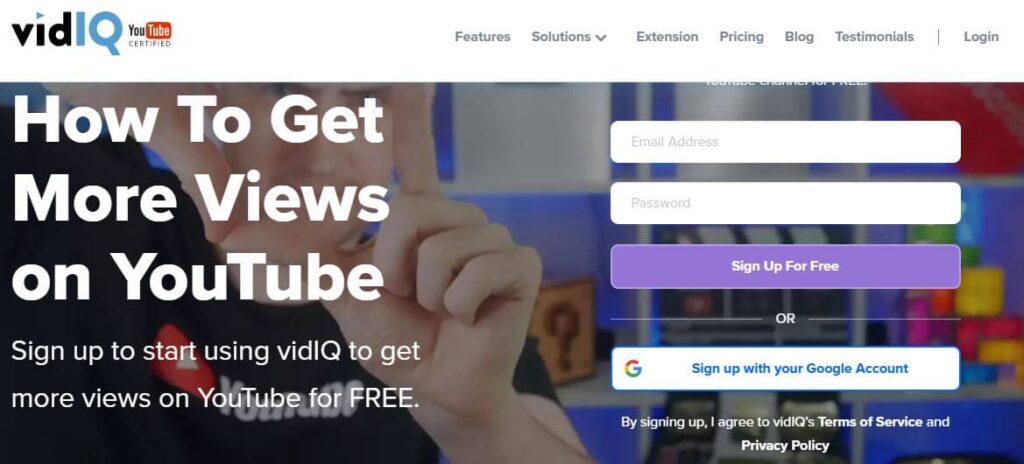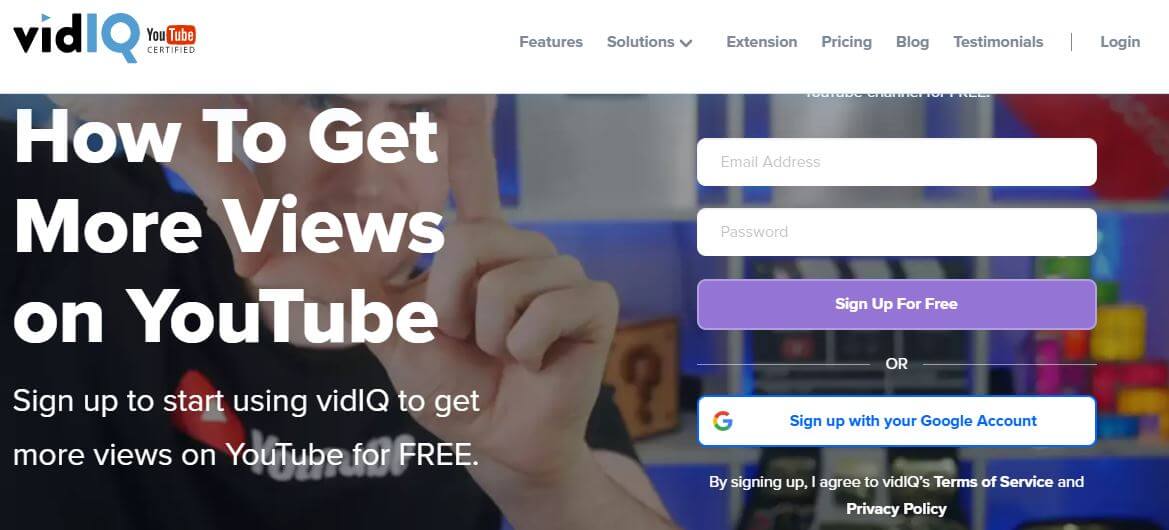 VidIQ is also a free extension to Chrome, quite similar to TubeBuddy. In fact, TubeBuddy and VidIQ have almost same feature with some tweaks and twists here and there. Here are few additional features that VidIQ has along with the features given by TubeBuddy:
• It has a feature to directly export the video tags to a CSV file by a single click which makes the task
easier.
• VidIQ shows a tab having Channel Tags along with the video tags (TubeBuddy lacks this feature).
• It has one significant feature of showing a channel's view velocity of its top videos. This shows the average views per hour.
With these few additional perks, choosing between TubeBuddy and VidIQ is a matter of preference for the user. The tool has a free basic plan and rest of its paid plans range from $7 to $415 per month for a variety of features per user. VidIQ claims to be a YouTube certified keyword tool.
8. Morning Fame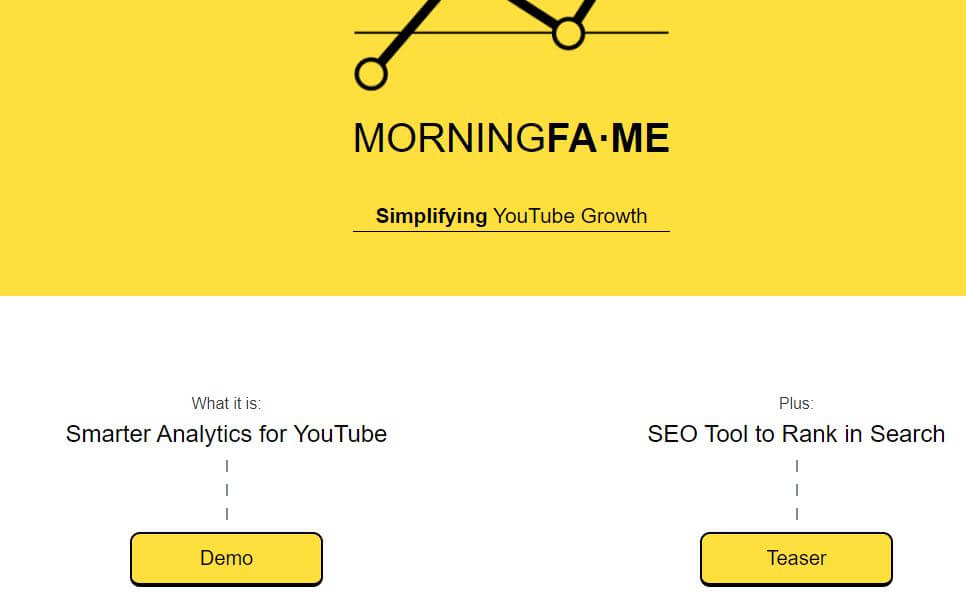 Morning Fame is a unique keyword in comparison to others. It is an invite-only tool portal. The invite codes are available on Google. It offers one month free after the invite to its users. Morning fame provides data on keyword research in four steps:
• Step 1: Enter a topic you want to search or paste the URL of a video that has inspired you to make a video. The tool will give you a list of keyword ideas for small and large channels.
• Step 2: Choose a keyword from the list and the tool will show you a 'Ranking Opportunity Rating' based on search volumes for that particular keyword. Morning Fame doesn't show the actual search volumes but rather a score between 1 to 100 representing the search volumes.
• Step 3: The tool next estimates your 'Ranking Opportunity' based on factors like Subscribers, Likes, Comments, Views and relevance.
• Step 4: This step guides you to an apt Title, Description and Hashtags for your video.
It has a basic and plus plan for $12 and $4 respectively when billed monthly and $9 and $3 respectively when billed annually. It is known for its advanced analytics and SEO tools. Morning Fame is the right choice for serious and organized video content creators.
With the use of these best tools for keyword research and a setup, camera and the best microphone for YouTube, you are all set to become the next YouTube star and top-ranked for the decade! It's best to pair any two of these tools for more refined and better results. Hope this article is of help to you.
Read More:
Top YouTube Video Converter Software
Advanced SEO Techniques for YouTube Videos