Are you satisfied with your website/store's conversion rate?
Nine out of ten store owners say NO. Gone are the days when finding products was limited to a few websites. Now, there are a plethora of stores from which visitors can choose the one they find attractive. As the market becomes more competitive, so do the market's unique approaches.
The use of popup plugins on a website is one such strategy for increasing conversion rates. Even though there are numerous popup plugins available on the internet, a successful website owner chooses the most appealing and effective popup plugin.
But how do you pick the best popup plugin for your website to boost conversions?
If you're looking for an answer to this question, you've come to the right place. Let's talk about the top WordPress popup plugins in this article. Without a doubt! Your conversion rate will undoubtedly suffer as a result.
Let us get started.
10 Best WordPress Pop-up Plugins in 2021
WordPress popup plugins are an exact conversion hack for your store. When you are out of ideas to boost the conversion rate of your store, popup plugins become the handy solution. Let us check out the best WordPress popup plugins in 2021 for your store/website.
1. Optinly

Optinly, a WordPress popup plugin, significantly improves your lead conversion rate. Many users of Optinly have seen a 10x increase in their sales curve. It features more than 75+ eye-catching popup templates. The website owner can integrate with multiple ESPs thanks to its easy interface.
Highlights
75+ ready-to-use popup templates that are very responsive
Customization is easy with the built-in WYSIWYG popup editor.
Exit triggers, time-delayed triggers, URL-based triggers, and more advanced popup triggers are available.
There are many different sorts of popup forms, such as spin the wheel templates, popup launchers, and countdown clocks.
Fade-in, zoom-in, flip-in, and back-in-up are examples of popup transition effects.
Dashboard with detailed popup campaign analytics
Webhooks and integration with 15+ ESPs
Pricing
Optinly pricing starts from $25 per month.
Read: 11 Outstanding WordPress Plugins in 2021 to Boost Lead Generation
2. OptinMonster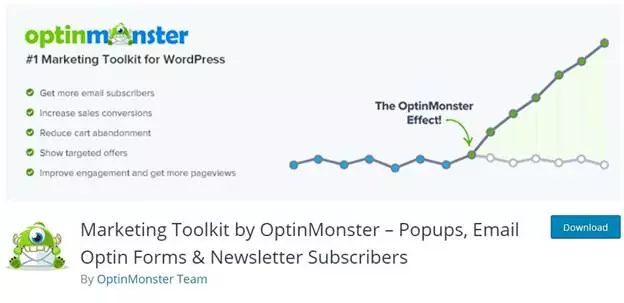 Many websites utilize OptinMonster, a strong online lead generation software. Its Exit-Intent® technology helps convert visitors who are about to leave into subscribers and to pay customers. It is, without a doubt, the best popup plugin available. It includes a variety of opt-in forms and templates. There are no bugs, and they are simple to use. It boasts the broadest range of targeting and customizing options.
Highlights
Form customization options are excellent.
Popups that are customized for mobile devices
Triggers for targeted display popups
Simple to use
The most effective GDPR WordPress plugin
Multiple websites can be accessed with a single account.
Customized data analysis
Excellent Customer Service
Pricing
OptinMonster is available from $9 to $49
Read: 8 Best & Free WordPress Email Newsletter Plugins 2021
3. Popup Builder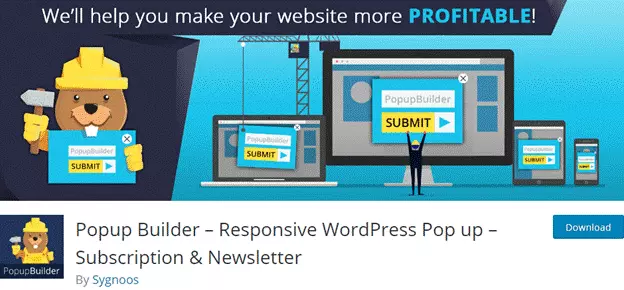 Popup Builder develops promotional popups that drive website conversions. It has roughly a hundred thousand active users. The plugin also allows you to adjust the popup's display location, drawing visitors to your website.
Highlights
Popups can be made in an infinite number of ways.
Supports multiple sites
Segmentation based on time
WPML and DIVI are both supported
Pricing
Popup Builder Pricing starts from $71 to $149
Learn: Top 10 Health Check & Troubleshooting WordPress Plugin
4. Icegram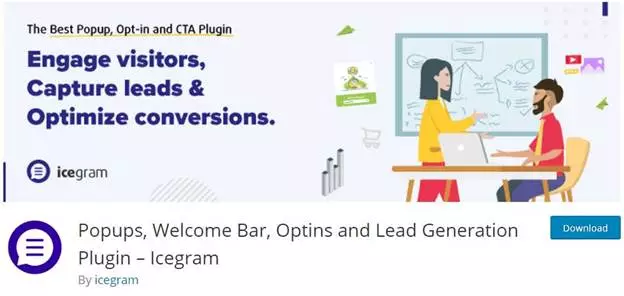 The newest addition to the list, IceGram, provides pop-ups and email opt-ins for your website. You may also use appealing CTAs to direct visitors to your desired landing page. It also makes it easier to incorporate affiliate connections.
Highlights
The free version is available. A few extras may cost a few dollars.
There is no traffic cap, even if your website receives a large number of visitors.
The popup uses custom CSS and Javascript.
Slide-in messages that are appealing
Lead generation action bars
A/B Analytical and Reporting Testing
Lightbox customization and time-targeted popups
Pricing
Both free and paid versions are available. Paid versions start from $7 to $27
Recommend: Best WordPress Booking Plugins to make your business fully automated
5. Bloom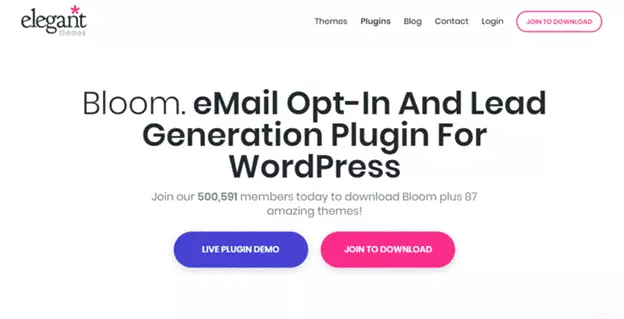 Bloom, an email opt-in popup plugin, features a variety of templates that may be customized. It claims to have a greater conversion rate. The templates offer a variety of design options. You can use the plugin's functionalities if you join the Elegant Themes subscription. However, it is prohibitively expensive.
Highlights
Customizable templates built-in
Customized Dashboard with lots of information
A/B Split Testing (Automated)
An elegant theme is included.
Campaigns with six different types of displays
The following are some of the Display and Trigger features:
After scrolling/commenting/purchasing, there is a timed delay at the bottom of the page.
Pricing
Bloom pricing starts from $89 to $249 per year
Website: https://www.elegantthemes.com/plugins/bloom/
Read More: Best WordPress Form Builder Plugins
6. Elementor Pro
The best WordPress popup plugin list includes Elementor Pro, a popular drag-and-drop editor. It is the greatest plugin to choose from if you are looking for the best design possibilities. It's a simple plugin that lets you construct a visual builder for a variety of popups.
Highlights
It's part of the page builder extension.
The setup is simple.
Popup creation that is adaptable
Templates for popups that have already been created
Make a lightbox, a floating bar, and a sidebar popup.
Simple to use Widgets for Elementor
Email marketing services are integrated into a variety of ways.
Pricing
Elementor Pro Pricing starts from $49
Must Have: What are the Best WordPress Security Plugins to Secure your Site?
7. Sumo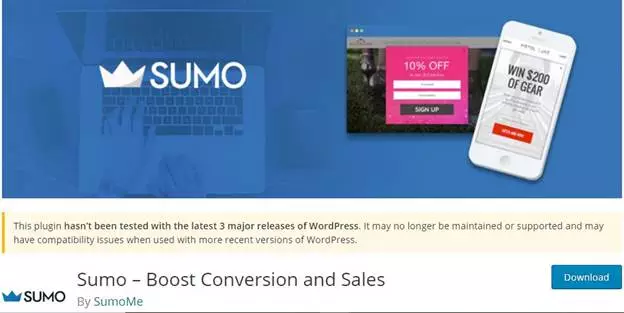 Sumo, being the finest WordPress popup plugin, facilitates social sharing and analytics. At the same time, you may leverage features such as a heat map and a scroll box to draw in visitors. It's a stand-alone solution for your website's popup needs.
Highlights
Users of the free version can only use the plugin's limited functionalities.
All-in-one promotional toolkit
Simple integrations
Customer service is provided at no cost.
Dashboard with a return on investment focus
Popup creation based on the source of traffic
Templates that have already been created
Pricing
Sumo paid version starts from $39 per month
8. ThriveLeads

ThriveLeads, another lead capture popup plugin, allows you to create beautiful popup forms. You can generate popups and grow your email list using the WordPress dashboard. It focuses mostly on WordPress layouts that are designed to increase conversions. It helps you target effectively and offers you control over the popup campaign.
Highlights
A drag-and-drop editor allows for easy customization.
Email integration A/B testing is straightforward.
There are a variety of optin kinds accessible, including lightbox popups, two-step optins, and others.
High-level targeting options
Pricing
ThriveLeads pricing ranges from $67 to $147.
Website: https://thrivethemes.com/leads/
9. TrustPulse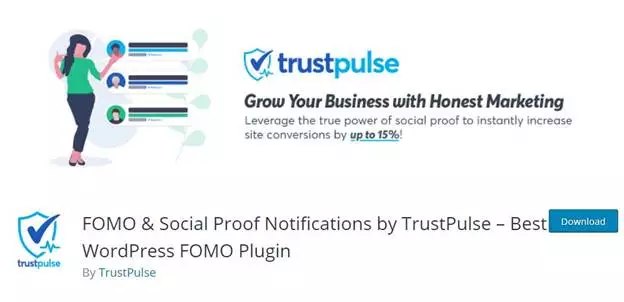 The social proof popup plugin Trust Pulse is a fresh way to grow your email list. Displaying sleek-looking social proof notifications on your website helps to increase trust, conversion, and sales.
Highlights
It acts as a FOMO plugin and produces a sense of urgency.
Multiple platforms are supported.
500 sessions are provided for free each month.
Tracking is simple and real-time.
User interface that is adaptable
Geolocation management is automated and simple to customize
Pricing
TrustPulse pricing ranges from $350/month
10. Popup Maker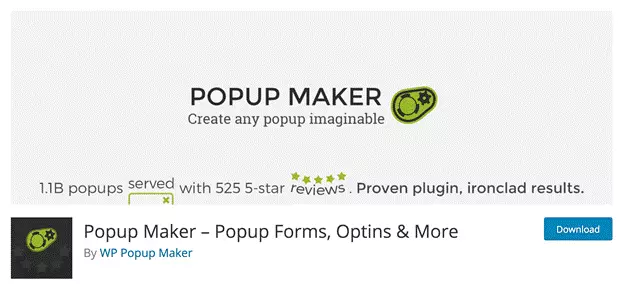 Multiple opt-in forms are available in Popup Maker, the most popular and finest WordPress popup plugin. It also has a variety of customizable popup templates. You can also choose where the popups will appear to catch the attention of your visitors.
Highlights
Plugin with appealing features that is available for free
Triggers that are activated by clicking
Exit-intent technology is a system that detects when someone is about to leave
Analytics Scheduling Forced Interactions
Modals for AJAX Login
Theme creator with advanced features
Integration with the form builder
Pricing
Popup Maker Pricing starts from $16 per month
Tips for selecting the Best WordPress Popup plugin
There are a lot of popup plugins in WordPress. With so many options avai, it may appear difficult to locate what your website requires precisely. It is critical that you select the best WordPress Popup plugin for your website.
So, how do you pick the best WordPress popup plugin in that case? Before diving into the realm of WordPress popup plugins, there are a few things to keep in mind.
Examine your requirements
Make a list of your requirements. Every popup plugin deserves a place in the store to boost the conversion rate. However, you must select whether it boosts the need or not. The popup plugin, which comes with a variety of templates, frequently attracts the attention of website owners. Examine the popup plugin's features and evaluate
its performance.
The Difference Between Free and Premium
It's time to move on to the following level after thoroughly reviewing your requirements. There are both free and premium versions of the top WordPress popup plugins available. For website owners, this becomes the second check.
Don't always choose the free option. Yes, the free version is excellent as well. But, depending on your requirements, don't limit yourself to free plugins. Stick with a popup plugin that gets regular updates and has robust malware protection.
User-Friendly Popup plugins are the best
Choose the most user-friendly WordPress popup plugin. The versatility of popup plugins is the key reason for their use. In seconds, any website owner can understand and personalize their popups. Using user-friendly software, building a popup for their website appears to be simple.
Before selecting the finest WordPress popup plugin for your website, you must examine the characteristics listed above.
Time to choose the right popup plugin for your store/website
Every store operates in its own unique way. Goals, objectives, and even approaches are all different. As a result, don't blindly follow the plugins that have proven to be successful for other entrepreneurs. The only way to determine if the plugin is right for you is to run it through an AB test and study the results.
The list of plugins will assist you in finding the best popup plugin for your needs to expand your email list and increase conversion rates.