Marketing is something that you need to do even before you have set up your store. This stands true for both online stores and brick-and-mortar stores. It's not just enough to have a great product that provides value to customers. You need to be able to reach the right customers who may be looking for a store like yours.
If you have an online WooCommerce store, or you are planning to create one, then you have a plethora of free and premium plugins that can help you reach more people in the market. The best part about WooCommerce is that most of the solutions that you need are available as free plugins.
This article lists some of the plugins that can help you in marketing your products. The plugins are categorized into the following categories:
Marketing Plugins for WooCommerce Categories
Coupons and discounts marketing
Email marketing
Content marketing
Social media marketing
In-store marketing
Affiliate marketing
Video marketing
Coupons and Discounts Marketing
When you are breaking into an already competitive and saturated market, coupons and discounts can be a great way to attract customers. This can be a great way to bring awareness of your products or services to your potential customers, but a great way to ensure sales even just as you are launching your website.
Not just for new sites, but for establishing online businesses also occasional and seasonal promotions can bring a lot of sales and help keep on par or ahead of the competition. Below are some of the picks for coupon marketing in your store.
List of Marketing Plugins for WooCommerce
Smart Coupons for WooCommerce

This plugin helps you create advanced WooCommerce coupons on your store. The tendency to give huge discounts to bring a maximum number of customers can do more harm than good to your online business. The plugin is built on top of existing WooCommerce coupon features and provides you with a lot of smart options that can help you create coupons to maximize your sales without hurting your profits.
Following are some of the main features the plugin provides to help you create smart coupons on your store:
Auto-apply coupons – coupons that automatically apply can reduce an additional step of copy-pasting an existing coupon and thereby increasing conversions
Coupon restrictions – Restrict coupons based on the products or product categories from which customers are purchasing, user role (for example guest users, subscribers, etc.), the amount they spent, the shipping method they choose, and the payment method they choose.
Create giveaways – one of the most popular methods of marketing, especially in the age of social media, create a product giveaway for purchase that meet the criteria that you set.
Create FOMO – Create coupons with a start date and end date to urge customers to purchase.
Download: https://wordpress.org/plugins/wt-smart-coupons-for-woocommerce/
URL Coupons for WooCommerce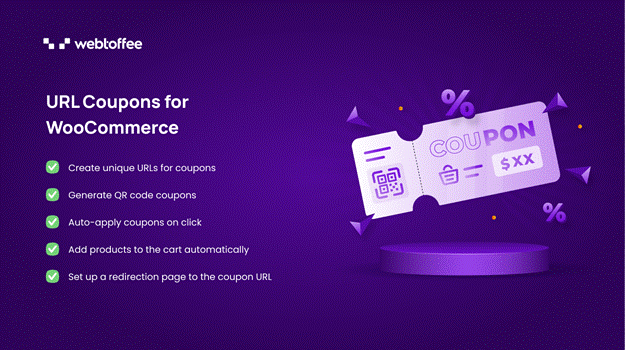 URL Coupons for WooCommerce plugin helps you to create a URL of the coupons you have created in WooCommerce. URL coupons enable you to do a lot of things. It helps you share your campaign online via emails or social media easily. It can help you remove the coupon field from the checkout page, preventing customers to leave your site in search of a coupon – one of the prominent reasons for cart abandonment.
Below are some of the main features of the plugin:
Automatically add products to cart – Auto-apply coupons when the customer clicks on the coupon URL with the products already added to the cart
Create custom URLs – Please your customers with custom and unique coupon URLs
Create Coupons QR code – This can make your coupon campaign easy for customers you can even create print campaigns with the code.
Unlike most of the plugins in this list, this plugin is a premium plugin.
WooCommerce Dynamic Pricing and Discount

This WooComerce plugin also allows you to set dynamic pricing and discounts based on predefined rules in the store. The discounts are given to the purchases that meet the criteria set by the rules. For online stores that want to be smart about the discounts that they provide, this plugin can be a good option to maximize profits even with a discount.
Some of the major features offered by the plugin are:
Set rules for products and categories
Define applicable user roles for each rule
Set a start and end date
Set different types of discounts
Set rules based on quantity, weight, and price of the products
Download: https://wordpress.org/plugins/elex-woocommerce-dynamic-pricing-and-discounts/
Email Marketing
Email marketing is one of the classic marketing techniques for an online store. The effectiveness of email marketing depends on a lot of factors. And if not done properly, you will not get the results you want for the effort that you are putting into it. Below are some of the plugins that can help in your email marketing.
YITH Recover Abandoned Cart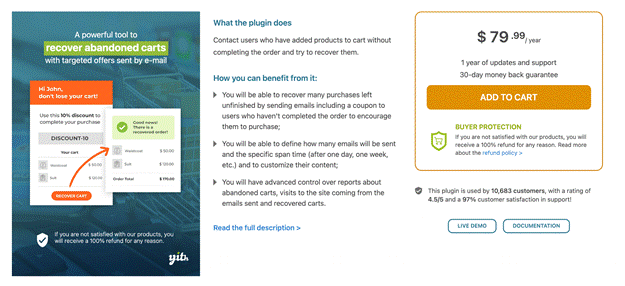 Cart abandonment in e-commerce is a problem. But it also is an opportunity to convert more people to your website. The people who abandoned carts on your website are already interested in your products and for some reason, they left without a purchase. This is where an abandoned cart software can come in handy. YITH Recover Abandoned Cart allows you to send emails to your customers who abandoned carts and remind them to make the purchase. You can include a coupon or any other offer that can encourage them to complete the purchase.
Below are some of the major features of the plugin:
It gives you control over who you can send the emails to
Set the time interval for the sending the email for the cart recovery
Send any number of emails that you think is appropriate for conversion
Reports on how many carts are recovers
Option to add coupons in the cart recovery email
Download: https://yithemes.com/themes/plugins/yith-woocommerce-recover-abandoned-cart/
MailChimp

MailChimp is a great tool to automate your email marketing needs. Your audience's data and their purchase behavior are a gold mine for the growth of your company. They are useful to do targeted email marketing that has a higher chance of converting. With MailChimp, not only can you do email marketing like subscription newsletters, but you can also use it for abandoned cart recovery.
When you are using the plugin, the data are not managed natively on your WordPress website. You need to have an account in MailChimp separately and everything is managed on the MailChimp dashboard.
Below are some of the major features of the plugin:
Sync the WooCommerce customers' data to the MailChimp Audience
Only add the customers who have given consent to be added as subscribers
Segment the audience based on the products they have purchased
Create forms and popups forms and embed them on the website to convert visitors into subscribers
View detailed marketing report from the dashboard
Download: https://wordpress.org/plugins/mailchimp-for-woocommerce/
Content Marketing
Yoast

SEO is an irreplaceable part of content marketing. A huge percentage of people, upwards of 53% (source: Think with Google), do research before they are making a purchase. And a huge percentage of that is online via search engines. And that makes it important for any brand to be optimized for search engines. Yoast is the undeniable champion when it comes to SEO for WordPress. It comes with a lot of features that start optimizing the website right from the get-go.
Below are some of the features that can help improve your visibility in search engines.
Helps you write better content with readability improvement suggestions
Helps you add meta tags for the content created easily
Creates XML sitemap for the site automatically
SEO analysis report to better optimize the content for the search engines
Preview of the title and meta description to help you optimize for maximum clicks
Website: https://wordpress.org/plugins/wordpress-seo/
Editorial Calendar

This plugin is not be used directly for marketing like the other plugins in this list, but sure can assist you a great deal for your blog content creation and marketing.
Part of content marketing is what you post, how frequently you post, and the timing of the post. This editorial calendar plugin easily helps you visualize when all of your posts are scheduled and what the statuses of the posts are at any given date.
Below are the major highlights of the plugin to easily manage the posts on your WordPress website:
View all the details of the scheduled posts in a single view – this includes authors, post status, and the date scheduled
Change the publish status of an article from this view
Drag and drop to manage the publish dates from the calendar view
Social Media Marketing
Social media is a very powerful tool for marketing. There are a lot of tools available that can help you reach the right audience through social media.
Download: https://wordpress.org/plugins/editorial-calendar/
WooCommerce Google Feed Manager

You can bring more visibility to your products for your WooCommerce retail shop with the help of Google Shopping. It can bring you higher search traffic, more targeted customers, and thus more conversions. WooCommerce Google Feed Manager helps you to add your store's inventory to your Google Merchant Center.
Below are some of the major features of the plugin:
Easily submit your product feed to Google Merchant Center
Edit the content of every field to ensure you stand out from the rest of the products
Change the product titles independently from that on the website
Decide which products you want to show and which ones you don't
Changes in your products are instantly updated in the feed
Download: https://wordpress.org/plugins/wp-product-feed-manager/
Product Catalog Sync for WooCommerce

Similar to the Google product feed, this plugin assists in generating a product feed for Facebook Shop. Facebook is one of the major social media platforms that can bring more attention to your products. One of the easiest ways to share your products on the platform is by connecting your Facebook Business Manager with the help of a Facebook product catalog plugin.
Below are the major features of the plugin:
Easily sync the products of your WooCommerce store with Facebook Shop
Exclude products and categories that you do not want from syncing with the Facebook Shop
Sync large number of products in batches
Map your product categories with the categories in the Facebook shop and edit them later on if needed
Download: https://wordpress.org/plugins/webtoffee-product-feed/
Sassy Social Share

This plugin helps the content on your website to be shared on social media. If you have great products or content in your store, people would want to share them with their friends. And the best way to ensure that is to provide social sharing options to the customers right at the source.
Sassy Social Share enables you to add social share buttons to the pages of your website so that the visitors of your page can share them on their social media. This will provide you with more visibility. And not only that, people are more likely to buy your products when they are recommended by someone they already know.
Below are the major features of the plugin:
Add sharing options for all of the major social media platforms
Customization options for the sharing button
Responsive to work on any device seamlessly
Compatible with AMP websites
Download: https://wordpress.org/plugins/sassy-social-share/
Widget for Google Reviews


Reviews are really powerful tools to build people's trust in your website. They are instrumental in visitors' purchase decisions. If you have reviews collected for your business in Google Reviews, displaying them on your website can have a huge impact on how your visitors purchase from your website. The Widget for Google Reviews helps you do just that.
Below are the major features of the plugin:
– You can include multiple widgets and Google Places to add reviews on your website
– Provide visitors of your website the option to write Google Reviews
– Hide selected reviews from displaying
– Display the reviews in a responsive slider
– Reviews update automatically when a new one is added to Google
Download: https://wordpress.org/plugins/widget-google-reviews/
In-store marketing
Your website itself is a great marketing asset. You can use different marketing strategies for your website you ensure that the visitors already on your website not only convert but add more to their basket before checking out. Below are some of the plugins that can help you achieve that.
Related Products for WooCommerce

One of the oldest marketing strategies in the book is upselling and cross-selling. They are both good strategies to increase the average order value on your website. They also help in bringing more visibility to other products in your store. This WooCommerce related products plugin helps in creating custom related products in your store. Although WooCommerce comes with a related products section built in but they do not provide as much control over what products to display.
Below are the major features of the plugin that helps you to create custom related products on your WooCommerce store:
Turn off the default WooCommerce related products
Add related products based on categories and tags
Create a slider for the related products
Exclude products from being shown in the related products section
Set related products globally and for individual products
Download: https://wordpress.org/plugins/wt-woocommerce-related-products/
YITH WooCommerce Wishlist

Wishlists are as much as useful for the store owner as it is for the customers. They help customers to add the products that they like to their wishlists and purchase them later. They also often share their wishlist with their friends and families and on social media resulting in more visibility for your store. YITH WooCommerce Wishlist plugin helps you create add an option on the website that enables the visitors of the store to create a wishlist and add products to it.
Below are the major features of the plugin:
Create a page for the wishlist
Add a remove from wishlist option
Customize the wishlist table
Supports variations of the products to be added to the wishlist
Download: https://wordpress.org/plugins/yith-woocommerce-wishlist/
Customer Reviews for WooCommerce

As we have already mentioned, customer reviews play a very important part in building customer trust and in their purchase journey. When you have a WooCommerce store, you must collect reviews from the customers that already purchased from your store, and display them prominently on your product where the customers can see them.
Getting a customer review is not always easy as it sounds. You have to actively ask them to leave a review. Sometimes a nudge is all it takes. The Customer Reviews for WooCommerce plugin helps you get reviews from all of your verified customers.
Below are some of the major features of the plugin.
Send automated emails to the customers asking for reviews
Aggregated review form for customers to leave their reviews easily
Incentivize leaving reviews by offering discounts
Integrate with Google Shopping
Download: https://wordpress.org/plugins/customer-reviews-woocommerce/
Affiliate Marketing
If you do not already know, affiliate marketing is where people with an online presence can promote your products and services to their audience using a referral link. And whenever some purchases a product using that affiliate/referral link, the person who promoted the product will get a share of the purchase. This is a great marketing technique employed by many e-commerce giants and small businesses alike.
YITH WooCommerce Affiliates

An affiliate plugin requires that you enable qualified leads to be able to sign up for your affiliate program, create an affiliate link, and the affiliate sales be tracked. YITH WooCommerce Affiliates helps you to efficiently manage affiliate programs on your store.
Below are the major features of the plugin to help you launch and manage affiliate programs on your WooCommerce store:
Create a customizable affiliate registration form.
Add affiliates manually from existing users in your store
You can set the name of the affiliate cookie and determine how long the cookie will be saved to identify a referral
See reports for affiliates sales as a dashboard for administrators and affiliates
Set commission rates for affiliates
Exclude taxes and discounts from affiliate commissions
Handle refunds for referral purchases
Download: https://wordpress.org/plugins/yith-woocommerce-affiliates/
Video Marketing
When it comes to marketing you just cannot avoid the possibilities that video marketing brings. There are a ton of ways videos can be used for your business – to create general awareness, to explain what the product is in a visual format, to increase engagement on your website, and more.
Vimeo for WooCommerce

Vimeo for WooCommerce helps you create videos on your product pages with existing images. This helps you to showcase your products in a way that is more engaging and attractive. When you add a video to your website highlighting your products, it can be helpful in increasing the conversion rates.
Below are the major features of the plugin:
Create high-quality videos from existing images of your products
Customize how your video should look like
Choose from template to simplify the video production process
Manage the videos natively from WordPress
Add the created video to your Vimeo library
Download: https://woocommerce.com/products/vimeo/
Wrapping Up
When it comes to marketing, there are a lot of strategies that you can use to promote your online store. You can either focus on one channel as a part of your strategy, or you can go for an omnichannel marketing strategy. In any case, there are plugins that can in every step of the way for your WooCommerce store.
So, which one of the above plugins do you find most useful? Which ones do you want to try out. Let us know in the comments.