Two decades ago, Microsoft PowerPoint was released in May 1990. It has gained importance in the global business community and has become a symbol of professionalism. There are some drawbacks to traditional PPT files. There is a high risk that the content of your presentation can be modified and can be used by anyone.
This problem was addressed in 2010 when the latest version of PowerPoint had the option of saving video options. It helped the users to convert PowerPoint presentations to video files. You can post the video files on social media for different purposes. The file conversion option that is built-in PPT has some problems that restrict you to select the video file format and insert video files in the PowerPoint presentation video. The solution to this problem is video converters. Let's have a look at 6 PowerPoint to video converters, which makes the process of converting the PowerPoint presentation creative and enjoyable.
How to Select PPT to Video Converter Software
Due to technological advancement, there is much expensive software available in the market. You need to select software according to your requirement. If you buy innovative software and it doesn't help you in converting PPT to videos, then there is no use for such software. Many video file formats are not supported by the converter, so you need to look for such software that has the capability of converting audio files and animations into videos.
Let's have a look at some software that can convert PPT to videos.
PPT to Video Converter Online
Convertio


It is the file to store presentations and can edit micro PowerPoint slides. It was initially used to store data in PowerPoint 97 Editor. It can save the slides with audio and video information, graphics, and text. Convertio is a very user-friendly converter. You just need to upload your file to the webpage, then select an output format and press click to start the process. It is using state of the art algorithms to maintain high-quality standards. You can use this tool in any of the operating systems, Windows, Mac or Linux. It also helps to convert videos on the iPhone and Android.
Website: https://convertio.co/ppt-converter/
Online Convert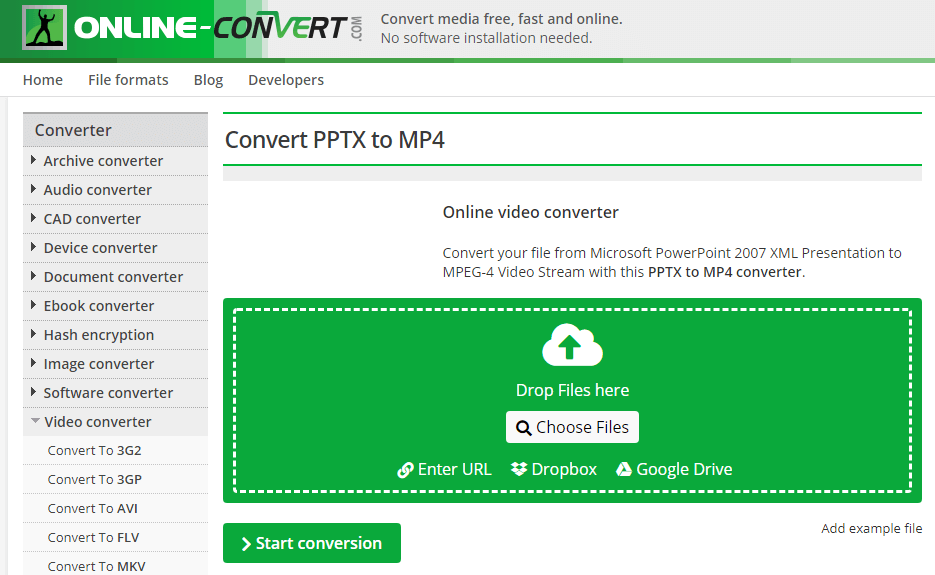 Expanding inventory and constant improvement is the main objective of on-line-covert.com. It converts your media files from one format to another. Some of the formats include:
· Audio converter
· Document converter
· Website converter
· Software converter and many more.
You just need to enter the source and target file format in the browser, and it will convert your presentation.
Website: https://video.online-convert.com/convert/pptx-to-mp4
Mp3Care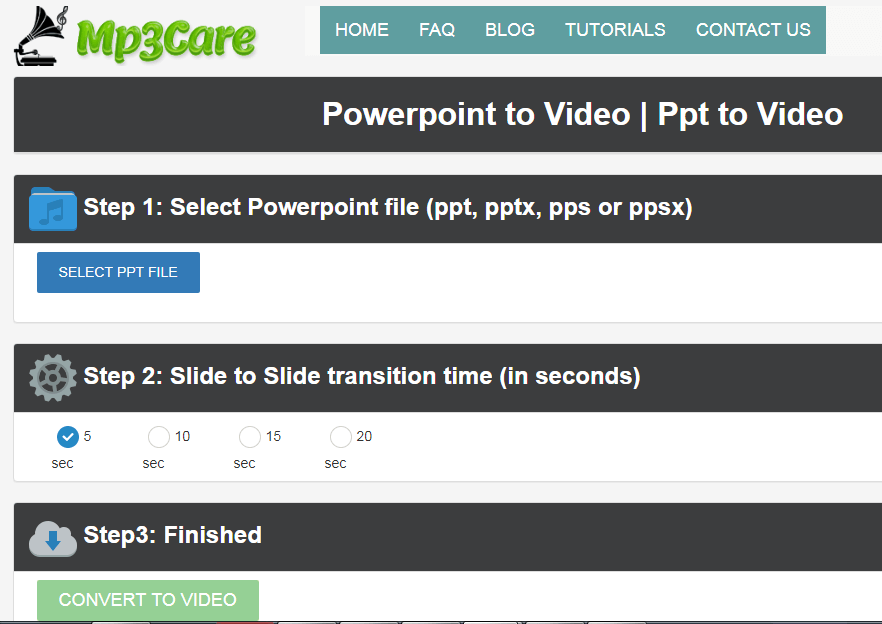 It is a free online application that is used to convert PowerPoint to video. If you don't want to install software, then you can use the Mp3Care converter. The main features of this free online software are as follows:
· Styles, tables, and fonts are imitated in the video.
· Innovative PPT to mp4 converter regulates the quality and size of the video.
· It handles large presentations.
· It can convert PPX and PPT PowerPoint formats. In addition to it, PPS and PPSX formats are also catered.
Website: https://www.mp3care.com/powerpoint-to-video.aspx
Convert Files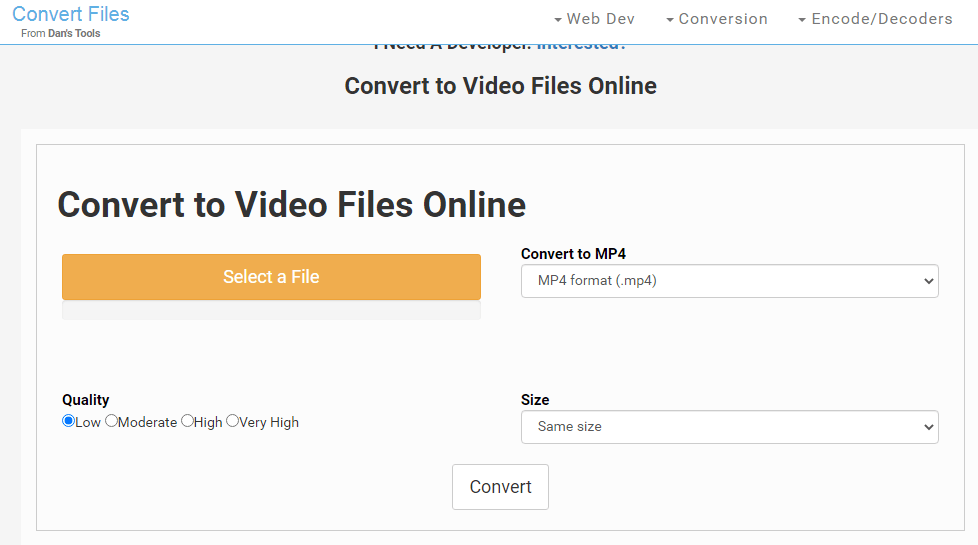 Files-conversion is a free service to convert PowerPoint presentations to videos. By using this online tool, you can easily convert PPT into multiple formats like AVI, FLV, MP4, MPG, SWF, WMV, OGG, DV, MOV, and many more. Instead of searching and downloading software from other sites, you can easily use Files-conversion.com without any hassle.
Website: https://www.files-conversion.com/
RZ PowerPoint Converter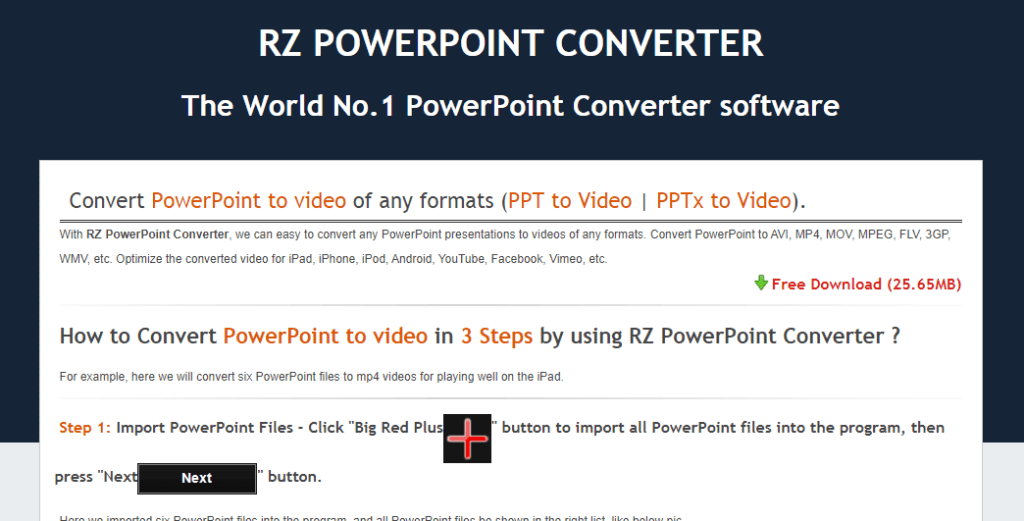 RZ PowerPoint Converter is the world's no. 1 converter software. By using this, you can easily convert PowerPoint to HD video and PowerPoint to DVD. You can easily convert PowerPoint presentations to videos in the formats like MOV, MP4, AVI, FLV, MPEG, WMV, and MPEG. Furthermore, you can easily optimize converted video for iPod, iPhone, Android, Facebook, YouTube, and Vimeo, etc.
Website: https://www.freepowerpointtovideo.com/
Converter Video to MP4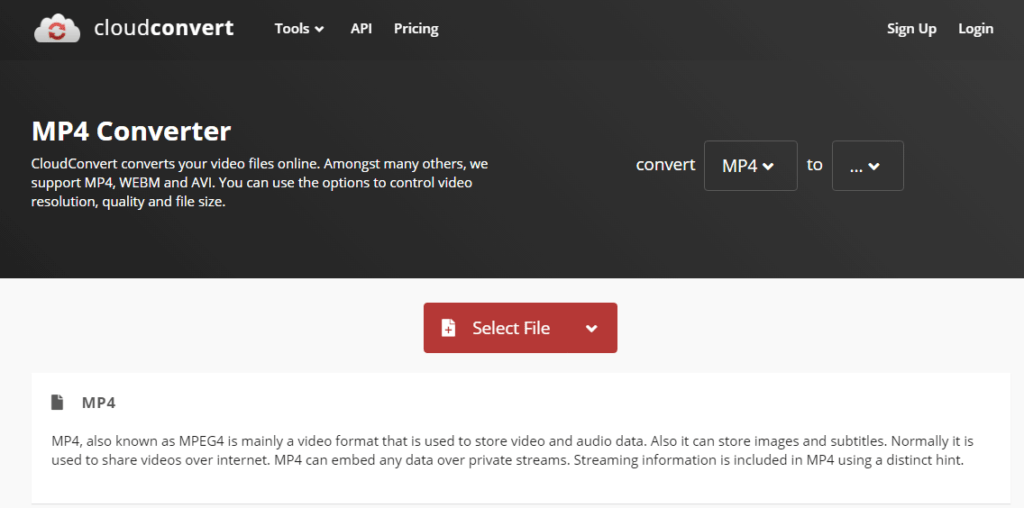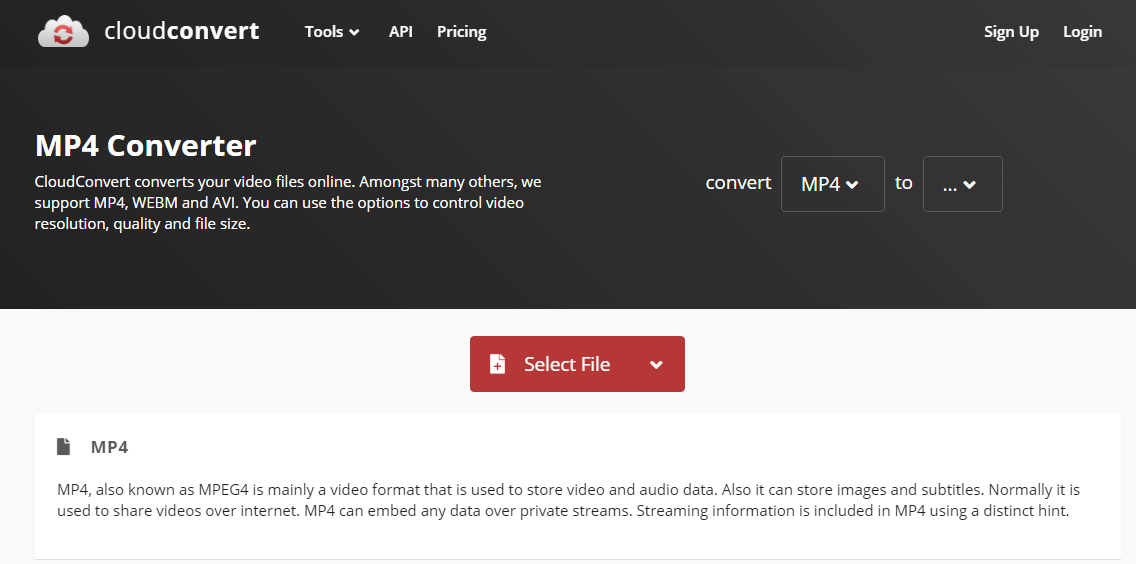 Converter Video to MP4 can convert from over 50 source formats like MKV to MP4, AVI to MP4, 3GP to MP4, MOV to MP4, FLV to MP4, MOV to MP4, and many other formats. It helps in additional features like subtitle conversion and the conversion from a presentation format like PowerPoint to MP4.
Website: https://cloudconvert.com/mp4-converter
Final Thoughts
PowerPoint presentations are an effective tool to attract an audience. They help to make your business communication successful. To engage the audience with your corporate business sessions and marketing meetings, it is recommended to convert your PowerPoint presentations to videos. In this way, the audience can interact with you and learning becomes easy. We have covered all the important PPT to video converter(MP4)online sites here. You can choose from them according to your business requirement.