You must spend hours, if not days, producing and refining the material itself. Along with it, you need to go through a huge amount of research materials.
Admittedly, when it comes to being recognized by search engines and visitors, you need to create appealing content.
Having the required skill set is a fantastic start, but you'll also need the proper tools at your disposal. Otherwise, you won't be able to develop content that stands out from the crowd. These measures are implemented by the best SEO.
In this article, we'll look at the finest and brightest tools for improving your content readability . This would inspire readers, and increase the conversion rate.
Given below are a variety of tools that can be used in content creation. This includes Readability check, grammar check, editing, content analysis, common errors, plagiarism detection.
What is Content Readability and How Does It Work?
Content readability means how easy it is to read and understand content for users, Content Readability can be measured using different types of metrics such as the number of syllables in a sentence or variety of words used to calculate a 'level' and/or a readability score. Based on that these tools give you grade and other metrics to how good is your content for readers. If the readability score is low, it means your content is not good enough for users and needs correction as suggested by tools.
Best Readability Tools to Check Your SEO Content
Hemingway App

The Hemingway App is all about improving the readability of your writings. It will suggest synonyms for you, check for passive voice, and make your work easy to read. It gives your text a bright and crisp appearance.
Key Features of Free Hemingway App
highlights lengthy, complex sentences and common errors
Shows Readability Grades, Reading time, Characters, Words, Paragraphs
Color-Coded Writing Problems, Mistakes, and Errors.
Cut Dead Weight From Writing.
Plans: Free
Website: https://hemingwayapp.com/
Read: How To Write SEO Friendly Content
SEMrush SEO Writing Assistant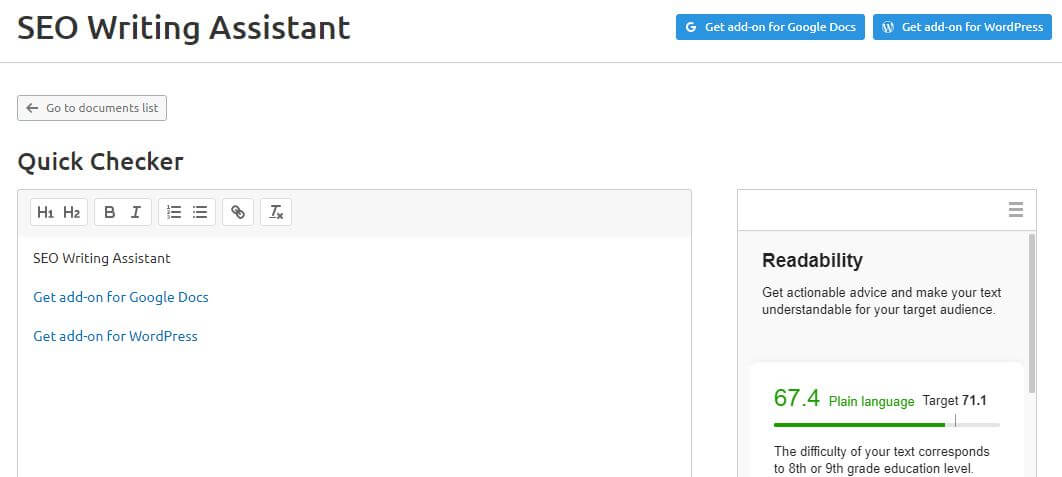 SEMrush SEO Writing Assistant Add suggested keywords to your content. It Include semantically relevant keywords in your material to ensure that it meets the expectations of your audience. Make sure you're not overusing any keywords. The tool will tell you whether any of the keywords you want to target are overused in your writing. You'll be prompted to provide your photo's alt attributes. Check to see if any of your links are broken. If any broken links are found in your content, the program will alert you.
Key Features of Free SEMrush SEO Writing Assistant
Connect an SEO Content Template to your Google document or WordPress draft, and SWA will analyze.
plagiarism checker.
Check SEO quality.
It shows Words Count, Content Issues, Target keywords, Recommended keywords, Title Issues, Tone issues.
Plans: Free
Website: https://www.semrush.com/swa/checker
Related: 17 Top-Notch Proofreading Tools for Content Writers
Grammarly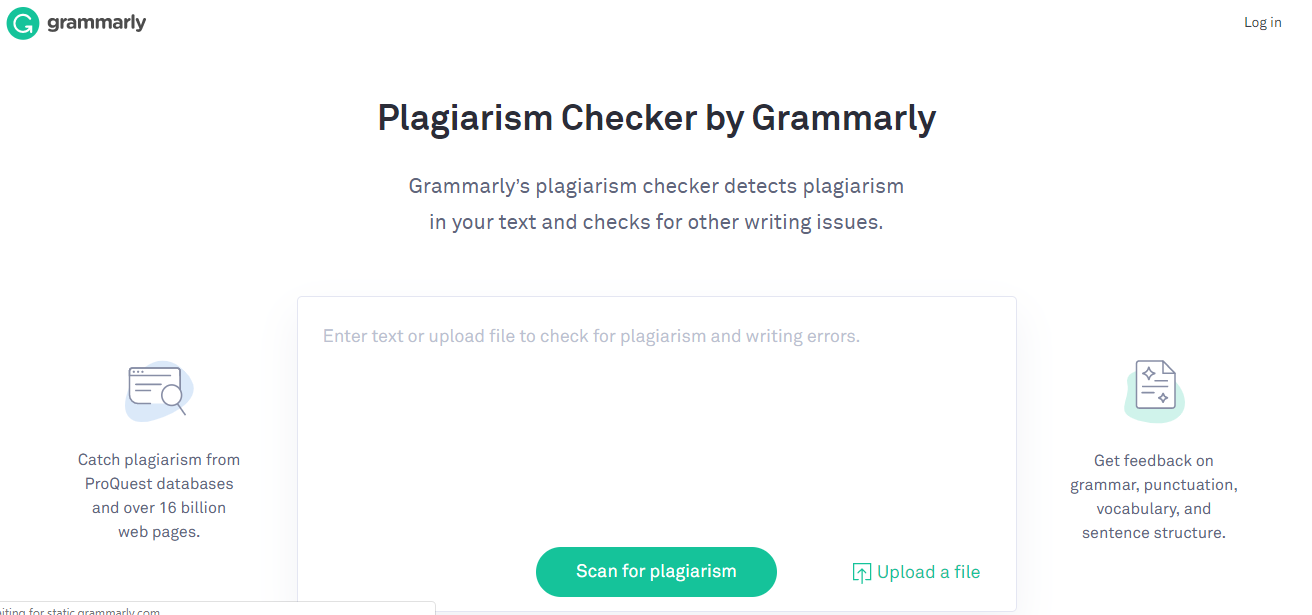 When it comes to editing content, Grammarly is one of the best and reliable editing tools. Grammarly corrects grammatical and spelling mistakes, along with the tone and flow of the content. It highlights unnecessarily complicated phrases and checks for clarity and precision.
Key Features of Free Grammarly
Grammarly's AI-powered writing assistant.
Grammar and spelling checks
Checks punctuations grammar, context, and sentence structure
Vocabularly enhacement
Tone Detector
Plans: Free/Paid
Website: https://www.grammarly.com/
Learn More: 7 Essential Content Optimization Tips
Readability Tool for WebFX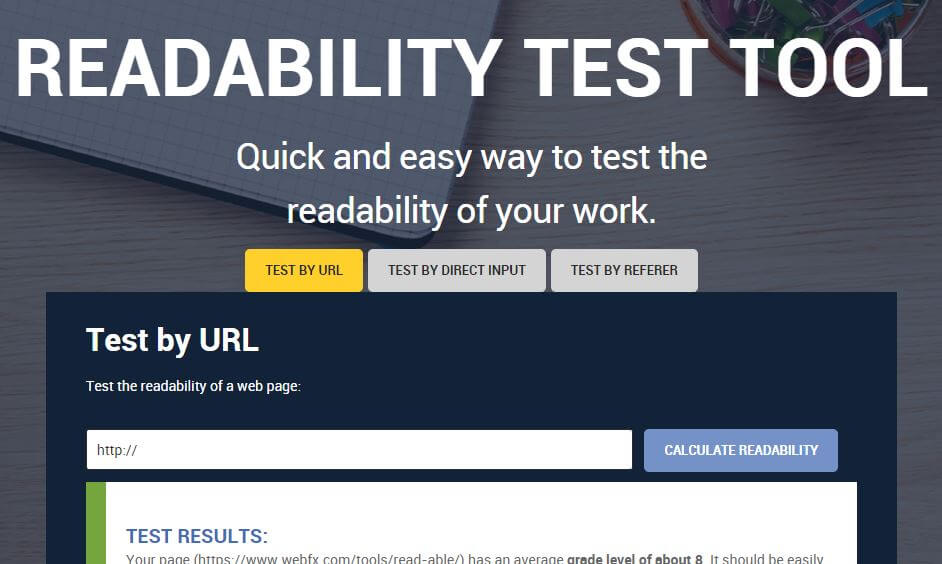 The Readability Tool offers vast information on how good the readability of the content is. The tool provides six readability ratings. These include:
Flesch reading comfort.
Score on the Coleman-Liau Index.
Grade level according to Flesch-Kincaid.
The score of the Automated Readability Index.
The score for Gunning Fog.
The SMOG Index is a measure of how well a product performs.
Key Features of Free Readability Test Tool WebFX
Readability Score
Readability Checklist
Get Readability and SEO Score
Flesch Kincaid Reading Ease
Website Readability
Test by url, direct text and Referer.
show Automated Readability Index (ARI), SMOG Index
Plans: Free/Paid
Website: https://www.webfx.com/tools/read-able/
Read: Top 10 Paraphrasing and Rewriter Apps Android
wordcounter.net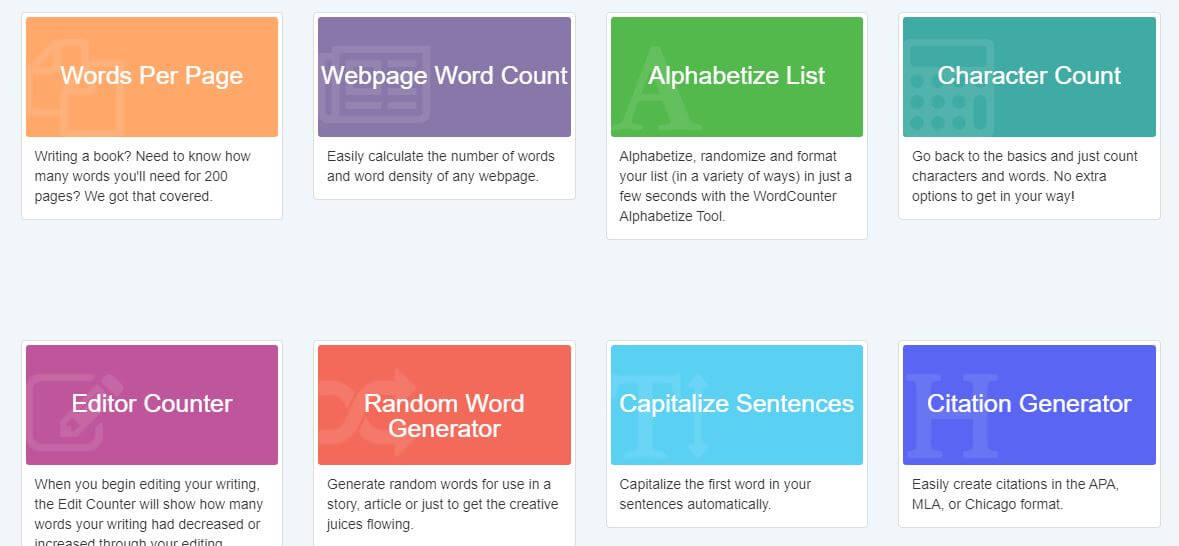 Wordcounter is a tool that helps you detect overused words in your work. This online tool is better than simply a word counter. It will assist you to avoid unnecessary overused terms in your work. This way you can avoid overused "ifs", "and" and "buts". If you're writing SEO content, you may utilize Wordcounter to keep count of the number of keywords in a document.
Key Features of wordcounter.net
Count Words & Correct Writing
Character Counter
Web Page Word Counter
Citations generator
Plans: Free
Website: https://wordcounter.net/
Text Optimizer – Optimize the text of your website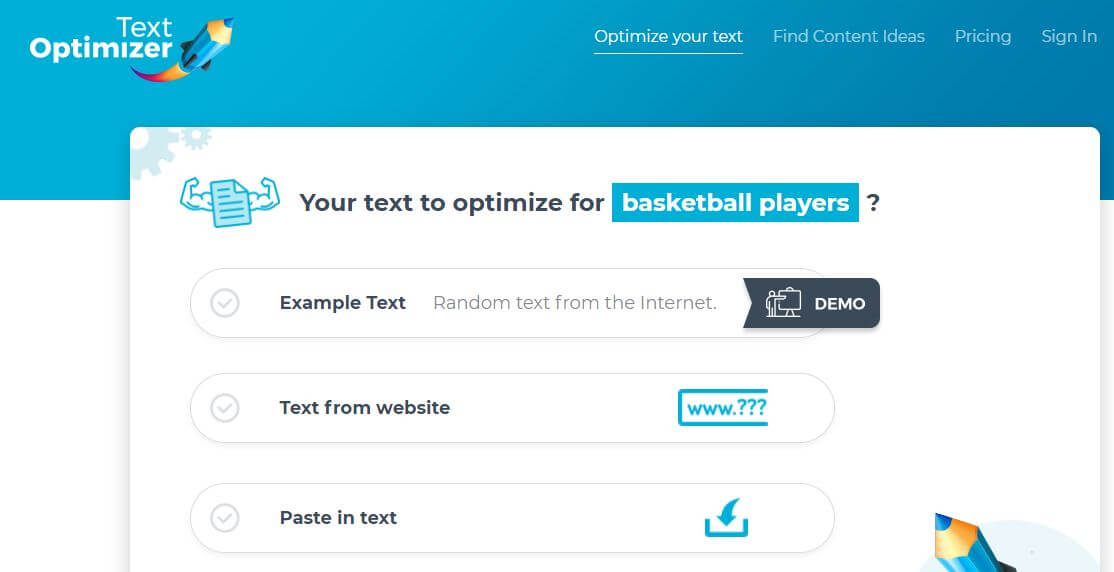 Text Optimizer is easy to use, quick to load, and efficient, allowing you to generate well-optimized text quickly. It allows creating material that is optimized for search engines. To perfectly accommodate search engine requirements, optimization involves adding or eliminating material from your text.
This is an excellent tool to start and generate fantastic content to improve the ranking. This tool will provide you ideas for words to include in your post and words. It suggests words that have to be deleted from your content to boost your ranking. Besides, you can measure the word count, sentence length, and verb usage in your content.
Key Features of Text Optimizer
Webpage Content Check Online
Text Content Optimization
Optimise based on Search Engine like Google or Bing.
Target Audience's Location based optimization
Keywords based Optimization.
Find content ideas.
Chrome plugin to write and optimize faster
Excel file export
Text Analysis
Plans: Free/Paid(Pro 60$), 7-day free trial included.
Website: https://textoptimizer.com/
Read: Must Have Apps for Aspiring Blog Writers
Yoast SEO tool – Real-time Content Analysis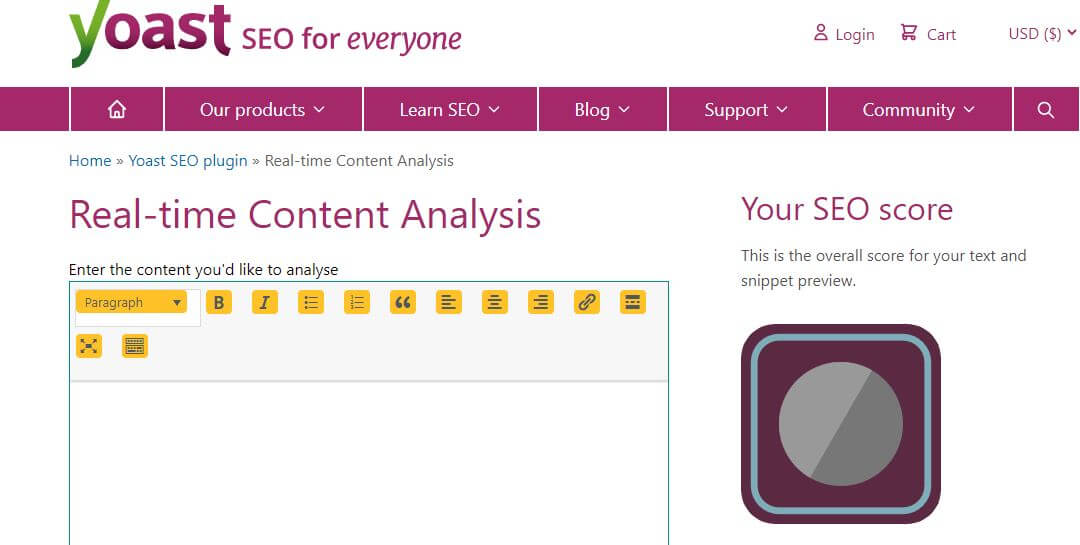 Yoast is a free WordPress plugin that many online business marketers use. This helps to assess their content's fundamental SEO content optimization. It may also offer a readability score of the content online.
A report analysis that lays down the readability score based on several factors, listed below :
Reading comfort
Implementation of passive voice over the active voice.
Utilization of subtitles for easy reading
Creation of proper sentence structures.
Mailing a decent length of a paragraph
The length of a sentence should be up to 20 words or less.
Use of transition words between sentences.
Key Features of  Yoast SEO Tool
Free content analyse.
Shows problems and suggest improvements.
Get Search Snippet preview based on Content.
Content assessments, Estimated reading time.
Available in multiple languages
Plans: Free/Paid(Pro 89$)
Website: https://yoast.com/research/real-time-content-analysis/
Plugin Download: https://yoast.com/wordpress/plugins/seo/
Content Experience with SearchMetrics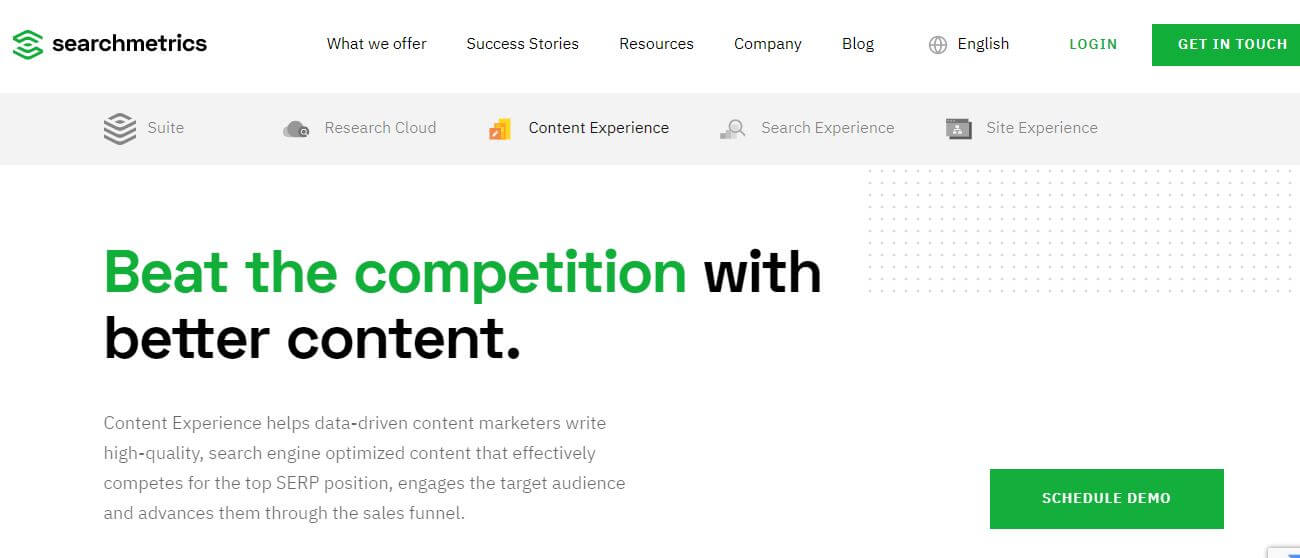 The Content Experience assigns ratings to a write-up's word length, sentence structure, keyword coverage, phrase repetition, and other factors. These are based on your keyword goal.
This is a comprehensive content digital marketing tool. It rates content based on information on user experience, keyword selection, and time of year.
Key Features of SearchMetrics
Content Score
Topic explorer
Boost your content quality in real time
Ensure 100% Uniqueness
Measure Content Quality
Prevent Unnecessary Repetition
Plans: Paid
Website: https://www.searchmetrics.com/suite/content-experience/
Readability analyzer

The simplicity with which a section of written material may be comprehended is referred to as readability. It's often used to determine if a text is appropriate for a certain audience. Legal and health-care papers in certain places are even required to meet rigorous readability limits. This is done to provide access to a broad readership. Take time to think about readability if you want to reach the widest potential audience with your content.
Key Features of Readability analyzer
Shows Passage Statistics
Paragraph Level Readability Scores
Passive Voice Detector
Difficult and Extraneous Word Finder
Spell Checker
Plans: Free/Paid
Website: https://datayze.com/readability-analyzer.php
Cliché Detector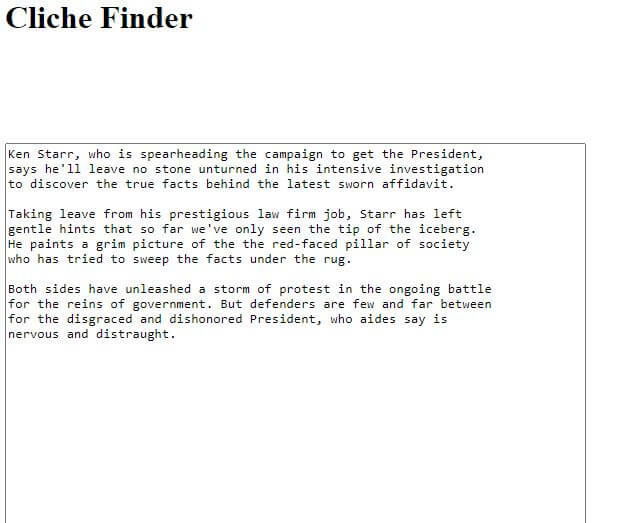 A cliché detector is a useful tool while writing content. It is a useful tool in the sense that you don't have to put a lot of effort to find out the cliche. All you have to do now is use Cliché Finder to double-check. This handy tool will locate and reveal hidden clichés in your content. It is capable of finding phrases too. That any form of repeated cliche or phrases can be identified if they are used multiple times.
Key Features of Cliché Detector
Plans: Free
Website: http://cliche.theinfo.org/
readabilityformulas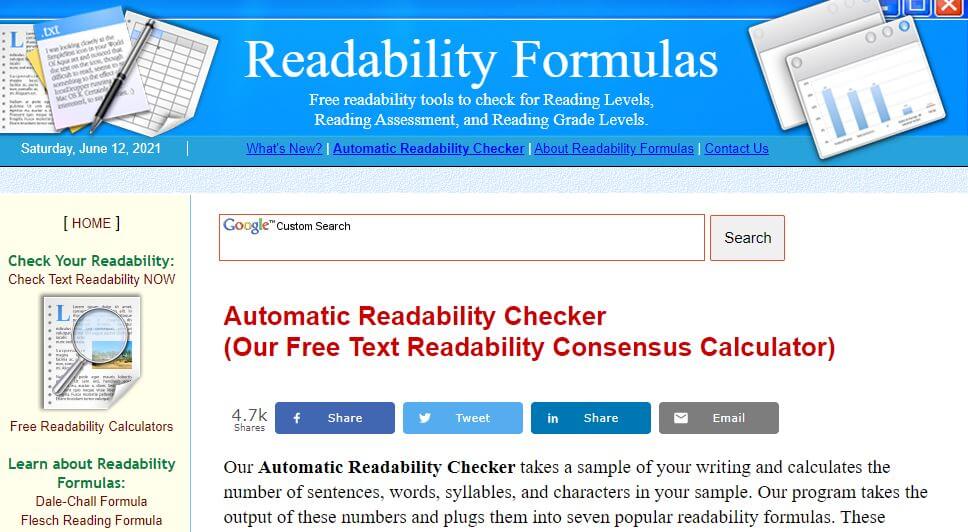 readabilityformulas is an automatic readability checker tool available online for checking SEO content.
Plans: Free
Website: https://readabilityformulas.com/free-readability-formula-tests.php
Readable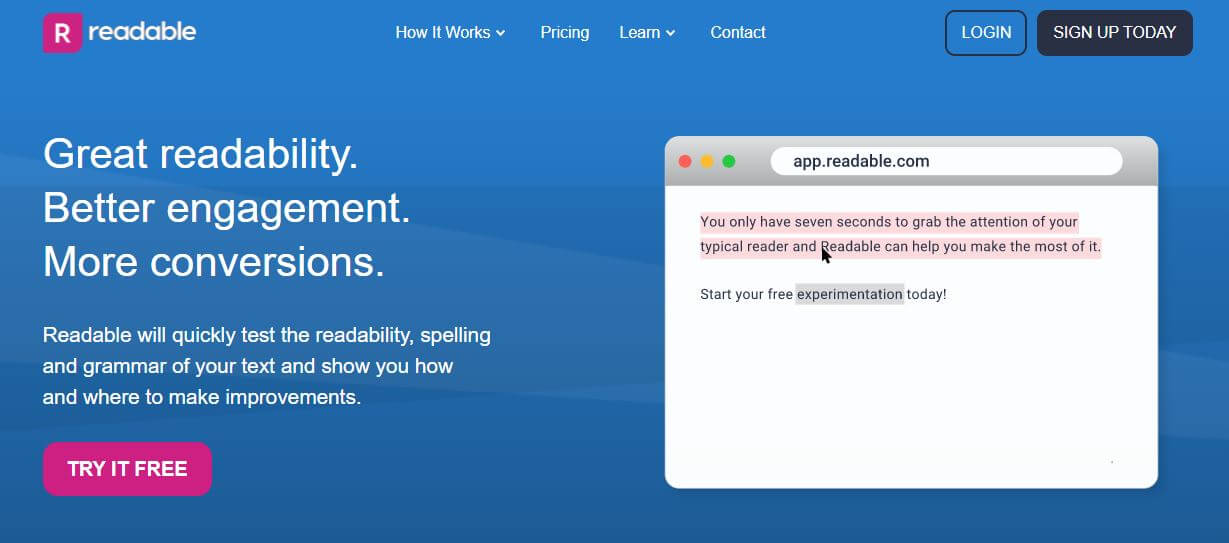 Readable is quickly test the readability, spelling and grammar of your text. You can integrate with Dropbox & Slack.
Plans: Paid/$8$4/mo
Website: https://readable.com/
copywritely

Readable is quickly test the readability, spelling and grammar of your text. You can integrate with Dropbox & Slack.
Plans: free
Website: https://copywritely.com/readability-checker/
Bonus Readability Checker Tools
thewriter.com, prepostseo.com, online-utility.org, seoreviewtools.com, sitechecker.pro, seotoolscentre.com, smallseotools.com, seoprofiler.com, writeupondemand.com, slickwrite.com, expresso-app.org, similarcontent.com
Conclusion: There is a wide range of SEO tools that SEO services Noida use to create and post content that is appealing to the readers. You can use them too. This would help you to gain more visibility on the internet and convert the visitors into potential leads.
Must read: How to stay motivated to write, even when things aren't going well!