Have you faced a situation where you wanted to complete your blog or article, but your mind refused to cooperate? Or your mind is gripped with fear whether you would be able to write a better blog than the previous one. The fear of wanting to be better than the last time could numb you.
Perhaps you have a deadline to meet and you have a lot on your plate. The screen in front of you is blank and has been so for quite some time. The clock is ticking, and you are embroiled in anxiety, fear and guilt. And you can do nothing about it.
Every writer is aware of this grave feeling. It's real and happens when you are under tremendous pressure to deliver high-quality writing at the earliest. It is called the 'Writer's Block'. No doubt it is frustrating, but unbeatable – not at all. It must be dealt with like any other anxiety, else it could hamper your work and your peace of mind.
However, if you are racing against time, the best way to move forward is to hire Professional Content Writing Services, to help you win. And, if you're not short of time, then try the following techniques to overcome the dreaded writer's block phase.
Here are some tips to overcome this phase and complete your project with flying colors:
1. Give yourself a break
That's right, just take a break! Apparently, you are the best judge about your schedule, hence taking a break depends on it. But the perks of resting and relaxing the mind cannot be overstated.
You could take a walk. Getting outside, into nature can enhance your creativity. This strategy works for professionals of all fields.
Walking definitely has its benefits, no wonder business bigwigs like Steve Jobs and Mark Zuckerberg hold meetings walking.
According to a research conducted by Stanford Study, the science behind walking is:
● It clears your thoughts, decreases stress, boosts blood flow along with lifting your mood instantly.
● Your creative output shoots up by at least 60% when you take walking breaks.
You can try breathing exercises which can increase the flow of oxygen in your blood, slow your heartbeat, lower
your blood pressure in turn help you relax.
Taking regular breaks can enhance your productivity. However, there is a thin line between taking a break and procrastinating. Hence, it is advisable to first experiment what works best for you.
And remember to plan your time in a way that you can take breaks without hampering your productivity. You need to be efficient without skipping your deadline.
2. Freewrite To Overcome The Block
The Freewrite technique was developed by Peter Elbow in 1973. Although, it is quite like brainstorming. But you must write sentences and paragraphs continuously without a pause.
This technique is quite effective as it enables you to process your ideas and thoughts in an entirely different way. For instance, when you think about a solution to any of your problem – try freewriting whatever comes into your mind. Your mind will give you instructions – you just need to put it into writing to clear your thoughts. You will have something in front of you, which is better than having a blank screen.
When you Freewrite, don't stop to even correct spelling, you just must go on. Freewriting every single day, will help you identify patterns which then can make your writing have a set standard and predictability.
Remember to Freewrite, next time you are experiencing writer's block. To help you with ideas for freewriting – Writing Time Friday is a good web app. You can use their prompts to ignite your imagination. This website sends you prompts every Friday to add to your list of ideas. Its free and there are no rules of writing, only that you must
complete the write-up within 30 minutes.
However, if you've tried a few tricks, and have made some writing progress, but you're not satisfied. Then the best thing is to stop right there and seek help from a renowned Professional Writing Services team. They will help you complete your project with a fresh and perfect perspective. This way you will be able to provide exceptional content without denting your reputation.
3. Use Daily Page To Unlock Your Creativity
The Daily Page app can help you by not letting you go through the writer's block. When you write something daily, the chances of getting stuck would be minimized. Because a daily habit can help you unlock your creativity.
Now, you need topics to write daily. How about spending an hour everyday to write something about a highly debated issue? Doesn't it sound tedious. But when you receive a fun prompt every morning from Daily Page, isn't it exciting?
All you must do is to answer it in a couple of paragraphs before the day ends.
Interesting prompts like – talk about your worst heartbreak, I messed up when….
Daily Page gives you the option of keeping your response private or sharing it with other Daily Page users. If you choose to keep your response private, you will still be able to access other public responses.
Daily Page was created to help people develop a daily writing habit in a fun way. Writing is a great way to engage the creative side of your brain, even for non-writers. The users receive a prompt everyday on their emails, and the writers visit the app to post their responses.
4. Hemingway, For Concise & Clear Writing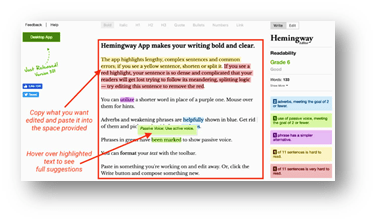 The Hemingway web app can be a gamechanger for you, if you struggle with writing long-winded sentences. This particular app can help you in becoming a more concise writer making your article or blogs clearer and bolder.
How to use this application:
● Open it in any browser
● Paste the content
● Let this app do its magic
There will be suggestions to change the content like simplifying the structure or eliminating passive voice accordingly. All the suggestions will be color coded for better understanding.
This app also features a readability meter that will indicate the difficulty level of your writing. Hemingway has divided the difficulty levels into grades – Grade 1 being the easiest and Grade 10 being way too complicated. So, if your content features in Grade 10, it needs simplification and if features anywhere between Grade 1-5, it means it is good to go.
Interestingly, this app is somewhat inspired Ernest Miller Hemingway's work. He was an American journalist, novelist and author of short stories. He was very economical and understated in his writing style, which was termed as the Iceberg Theory.
5. Leave Your Grammar Woes To Grammarly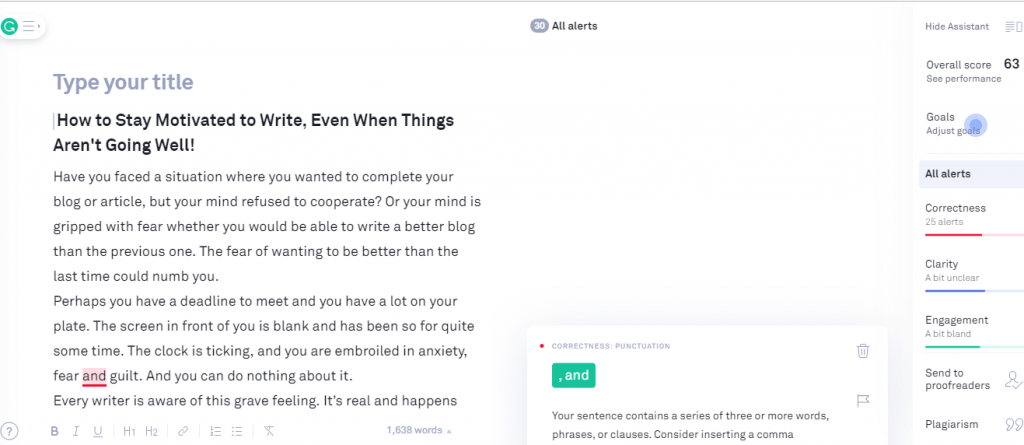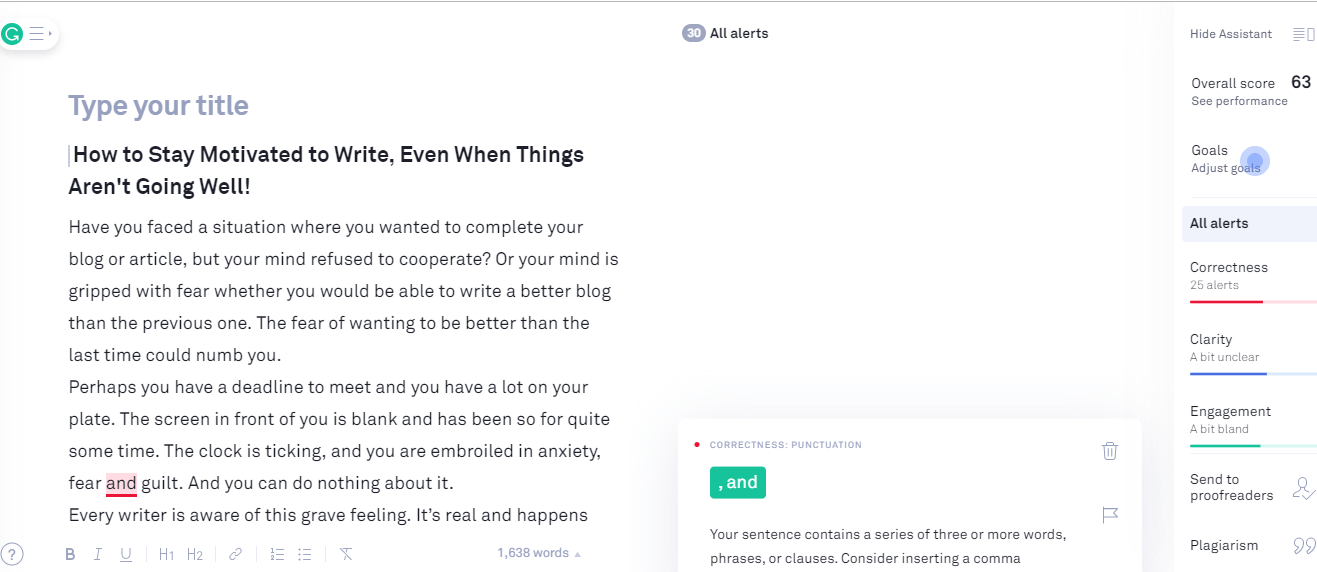 You've done your research and you have created your article accordingly. The only thing left now is to check for language or grammar issues in your content piece to make it flawless. Good grammar is the backbone of any content and you can't go wrong there. To help you beat your grammar woes, Grammarly is an amazing web app.
Grammarly checks for all kinds of grammar and spelling errors. However, the premium version analyzes your writing for grammar, punctuation, context, and sentence structure. It searches for excessively words and also suggests alternatives. The premium version helps you correct the tone of your article. It also checks your article according to the genre style.
6. Inculcate A Habit Of Writing – Every Single Day
A writer needs to write every single day. Rather, a writer must write daily, just like a painter who has to paint, or a chef who has to cook. There is no simpler way of saying it. If you want to become something, you will need to practise it far more than you think about how badly you want to be it.
Unless you are able to establish a simple habit of writing into your daily schedule, you will never be able to succeed. There are no shortcuts.
Here are a few simple tips to avoid Writer's Block:
● Take Notes
Just write down ideas and phrases as they come to you. Use flow charts, boxes, or even pictures to record ideas, free yourself from paragraphs and sentences.
● Use What I Really Mean Is (WIRMI) Technique
When you're stuck in a maze kind of a situation trying to find the perfect phrase. Try swapping to What I Really Mean Is technique and write it the way your are thinking of it. Once you know what you mean, it will become easier to enhance the phrasing.
● Do Not Procrastinate
To proper manage your time and complete writing without pressure, procrastination must be avoided.
Wrapping up
Many times, when we are stuck on big projects, it can feel like we could never come out of it. But always remember, that a writer's block happens to all of us and can be beaten. You have to accept it, and approach it with self-compassion and an open mind, and you can be moving forward in no time.
We would like to hear back from you about your experiences, tips and tricks to beat writer's block.