Web design is considered to be the first task for every company in order to create "online address". There are tons of tools out there for designing website. In today's times, it's not difficult to build a website. Also, Various platforms like Wix, Go Daddy, SquareSpace & Big Rock provides tons of features to design a stunning website.
For non-designers which are considered to be beginners, the scenario is quite the reverse. They are always in a dilemma with regards to the selection of the right tools & platform for web design.
Before looking at various plugins for web design, it's important to talk about CMS (Content Management System) platforms!! The most explored platforms include:
1. WordPress
2. Magento
3. Drupal
4. Wix
5. Weebly
6. Joomla
7. Squarespace
Out of these, WordPress is the most common platform for the design of a website from scratch.
For beginners, it's very important to look at the stats why all the experts keep telling and recommending wordpress as the most preferred website development platform.
As per the recent 2019 data, 37.5 million websites are hosted on wordpress.com & 64 million websites use wordpress.org as their most preferred CMS (Content Management System).
It provides a plethora of plugins to assist in web design. To be precise, as of now there are over 54000 plugins to choose from!! For beginners, it's quite a task to select a handful of plugins which shall support them in design, SEO & voice search optimization & amaze users with tons of features.
Not to worry as here are the 10 most useful web design plugins which support any beginner or non-designer from start to the point where the normal working website is ready.
1. Brizy Visual Editor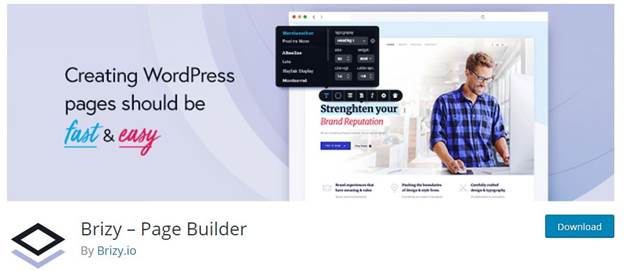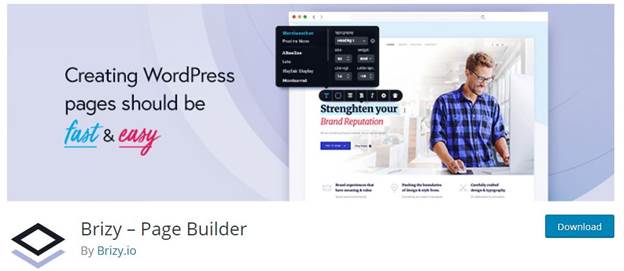 Brizy is one in all plugin which supports in building the whole website. Whether you pre-decide your design or starting from scratch, Brizy is there with a plethora of built-in features. It is very handy with the ability to change the visuals by drag and drop features. From making a website SEO friendly to optimize for the device from desktop to mobile, brizy has all to offer.
The most prominent features include:
Page Builder Blocks – Page builder provides 400+ exclusive pre-built blocks to get started with baby steps of page design. There is a facility to customize various blocks as per the need or nature of business. The designer can mould the page with amazing support options which include:
● Undo/Redo feature – Bring back or jump forward to the design with creative buttons.
● Drag & drop feature – This is the most common feature with which designers can move & change the designs with the matter of clicks and seconds of time.
● Video enabled background – Any designer can insert video as a background of the block. The feature will be useful to create insightful tutorials or testimonials of the customers.
● Animations – Brizy provides great animations which enhances the visual texture of the page.
● Image Optimization – With images, the designer can do multiple things from zoom in-out, adding shadows & crop to fit the block size.
● Block bookmarking – Designer can save the blocks for future usage when repetitive work is there.
Easy to create forms – Brizy provides a simple interface to create forms for obtaining user information. It also provides an integration facility where the designer can integrate pre built forms from other plugins.
Visual Sliders – It's not possible to add all content in one block and if doing so, can make the page too clumsy!! Here, slider comes in the picture which shifts the block nature from static to dynamic with the ability to edit each block with unique visuals and to change the sliding speed as per the requirement.
Pro features
Apart from the above mentioned free features, there are some pro features for which designers have to loosen up their pockets!!
Custom Pop-ups – In the past, designers were using a 3rd party plugin for placing any marketing pop-ups but not the case with this feature. With seamless integration, the designer can build in house pop-up which amazes users and enhance the chances of a sale.
Headers & Footers – Brizy free version has limited features when it comes to changing headers & footers. With the pro version, designers are in the driving seat for building seamless navigational areas and eye-catching headers & footers as per the nature of business.
Pricing:
Brizy visual editor – Forever free
Brizy personal – $49/year for 3 sites
Brizy studio – $99/year for unlimited sites
Brizy lifetime – $299 with lifetime updates & support
2. Yoast SEO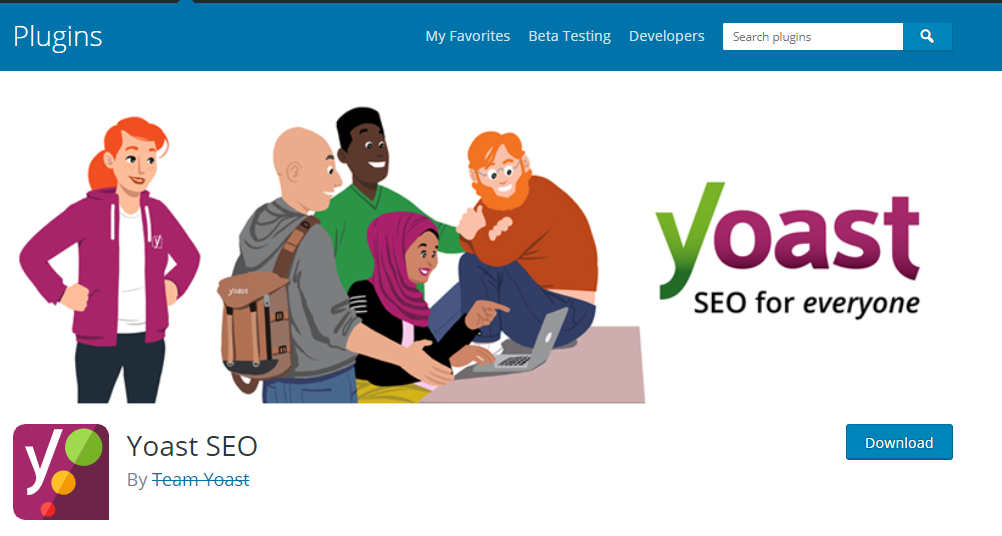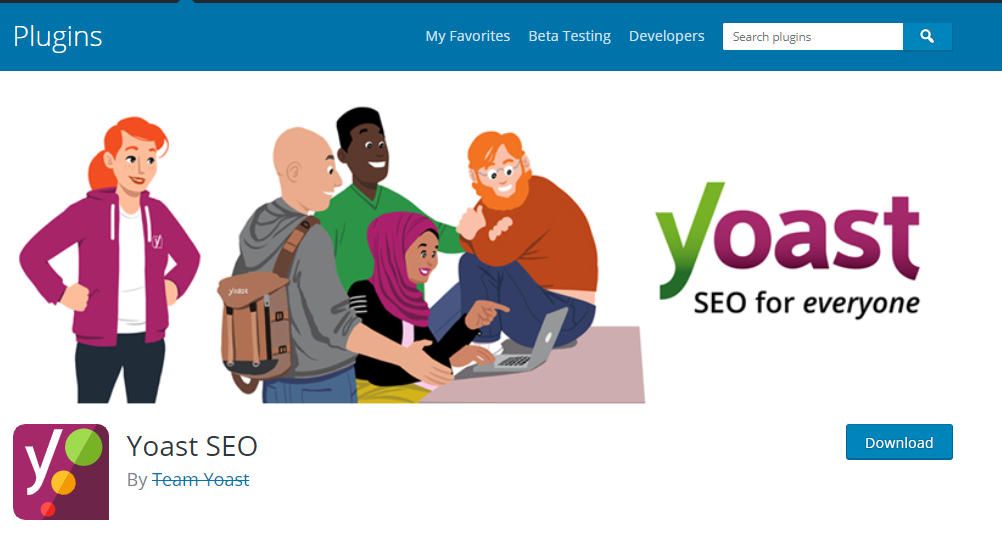 Yoast is the ultimate companion for SEO related optimization of the website. It comes with handy features which makes site SEO friendly and enhances the position on SERP (Search Engine Results Page).
Prominent Features Include:
On page features – After successful integration with wordpress, the webmaster can add title tags and meta descriptions on every page with support of plugin. The webmaster can also see the preview of technical SEO elements on actual SERP.
Keyword Optimization – The webmaster can optimize every web page with focus keywords and implement the suggestions provided from the plugin itself.
Readability Analysis – Improve the readability of the content based on the suggestions with the customized reading score.
Make unique URL – Create canonical (unique) URL to avoid content duplication & penalties.
In addition to these above mentioned basic features, premium features include:
Social Media Preview – With the premium version, check the preview of the page on social media platforms.
Internal linking suggestions – Get automatic internal linking suggestions based upon content type and web structure.
Multiple keywords optimization – Optimize the page for multiple keywords with automatic suggestions on further improvement.
Multiple SEO extensions – Optimize the page beyond just text-based SEO with areas covering news, images, video & e-commerce.
LSI keyword suggestions – Get suggestions on which similar keyword to include based upon main focus keyword.
Ad-free interface – Webmaster can work on every yoast feature within the platform without any interference from ads.
Customer support – With the premium version, webmaster will get 1-year free support from the customer service team and can able to solve queries in real-time.
Pricing:
Yoast SEO free version
Yoast SEO Premium version – $89/site/year
3. Acquire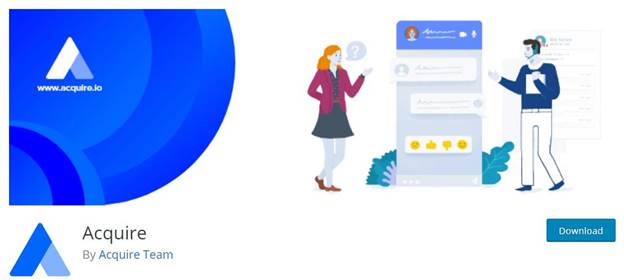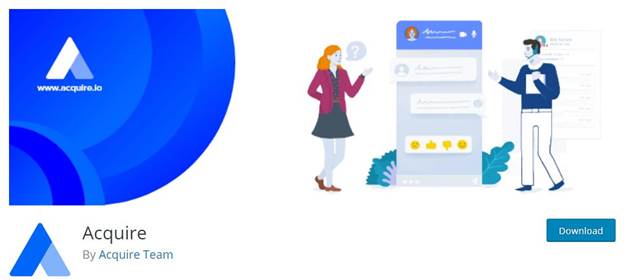 Nowadays, companies expect from designers not just to design & deliver website in terms of visual elements and navigational structure. If you are a beginner, it is high time to think about providing 360-degree solutions. As per the product or service, designers can build a website with the integration of plugins from every business areas. The most commonly neglected area is customer support. Without having any plugin for support, designers can't handover the website to the company.
The AI-enabled chatbot from Acquire comes into the picture which provides instant responses to customers. Machine learning and self-training capabilities aim to solve 80% of user queries. On the other hand, support agents can focus on more complex queries and it reduces the efforts from both the ends.
Prominent features:
Live chat – Real-time support with a humanised approach through the facility of video, audio calling and evergreen text messages.
Cobrowse – Through cobrowse technology, support agents can help users via sharing of web screen when they stuck in online processes from payment failures to filling up forms.
Analytics – With existing insights and historic chat transcript, (Ex. number of repetitive queries, missed chats data) support agents can seat together with the sales team to better design future strategies.
Pricing:
Acquire: 14-day free trial
Acquire Team : $40/agent/month
4. Akismet Anti-Spam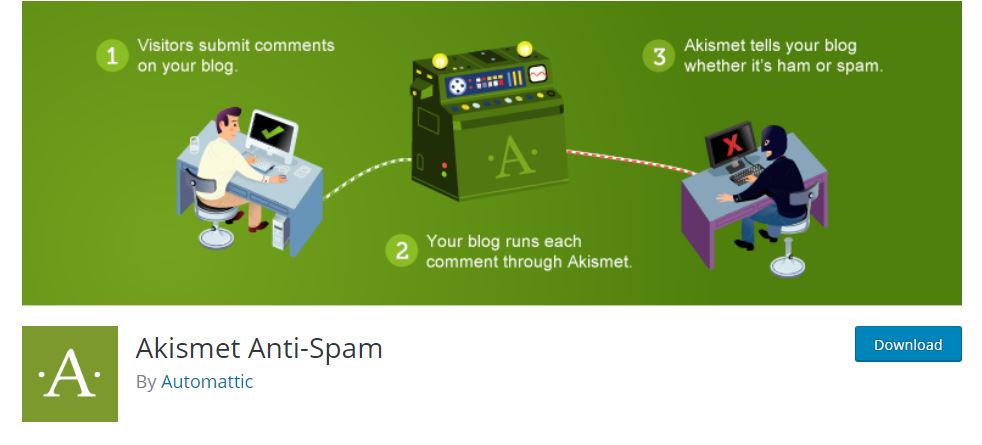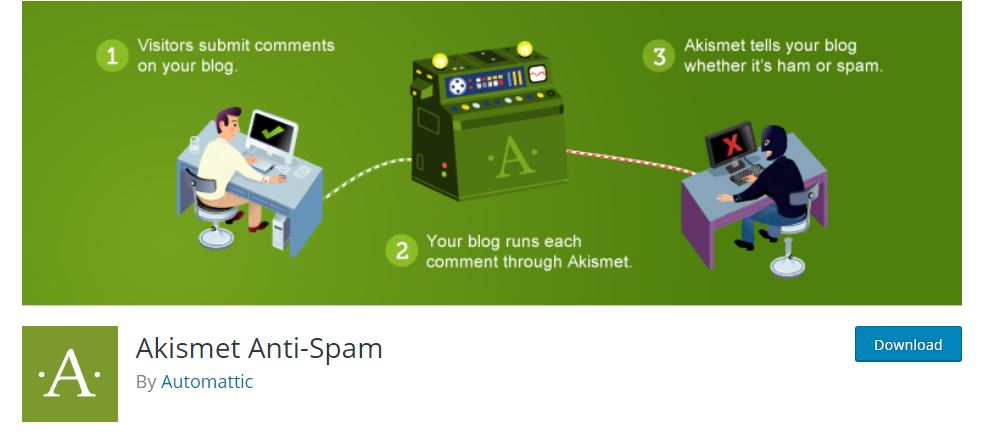 Every designer needs this plugin when the website will be going live. As soon as the website transferred from a remote server to open access for the public, spammy comments will start showing up on every web page which breaks the website security and ruins the user experience.
These fake and spam users can also get access to website backend which might create further problems in terms of the company's online image, online confidential data & sensitive remote server data.
In order to avoid such problems, it is necessary to install Akismet Anti-spam plugin.
The basic feature you can't ignore:
Spam protection – Make website spam free by filtering out fake users and blocked comments.
Additional premium features include:
Multiple site support: the plugin will provide additional support to more than a single website.
Spam statistics – Analyse the data on spammy comments and make an action plan on how to avoid them in future.
24*7 priority support – Get instant support on major occurrence of spam attack.
Pricing:
Personal plan – Forever free
Plus plan – $5/month/site
Enterprise plan – $50/month/site
5. Nested Pages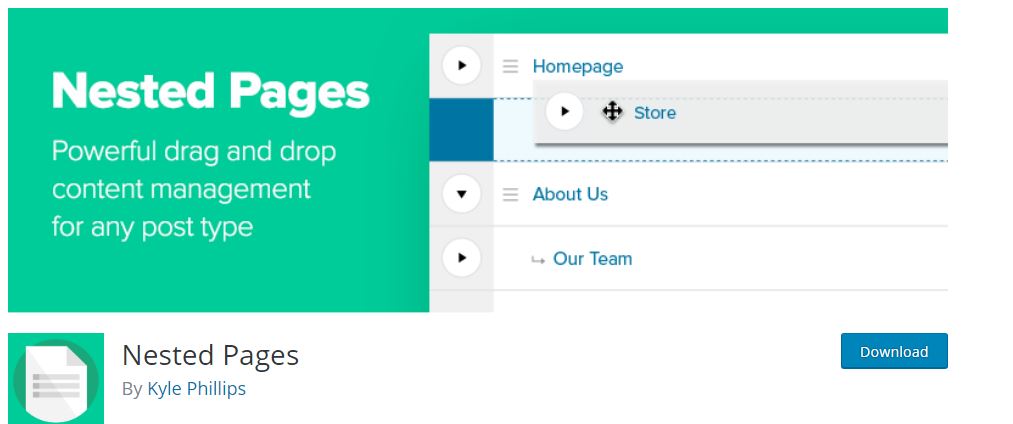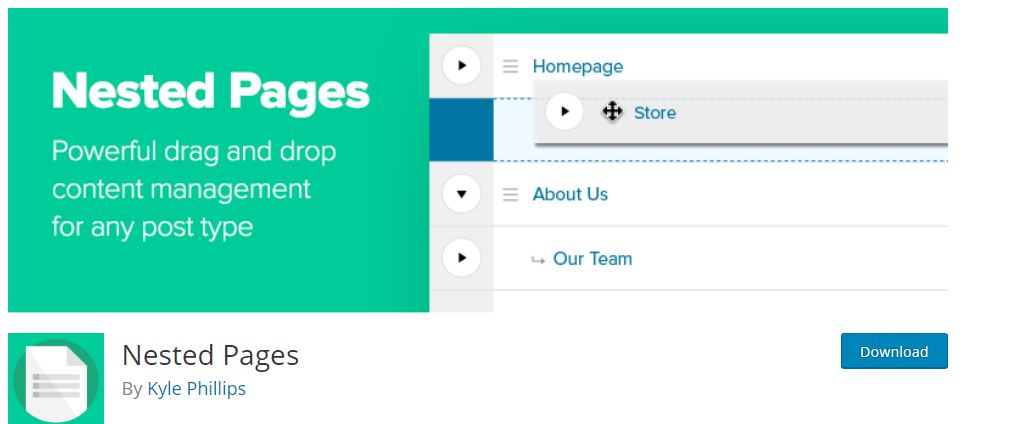 Most of the time, the website has so much to display in terms of products, services, reviews etc. For this, designers need to showcase it in a very professional way in the header section. They will design the menu in two folds in order to drill down and display all the necessary information.
That's when Nested Pages comes into the picture. This is one of the most important tools for beginners in order to get started with menu design.
Features you can't afford to miss:
Drag & drop feature: with easy to move various sections and sub sections inside of wordpress menu structure, designers can save their time to a great extent.
Bulk posting – There is possibility to add multiple menu items in one attempt by using bulk posting feature.
Easy to navigate – This feature allows to display entire menu structure in "tree view" with the ability to hide and show sub-menus.
Pricing: Free forever
6. Polylang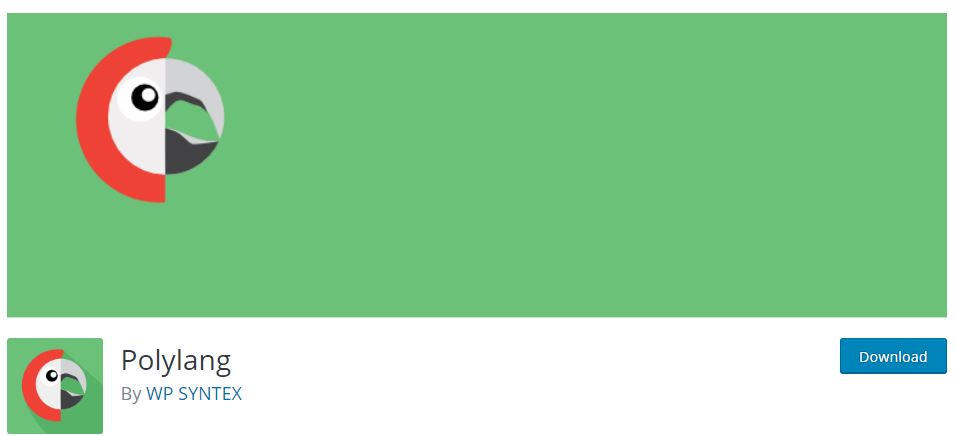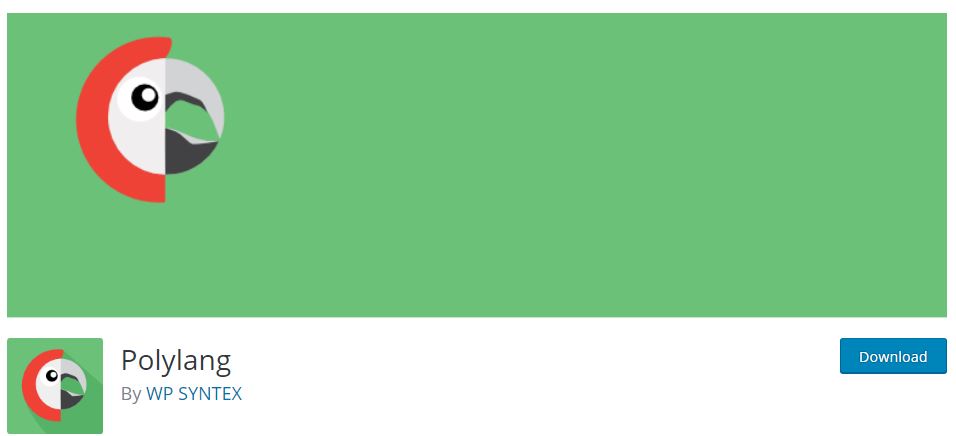 In recent times, every company wants to expand outside of their target region and exploring opportunities for going "multinational" or "global". In certain conditions, when a company targets multiple countries with different languages, they need to focus first on the company website. There is a need to implement certain language-related strategies which are called as "International SEO" tactics.
For making website optimized for language, there is a need to integrate Polylang plugin. In other words, for making a multilingual website, designers can use this plugin.
Prominent features:
Multiple languages support – With successful integration, it is possible to create every web page in multiple languages.
Seamless integration – For adding another language in existing language dashboard, the integration requires few clicks.
Apart from basic features, polylang comes with 3 additional premium versions:
Polylang Pro – This version has all the basic features in addition to premium support and ability to post the same content in multiple languages.
Polylang for WooCommerce – For making WooCommerce multilingual website with limited external integrations.
Polylang Business Pack – This version is made from a combination of two different plugins named: Polylang pro & Polylang for WooCommerce. It allows designers to create multilingual WooCommerce shop with all external integrations.
Pricing:
Polylang – Forever free
Polylang Pro – $99/site/year
Polylang for WooCommerce – $99/site/year
Polylang Business Pack – $139/site/year
7. Google XML sitemaps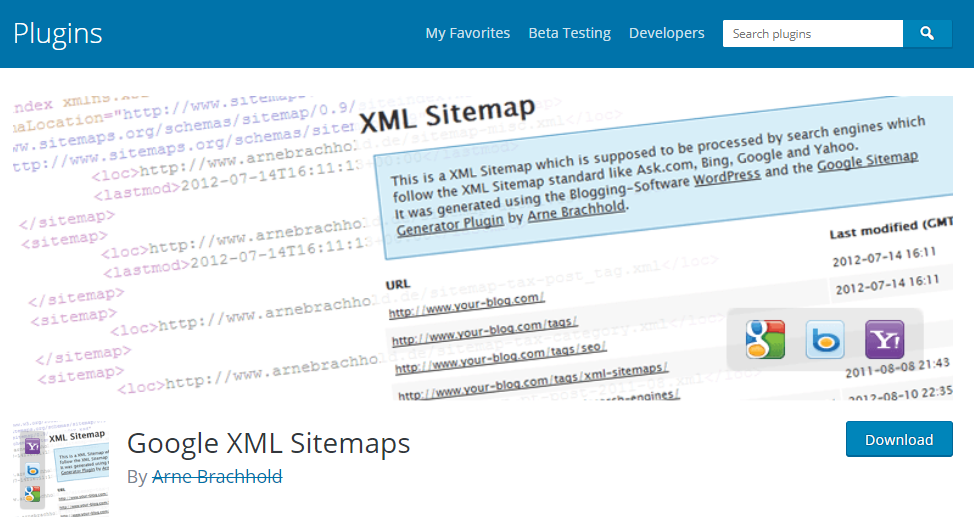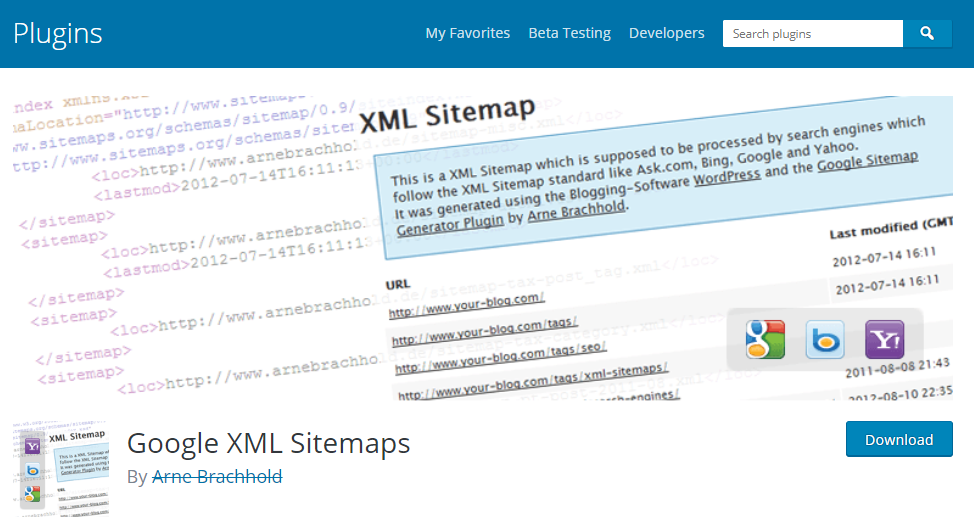 Google XML sitemaps is the ultimate plugin for boosting the ranking of a website on SERP.
How?
After integration, it will create one file containing all the information of pages, internal linking structure, website architecture etc. Whenever any new blog post gets published or content got updated, the plugin will notify search engine through that file automatically. If webmaster will doing it manually, it will take hours of time and chances of errors are more. With seamless syncing, google crawler will fetch more relevant information and enhances the chances of higher ranking.
Pricing:
Google XML sitemaps – Forever free
Conclusion
The list of plugins is endless and it is possible to add new plugin every odd day. The important thing to remember is to create a 360 degree plan of business goals, nature of product/service & the list of required web privacy laws. Afterwards, management can forward this plan to designers in order to build website architecture and start thinking about the required plugins.
These activities can save the designer's time to build an elegant website with added plugins from building web pages to providing customer support.
Do you have ideas of similar web design plugins or are you using any of these for designing website? Comment them all and it can create a comprehensive list which is useful for emerging and upcoming web designers!!