In the current scenario, Digitalisation has changed the way business work. It has become essential for marketers too deep into the world of digitalisation to keep their business growing.
With the competition level rising to an all-new level, it becomes vital for marketers to build a well-oiled lead generation machine.
As the name suggests, lead generation is basically broken down into a set of different marketing activities that are in line with the journey what a seller goes through.
The journey starts with generating relevant traffic through various online modes, then try and convert the visitors into potential leads, finally turning the potential leads to customers.
Lead generation remains as one of the biggest obstacles into the set of activities defined by the marketer.
As per a recent report, 88% of the consumers before buying product research online to read reviews of the product. As marketers, it becomes necessary to build an effective digital marketing platform and lead generation model, which attracts a huge number of buyers.
The aim is not just to pull traffic, but to lure potential customers on boards which become final customers quickly.
Here are a few tips which will help to general leads with digital marketing:
1. Content Marketing: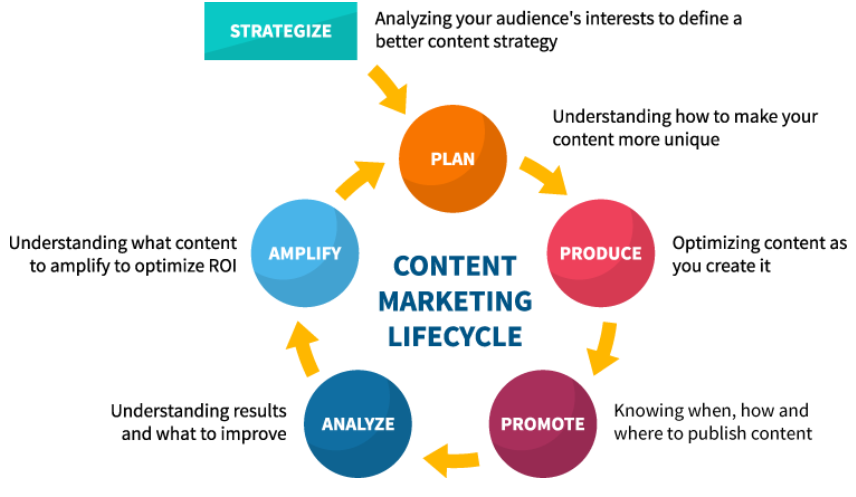 Source: marketinginsidergroup.com
Content is the fuel for any marketer. It is tough to imagine a business running without quality content.
Content generation is one of the first and primary steps which a marketer should take while continuing his or her journey towards lead generation.
According to a recent survey published by Demand Gen Report, 96% of the B2B (Business to Business) buyers look for content with various industry input. Also, as per the report, the buyers view a minimum of three to five content pieces before actually engaging themselves with a sales rep.
The marketer should regularly curate content on the products and services him or her deals in.
By producing guides which visitors are required to download, helps the marketer to collect extensive data of the visitors and then they can be transferred to lead nurture programs.
Sharing with the potential leads to the products and services helps in engaging the public on a huge scale.
2. Post relevant content regularly: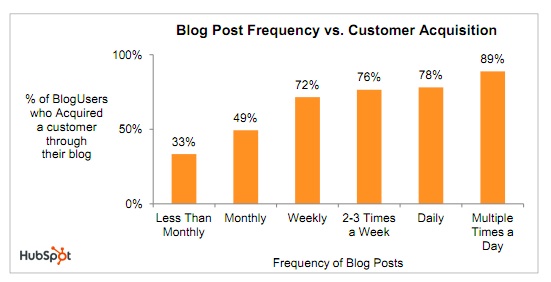 Source:hubspot.com
For marketers, it has become so crucial to focus on the relevant content. As the competition is increasing continuously, there is no choice but to try your hands on these tools and get yourself fully equipped with it.
Marketers need to be very regular with the posting of blogs, articles, news and different tips regarding their industry type.
Create content which attracts maximum eyeballs and in return, increase the viewership of the company's digital page.
Marketers should regularly promote their content because even if the content is of high quality, there is no benefit until it reaches to the target audiences.
For this purpose, utilising the funds on promoting the content does add value to the overall performance of the marketer.
As per a survey, organic search results has become one of the top sources of premium quality leads.
This makes it all the more important for the marketer to spend time optimising the content for the specific search engines.
3. Make use of Social Media:

Source: lyfemarketing.com
If for marketers getting themselves equipped with digitalisation is essential, then social media is no less. It is the most significant subset of digital tools.
Some of the popular social media sites like Instagram, LinkedIn, Facebook, and others have changed the way how a marketer used to work.
In order to make the lead generation model of the company very useful, investing considerable time, efforts and money on social media are incredibly crucial now.
You can create animation or whiteboard videos with any explainer video software and share it on the social media pages.
One basic way is to run paid ads on various social media platforms. These ads help in reaching out to a bulk of people in less time and gathering a large viewership which was not very easily achievable if done organically.
Social media marketing does sound easy and fancy, but it is, in reality, complex and analytical.
Firstly, it is essential to know the stats of all the social media platforms. For example, as per a report, ninety-three percent of marketers choose Facebook ads to drive traffic and generate potential leads.
This is because more than twenty-two percent of the world's population uses the biggest social networking site, Facebook.
Many marketers use Facebook Ads because they allow users to submit their information without actually needing to leave Facebook.
4. Social Media Campaigns:
Social media is a very powerful tool which used adequately can turn your business and help in generating maximum potential leads. The recent trend of social media is to run various innovative and unique campaigns.
For example, collaborating with influencers and running offers and online competitions helps in getting traction.
These ads also help in running a remarketing campaign as many times the visitors of the website do check out the advertisements but do not make any purchase. The marketer can use this opportunity to provide incentives by sending the visitors back to the sales funnel.
Be it an established brand or a start-up; there is no marketing strategy which can function without an optimum use of social media in the current generation.
With new social media platforms being developed and launched regularly, investing considerable time on social media is not a bad idea at all.
The marketer should run some fun campaigns which organically helps in pulling the maximum crowd.
5. Optimisation of the Website: Design & On-page SEO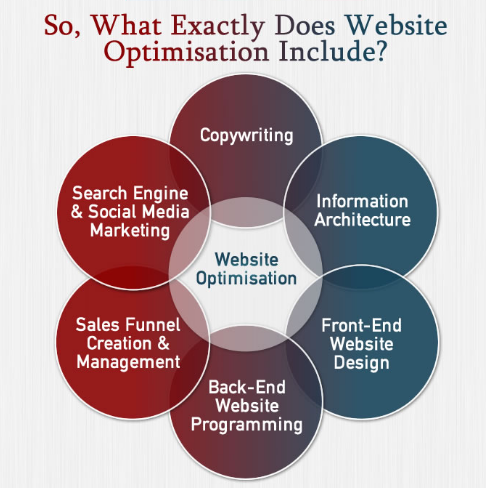 Source: fulltiltpitch.com
Organic Searches for the longest time has been one of the most powerful and valuable long-term lead generation strategies.
Google has approximately 200+ factors which are used as parameters to decide the rank of the website.
In such a cut-throat competition, making the website trendy, relatable, and also valuable for the customers does add on to the overall development of the company.
One of the optimising ways is to spending time optimising local SEO.
Local SEO is a powerful tool that helps businesses to tap into the surrounding community and help the users locate you when they need you the most.
6. Update the website regularly
A marketer should understand that a website is the first interaction with his or her customers.
As commonly said, that 'First Impression is the last impression', the marketer needs to put in a lot of effort, time and money on making their website very relatable to the customers.
Updating the website regularly and ensuring it is bug-free should be of utmost importance.
The marketer should ensure that his or her NAP (Name, address and phone number) is consistent with the website and within various listings such as Facebook, google business etc.
The marketer should ensure that the website title tag includes a main phrase of the keyword in addition to the basic information.
Give this process some time, and after a few weeks, the marketer can test the business by searching for the same keywords and checking the rank of the website.
7. Reviews and Feedback:
It is human nature to check for reviews and feedback before investing in product or service. The marketer should be proactive in asking the existing customer to share their feedback on various social media handles and website.
Reviews help in attracting potential customers and helps in massive lead generation. Reviews on various social media platforms increase the chances of being spotted by a lead prospect.
The best part is that the marketer does not even need to invest a single penny on reviews. Gradually, the marketer should ensure that the reviews become organic.
8. Pay-per-Click (PPC) Advertising:
Pay-per-click is an old, but still, a powerful concept which is successful in generating quality leads for new as well as established businesses.
It helps the business to generate great deals of highly targeted traffic, which is considered as potential leads and have a high probability of getting converted into final customers.
As per research, seventy-two percent of the digital marketers find PPC advertising to be a very useful tool for lead generation.
For new businesses, PPC can be one of the most effective ways to start their business and get into the process of lead generation.
Final Words
Overall, digitalisation is a blessing to marketers today. No doubt that it has created a huge competition in the market, but it also pushes the limits of the marketers.
There are many more methods to generate quality leads, but you need to find which one works best for your business.
A marketing strategy which works for someone in the hotel industry might not work for a technology-related business.
Hence, you need to choose the tricks and techniques which is tailored for your business or services.