Regardless of what you may personally think about it, Facebook is truly everywhere. It is the undisputed champion among the titans of social media, with an estimated 2.41 billion active monthly users. That means almost a third of the world's population access the same platform on a regular basis.
People use Facebook for a wide variety of reasons. Many create accounts to follow the lives of friends and family from anywhere in the world. They can also share their thoughts and activities, as well as media created by themselves or others. It is, perhaps above all else, a way to fulfill the very human need of feeling seen.
Of course, this means of making oneself "seen" is not limited to individuals. Savvy entrepreneurs can publicize their businesses, products, and services on the biggest platform in the world. Users can become loyal customers without being anywhere near your starting physical location. In this article, we will explore how anyone with an eCommerce store can sell on Facebook and increase their revenue.
Creating a Facebook Business Page
When you create a personal Facebook page, you can include all kinds of information. There is your name, of course, but there is also your birthday and age, your location, your relationship status, and more. You can upload photographs and videos, post status updates, and make it all about you.
What entrepreneurs may not realize is that they can make a similar sort of page exclusively dedicated to their enterprise. All you need to do is create a page with the Facebook Business Page feature. Here, you can provide visitors with all the information they should know about your company and what it does.
Each Business Page has several sections. The About section is arguably the most important of them. It may not be the first thing that customers see when they access the page. That would be the photos, then the videos, then the posts. However, it serves the vital purpose of attracting and informing the curious.
This is where you would upload contact information and hours of operation. Moreover, there are text sections for founding dates, the company's mission, and general information about the business. This last part is important because it shows users what your business can do for them. You can also use that space to describe awards your business has received, notable statistics, and anything else that may persuade people of your quality.
Boosting Conversions and Engagement on Your Business Page
The Business Page may also be invaluable as a conversion generator. The Newsletter Signup section is a stellar example: you can use it to acquire email addresses from people who may have never visited your website. Similarly, you can implement analytics features to determine how often social media users click on different parts of the Business Page. These may include the link to the store and the product listings in the Shop section (more on that later).
Moreover, Facebook is all about community and bringing people together. Business accounts, like individual profiles, can regularly post statuses and media, giving potential customers more ways to interact. There are even options for conducting polls and creating events. If you get creative with your methods, people might engage more frequently.
On top of all that, businesses can make use of comment sections and the Messages feature as another form of customer service. Due to internet trends, more people expect to be able to ask business-related questions on social media and receive a quick or even immediate answer. To that end, store owners may assign employees to respond to questions and comments from Facebook users and communicate in real time.
A well-maintained and on-brand social media account can significantly drive up engagement and recruit swaths of new customers. Just do not forget to include a link to your website somewhere, and make sure you have something of interest to say.
Selling Products Through Your Business Page
People can create and use a Facebook Business Page for far more than simply advertising their store. In fact, Facebook can serve as an additional storefront for an online business. The platform's users can peruse the store catalog on Facebook and complete the rest of the ordering process through your website.
This new storefront can simply exist as an outlet, through which business owners may display an enticing sample of the store's offerings. Alternatively, business owners really can add every single product in their inventory to their Business Page by integrating it with their eCommerce platform. There is no limit to the number of items you can show on your Facebook Business Page.
The listings for these items include space for price tags, pictures, a description, and the number in stock. They can be just as informative and appealing as the product pages on the website proper. If you want, you can also include a link to those pages. This, as well as checkout completion, may direct users to the rest of the online store and drive up traffic.
Of course, the Facebook storefront would be less convenient for customers than the regular storefront if you have no means of organizing your products. That is why the platform lets you sort them into "collections," which are functionally the same as categories. They can be customized as desired, either matching the layout of the website or experimenting more in the arrangements.
Taking Advantage of the Facebook Marketplace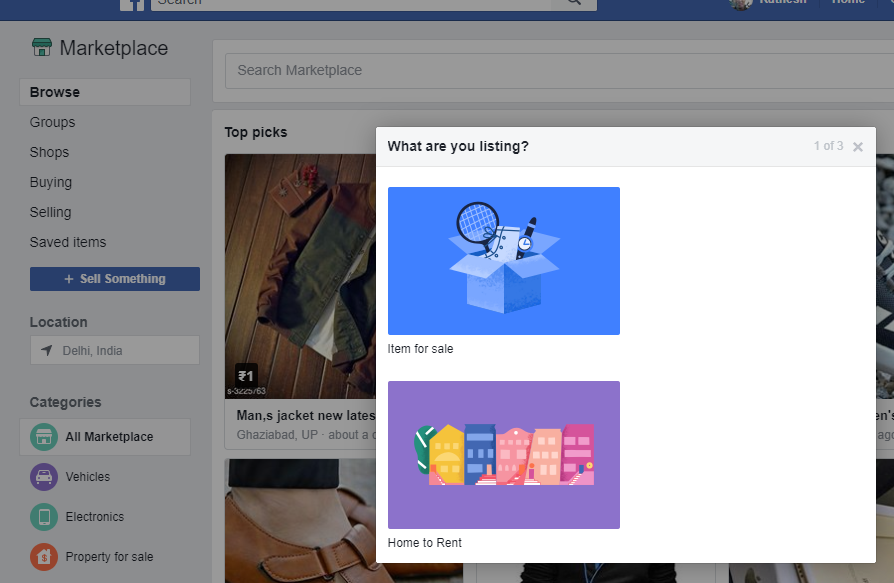 Imagine a public bazaar that never closes, even at night. One that allows sellers to concentrate on their local community but also provides access to millions of paying customers from all over the world. One that always has space for more merchants, whether they are large companies or solo entrepreneurs, and more products.
Such a place would have sounded like something out of the 1001 Arabian Nights before the advent of the internet, but Facebook Marketplace perfectly fits the description. Here, your product listings compete for customer attention with those of other merchants and sellers. However, if your offerings are unique and/or favorable in comparison to others, then they will stand out from the crowd in no time.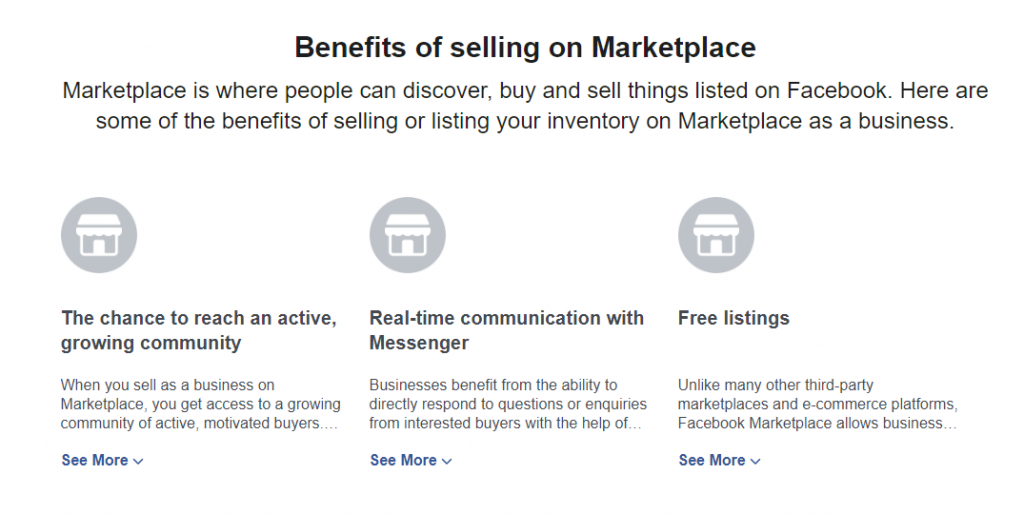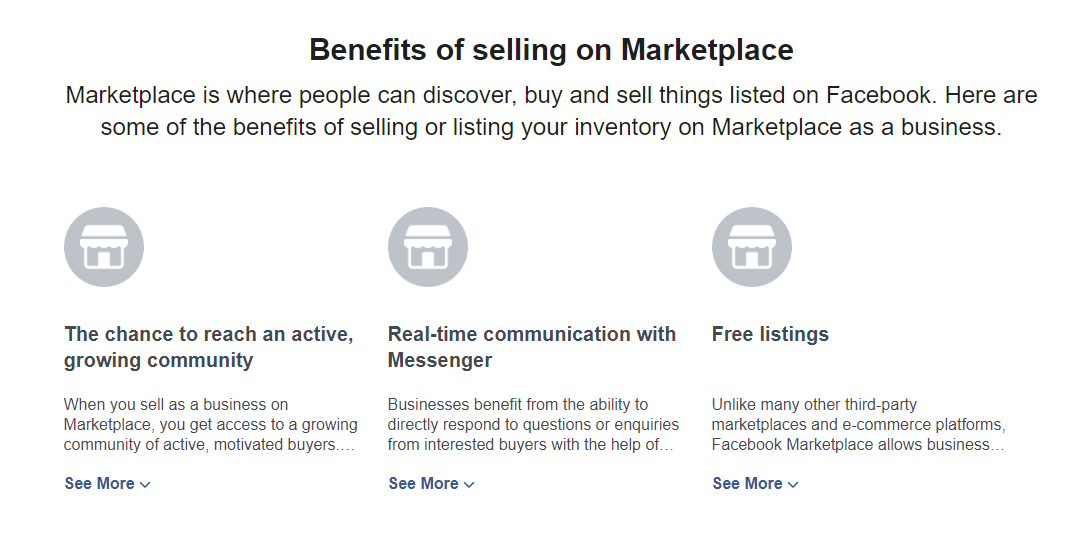 One catch about Facebook Marketplace is that anyone can post a listing on there, even if they do not have their own store. One easy way to make sure that people see your products is offering them at a discount, which places them in the Deals category. By the very nature of this section, almost every item on there comes from an eCommerce business. Joining their ranks does not exclude all competition, but it does slash it pretty effectively.
We should note that this does not need to be an alternative for running a Business Page. Posting your products on such a page and sharing those same listings on the Marketplace can bring in more sales together than alone. In fact, Marketplace posts can guide people to the Business Page, just as both can take them to the original online store.
Types of businesses selling on Marketplace
There are three types of businesses that can sell inventory on Marketplace: Automotive, property, retail and e-commerce.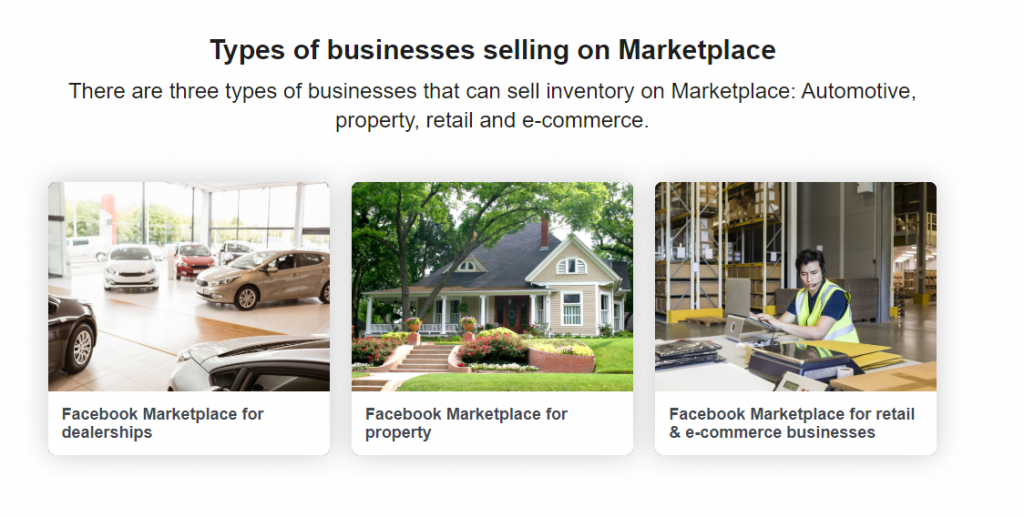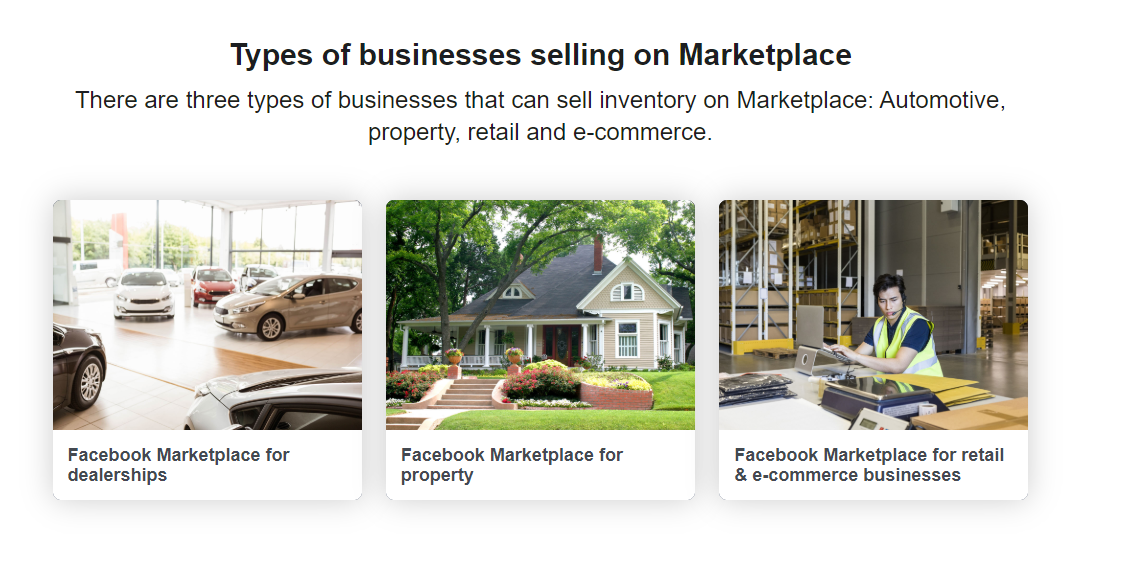 Tips for selling on Marketplace
If you like to attract buyers you have to follow following tips.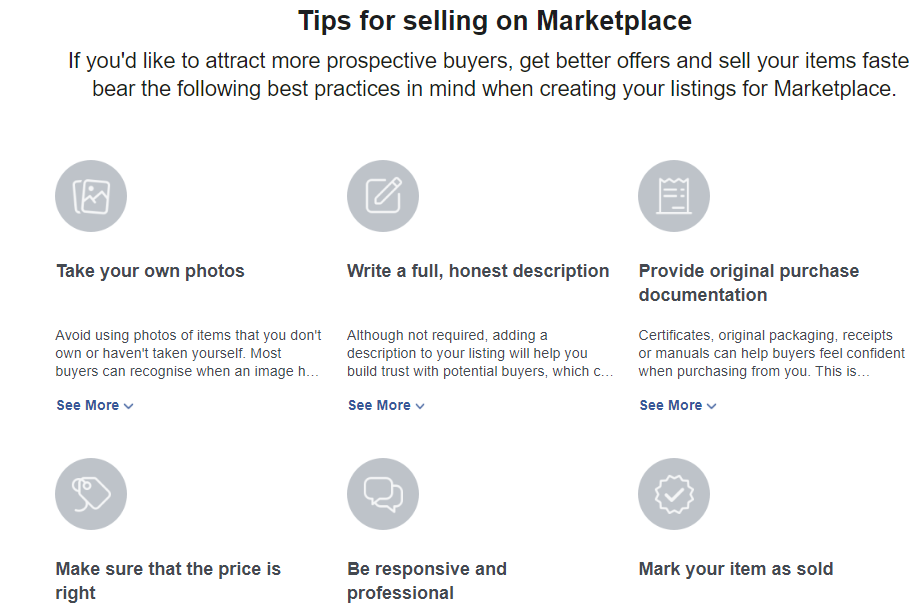 Spreading the Word about Your Facebook Storefront
When you want to direct traffic to your Business Page, and by extension your actual website and your product listings, Facebook offers a feature for that. Facebook Dynamic Ads is a service that, in exchange for payment, plasters advertisements on a permanently stickied box on the sidebar. You can also release "Sponsored" posts and/or links on people's News Feeds. They look like any other post from any other person, and people can leave comments and likes (or hearts, or other reactions).
Perhaps the biggest benefit of Facebook Ads is that they can target highly specific demographics of the platform's users. People with Facebook accounts are often extremely open about themselves and what interests them, which presents an exciting opportunity for businesses to target more particular groups than usual. Moreover, they can gear their marketing to these customer groups when running a campaign. If you try this, make sure the Ads are enticing enough that viewers will linger instead of scrolling.
Of course, your publicity does not need to be completely purchased. Facebook is heavy on sharing — not just sharing your own thoughts and interests, but literally sharing posts and content from other users. People cannot really interact with Facebook for long without uploading videos, links to news articles, and memes at some point. It stands to reason, then, that enterprising business owners can wield the platform's sharing tools to market their Facebook storefront.
This means having a social media team that is always on brand and on point. The business's dedicated Facebook store manager should steadily produce fresh posts and share new content. Anything posted on the Facebook Business Page should be selected or designed with the goal of increasing engagement among targeted demographics. It should be funny, or interesting, or even a little weird (quite a few brands have found viral fame like that). If all goes well, people might even share the post.
Frequently asked questions about selling on Facebook Marketplace
All FAQ are From Facebook so that user can get maximum benefits and They can educate more from post.
Source URL: https://www.facebook.com/marketplace/learn-more/selling/
1. What is Marketplace?
Marketplace is an easy, convenient way to buy and sell in your area. You can look through listings or search for items near you to find great things to buy.
2.Why should I use Marketplace?
You can list items and find great deals directly within Facebook. You don't have to download another app or set up a new account. Reach thousands of people in your local community and find unique items for sale.
3.Where can I find it?
Marketplace is available in the Facebook app and on desktops and tablets. Look for the at the bottom of the app on iOS or at the top of the app on Android. If using a web browser, you can find this Marketplace icon on the left-hand side of the Facebook Page.
4.What kinds of items do people buy and sell?
You can find everything from clothes, TVs, cars and even real estate. Both people and businesses can list things for sale, whether they're used items or brand-new products. See a full list of categories on Marketplace.
5. How do I safely communicate on Marketplace?
People can only see the information that you publicly share on Facebook. You get to decide how much information to share. Use Facebook Messenger or communicate via Marketplace to avoid spam and phishing. Don't share your personal or bank information.
6. How do I report problems?
We want you to have the best experience while using Marketplace. If you have an issue with a person or an item that's listed, such as violating community standards, harassing behaviour or scams, it's easy to report to Facebook. Just look for a Report link on the listing details page or on the seller/buyer's Marketplace profile.
7. How old do you need to be to use Marketplace?
You have to be 18 or older to buy and sell on Marketplace.
8. Where is Marketplace available?
Marketplace is available to most people 18 and older in Argentina, Australia, Austria, Belgium, Belize, Bulgaria, Canada, Chile, Costa Rica, Croatia, Cyprus, Czech Republic, Denmark, Ecuador, Estonia, Dominican Republic, Finland, France, Germany, Greece, Hungary, India, Ireland, Italy, Latvia, Lithuania, Luxembourg, Malta, Mexico, Netherlands, New Zealand, Norway, Panama, Paraguay, Peru, Philippines, Poland, Portugal, Puerto Rico, Romania, Singapore, Slovenia, South Africa, Spain, Sweden, Switzerland, Thailand, United Kingdom, United States and Uruguay. You can use Marketplace on iPhone 5 or later, Android and iPad with the Facebook app or on your desktop at www.facebook.com/marketplace. You can also see where Marketplace is available in the Marketplace directory.
9. What can be sold on Marketplace?
Before selling your item on Marketplace, make sure that you review and adhere to our Commerce Policies. These policies will help you understand what items can and can't be sold on Facebook.
10. How do you sell items on Marketplace?
When you sell an item on Marketplace, you create a public listing that can be seen by anyone on and off Facebook. This includes people on Marketplace, News Feed, Facebook search, Facebook groups, search engines and other places on or off Facebook. You can also choose to post your listings to any buy-and-sell-groups you're a member of. You can see a step-by-step guide to creating a listing on Marketplace in our help centre.
11. Do you have safety tips for buying on Marketplace?
Keeping your information protected and yourself safe should always be your number one priority when selling on Marketplace or any other online platform. Bear the following safety tips in mind when selling stuff on Marketplace:
12. Can a business sell on Marketplace?
Businesses can also sell on Facebook Marketplace. Learn more about selling as a business on Marketplace.
13. Do you have to be a business to advertise on Marketplace?
Businesses can have their ads appear when people browse Marketplace, but you don't need to be a business to advertise on Marketplace. When creating your listing, you can choose to boost it to reach more people. This can be helpful if you need to sell an item quickly. You can boost for as little as a few pounds.
14. Where can I learn more about getting my inventory on Marketplace?
Want to learn more about using Marketplace as a business? Here are some resources that can help:
Listing rental properties on Marketplace
Listing vehicle inventory on Marketplace
Listing e-commerce or retail inventory on Marketplace
One Last Note
Facebook has the power to bring people closer together, and it can do that for businesses and customers as well. Anyone hoping to increase their profits by using the platform should embrace this aspect, because the platform revolves around it. Do not be afraid to chat with customers in the comments section or answer questions via direct messaging. If you can turn these interactions and activities into positive experiences, more people might like your Business Page — and the business itself.