A logo is a part of the brand's identity and therefore it's necessary to invest time and money in it. Brands take a lot of time to come up with an exceptional logo design that resonates with their brand's image.
If you want to catch your audience's attention, then the logo is the first thing that they will witness your products/services. Making a logo is no longer a struggle as many online platforms make it easier for brands.
Although these websites are very helpful, you can always take a professional's help if you want something different for your brand.
Here are the top 15 free online logo making websites that you should know of if you're planning to get a logo for your brand.
Top Logo Making Websites
Canva- Create Free Logos in Minutes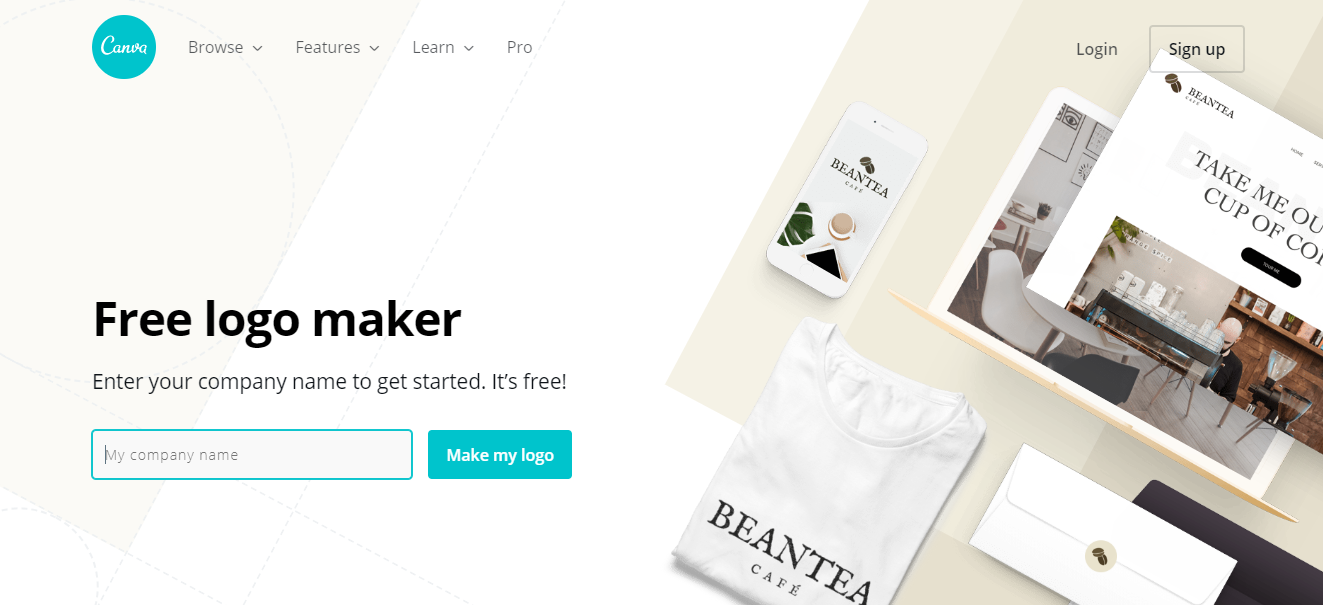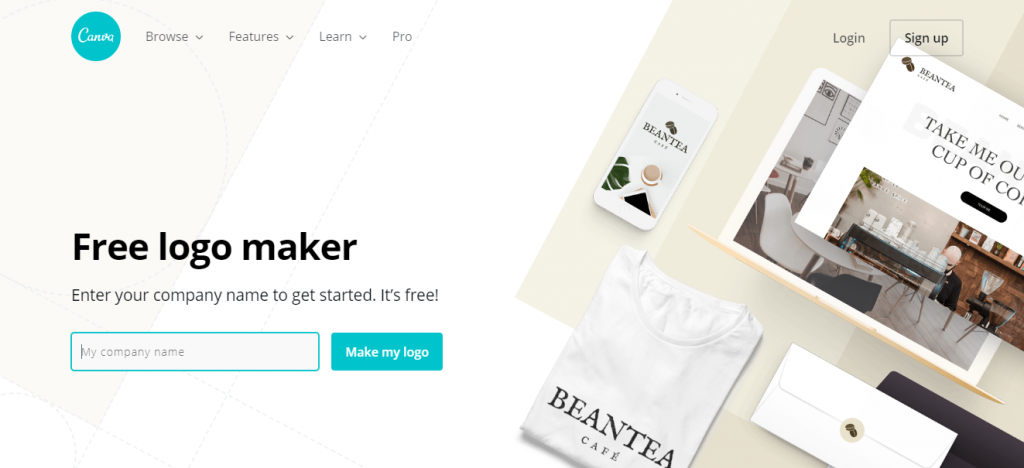 Canva is a great platform where a lot of your designing needs can be met for free. The user interface of the app or website is engaging and interactive. From your Instagram stories to your logo, everything can easily be made in minutes with Canva.
The available templates for social media images, banners, flyers, business cards, etc. are enough to put creative ideas in your head. It's not enough, the templates are editable so you can get what you like for your brand. You can change the colors, texts, or graphics pretty easily.
One thing that might be the problem is that there are very limited templates, which is why you might find similar content online on other sites. However, if you are adding your unique touch to it, then it might be all worth it.
Wix-Create Your Own Free Logo Design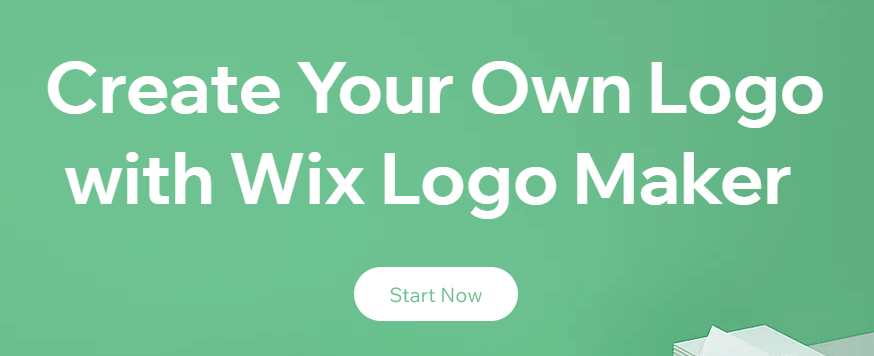 Wix is everywhere and for all the right reasons. All you have to do is answer a few questions to get a customized logo template as per your needs. Not only this, the template is editable and you can change its size, text, and everything in seconds.
With Wix, you're not only getting your customized logo for free, but you will be given all the commercial rights to use it too. Get the SVG format of your logo and use it everywhere you like from your social media pages to business cards.
Free Logo Design-Create Your Own Logo, It's Free


Another great place to get your free logo is the Free Logo Design. The website only asks you about your company's name and the category that it fits in. Once you fill the information up, you will find a range of customizable logo templates.
Choose from the pool of logo templates and edit them as per your choice. Note one thing that the logos can be downloaded in low resolution only. If you plan on downloading the high-resolution version of your design, then you can get it for $59 only.
Shopify- Logo Maker & Logo Creator

Everyone has heard of Shopify and its incredible features. Any online business can take advantage of their incredible tools and turn their online store upside down. If you are planning to get a logo for your brand/business, then it's best to get it from Shopify.
Their free logo maker can help you get an amazing logo for free. All you have to do is edit the information, choose layouts, edit colors, and texts, etc., and get the logo emailed to you. You can find the logo maker in the list of Shopify tools.
Online Logo Maker-Make your Free Logo in 5 minutes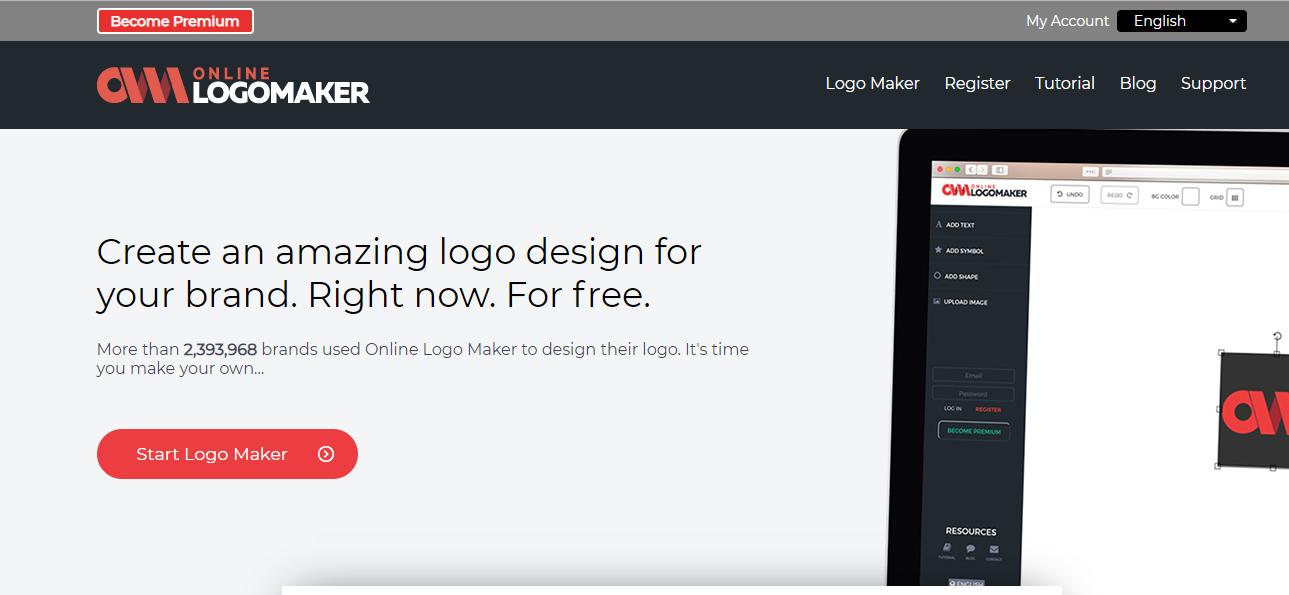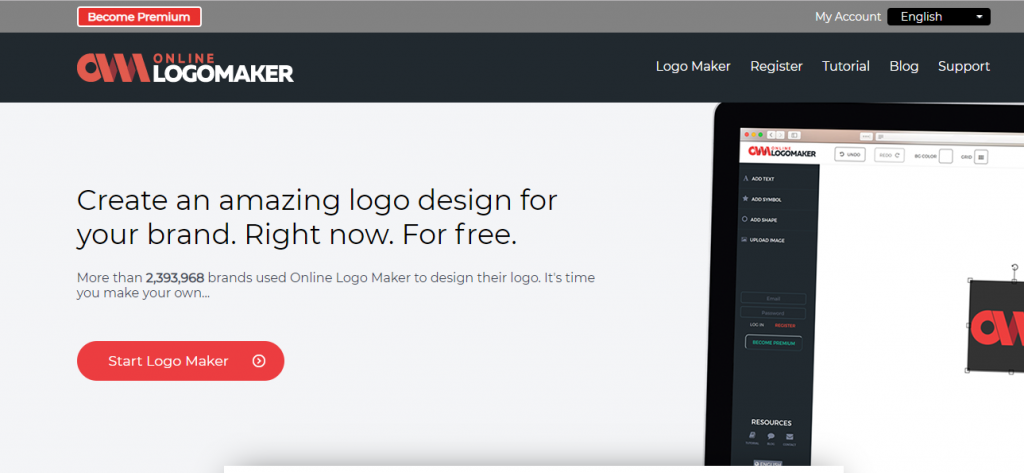 Online Logo Maker is another platform where you can get plenty of free logo templates and fonts to create your brand's logo. They further have pre-designed symbols and allow businesses to upload an image.
Online Logo Maker does not charge any fees to start your logo making the journey on the website, so you can always create a free account. However, they offer both premium and free logo making services. With the premium account, you will be able to download your files in high-resolution along with PNG and SVG downloads to use your logo anywhere.
Ucraft-Free Online Logo Creator
If you're not satisfied with any of the websites mentioned above, then Ucraft is the one that you can swear by. It's a website building site where you can get free cloud hosting, web templates, and so much more. Their free logo maker is the one that can further help you to create an appealing logo for your brand. Using Ucraft is pretty simple and easy.
The logo maker comes with several customization options, so you can get a logo of your choice. You can choose from more than 220,000 icons on the Ucraft for your brand and download your logo in the PNG format without subscribing to any premium package.
Tailor Brands-Create a Unique Logo Design for Free
If you want to create a custom logo design for your business, then Tailor Brands is the option for you. It's one-stop to get your graphic design needs to be met in no time and with great efficiency. The logo creation process is simple and requires you to answer a few questions about your brand. Once it is completed, your logo will be made in no time.
This is not it, you will also get a few alternative options to choose from. Tailor Brands also provide you with an option to get ready-to-use ads and social media graphics. You can also download the graphics in SVG, EPS, and other forms with high-quality resolution.
Designmantic-Free Logo Design Using AI Logo Maker Tool
All you have to do is choose colors, fonts, and logo style to get your logo made in a few seconds with Designmantic. Furthermore, you will be made to enter the name of the business and choose the category of your business. You can make the design free of cost, but you cannot download them for free. One of the bad things about this platform is that they do not offer unlimited downloads, but you can get a lot of inspiration from Designmantic.
Design Hill-Custom Logo Design
Design Hill is another famous platform where you can find a free logo generator. Choose from plenty of colors, fonts, icons, and others to get your logo made in no time. Even if you're looking to get Facebook cover photos, a QR code generator, or others – you can easily get it from this website free of cost.
Zyro-Create Your Logo for Free in a Minute
Zyro offers a free logo making tool where you have to simply go through a simple process to make your logo. All you have to do is enter your brand's name, tagline, and choose from various options.
Once the logo is created, it's still editable and you can edit it as per your wishes. You can change the shape of the logo, change the font, try different colors, or change the positioning. Furthermore, downloading the file in PNG form is also available at Zyro.
Squarespace-Free Logo Maker
At Squarespace, you can find several different services and a free logo generator is one of them. You can choose from the designs, icons, and much more to customize your design. Your customized logo is just one step away from you. One thing to note is that you can only download the logo in low-resolution, but the high-resolution images are available for $10 only. If you're already a customer of Squarespace, then you're already safe from paying the fee. Why not take the chance and get the best logo made for your brand?
Logo Maker-Make a Free Logo
More than 3 million entrepreneurs have already benefited from the Logo Maker website, so why not you? It's one of the oldest logo makers in the industry where you can find over 10,000 icons. You can make and save unlimited logos in your account for free.
However, if you're planning to get a high-resolution image then you have to pay for it. Downloading the logo is not an option with Logo Maker unless you have paid for it. So, this platform is an excellent opportunity to grab some inspiration.
Logo Type Maker-best free logo maker & branding tool
Take advantage of more than 2000 templates, 200 fonts, and more than 600,000 vector shapes to create your logo. You won't be allowed to do any changes to the free logo model. A fee of about $24.99 or $39.99 is required to get your hands on the additional choices and options. Don't worry, it is a one-time payment.
LogoMakr- Free Logo Maker – Create your own logo in minutes!
LogoMakr is a software program where you can create your logo by rearranging the shapes, icons, colors, and whatnot. You can even add text to your logo and customize it as per your choice. Moreover, you can download the logo on your computer in low-resolution because high-resolution will require a fee of $19. The choice is yours!
Graphic Springs-Create & Generate Your Own Design
Graphic Springs is another name in the industry where you can get a free logo in no time. The website offers an incredible template and category choices. Everything is customizable, however, the final file will need $19.99 for download. Once you pay the fee, there is no limit on downloads or edits anymore.
Conclusion
Creating your logo might take a lot of effort and energy, but with these free websites and software, it's easier like never before. Just sign up on any of them and get your logo made without any hassle. The websites come with other website-related tools that can get your online business running in no time.