Branding is critical in the modern and highly competitive online business landscape. It helps promote a business by giving it the necessary identity it needs to build its online presence, credibility, and customer loyalty.
More importantly, bold branding is necessary to promote a business successfully and to reach the right audience and convey the right message.
In a modern business environment of today where competition is very tough, branding is vital to your business. It is how people see your brand, and if done right, branding can significantly drive your revenue.
More importantly, branding gives you leverage in your business niche and increase your overall business value. Aside from that, branding helps with:
● Brand recognition
● Increasing business value
● Generating new consumers
● Establishing brand credibility and loyalty
● Making advertising and marketing successful
Modern consumers prefer brands they can trust, and when it comes to making the right impression, nothing matters more than strong branding.
The Role of Visual Content in Branding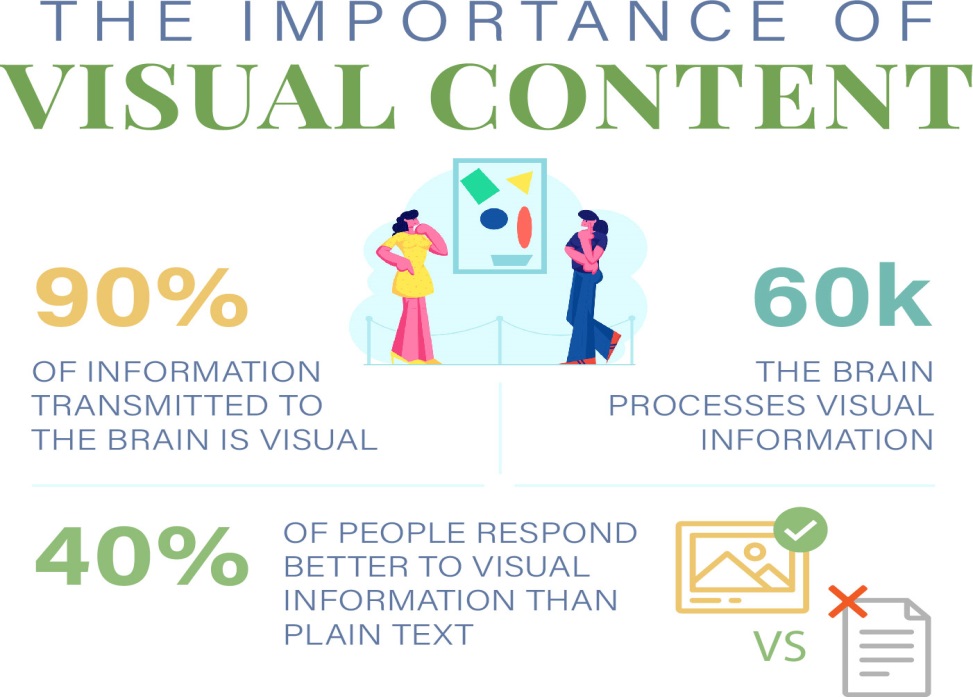 We live in a world where digital media plays a huge role in our daily lives. This is the realm where visual is king, and social media users prefer visual content when deciding what to think, what to wear, what to buy, and so on.
Photography, infographics, and other visuals are now the most crucial part of your online marketing strategy and are crucial for your branding. Consider the following facts:
● The brain of an average online user processes visuals much faster than text – if you want to convey the right message to your potential prospects, use images.
● Videos significantly increase conversion rates – including videos on your websites landing pages substantially increases your chances of capturing good leads. Every online user is a potential prospect.
Role of Graphic Design in Branding
When it comes to promoting your business online, high-quality graphic design is paramount. It all comes down to conveying the right message to the right audiences. Creating an effective brand logo is the best way to do that.
Your logo is the first thing your consumers see when they interact with your company. It helps set the tone right up front, and if it is done right, that tone will resonate with your audience.
Let us take a look at some of the top examples of graphic design ideas that worked like a charm for big companies:
● Apple – This brand insists on simplicity, and its logo completely matches the personality and the message their brand is trying to convey.
● Google – They always use a colorful logo that makes them stand out. These colors also make them look innovative and fresh.
● LG – The best example of how you can convey your message with nothing but simple shapes, two letters, and one color.
● Toyota – The more creative and innovative you become, the more meaning your logo will have.
Listed below are five useful design ideas for branding your business:
Creating an Effective Logo Design for Your Business
You have just a few seconds to grab the attention of your visitors. Therefore, logo design plays a crucial role in your branding efforts.
The more attention-grabbing and memorable your logo is, the longer it will stick in your customers' heads, but it also needs to be relevant to your niche and in line with your brand voice.
Use it to point out the values of your company in a way that will engage your consumers and make them talk about you.
• Types of Logos
There are many types of logos, but they can all be whittled down to three main categories: text logos, abstract logos, and letter-based logos.
Text-based logos allow you to communicate your brand values to your consumers instantly. The key features are:
● Simplicity
● Effectiveness
● Immediate brand recognition
● Brand message clarity
● Easy to remember
Abstract logos can grab the attention of your consumers almost immediately. Since they are unique in style, the key features are:
● Lasting impression
● Consumer curiosity
● Freedom of individual interpretation
● Creativity
Letter-based logos are quite effective at grabbing the attention of consumers – take a look at McDonald's logo. These logos are memorable, engaging, and useful in promoting your business.
Impact of Graphic Design on Social Media
Coming up with the best graphic design ideas means finding a way to address your customers aesthetic sensibilities and preferences.
Social media is also the best place to target wide audiences. Catchy visuals will make your consumers choose your brand over dozens of others.
More importantly, intriguing and catchy visuals are the best way to engage with your consumers, as they will feel compelled to share designs that they find funny, quirky, or interesting.
That is why social media is vital for your business marketing. Here are the most important benefits that graphic design gives your brand:
● Visual appeal
● Brand recognition
● Enhanced customer experience
● Reaching the right audience
● Improved consumer engagement
● Increased conversion rates
● The chance to communicate your brand value
Website Landing Page Design – How should it be?
A well-designed landing page has a single objective: to convert every online user that visits it into a potential consumer. Since most online visitors are mobile users, this means that your graphic design needs to be mobile-friendly.
You also need to consider the layout and the colors to draw maximum attention, as well as the placement, shape, and size of your CTA buttons. The best thing to do is to create two distinct versions of a landing page and to do an A/B split test to see which one does better. It is all about trial and error here.
Design for Ads on Social Media
In digital marketing, social media design for ads plays a crucial role in determining how engaging they will be. It includes the visual content that is meant to:
● Create brand recognition
● Build brand awareness
● Grab the attention of potential consumers
Attractive graphics are the best way to build trust with consumers, and that trust helps strengthen your brand. So, when you are thinking about designing graphics for ads on Facebook, make sure that you use the best graphic design and add a call to action to your visual content to help you seal the deal.
Graphic Design for Email Marketing
There are seven simple principles when designing an email marketing campaign:
● Transparency
● Say less and let the visuals do the talking
● Make it easy to scan and understand
● Use whitespace around elements
● Color carefully because colors matter
● Maintain consistency
● Size matters
Now that we know how important graphic design is in the competitive business landscape, it is safe to say your business depends on how good, interesting, and creative your visual content is.
Every brand needs a memorable and impressive logo to establish a strong online presence and give their business a unique identity that will get people talking about the brand. The best way to convey that message in the right tone and with value is to tailor your graphic design using help from reliable design companies like Back Office Pro team.