Arlington, Texas is home to a thriving community of talented web design companies. With its growing population and business landscape, demand for quality website design continues to rise in the city. Whether you're looking to completely revamp your online presence or just make some updates, Arlington has no shortage of web design experts who can craft the perfect site.
In this article, we've compiled a list of the top 10 web design agencies in Arlington based on factors like industry experience, services offered, client reviews and awards. Read on to learn more about these exceptional web design firms!
How to Choose the Right Web Design Company in Arlington
With so many options to choose from, it can be tricky to determine which Arlington web design company is the best fit for your business. Here are some tips for selecting the right partner:
Examine their portfolio. A web design firm's past work will give you the best sense of their skills and design aesthetic. Make sure they have experience creating sites similar to what you want.
Consider their specialties. Some firms excel at web design for ecommerce, nonprofits, mobile sites, etc. Choose a company that focuses on your industry.
Review client testimonials. Client reviews reveal important insights into a company's communication, timeliness, service quality and more. Opt for a company with glowing reviews.
Compare project approaches. The right firm will guide you through a structured web design process focused on strategy and your goals.
Determine services offered. Many companies provide full-service web design including UX, programming, SEO and ongoing maintenance. Know what's included.
Now let's dive into the top 10 web design companies in Arlington!
With over 3 years of experience crafting stunning websites, Futuristic Web Designers has earned a stellar reputation as one of the top web design agencies in Arlington. They've worked hard to build an incredibly talented team of designers, developers, project managers and digital marketing experts who collaborate to create cutting-edge websites.
When you work with Futuristic, you can expect a truly customized approach based on in-depth discovery of your business goals, target audience insights, and competitors. Their discovery phase lays the strategic foundation to inform their creative website design process. They devote ample time to discussing your brand story and what makes your company special so they can translate that into a beautifully designed visual identity and user experience.
Some of their areas of expertise include:
Website Design
Branding
Animation
Logo Design
Website Development
Futuristic employs a talented team of designers, developers and project managers to deliver excellent results for clients in industries like healthcare, legal services, nonprofit and more.
2.Red Spot Design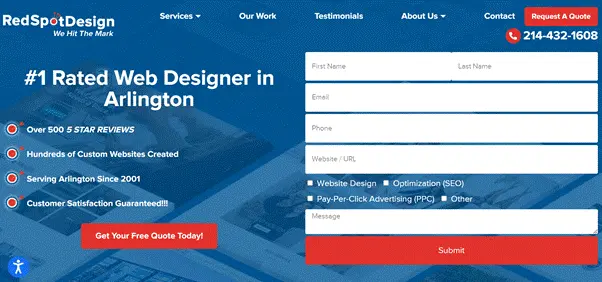 Red Spot Design takes a strategic approach to web design that's driven by in-depth research and clear communication at every stage. They've worked with organizations of all sizes to create engaging online experiences optimized for conversion and user experience.
This full-service firm provides services like:
Custom Website Design and Development
Search Engine Optimization (SEO)
Pay-Per-Click (PPC) Advertising
Social Media Marketing
Brand Strategy
Red Spot Design has been recognized for excellence with awards from Awwwards, Webby Awards, W3 Awards and more.
3. Vizion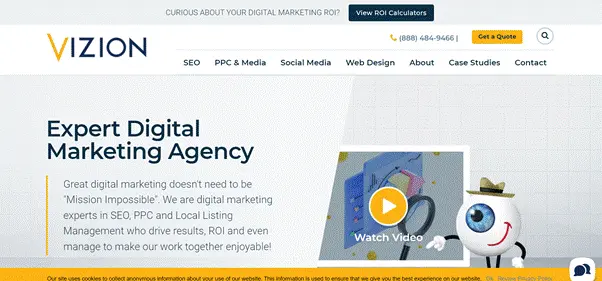 Vizion offers award-winning web design grounded in substantive research to understand their clients' business goals and target audience. With this insight, they're able to craft beautiful, results-driven websites that convert visitors into leads and sales.
In addition to custom web design services, their offerings include:
Website Management
Search Engine Optimization
Social Media Marketing
Reputation Management
Branding and Logo Design
Vizion provides tailored solutions to organizations in education, healthcare, professional services, retail and beyond.
4. Supfort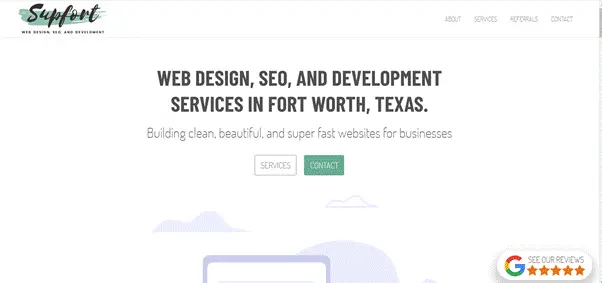 Supfort has specialized in creating innovative, scalable web solutions for brands across various industries. Their areas of expertise include:
Web Design and Development
E-Commerce Solutions
Custom Web Applications
Website Hosting, Management and Support
Search Engine Optimization
Supfort stands out for their technical expertise in emerging technologies and proven success in driving ROI through well-crafted web properties.
5. FreshySites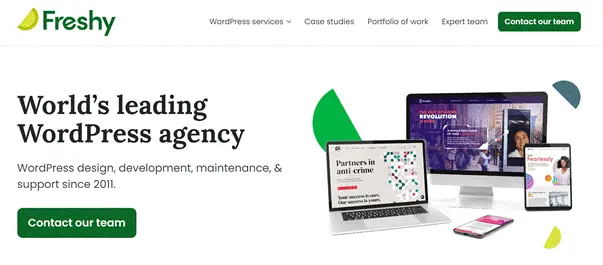 FreshySites is an award-winning web design company powered by WordPress and WooCommerce. They leverage the capabilities of these robust open-source platforms to build custom websites optimized for each client's goals.
Their services include:
Website Design and Development
Managed WordPress Hosting
WordPress Maintenance and Security
E-Commerce Stores
Website Speed Optimization
6. Proweaver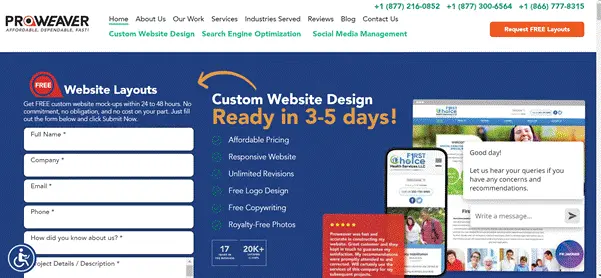 Proweaver takes a comprehensive approach to web design that includes expert UI/UX strategy, engaging content and robust technical development. Their custom websites help brands stand out while providing an exceptional user experience.
Their services include:
Website Design
Website Development
E-Commerce Solutions
Digital Marketing
SEO & SEM
Social Media Marketing
7. Advent Trinity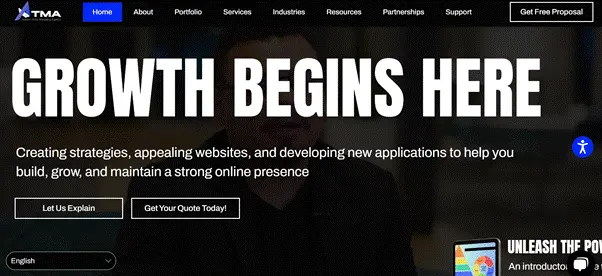 Advent Trinity is a digital agency specializing in stunning custom website design backed by measurable results. Their data-driven approach ensures each website is engineered for optimal user experience and performance.
 Their services include:
Website Design and Development
Custom Web Applications
E-Commerce Solutions
Digital Marketing
Branding
SEO & PPC Services
8. DFW Website Designers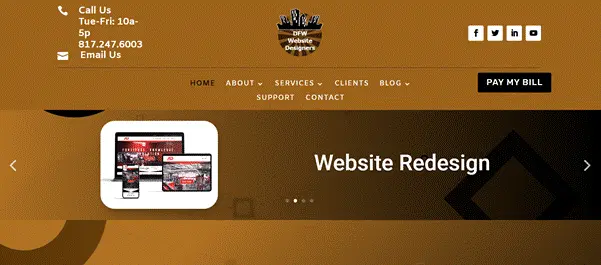 DFW Website Designers lives up to their name – they're a Dallas/Fort Worth-based agency focused on helping local brands build exceptional websites. Their team of talented designers and developers are experts in:
Custom Website Design
Website Development
Responsive Web Design
E-Commerce Solutions
Digital Marketing Services like SEO, PPC & Social
Branding & Identity
9.  WebsiteForge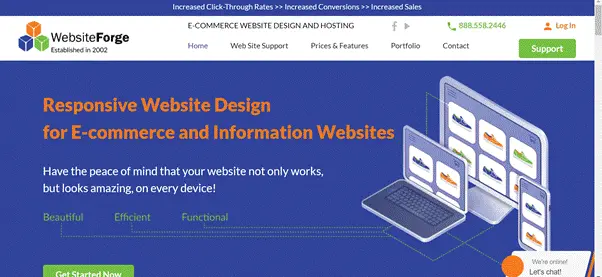 WebsiteForge leverages their team's 5+ years of combined web design experience to craft custom solutions tailored to each client's unique needs. Their services include:
Custom Website Design
Website Development
E-Commerce Solutions
Digital Marketing
SEO & SEM
Social Media Marketing
Branding & Identity
10. Depeche Code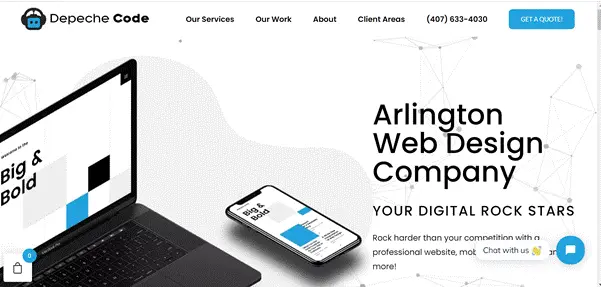 Depeche Code lives at the cutting edge of web design, utilizing the latest technologies and trends to create modern websites tailored for each brand they work with. Their services include:
Custom Website Design and Development
E-Commerce Solutions
UI/UX Design
Responsive Web Design
CMS Platforms like WordPress and Drupal
SEO & SEM
Frequently Asked Questions about Web Design in Arlington
What is the average price range for web design services in Arlington?
The average cost for a custom designed website in Arlington ranges from $800 – $15,000+. Complex sites like web apps and ecommerce stores tend to be more expensive.
How long does it take to design and build a website in Arlington?
Most web design projects take 2-5 months from start to launch. Simple brochure sites can sometimes be done quicker in 1-2 months. Large enterprise sites or web apps may require 6+ months.
Should I work with a local or overseas web design company?
Quality can vary but many recommend hiring a local Arlington web design firm you can meet face-to-face for better communication. Some overseas firms have lower rates but may lack local experience.
What web design skills or software knowledge should web designers have?
Ideally developers should have experience with HTML/CSS, JavaScript, PHP, CMS platforms like WordPress. Designers should have graphic design skills and knowledge of tools like Photoshop.