When you want to create attractive designs for your website a graphic designer is what you need. Graphic design is an art of creating stunning visuals to capture the attention of viewers and at the same time spread brand awareness. This art is expressed through advertisements, posters, business cards, brochures, and brand websites. It's an interesting lucrative career that can support anyone to make a living.
If you have a creativity bone within you and you want to become a graphic designer, you need to equip yourself with the best tools for the job. This requires a substantial amount of investment since not all graphic design tools can give you that professional look. Fortunately, there is plenty of graphic design software in the market that can help you create stunning designs.
These tools have several unique features to make your designing work seamless. The best software to begin your graphic designing career is premium Adobe Software for graphic designing. However, if you feel like their price is above your budget then you can settle for the right graphic designing software that costs less or nothing. The following graphic designing tools will help you with your graphic designing work if you are a beginner.
Best Graphic Design Software
1. Krita-Digital Painting. Creative Freedom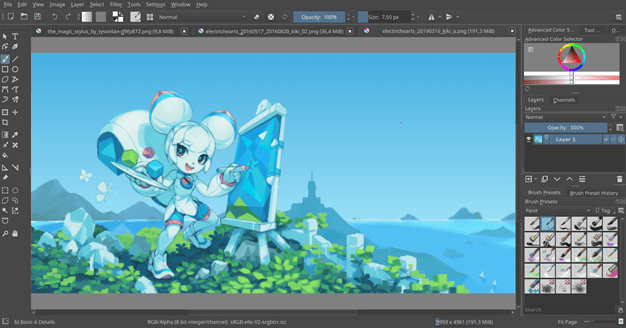 This is graphic designing software that has a highly customizable user interface. It also has a drawing aid to help you create wonderful designs for personal use or commercial. The drawing aid feature allows users to expound on their drawing capabilities to give a detailed description of what a graphic designer is trying to convey. You can also select several mask tools for your designs. This is a free open-source graphic design software that offers professional visual designing tools to both beginners and experts. The tool supports all sorts of Oss including Windows, Linux & Mac OS. If you are doing conceptual art, textures, illustrations & comics, this is the perfect tool for you. Since it's highly customizable, it provides a wonderful user experience to anyone using it. The software also has a Resource manager which helps to import brushes and textures to extend the tools and functionalities.
2. Inkscape-Draw Freely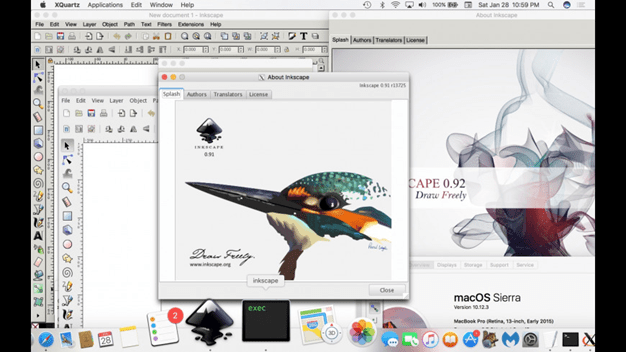 This graphic design software is perfect for those wishing to create incredible vector art. It is one of the best free and open-source software that works across all platforms and has a helpful community. It is quite accessible to anyone wishing to improve their designing skills. It has an array of exceptional graphic design tools. It has a useful mechanism for designing vector imagery. This feature helps designers to develop attractive designs and themes efficiently. Its drawing tools are flexible with broad file format compatibility. With this software, you can manipulate models using shape tools, pencil tools, transformations, and many other tools.
3. Vectr-Free Online Vector Graphics Editor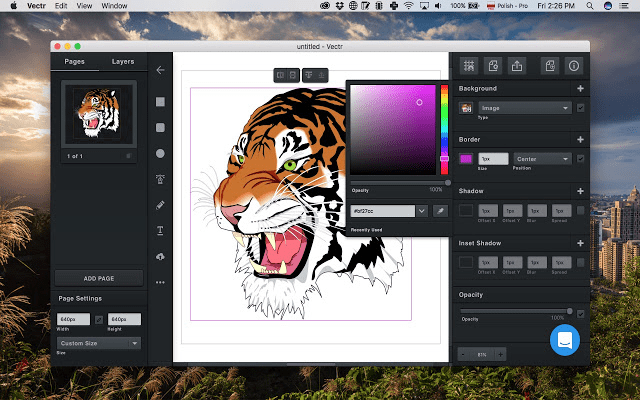 This tool is used online and is very easy to use. It has no learning curves making it a perfect choice for beginners. Another thing that makes it a good tool for beginners is the availability of guides and online tutorials. The tool also allows you to collect personal data. If you are just starting but want to create professional designs, this software will do the trick. Beginners who want to focus on vector designing don't have enough cash to spend on premium tools then this will be a thoughtful option for you. The best thing about this software is that it supports all kinds of devices and anyone can use it. There is also a web-based app version of this tool. Other features of this graphic software include pen tools, shape tools, pathfinders and many others.
4. SketchUp-3D Design Software | 3D Modeling on the Web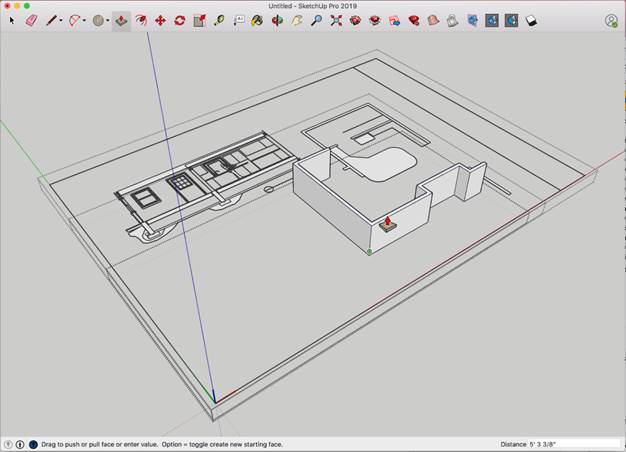 This awesome tool allows designers to do their graphic designing in both 2D and 3D modeling. The customer support response time is pretty fast and is also very easy to use. However, it has very limited storage and doesn't support iOS & Android. Its services are provided free for personal use. If you need to have access to professional advanced features, then you will have to part with 119$ per year. Its popular features include textures, lighting effects, 3D models, 2D models, layer manager, and animations. Free users are entitled to 10GB cloud storage.
5. Gimp-Portable Image Editor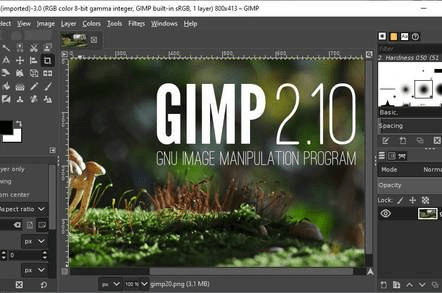 This is another graphic design software for beginners that support Linux, Windows, macOS& Sun OpenSolaris. It integrates with numerous plugins and has a digital retouching feature to make your designing seamless and fast. It supports all manners of formats with no support to Photoshop Plugins. This is popular free graphic designing software that is open-source and has remarkable features. Users can edit raster images quickly & effectively. As a beginner, you can create your artwork from scratch. Gimp's advance features include curves, layer masks, animation package, and much more. With its customizable, interface users can have a great experience while using it. You can edit images by fixing perspective distortion using the photo enhancement tool.
6. Blender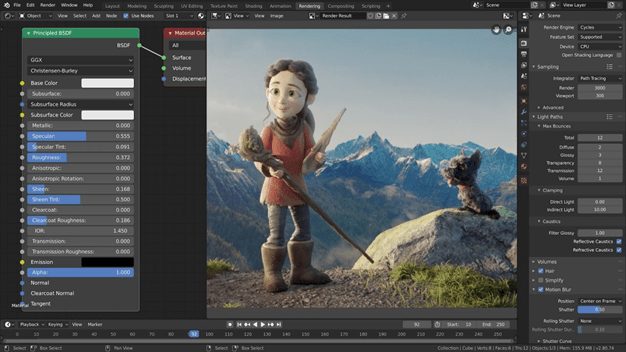 With 3D modeling capabilities and visual effects coupled with sculpting & animations, this graphic designing tool will give you a great experience while designing. Another great feature is the skin modifier which gives you several skins to apply in your designs. Other unique features of this tool include camera & object motion tracking and masks. Downsides include stiff curves and cluttered menu. Blender is an open-source 3D graphics designing software with numerous tools offered in its free version. It is perfect for creating visual effects, 3D models, interactive 3D apps & animations. Other notable features are high-end production path tracer, rendering, video editing, phyton scripting, modeling, and simulation.
7. DesignWizard-Wonderfully Simple Graphic Design Software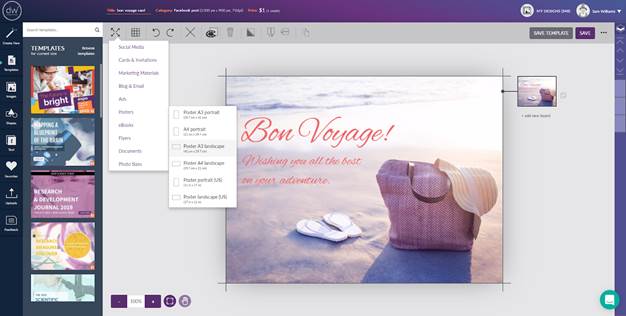 This graph is a graphic design tool is what you need when you want to create customized templates easily. Its image storage is massive and you will find images for any niche. It also has over 10,000 free templates and a user-friendly interface. With DesignWizard, you can create efficient & effective designs but its free version has limited options. This tool has a whopping 1.2 million image database and 17,000 + templates where 10,000 are accessed freely. Another great thing is that beginners can find curated designs for inspiration. These designs are attractive and elegant. The free version of this tool allows you to resize the designs and create custom color palettes. There is also an option to upload your fonts, pictures & logos. You can personalize content by creating a special folder for your designs.
8. Snapseed-Online Photo Editing App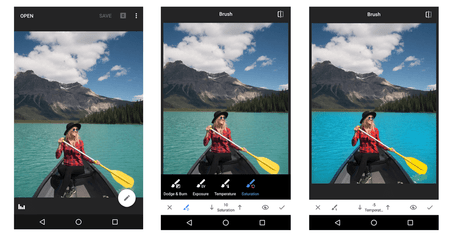 Snapseed is software that has a user-friendly interface and can edit raw files. It also has easy to use finger swipe sliders and offers free advertisements. However, to effectively use the software you need a slight learning process. Snapseed app is one of the best graphic designing software for photo editing. As a designer, you can use this free open source app to edit images and make them better. Photographers can also use this software to get exceptional photo editing results. You will get 29 tools and filters to properly manipulate your images. You can blend two photos using a double exposure tool.
9. Canva-Graphic Design Creator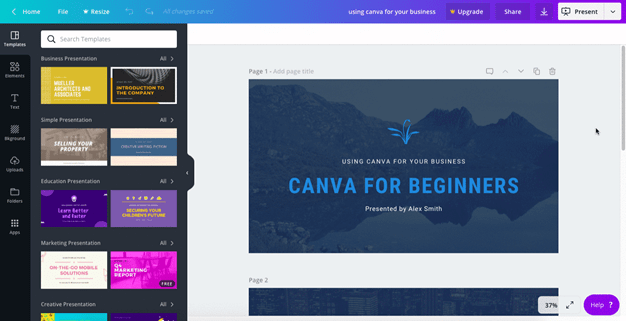 With a perfect interface that improves the user experience, this is a great graphic designing tool. It has a drag-and-drop editor that allows you to make quick changes in your designs. It also has a photo enhancer for finer details of your photos. You also get design grids to help you with your designs. With your very 8,000 free templates, a beginner will have a swell time creating their designs. However, its mobile app isn't that user-friendly. Canva is a website created specifically for graphic designers. The drag-and-drop allows designers to create extraordinary graphics. The beauty of this platform is that both newbies and experts can use it with ease. It enables graphic designers to create effective and attractive designs. Another unique attribute of Canva is that as a graphic designer, you can use it to both print and web content.
10. Easel.ly-Create & share visual ideas using infographics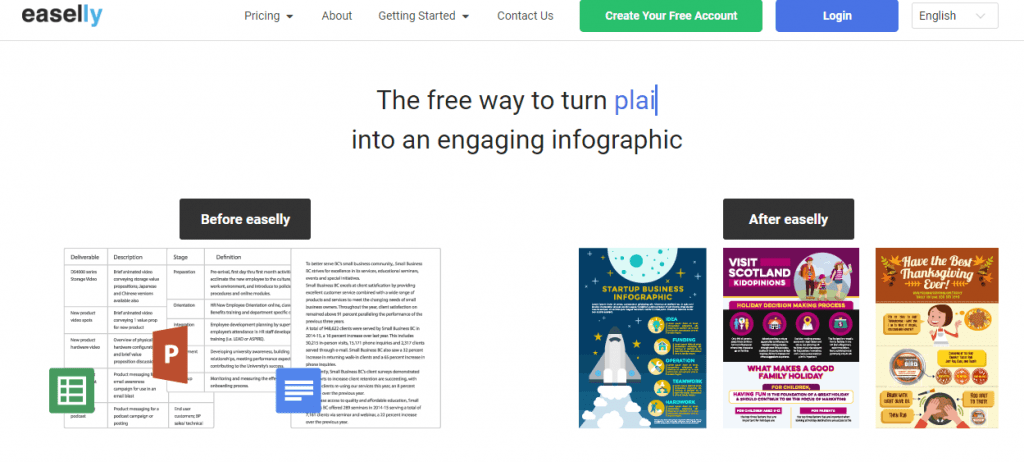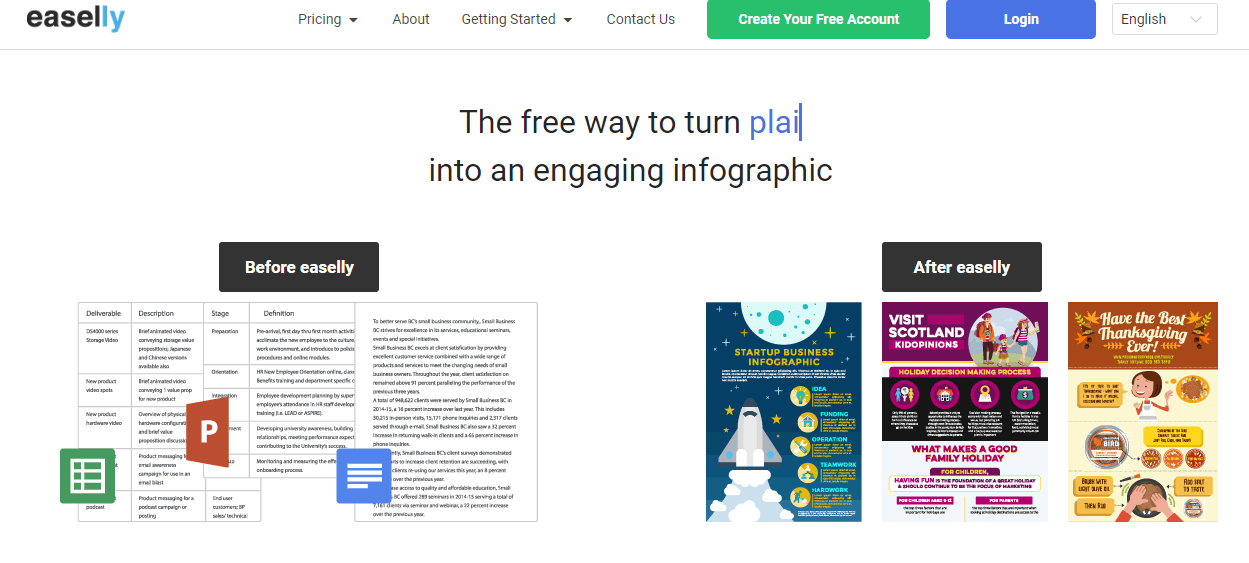 This is also great SEO user-friendly graphic design software that has several free templates that are easy to use. Its tutorials make it easy for newbies to get around things. One set is its limited features & themes on the free version. This is simply an infographic making software which can also be used by graphics designers who are just starting. Users can visualize any kind of data and present it in an easy to understand infographics. Different people can use these tools to present their data in attractive displays. The software allows you to create flowcharts, reports, maps & infographics easily. You can use it in all your designing work except vector designing.
Conclusion
To make your graphic designing work easy and fast you need proper designing tools. Although there are several tools available in the market, most of them are very expensive for beginners to kick-start their careers as designers. However, with this free software, you can start your designing work fast and easy. You don't have to use expensive tools while there are these here to help you.