Social media sharing has become one of the most helpful marketing terminologies to grow your business. From a very young child to an adult and old-age person is using social media. This is why social platforms are a preferable way to promote your business.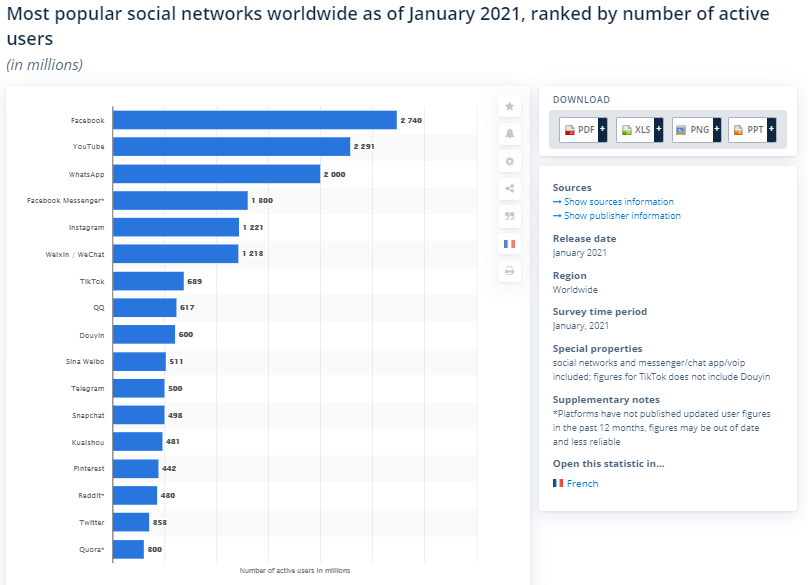 According to the research, the companies currently own the four most significant social media channels with more than one billion active users of each channel, such as Facebook, Facebook Messenger, WhatsApp, and Instagram.
Facebook reported more than 3.1 billion monthly active users in the second quarter of 2020.
The more you share your website posts on social media channels, the more popularity you get through them. Nowadays, the boom in media has captured the attention of all business owners for their products' marketing.
An individual business owner, mid-level agencies, and high profile businesses are targetting social platforms for enlarging their business. Incorporating the social sharing icons into your website posts will help visitors share your posts on different social platforms.
This blog will help you in identifying the best social sharing plugin for your WordPress website. Before further ado, let's get straight into the core topic and find out which plugin suits your website.
Best WordPress Social Share Plugins To Increase Traffic On Your Blog
Revive Old Posts – Social Media Auto Post and Scheduling Plugin
Revive Old Posts plugin has been developed by the revive social team. This plugin helps to automate the process of sharing posts and schedule it when needed. By using this plugin, a website owner can quickly increase followers, website traffic, and business.
Revive Old Posts makes integration with Mashable, Quicksprout, Hubspot, and buffer. Sharing your website content helps you grow and build a social media presence; this is exactly what Revive does. It only requires two simple steps; authorize and customize, and then you are on the go.
Let's go through its highlighted features and see how they assist your website in proliferating.
Revive Old Posts Social Share Plugins Features
It goes beyond the limits and allows you to share your content with every social media account.
Share your post titles, add hashtags to that, and other additional text or links.
It helps monitor the clicks on your website URL and the traffic coming from different sources with Google Analytics Campaign Tracking.
Share everything to social channels, whether it is a post, page, image, or online store product, service, recipe,
etc.
The back to back content sharing is possible.
Schedule your posts sharing; also make it possible to share once you click on the Publish button.
Set the categories for filtering out the content based on the category.
Pricing: Free
Download: https://wordpress.org/plugins/tweet-old-post/
Read: Top 20 WordPress Plugins Every Blogger Needs
Social Snap – Social Share Buttons, Social Sharing Icons
To drive traffic and increase engagement of your WordPress website, Social Snap is a good choice. Opt for this plugin if you are highly concerned about your website marketing and want to build an online presence rapidly.
It hardly takes a few minutes to configure, and you have it in the running stage. It is a super fast and user-friendly plugin. It meets all the quality standards to provide the optimal user experience and never let your website slow down.
It is a package that comes with social logins, boosts old posts, and auto-scheduling features. What's more about it? Let's dive a little deeper into the core features of this plugin.
Social Snap Social Share Plugins Features
Enables your visitors to share your website content on various social media platforms that results in traffic increment.
Display the number of social followers with beautiful social links.
Allows you to set auto-publishing of your website content once you click on the publish button.
It focuses on newly published content and gives life to old posts by boosting them on social networking sites.
Add the social login button that saves the users' time.
Improves the overall SEO and builds engagement.
You can easily add the click to tweet button boxes anywhere to allow visitors to tweet your website content.
Pricing: Free
Download: https://wordpress.org/plugins/socialsnap/
Read: Best WordPress Form Builder Plugins
Kiwi Social Sharing
The experts of WPKube developed Kiwi Social Sharing. It is one of the best social sharing plugins that are beginner-friendly and offers a wide range of features to the users.
It is a generic plugin that allows you to build opportunities to capture the users' attention, and it comes with a free and premium version. The exciting thing about this plugin is that it never disturbs your webpage loading speed. The users will have complete control over this plugin's customization and configuration.
Find out more interesting about this plugin by shedding light on its valuable features.
Kiwi Share Plugins Features
Allow your visitors to share your content on social media channels just by placing a social share button.
Control the enabling and disabling of the buttons' functionality.
Simple, intuitive, and user-friendly interface.
Display the count of your post sharing for tracking purposes.
Customize the buttons' size, color, and shape as per your preference.
Add the "click to tweet" button to increase traffic to your website.
It is a super-fast plugin.
Pricing: Free
Download: https://wordpress.org/plugins/kiwi-social-share/
Read: 8 Best Lazy load Plugins for your WordPress
Monarch
Monarch is the product of Elegant Themes that developed the top-notch Divi theme for WordPress. It is quite a comfortable and handy plugin for your WordPress websites that take your website to the next level of marketing just by incorporating the social sharing buttons.
It boosts the sharing of your web content to different social media channels, designed as per your preference, shared at any time and anywhere without affecting your website speed. Pick more than twenty social media platforms for sharing your web pages, posts, images, and other content.
The comprehensive features of this plugin are bulleted below.
Monarch Social Share Plugins Features
Enjoy the live demonstration of this plugin for satisfactory purposes with all its built-in functionalities.
Place the social share buttons anywhere on the website. For example, sidebar, above or below the content, pop up, fly-in, or over any media.
Add delay time on pop-ups.
Increase the social sharing count and your followers.
It was designed for mobile phone, tablet, and desktop computer screens.
A dedicated dashboard is available for improving the user experience.
Pricing: Paid
Demo: https://www.elegantthemes.com/preview/Monarch/
Read: 10 Best WordPress Speed Optimization Plugins
Novashare
The experts of ground-up have come up with the fast, lightweight, and optimal social sharing plugin for WordPress websites that help share your website posts to any social media channel.
Novashare is the best choice for any WordPress website because it never makes your site lousy due to its lightweight feature. Novashare was a dream of two brothers that was fulfilled with dedication and hard work.
It is enriched with remarkable features that never let the users hesitate in opting for this plugin for their website. Explore the features!
Novashare Social Share Plugins Features
Incorporate the multiple social media share buttons and share counts to each post of your website.
Control the garbage code, and scripts only run where necessary. The lightweight and fast plugin does not let your web page load slowly.
Novashare does not require your personal information, and no further configuration is needed due to its GDPR friendly nature.
The user-friendly interface of both the front and back end makes it easy to use and configure. No matter if you are a non-technical person, there are few things that you can configure quickly, such as a display button, 17+ different networks, brand theme customization, etc.
Add the click to tweet button anywhere by using the WordPress block editor or shortcode.
Keep track of your social share count and merge the old counts with the new ones to not lose the record.
Pin the website's image by hovering the cursor over the image and clicking on the pin button on the image.
Responsive on any device such as mobile phones, tablets, and desktop computers.
Customize the social share buttons according to your brand theme using different sizes, shapes, and colors.
Add the following widget to increase your following on various social networks.
Track the analytics of your website to check your blog traffic and analyze your link click data.
Novashare premium license supports WordPress multi-sites that easily let you push the settings from your parent site to subsites.
It is integrated with other third-party plugins to add functionality and support to the plugin.
Pricing: Paid
Demo: https://novashare.io/demo/
Read: The Best WordPress Page Builder Plugins in 2021
myCred Social Share
myCred social share is basically an add-on to one of the best gamification plugins. This add-on has a unique functionality of giving points to the customers for sharing your website content to the social media platforms that they can redeem later in the form of discounts.
Features
Easy to install and use.
A suitable plugin for single and multisite with one year of free updates and support.
Gives digital rewards to the users for sharing the website content.
It sets up the rewards according to the post and action types.
Social Warfare
Social Warfare is a swiss army knife plugin that covers everything in a single social share plugin. From sharing the website content to generating leads and building massive traffic on the website, it offers it all.
The lightning-fast, easy-to-use, and beginner-friendly plugin wraps the utmost features to provide most of it.
Let's discuss the features.
Social Warfare Social Share Plugins Features
Share your website content to many social media platforms.
Customize the share buttons according to your theme branding.
Optimize the load time and never let your website stuck.
Track the social counts with social proof functionality.
Take complete control over your sharing.
Get support from the experts.
Add the "click to tweet" button for lead generation.
Incorporate the Pinterest link on website media (images).
Responsive on mobile, tablet, and desktop computers.
Pricing: Free
Download: https://wordpress.org/plugins/social-warfare/
Read: Best 10 Free Instagram Feed WordPress Plugins 2021
Bonus Social Share Plugins
Sassy Social Share, AccessPress Social Icons, AddToAny Share Buttons, UltimatelySocial, Easy Social Sharing, WordPress to Buffer, Simple Social Icons, Social Icons Widget by WPZoom, WordPress Social Login, ARSocial, Social Share & Locker Pro WordPress Plugin, AX Social Stream, Social9, Grow Social by Mediavine,Shareaholic, Social Snap
Wrapping Up!
You won't be sitting on the fence anymore to pick out one of the best social sharing plugins for WordPress websites. We have covered each plugin's most prominent and primary functionalities to make it easier for the user to opt for the best plugin.
Go through each of the social sharing WordPress plugins and find out which meets your requirements effectively. That would be all for today.