Gone are those days when kids had to go through a thick thesaurus to find out the meaning of certain words and phrases. Now all they have to do is keep a smartphone and an Internet connection handy. That's enough to get all the answers to their queries with just a simple tap on the phone. Over half of children in the US now own a smartphone by the age of 11. Whether they need homework help or instant answers, the majority of them rely on their smartphones.
The COVID-19 outbreak has caused a surge of downloads of several educational apps, especially during the first quarter of 2020. The Apple App Store recorded 470 million educational app downloads, whereas the Google Play Store recorded 466 million downloads for the same.
With so many options out there, which educational app is perfect for your kids?
Check out the 10 most popular educational apps for kids in 2022.
Best Fun Educational Apps
1. Duolingo Kids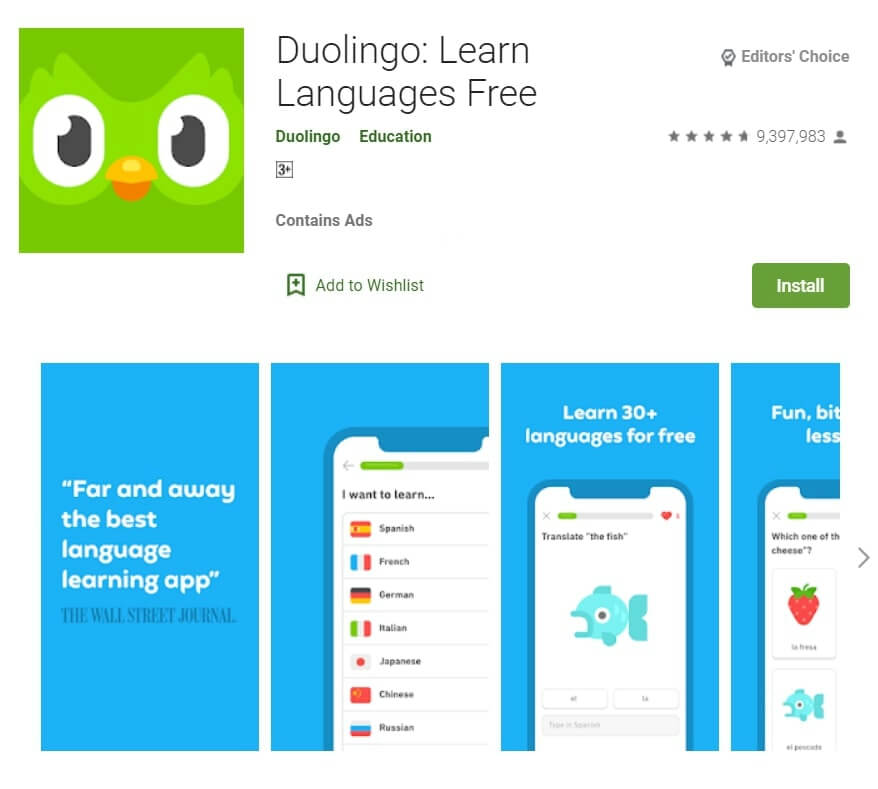 Cost: Free
Known as the most popular language-learning platform in the world, Duolingo can help kids learn the basics of French, Spanish and English. It is a fun and effective way for kids to learn new languages hassle-free. It is best for children who have started to learn how to read and write. However, very small children can just listen to the words and play along.
Pros:
· Evidence-based learning
· Tons of languages to choose from
· Basic vocabulary and forming sentence structures
· Immersive and fun
Cons:
None as such.
Download From Play Store Download Apple App Store
2. Skyview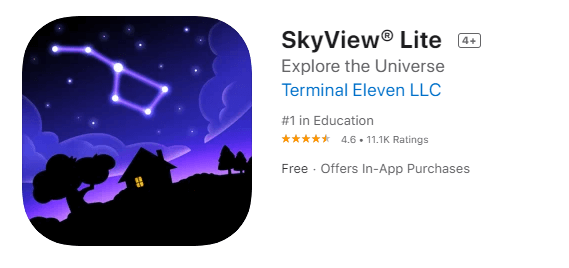 Cost: Free
Does your kid have a knack for stars, sky moon or any part of astronomy? Well, Skyview is the right app for him/her in that case. It is an intuitive and beautiful stargazing app that uses the phone's camera to spot and identify celestial objects in the sky. Your kids can use this app to know about popular constellations, the solar system, distant galaxies, etc.
Skyview is a perfect choice for kids who may need help with:
· Focus
This app encourages your kid to take the time and appreciate the vastness of the universe. Children often tend to overlook details and run at full speed. This app can help them slow down and appreciate the world and also gain a deeper understanding of the scientific world.
· Working memory
Your kid can learn where different celestial bodies are usually located through this app, thereby improving their working memory effortlessly. The sky appears different every day and this app can be a great way to remember different pieces of information in mind.
· Flexibility
Kids have to think flexibly to understand the star map and its connection to the world. From predicting the path of the Moon to using other educational features, this app can help your kid learn a lot of facts and essential skills.
Download From Play Store Download Apple App Store
3. The human body by Tinybop

Cost: Starts from $3.99
It is always recommended to teach your kids about his/her body from an early age. And this app is all about exploring the basics of anatomy and biology through an interactive model of the human body. Your kids get to learn about heartbeats, eyes, skin, lungs, guts, etc.
Features:
· Consists of eight interactive systems that can help you learn about human anatomy. It includes the respiratory, circulatory, digestive, immune, skeletal, nervous, muscular, etc. systems.
· Explores detailed, interactive models of the eyes, heart, stomach, brain of the human body
· Rewards curiosity of each student
· Makes it fun to feed the body, make it breathe and run, watch sound vibrations travel through the ear canal, etc.
Download From Play Store Download Apple App Store
4. Green eggs and ham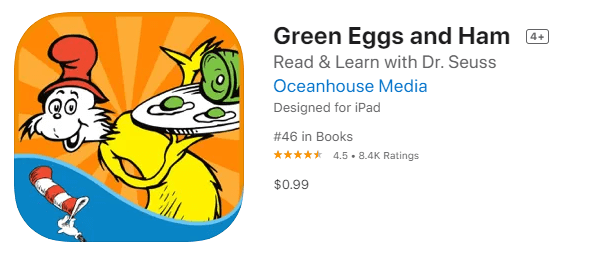 Cost: Starts from $0.99
Your kids get to join a character named Sam-I-Am in this interactive book app and offer his friend green eggs and ham everywhere. This app encourages literary skills among kids with highlighted narration. The kids can also learn new vocabulary with tappable words, or they can tap objects and hear their name loud and clear. The activities involved in this app are associated with kindergarten standards of learning.
Pros
· Parents can track time spent reading on the app.
· Kids get to practice their readings again and again.
· They can also engage with amazing and fun learning activities.
Cons
The only con is that this app isn't free.
Download From Play Store Download Apple App Store
5. Elmo loves 123S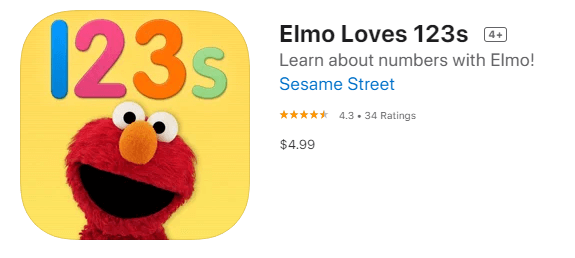 Cost: Varies
Are you looking for an interactive and fun app that can teach your children about numbers and counting? Then download Elmo loves 123S without a second thought. Elmo is a hilarious character on this app and he loves exploring numbers. It not only has colouring pages and games about numbers but also consists of songs and videos about the same.
What can your kid learn about through this app?
· Number tracing
· Identification of numbers
· Addition & subtraction
· Counting groups of objects
· Arts and creativity
· Problem solving
Download From Play Store Download Apple App Store
6. Dragon box app series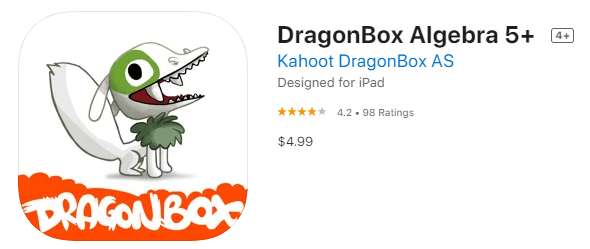 Cost: Starts from $4.99
From basic math to geometry and advanced algebra, this app has got plenty of topics to teach your kids in a fun way. There are a series of apps you can choose from this one Dragon Box app. For example, you can teach basic shapes and full-on theorems from one app.
The four different sections in this app are:
· Sandbox- Lets your child explore and experiment with basic math concepts.
· Puzzle- Encourages your child to use basic math to create their own puzzles and use mathematical operations to place the puzzles at the right place to reveal a hidden picture.
· Ladder- Helps your child develop an understanding of how larger numbers and related to smaller numbers.
· Run- Allows your kid to use mental math to direct the Noom down a specific path in the app.
Download From Play Store Download Apple App Store
7. Remind

Cost: Free
This app can help you get your kids and their friends assemble under a single roof and study together. You can stay connected with the school community with this app. You have to use a unique school code and receive regular updates on your kid's classroom activities.
Features of Remind App:
· Translates messages into more than 90 languages
· Shares photos, files, videos and content from reliable educational sites
· Keeps personal contact details absolutely private
· Allows real-time communication with teachers and other parents
Download From Play Store Download Apple App Store
8. YouTube Kids

Cost: Free
Whether you want to teach your kids alphabets or numbers, the right keyword can get the right results on YouTube Kids within an instant. The features are easier to understand and also simpler so the kids can even explore them on their own.
Pros
· Search- You can perform a search and get the results almost in an instant.
· No comments- That means, you needn't have to worry about any vulgar comments.
· Time limit- You can even set a time limit for your kids to use this app.
Cons
Ads- YouTube Kids have no comments, but this isn't an ad-free experience.
Download From Play Store Download Apple App Store
9. Quizlet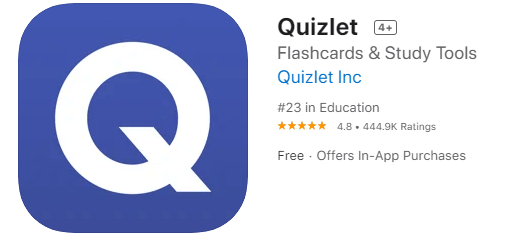 Cost: Free
Quizlet makes learning way easier and quicker for kids. There are multiple study modes such s flashcards, test and math, learn, write, etc. Each mode serves a unique way to help your kid learn their desired topics.
What is the purpose of flashcards in this app?
The purpose of these elements is to promote active recall which is the process of stimulating memory during the learning process. You will find tons of flashcards in the app. You can create flashcards and help your child perform gaming activities with those.
Download From Play Store Download Apple App Store
10. Epic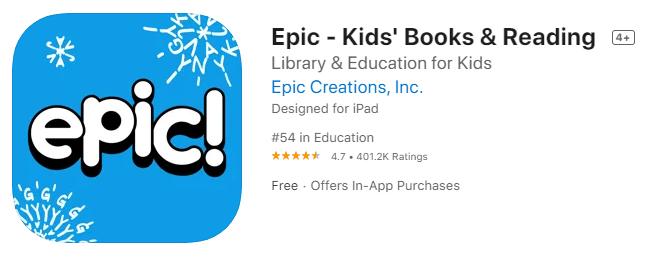 Cost: Free
Does your kid love reading? Do you want to instil the habit of reading in your kids? Well, then this is the right app for you. Epic is a digital reading platform that consists of over 40000 books. Your kids can take their time and choose from over 250 high-quality books from publishers all over the world. The books are divided into categories based on age, genre and interest.
Features:
· A wide range of versatile content to encourage the habit of reading
· Personalized daily reading for your kids
· Teachers can integrate school lessons with this app and bring classes to life.
Download From Play Store Download Apple App Store
Wrapping Up,
All in all, education needn't have to stay confined to the four walls of brick and mortar or within the pages of a printed document. There are specific apps that can also help you learn all kinds of topics in an interactive way. You may usually play a fun video to feed your kids hassle-free. So, why not use an educational app to draw their attention?
Read: Best 10 English Learning Apps for Android
Best 7 Productivity Apps for Students