Teaching children coding skills-Yes you have heard it right, for some, it might not be their cup of tea, for some they love it. In order to identify the hidden interest of your kids on coding, we help you with some app suggestions, where they can play with coding and design their apps by adding more creativity into that, afterall all the kids are not the same right. But the kind of exposure to things also matters to identify their potential. So get ready to jump into a coding-adventure with this list of apps. It not only helps kids to learn the new technology, but it also enhances their creativity level (how to nurture creativity in a child), problem-solving techniques, critical thinking skills, etc. These apps help you to read the programming from scratch to advanced level. Some of the best apps for teaching code to the children are.
Best Coding Apps for Kids
CodeSpark Academy

An award-winning app that is free to use and helps kids to learn to code. Without learning that they are learning, this app has a game-like interface to teach kids coding in a more fun-filled way. Food – a lovable character that is used to teach code for kids in this app.
Word-free design – helps pre-readers to learn to code.
Puzzles – which allows kids to learn programming without getting help from adults or teachers, which helps them to boost their problem-solving skill.
Open play area – A place where kids design/code their own games, share with the fellow kid coders.
The other unique feature of this app is KidSafe Certified & does not contain any advertisements or in-game purchases.
Hopscotch

Hopscotch is an app that kids use to learn to code. It is available for free on iPad and iPhone. This app is exclusively designed for kids who are in between the age 7-13 but this can be used for any age. The speciality of the app is you can make your own app, games and animations, whatever you like. This tool is very kid-friendly and has many video tutorials to teach coding for your kids.
ScratchJr

ScratchJr is another free coding app for all android, iphone and ipad users. This app teaches children of very young age from 5-7 years learn programming language through a very interactive way by using games and stories.
ScratchJr helps children to modify character by using paint editors, they can able to add their own sounds & voices, even they are allowed to add the images, once they are done with all these things they use the programming blocks to make their characters live(they make the characters move, jump, speak, dance and sing).
Kodable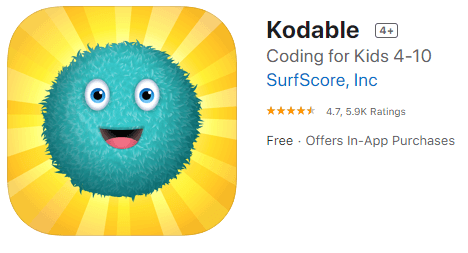 Kodable- an excellent coding app for iphone and ipads, which is free of cost to learn or teach kids the programming languages from simple to complex levels. This app mainly focuses on student outcomes and schedules the lessons accordingly so that teachers can teach their coding with much knowledge on computer science. This app helps kids to learn programming languages such as HTML, CSS, Javascript and etc.The uniqueness of this app is that it breaks down the concepts of basic programs in a simple way to have a strong foundation for kids.
Tynker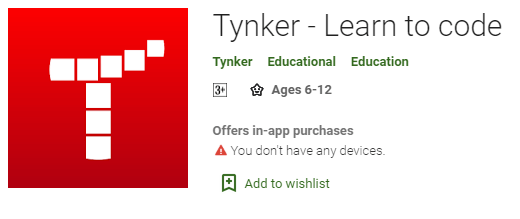 Tynker – an app which is exclusive for iphone and ipads and it is free for use. This app makes use of code blocks to teach kids how to program. This revolutionary approach teaches real programming concepts by means of visual code blocks. They have 2000+ activities which actually kindle the interest of children and progress them to learn coding languages such as javascript and python. The basics of programming is teached by using story based concepts. By using coding puzzles it introduces students to the visual programming language. Kids learn programming through a very fun and interactive way by using this app.
Kids will earn badges on each of their coding lessons, these lessons will be more interactive, contain mini-puzzles, games and cool projects.
Bee-Bot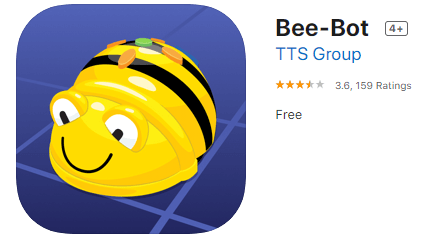 Another new app (Bee-Bot) which allows students to learn programming in a more fun related way. It helps to learn basic programming through the different puzzles & levels that have a cartoon bee to attract young kids to learn coding. Really a very good tool which captures kids' minds on their innovation to learn programming through different sequences of directions in each level for improving their skills.
Coding Games For Kids To Play

Coding games for kids to play – another unique app which has an array of free games to teach children sequential visual coding. This app helps children to improve their memory, logical thinking and problem solving techniques. This teaches children the basic concepts of programming like loops, arrays, sequences and etc through their 1000+ levels. It is an excellent app for the students as now the schools move from traditional IT to programming curriculum.
Benefits of teaching coding to your children:
Coding can be fun a lot of the time when kids learn with more interest. Some may naturally be very comfortable learning programming languages, but some may need a lot of effort to get them on track. But however they make connections with these coding languages, in order to improve their skills. Here are some of the benefits of teaching your children a programming language:
● It helps to improve computational thinking of your kids.
● Logical thinking is the most important one for coding, by teaching your kid a coding language it helps them to improve their logical thinking.
● Problem solving technique – Coding actually teaches children to break down the complex problems.
● Coding helps children to learn how the things work and create things that work.
● While coding kids learn to handle eros, this really helps them to avoid many problems in their day to day life.
● Structural thinking – By learning programming kids learn how to build small pieces to add up to the solution.
● Algorithmic thinking – Coding enables kids to break down problems into simple step-by-step procedures.
● Coding really improves kids' creativity, their way of thinking and enhances them to read more in a fun filled way.
● By learning coding kids prepare themselves for their future.
● Many kids actually have problems learning maths, coding really has many practical applications of maths, which make them better understand the concept of maths.
● It helps kids to have a long-time passion.
● Really coding makes a lot of money.
● Helps kids to think outside of the box.
● Enhances their quality of life and time.