The best mobile scan and OCR applications have a default automated scanning feature, which focuses on text and detects document borders accurately. This is the default feature of all applications making this finished list. OCR data extraction is widely used with products that involve such services that verify the identity of clients.
Anything you put before the camera of your phone can search the app without tapping a button. While it does not hit a button, it does encourage the hands to keep the camera steady and thus to produce a clearer shot. Self-scanning is also a very attractive feature. Here are the top 10 document scanning applications one should know.
Document Scanner Apps
1. Microsoft OfficeLens

Microsoft's OfficeLens is a free scan program which can execute OCR for images using text, but only when used alongside other programs, such as OneDrive and Word. It requires an account on Microsoft, but all programs are free of charge. In the OfficeLens program itself, OCR processing does not take place. You instead need to save the photos to OneDrive as a docx file and then open it to the working text in Word (web app, desktop app, or mobile app).
The need for a second program doesn't provide you with the same flexibility as most smartphone scans and OCR software, but if you can save the hassle of springing to another app, the finished result would hopefully have higher accuracy than any of the single-stop shops. Moreover, everything is free.
Download From Play Store Download Apple App Store
2. FineScanner Pro

FineScanner can create a PDF, transfer files to a cloud server, print them, and save files to your camera roll or the default photo program, so that you can further use them to verify the identity or any other purposes. The 193 languages of the OCR are known to FineScanner Pro and it can generate 12 types of files, including .docx, epub, searchable rtf, and .txt. It is one of the Mobile Search & OCR applications with the highest degree of impressiveness.
Download From Play Store Download Apple App Store
3. Google Keep

Google's Keep is known as the cloud-based note maintenance software, a close rival to Evernote and OneNote. Google continues to upgrade the app occasionally. Their capability to collect text from pictures (OCR- data extraction) is a fascinating aspect along with note-taking. Google Keep involves the usage of Camera, captures the image, and extracts data from the image.
The text is easily registered and saved to a note in digital format until the image is acquired. The user will not have to manually type anything. You should erase the photo from your notice. If the text is extracted, it syncs with the cloud on all account-related computers. Google Keep is free and ad-free software, similar to OneNote, that is available for iOS and Android alike.
Download From Play Store Download Apple App Store
4. Scanbot Pro

OCR scanning is carried out automatically, and next to the initial scan the final text appears, with tabs on the top, to jump from one viewpoint to the other easily. The OCR has done well in terms of precision. In my book scan test, the table was not correctly spaced and balanced, and I found the entire text to be incorrect. The finished result needs much washing by hand, but it is still easier in the world than composing three pages of text by the view. Due to the price of Scanbot Pro, it might also be a perfect choice, according to the job you are facing. 60 languages are supported by the OCR.
Download From Play Store Download Apple App Store
5. TapScanner

TapScanner is a new free PDF scanner, with an autodetection feature to ensure the correct synchronization of all pictures and papers. TapScanner also provides an OCR feature to protect text images and supports over 100 languages, in addition to saving it as PDF or PNG files. Although there are advertisements in the free version, which can be $4.99 a month or $19.99 a year.
Download From Play Store Download Apple App Store
6. Adobe Scan

The Adobe Scan is available on both iOS and Android on the OCR market. Adobe is one of the first brands that come to mind when it comes to record processing, and why not. Adobe has one of the best handheld OCR motors available, and Adobe Scan reveals.
It not only allows searching but also editing, noting, or commenting on the go. It is free of charge for your scan documents and also has online storage of 5GB. The only issue is that it is not provided by any storage solutions. The consumer is either reliant on 5GB storage or if appropriate, will have to buy more from Adobe.
Download From Play Store Download Apple App Store
7. Scanner for Me + OCR

Speed is definitely the biggest reason for preferring Scanner for Me + OCR from every other scanning and smartphone OCR app. It was scanned so quickly that often one could not hold it up. It was scanning. OCR ran at lightning speed as well. For almost all of my test scans edge detection was equally impressive, but precision was poor. The print had faded everywhere and it did a bad job reading manuscript numbers.
You can shift between the initial scan view and the OCR data extraction, like Scanbot Pro, by clicking on the top of the screen tabs. An icon with 13 choices is available to show the detected language: German, Dutch, English, French, Italian, Japanese, Norwegian, Polish, Portugal, Russian, Spanish, Swedish, and Turkish. Although the app has a few pre-installed languages, make sure you import some additional languages from the setup.
Download From Play Store Download Apple App Store
8. Evernote Scannable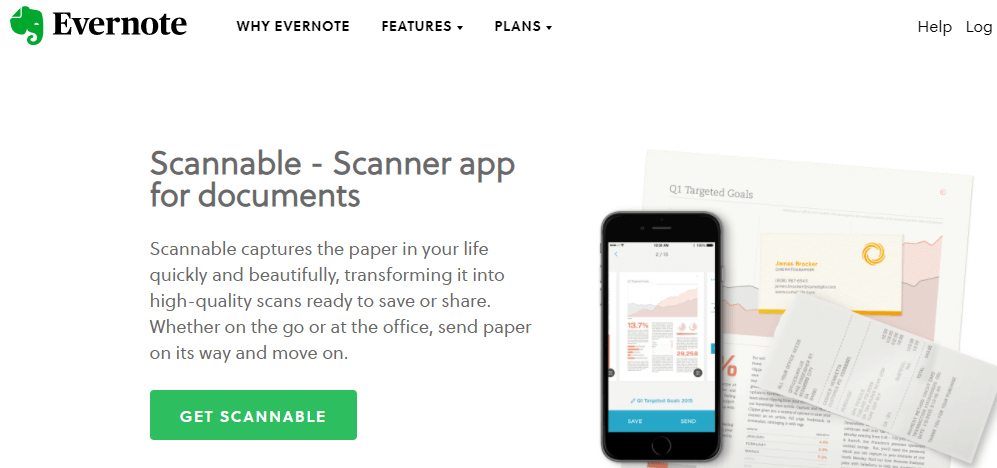 For all the office suite biggies like Microsoft and Google, Evernote is the ideal competitor. Your Evernote Scannable app is for iOS which makes it even easier to live. Any paper or business card may be simply scanned and information is immediately retrieved by the app. JPG or PDF files can be downloaded. Data can be used easily to build business card contacts or copy into other applications.
Download From Play Store Download Apple App Store
9. Smart Lens

Smart Lens helps its users to scan any document, turn the image into text, and even translate the scanned text into any other language. Your built-in translator is helpful if you claim you fly and need support in the reading text in a foreign language. But other applications, including handwriting pictures to the translation of the text, do not support fundamental features. Still, if you look up a language converter OCR app Smart Lens is an excellent choice for Android users.
Download From Play Store Download Apple App Store
10. Pen to Print

This software is now widely accepted for handwriting in digital text and is available on Android. Naturally, the written text can be translated from images into digital text. Yet its manuscript is by far the most valuable of the lot. It is very convenient for students and professionals who take notes on their lives. It's on Android free of charge.
Download From Play Store Download Apple App Store
Conclusion
Over the last two years, smartphone OCR applications have improved dramatically. Each app has its benefits and above all, brings genuine value to users' lives. Free apps are a decent choice for people searching for a basic app that is used rarely. It would be advisable to settle on a premium version for people who use this more technically.
Read More: Best iPhone Apps for Document Management On The Go