Every SEO writer only has one goal in mind, to rank his site on the search engine's SERP. All their efforts are aimed at achieving top rankings.
To do that they have to manipulate their content as per Google Policies. Google ranks a website based on connectivity, backlinks, constant updates, readability, and quality of content.
For that, SEO writers have to rewrite the same content, again and again, to keep their sites relevant.
It takes 8 hours to rewrite a standard 3000-word article, which means the consumption of a lot of creative energy on simple rewriting. This often results in unnecessary pressure on writers, which causes stress, fatigue, and anxiety.
Paraphrasing tools can save the day. They can not only rewrite content with the same context, in fact, their cutting-edge technology can make your rewrite more SEO Friendly as well.
What are paraphrasing Tools?
A paraphrasing tool is an online tool that specializes in rewriting any written piece with accuracy and efficiency.
The tools use NLP, Natural language processing, to understand your text and then rephrase it in a matter of seconds.
Read: Top 10 Paraphrasing and Rewriter Apps Android
Why Should SEO Writers Use Paraphrasing Tools?
Following are the reasons why we believe every SEO writer should have these tools in his arsenal.
● They produce unique content
● They eliminate grammatical errors.
● They help in keyword optimization
● They improve the readability of content
● They engage more people
● They improve tone and content flow
● They save valuable time and energy
Top 10 paraphrasing tools for SEO writers:
If you are an SEO writer trying to find a tool for paraphrasing, then don't go anywhere. We have compiled a list of the top 10 paraphrasing tools which will help you to write your content. Based on a tool's characteristics and your requirement, you can select any of these tools for your work.
Paraphrasingtool.ai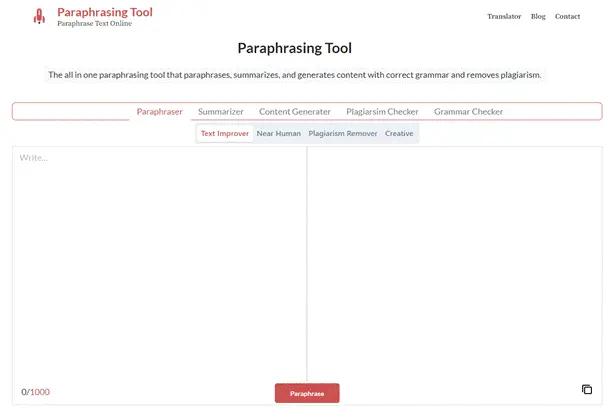 Paraphrasingtool.ai is the most complete paraphrasing tool we have in the competitive market. The tool possesses four different paraphrasing modes.
Plagiarism Remover: least effective of all modes. It can remove mild plagiarism by keyword alterations.
Near Human: It rewrites content like a human brain. It can change both the keywords and sentence structure to make your complete unique.
Text Improver: It is the most advanced version. It is aimed at improving the overall quality of your written manuscript by changing sentence structure, content tone, paragraphing, and sequencing.
Creativity: This mode allows the tool to rewrite by adding a creative touch to find new ways of conveying your message.
The tool is aided by a plagiarism checker, summarizer, content generator, and grammar checker. It is available in both free and premium versions to assist SEO writer
Pricing: 99 $ per month
Learn: Best 5+ Article Rewriters Tools Online to Get the Unique Content
Paraphraser.ai
Paraphraser.ai is heaven for SEO writers who want to write in multiple languages. The tool can paraphrase in 80 different languages. The tool is known for its global reach and quality of paraphrase.
There are 3 different paraphrasing modes available, which are
● Low
● Medium
● High
The tool is available for android and IOS users as well. However, it doesn't have added features like a summarizer, plagiarism checker, or content generator. Due to this users have to consult other tools to recheck the paraphrase.
Pricing: Free
Learn: Top 10 Content Optimization Tools for Better SEO in 2022
AI Article Spinner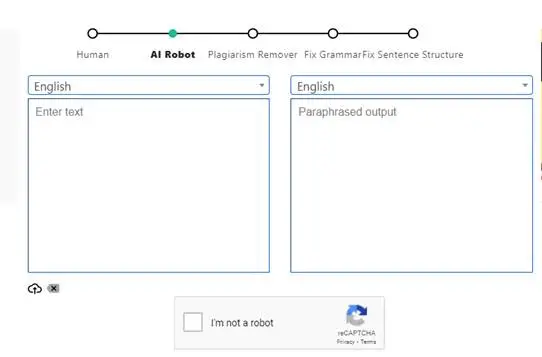 If as an SEO writer you are looking for variety in write-ups, then AI Article Spinner should be your primary choice. It can paraphrase a piece of content in 5 different modes.
● Human
● AI Robot
● Plagiarism Remover
● Grammar Checker
● Sentence Structure
It can do paraphrasing work in more than 20 different languages. The free version of the tool can rewrite 5000 characters in one go.
However, it lacks additional features, which is among its major drawbacks.
Read: 13 Best Free SEO Content Readability Checker Tools Online
Spinbot

Spinbot is among the most critically acclaimed tools which can perform the jobs of article spinning and paraphrasing with equal ease.
There are 3 different modes of paraphrase available
● Shortest version
● Default version
● Longest version
SEO writers can choose any of these modes based on their word count. The free version of the tool can rephrase up to 10,000 words in a go.
The tool has an option for registration, the purpose is to create a community of its users with whom it can share advanced features. However, the dearth of additional features forces SEO writers to verify the rewrite from an online plagiarism checker.
This tool is available in both free and premium versions.
Pricing: The premium version is available at one month, six months, and yearly prices. The prices of which are 10 $, 50 $, and, 75 $,
Read: Top Free Online Plagiarism Checkers Tools in 2022
Essay Rewriter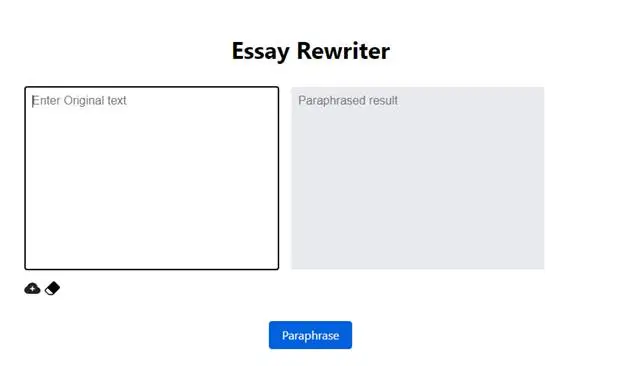 Although the tool's name suggests otherwise, essay rewriter has emerged as one of the most important paraphrasing tools.
It can make an SEO writer's life easier by rewriting a piece with proper paraphrasing and extremely advanced readability levels. The rewrite is unique and professional in outlook.
However, this tool lacks variety in paraphrasing modes. It also doesn't have additional features. The makers don't believe in diverse writing modes.
Pricing: Free of Cost
QuillBot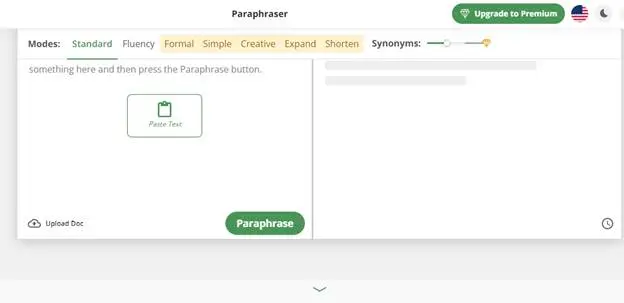 When it comes to versatility, only a handful of tools can match Quillbot. It is among the most critically acclaimed tools in terms of diverse paraphrasing modes and quality of rewriting.
It has got 7 different paraphrasing modes
● Standard
● Fluency
● Formal
● Simple
● Creative
● Expand
● Shorten
The professionals and novices use it with equal ease to get quality write-ups. The tool is aided by features like content generator, co-writer, site generator, summarizer, etc.
The tool is available in chrome and Docx extensions, which can be used with Google Chrome and Microsoft Word.
Pricing: It varies as per access of the features
WordAi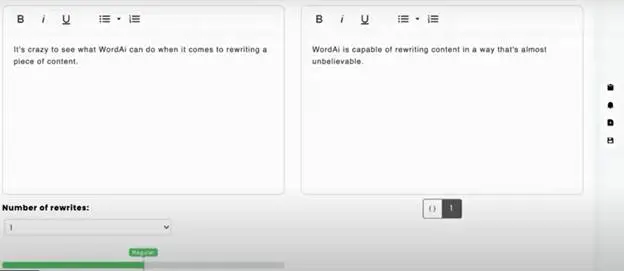 WordAi is among the most advanced online tools. It has a complete section for SEO writers, where it can paraphrase content based on modern SEO Techniques, which results in higher organic traffic.
You can not use it without registration. The free trial version is available for only 3 days.
Pricing: The premium is available at monthly and yearly prices. monthly pricing is 57 $ while the yearly fee is 324$.
paraphrase-online

Paraphrase-online is known for its quick action. The tool can rewrite any text input within a few seconds, making it completely SEO optimized.
The users only need to input the text on the left window, click the paraphrase option in the middle, and they will get the result in the Text After Tab on the right side.
Since its prime job is to paraphrase quickly, it doesn't have various paraphrasing modes. The additional features are also not there.
Pricing: free of cost
Chimprewriter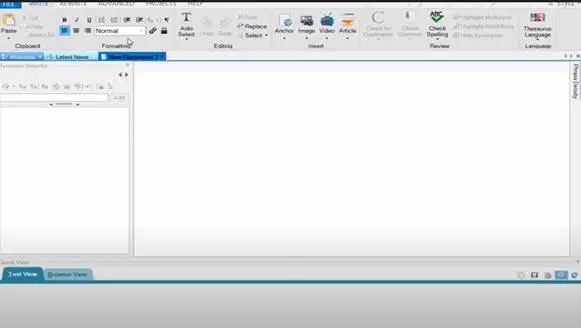 Chimprewriter is among the most advanced paraphrasing tools. The tool is used by professionals all around the world to create SEO content.
The tool is equipped with many additional features which allow it to:
● Paraphrase any text
● Generate complex content
● Translate in multiple languages
● Edit existing audios, videos, and images with ease
There is no free version available. However, before buying you may get the 14-day unrestricted trial.
Pricing: It is also available in monthly and yearly deals. The price for these offers is 15 $ and 99$.
Spinnerchief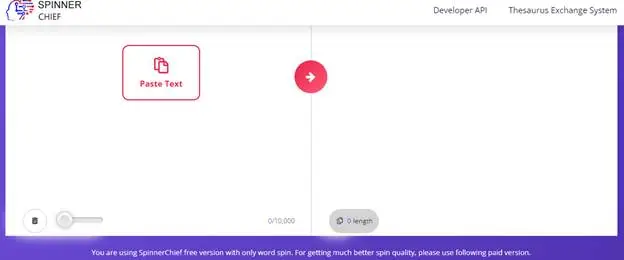 Our last pick is spinnerchief, it can paraphrase 10,000 words in one go. The tool is equipped with advanced AI techniques to generate SEO-friendly content.
The interface is extremely simple to use so it can attract novice writers as well.
There are 3 modes available, which are categorized as per the intensity of rewrite.
● Slight
● Normal
● Heavy
The tool is available in both premium and free versions.
Pricing: The tool has Ultimate and Team Versions. The ultimate has a one-time fee of 122 $ while for teams of 3, 5, and 10 members, the one-time fees are 250$,378$, and 634 $.
Concluding Remarks
SEO writers are always in a fight of bringing their websites on top of search engine result pages. The paraphrasing tools can become your biggest ally in this battle.
In this article, we have shared a list of top 10 paraphrasing tools which they can use to create unique content at a quick pace with SEO optimization. We hope this list would end your search for a quality paraphrasing tool.