Using images is the best way to improve the content quality at the websites and blogs. Overall, images visualize and advertise your content in a more refined manner such that users can understand everything you want them to know.
It looks really easy and advantageous; however, more use of images at the website decreases the free space on your server!
Every image of your website gets saved on the website's servers. This makes deleting an image easy upon requirement from any web page. As a result, the image at your website server affects the website's loading speed.
"Always remember that a website with more loading time disinterest the users. Subsequently, it increases the bounce rate."
You would have noticed that too many images on a blog post, loads the post slowly. That means your loading speed decreases if you put more images on a single webpage.
Read: Top 20 WordPress Plugins Every Blogger Needs
Image Size ∝ Website Loading Speed
However, as a website owner, you understand the value of images very well. Also, you know that ignoring images in the name of website performance is not the justice to your content.
But images are also necessary for other reasons; thus, ignoring them to increase website performance isn't justice to the content creation. A slow website not only frustrates your visitor but impacts negatively on your SERPs and website traffic.
This in return impacts your conversion rates and revenues. All of these are only due to the increase in the loading speed of the website.
Is there any solution so that you can put more images without disturbing the website's speed?
Yes, today in this article we have a landmark solution, i.e., image compression for website!
Image compression is a simple process to change the file sizes. As the size of the file gets changed, it takes less space on the webserver to get saved when compared to the original file.
Website development services providers & experts have tried a lot to enhance the page speed, but the one that resulted well is the compression for website or the image optimization!
And to decrease the image size, we have collected a list of a few best image compression WordPress plugins that increase the website performance and improves the website content!
Read: 8 Best SEO Plugins for an Optimized Website
"Why WordPress?" you ask.
"WordPress is currently the world's best website builder, CMS (content management system) that is powering almost 30% of websites over the globe."
Seeing this much craze of WordPress, we decided to make a list of WordPress plugin for image optimization. All of the WordPress image optimizer plugins are effective in compressing a high size image into a low size.
And the last part of the WordPress image optimization is that during this compression process, image quality isn't distorted and gets improved in many senses.
When To Use WordPress Image Compression Plugins?
As we know that an image with a larger size takes longer time to load and slows down the website; thus, image compression is important.
'A picture speaks a thousand words,' hence, images at your website pages can grab user attention easily. Furthermore, it would make your site more interactive, attractive, and effective.
Photoshop is also considered as one of the best ways of image optimization for WordPress. However, I prefer online image-making tools & image editing tools. Choices vary and it depends upon you what you choose to edit images.
Image editing software is special as they offer you better control of the quality of your images on your website. You can use any of them!
Images produced by the editing software are hard to compress. Therefore, we always prefer to use online image editing software like 'Figma.' Also, using image compression WordPress plugins become easy.
In this article, we have listed the top WordPress plugin for image optimization. We have also covered the method of how they stack an image. At the end of the article, we will tell you which of these are the three best image compression plugins for your WordPress website!
Free WordPress Image Optimization & Compression Plugins
1. WP Smush-Compress, Optimize and Lazy Load Images

WP Smush is the fastest and easy to use WordPress image optimization plugin in the market. The plugin has also been voted as the world's best WordPress image compression plugin because it offers amazing features and takes no money from you.
I mean it is free to use and can be accessed anywhere anytime!
With this plugin in your hand, you can control the height and width of the image to your preferred dimensions. Also, it easily compresses the images not only in the media uploads but in any directory of your wish.
WP Smush is easily accessible and compatible with many of the most popular media library plugins such as WP All Import, WP Media Folder, WP Offload S3, and WPML.
Its security features are world-class and it easily takes your privacy into consideration. Therefore, it never interacts with the users at your website or blog in the newsletter subscriptions.
2. reSmush.it-Image Optimizer

reSmush.it is the second-best WordPress image optimization plugin that allows us to automatically compress and optimize images on upload. Furthermore, it has a bulk optimization option that we can use for older images.
The reSmush.it image compressing plugin uses remush API and lets you choose the optimization levels for the image upload to properly optimize images.
It can also limit the image optimization to 5MB in size. Also if you want to add a new image in full size, then you can exclude the image from getting compressed.
3. ShortPixel Image Optimizer

ShortPixel is the most lightweight WordPress plugin for image optimization and compression which can also compress the PDF files. It follows a certain theme, i.e., 'install the plugin and forget about it.' Therefore, you don't have to manually compress your images.
Whenever you upload a new image on your website powered by WordPress, Shortpixel automatically compresses and optimizes the image without harming the image quality.
The plugin can compress all kinds of image formats like JPG, GIF, PNG, and also PDF documents. Also, it can convert the image formats into WebP format.
ShortPixel provides a 24×7 support team for user benefit is the best WordPress image compression plugin available in the market.
4. Optimole-Image optimization & Lazy Load

Optimole's image optimization for WordPress is very modern and clean to use. To use this plugin, you need to create an account and then insert an API key that comes to your mail.
After logging in to Optimole, you can visit the dashboard and modify settings such as image resizing, image replacement, increasing compression quality, speeding up the loading, etc.
You can also take out the monthly reports of image optimization!
Every image optimization is performed automatically by using Optimole. CDN – Content Delivery Network also powers this plugin so that the images can load quickly at your every webpage.
Tracking and monitoring is Optimole's best feature because in the report you get every single detail about the image along with the resizing without spending any money on it.
5. Imsanity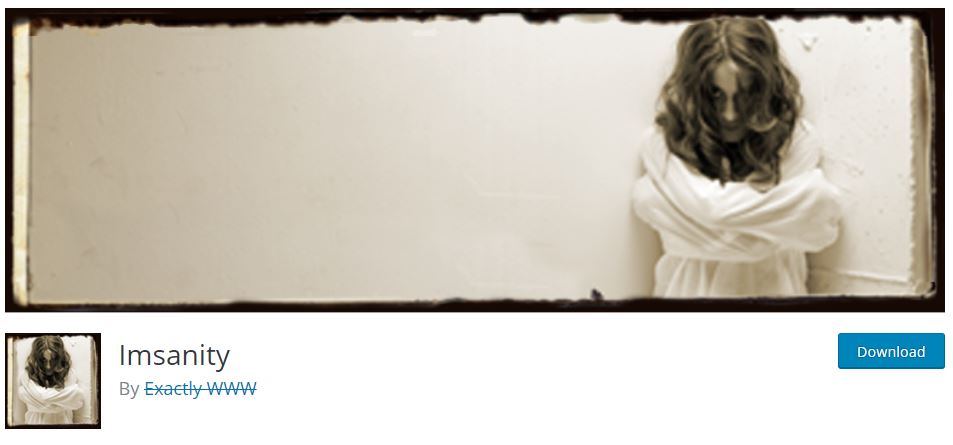 Imsanity WordPress image optimization plugin which resizes your image on the website and makes sure that the image is compatible with the browser. Resizing is done automatically as soon as the user uploads the image.
The original image replaced by the resized image!
This plugin is an ideal choice for those blogs and websites which don't need high-resolution images. Also, its bulk resizing features can optimize multiple images at a time and clear the disk space.
6. Imagify-Convert WebP, Images Compression and Optimization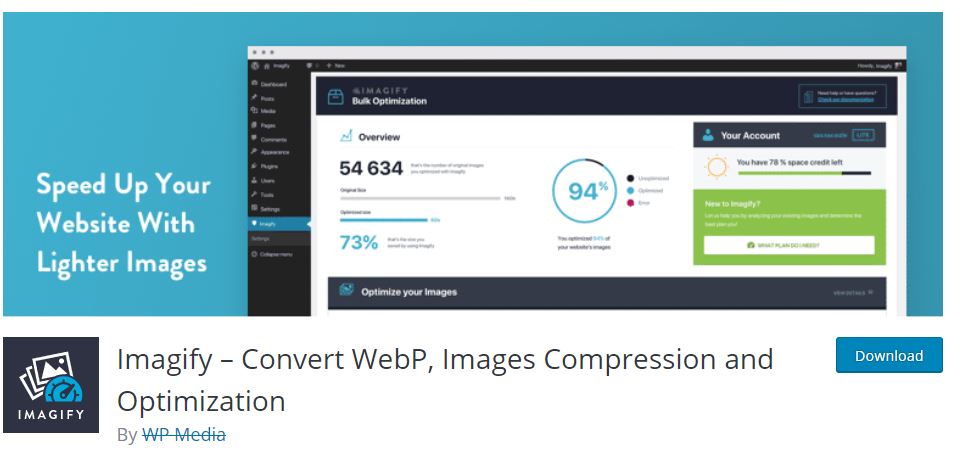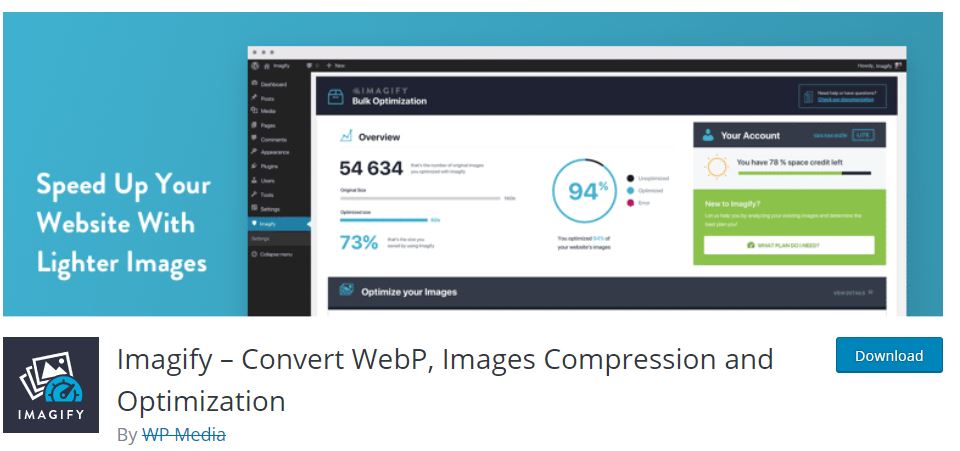 Imagify is the same as Imsanity that is available on the internet. This plugin compresses the images and change the degree of quality!
You can not only optimize your media uploads, but can also optimize thumbnails and is fully compatible with WooCommerce, and other media gallery tools. It also gives you a backup option to save the optimized image automatically.
The plugin is beginner-friendly and you can start your experiments of image compression for the website with this!
7. EWWW Image Optimizer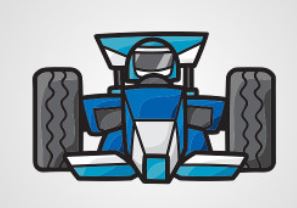 Like WP Smush, EWWW Image Optimizer is a popular and beginner-friendly WordPress image optimization plugin which can help you to increase the loading speed of your website by compressing heavy images.
An increase in the page loading speed, improve your search engine rankings, bring more traffic, and increase the chances of lead conversion. This tool easily optimizes all the images to pixel perfection because it uses rendering tools.
8. CW Image Optimizer

The CW Image Optimizer is again a beginner-friendly WordPress plugin for image optimization. It uses an old technique of lossless image optimization where special care is given to maintain image quality while compressing images.
What Are The Best Image Compression Plugin For WordPress?
If you are serious about using these image compression plugins at your WordPress site, then WP Smush, resmush.it, and ShortPixel are the three best plugins with which you can easily optimize every image at your website.
These plugins are dedicated to increase the website performance and are flexible enough to use.
We hope that you found this article a lot more convincing in comparison to other articles of the best WordPress image compression plugins. If you liked this article, then don't forget to comment in the comment section below.
Also, follow us on Twitter, and Facebook!