SEO is much of a technical concept and you might be thinking that B2B and B2C are having same SEO functionality, but that is not true. SEO for both B2B and B2C has core differences considering the goals and objectives of the campaign.
B2B is business to the business process in which one business sells its products or services to other businesses while B2C is a Business to Consumer process in which one business sells its products or services to consumers directly.
Business to Business (B2B) marketing is different from Business to Consumer (B2C) marketing as it considers difficult buying processes, narrow markets, and more complex products and services.
Both of them have different sales funnel, different target audience and the different costs incurred. So without wasting much of our time let's put some light on the difference between B2B SEO and B2C SEO.
Difference Between B2B SEO & B2C SEO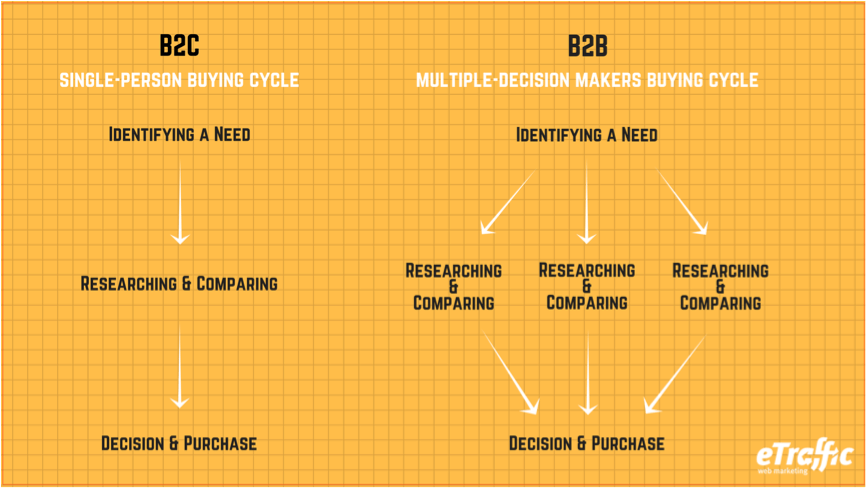 Source: lyfemarketing.com
Marketing Strategies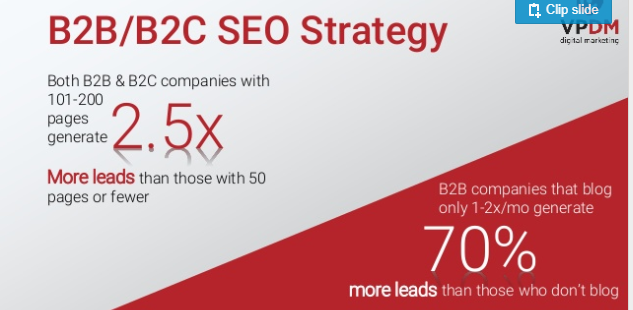 There is a difference between both B2B and B2C SEO in terms of their marketing strategies and goals. In B2B, purchases tend to be more expensive and require longer decision time as compared to B2C.
In B2B, The main focus is to create Brand Awareness, Lead Generation which will turn into sales in the long term. It creates a follow-up process with business through Newsletter signup, Leads form, etc
Whereas in B2C, The main focus is to provide clear and concise details of the product and get the visitor to make an immediate purchase from the site.
User-Oriented
When using SEO in any business, The main focus is not only to rank higher for a particular keyword but to serve what your searcher is looking for. In simple terms, B2B buyers are looking for a solution to a problem whereas in
B2C buyers are focused to buy something.
In B2B, use your keywords in such a way that it guides your buyers through all the necessary question that hits his mind. Well, Content mapping fits well here as it would educate your buyer and convince them to make a purchase.
Whereas in B2C, Buyers are mainly looking to make a purchase so it's better to make it easy for them to carry out the purchase by providing a direct landing page to the product where they can find all the necessary details of the
product and easily make a purchase.
Product Types
Whenever there is a need to run a business then there must be some goods and services that are to be exchanged in order to fulfill the basic requirements of a business.
In B2B, They offer intangible products and services whereas B2C offers tangible products like shoes, furniture, hardware, etc.
B2B benefits the customer's business and in B2C the only customer avails all the benefits.
Keyword Strategy
Keywords are defined as a particular idea or topic that defines your content. B2C offers tangible products like shoes, furniture, etc so it is much easier for them to easily target keywords whereas, in B2B, It offers intangible products which make it difficult to set high intent keywords and low intent keywords.
B2C doesn't require a lot of knowledge to define target keywords but in the case of B2B, It requires deep analysis and a lot of time to categorize their page with proper intent keywords.
Sales Cycle
The sales cycle can be defined as the stages or level a product goes through before making a purchase. In B2C, There is only one single user who carries out the purchase so it takes less time to complete a sales cycle. On the other hand, In B2B, There are large governing bodies which decide the decision to purchase a product or service so this process takes quite a long time to perform the sale.
Scalability
Order quantities are much higher in B2B than B2C. So B2B works on a larger scale as compared to B2C and also there is a scope of getting a bulk discount on products and get a chance to negotiate on price whereas in the case of B2C no such advantage is there as it works on a very small scale.
Goals and Key Performance Indicators
SEO main focus is on organic traffic and the revenue incurred. Both B2B and B2C have set their own parameters for defining goals and measuring performance. In B2B success is measured by using quantifiable factors such as lead quantity and lead quality. In B2C, success is determined by the sales performed through organic search.
B2C focuses on enhancing more conversion rate whereas B2B focuses on lead generation and how to convert them into sales.
Jargon
As B2B runs at a higher level of business so there is the use of jargon which is mainly used by experts but in the case of B2C there is no such use of jargon because it is directly dealing with the customer and use of jargon will confuse their users.
Conclusion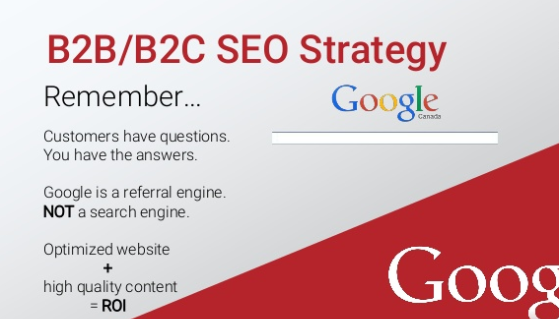 Working on B2B and B2C SEO requires all different sets of strategies to carry out through sales funnel. What matters the most is your content, create your content in such a way that it targets your potential audience and make it worthwhile for them. The main crux is that you first need to understand your intended audience and sales strategy so that it gets easy to know more about them and make proper content with respect to your audience so that they get what they are looking for.a