Do you want to create a website without hiring a WordPress expert? Well, then your best bet are the drag and drop WordPress page builders because they make it simple for you to create something professional looking and beautiful.
Drag and drop, visual page builders were not here. So, if you wanted to create a simple page, you had to know or hire someone with proper coding knowledge or that would be impossible. The same was true for just about any landing page or anything similar, really.
You simply had to rely on web designers or web developers for these things and these professionals didn't come without a hefty price most people couldn't pay. The developers had to work with HTML or CSS which took them a very long time.
However, when short codes came, the whole ordeal was sped up, including the development process and people could just skip the HTML coding.
The real revolution happened when WordPress got a page builder which was an impressive addition which made the design so much easier. It was a visual thing, no codes or anything too complex for the layman. Web developers can create more sites now in a small fraction of time which makes room for more customers and more money, of course.
The beginners and startups don't have to rely on developers for their websites or their landing pages – any pages really – they can just create their own website with simple drag and drop features which are easy to set up. They can add images, videos, columns, galleries, carousels, portfolios and so on.
So, what's the point of a WordPress page builder?
Well, if you have ever tried to create a simple page, like contact us? You can include a form with various fields and then include map that will help them arrive at your offices and then some links that users may find useful. This takes a lot of time, formatting, coding and so on which will make you get a headache in no time. And yet, with a WordPress page builder, you can forget about the messy code. Not only can developers be faster and more efficient but beginners can also create a great website or a great page without any trouble.
It's easy because it's visual. Most of the things you place there will be as they appear on your website. You won't have to tweak and then click on preview and so on. For instance, page builders can be great for:
• A slider with some promotions or recent blog posts
• A product gallery
• A button for add to cart
• Testimonials
• A timer which announces a product launch
• A navigational menu that can help visitors
• Social buttons
• Headlines and different design elements
Creating all of this would take you a ton of time without a page builder. But with a great page builder for WordPress, you can make a great website with all of these features in 20 minutes, as soon as you get to know the user interface of the page builder.
Here, you'll learn more about the best drag and drop page builders for WordPress:
1. Beaver Builder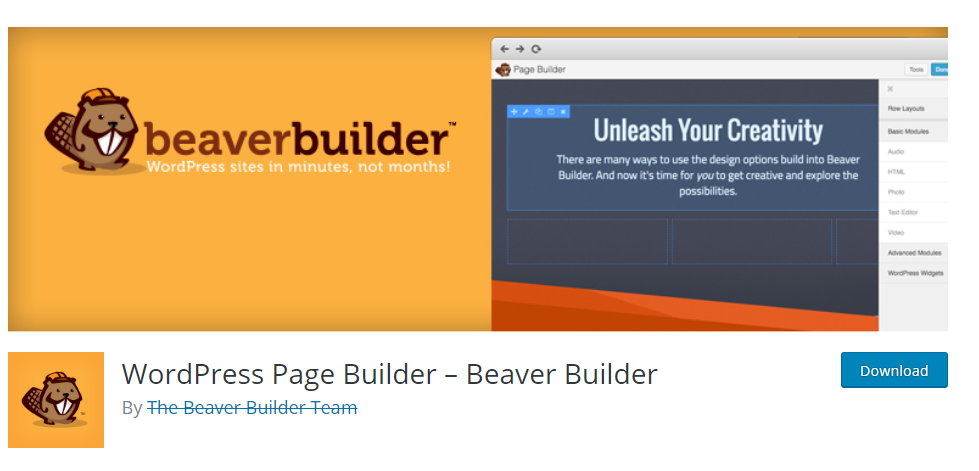 This is one of the best builders for WordPress. It's a standout page builder because it enables you to create a website of your dreams without any coding skills at all. You can easily drag and drop all of the elements to the page and build the website effortlessly.
It has many great templates and you can start without any preparation. Pick a template, use your own pictures and content and hit distribute and that's it.
The best part is that you can have the command of the website content and no matter whether you use this plugin or quit using it after a while, you still get to use the content and it gets ported to the WP proofreader.
Beaver Builder is great for creative people who want something more.
Here's why you might want it:
• The live editing in the front end happens in real time so you don't have to guess and you don't have wait to see what you did – it will all appear on your screen
• This page builder works great with WooCommerce
• Some premium plans can come with a Beaver Builder theme which is simply yet beautifully designed and it offers some great templates so you can create your own styles with a few button clicks
• You will get many different modules including text editors, photos, separators, accordions, number counters, forms, pricing tables and so on
• The agency plan can show you white-labeling and various settings while a DIY web publishing platform can serve your clients perfectly
• You can save all of your layouts and reused anywhere on the website, you can even use them on another website
2. Divi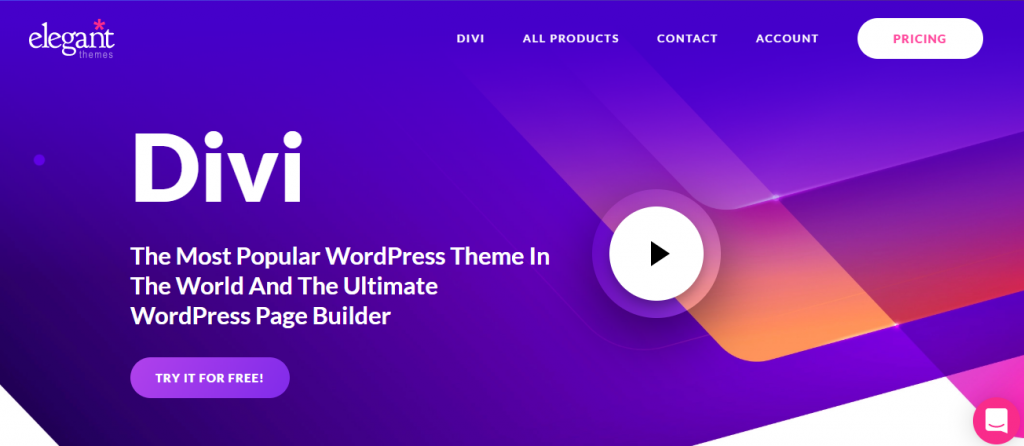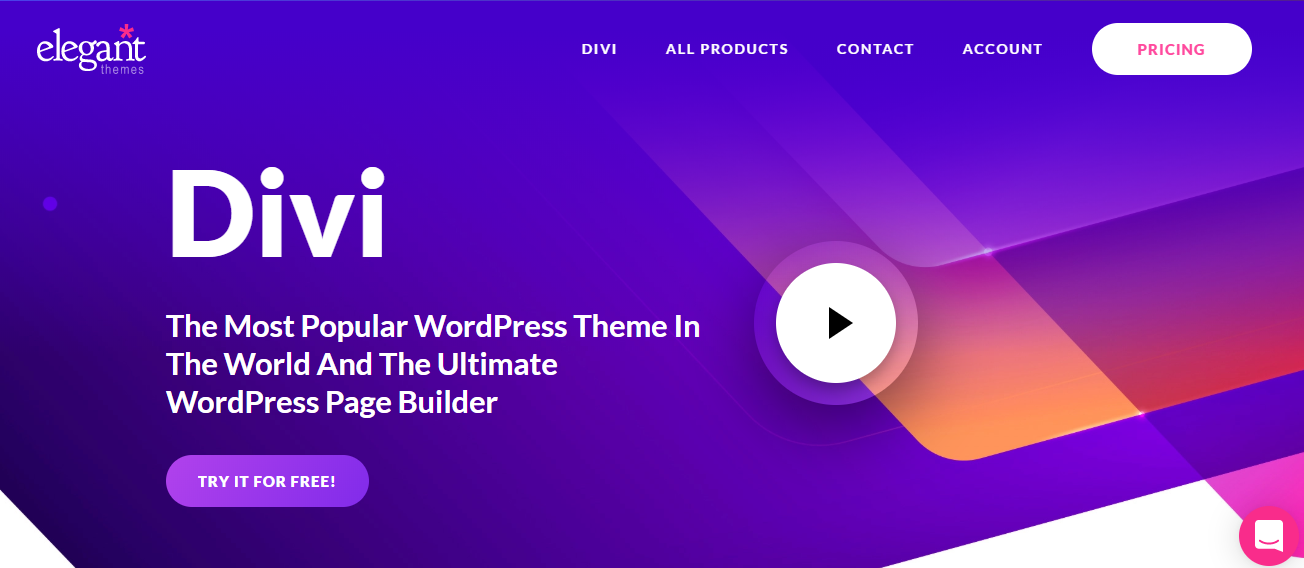 With this page builder, you can create any design. This is a great page builder which offers you a chance to create your own design. It's made by Elegant Themes which is a very important WP organization. Divi can work with any WordPress website and give you numerous outcomes without you knowing any code. There are many templates and layouts which can work perfectly.
You will need to make changes on your design all the time and you will need to use the Divi theme for that. With it, you can build your page with the front-end manager and your pages can be refreshed properly from the frontend.
Here's why Divi is great for you:
• It has 46 modules of content and one of the biggest libraries of elements
• You can get some great templates
• You can duplicate, lock and disable some items
• There is a collapse feature for consolidating your view area
• It offers redos and undos so you can go back to a past revision
3. Elementor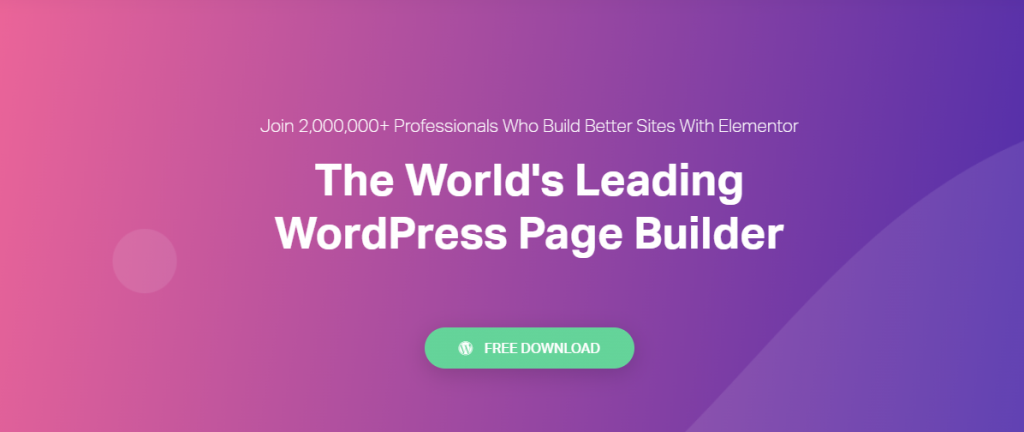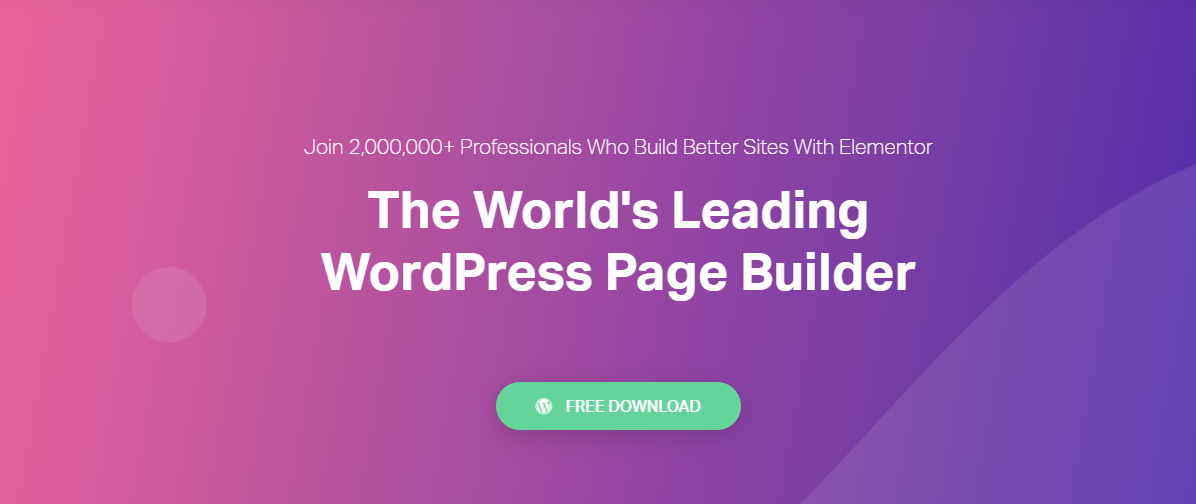 This is a free page builder for WordPress which is an open source program. It has a snappy drag and drop builder and you can make many alters from the front-end of your site. It works very quickly and it makes it fun to work with.
It has numerous templates so you can create a marvelous website. It has a really responsive and friendly design.
Some other features are that you can build a fresh new greeting page without the header and footer. You can get your site disconnected for maintenance. You can integrate your website with an outsider web application.
Some great features are:
• Free templates
• Great design area
• Inexpensive premium version
• Save widgets to be used all over your website
• Many different widgets
4. Themify Builder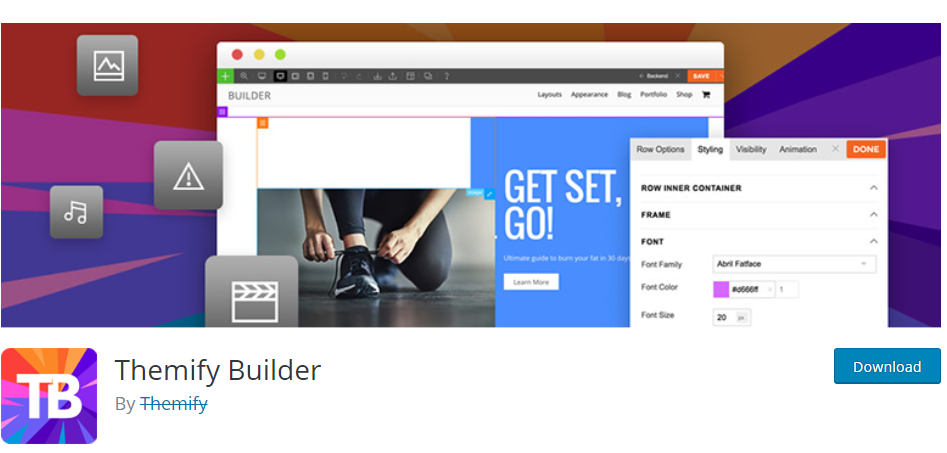 This one comes with a nice drag and drop interface which helps you create your design easily. It has numerous prebuilt layouts that you can use and also many animation effects that you can use as well.
This means that you can build really stunning pages fairly quickly without any preparation and you can import layouts you want to use. Just switch the pictures and the message and you will be done.
You can use the drag and drop to build modules quickly and you can review the changes.
• Free version has great features which you have to pay for in other builders
• The paid version is inexpensive
• There are layouts and animation effects you can use for free
• You can also add custom CSS
5. Thrive Architect


Thrive Architect is a page builder which has worked for websites centered around change. It's created by people behind Thrive Themes which is an organisation that sells WordPress themes and plugins.
Thrive architect has a drag and drop apparatus and 271 brebuilt points and templates. You can easily create a dazzling homepage, blog and so on.
6. SiteOrigin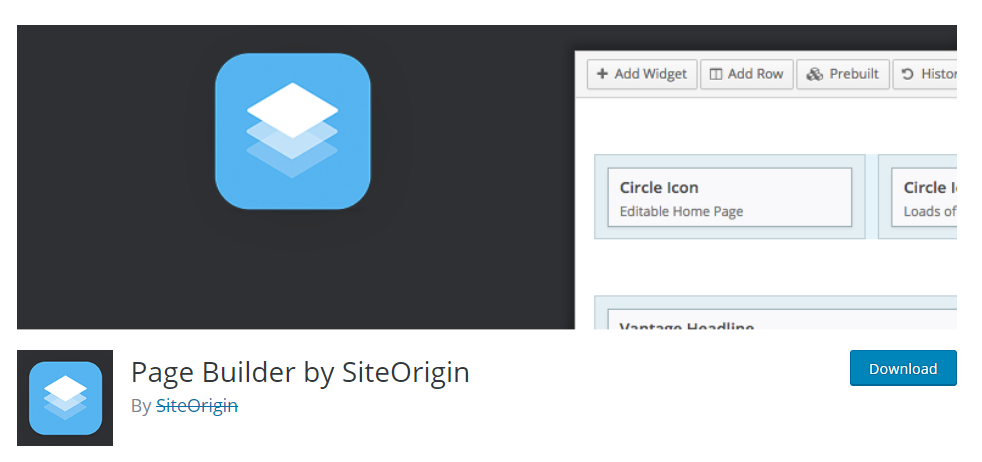 This is one of the most prevalent WP page builders as it has many users and over a million dynamic introduces. With this page builder you can create a responsive and section based content in a very short time. Your content will also adjust to all of the gadgets.
This builder works perfectly with all of the current WP widgets and you can add the preferred widgets to the websites that you build. The builder works well with any WP theme and the best part about it is that you can find many compatible WP themes which are created by the similar people which are behind the SiteOrigin plugin. Still, one of the main advantages of the plugin is the adaptability. Using its line builder you can pick the exact number of lines for every section you create.
You can also Try these Drag & Drop Page Builders for WordPress
Visual Composer Website Builder
WP Bakery Page Builder
WP Page Builder
Upfront Builder
Page Builder: PageLayer
GeneratePress with Sections
Page Builder Sandwich
Oxygen
Live Composer
Visual Page Builder from MotoPress
Brizy