Every single organization which has plans to promote their business through online ventures opts to start with website development needs, especially running an eCommerce store. This may bring down the dilemma to choose the platform between the two of the best names in the market i.e. WordPress or Shopify. Every business owner wants to choose a platform that perfectly aligns with their business needs.
Considering all the common queries and doubts which people often face with the use of these platforms, we have managed to create a quick guide that can help you find the best eCommerce and WordPress website development platform for you when it is in between WordPress and Shopify.
In the next few minutes, we will try to unravel every single aspect of comparison which can prove to be the point of decision creating your eCommerce store using WordPress or Shopify. Let's start.
Let's get more familiar with Shopify & WordPress
Shopify: Shopify is a great eCommerce platform which helps you in creating user-friendly eCommerce stores with great management for payments and inventory. It also brings perfect support for technical management of websites such as hosting, caching, security, and much more.
WordPress (Woocommerce): Woocommerce is an open-source development plugin which is designed for WordPress. The best part of using WordPress is that it is open source which gives you the freedom to customize your store according to your needs. But still it may need you to spend some time and money on finding the hosting, SSL certification, or any complex development needs.
Though both of these platforms are amazing and have their own features, this can be simply inferred as a choice of the development professional depending on the skills and needs of the projects.
Things To Consider Selecting An eCommerce Development Platform
When you are on your way to planning an eCommerce website, it is very likely to get suggestions from people about WordPress or Shopify depending on their personal preferences. However, there are certain factors which you should keep in mind before starting your online store.
● The Costs: The cost of starting the eCommerce store with vital functionalities.
● Usability: It should be easy to understand even for the extreme beginners.
● Payment options: the store should offer easy payment with multiple options like PayPal, stripe, etc.
● Extensions and Add-ons: ease of adding third-party extensions and add-ons that can help you grow your business goals.
● Scalability: your development platform should help you ensure scalability complimenting your growing business needs.
Now, we will jump straight on analyzing all these factors with respect to WordPress (Woocommerce) and Shopify in order to help you locate the platform that can work best according to your business needs.
The Cost
Shopify: Starting an eCommerce store is very easy with Shopify. You can opt for a basic plan at $29 while the advanced plan could be purchased for $79 and $229. Each of these plans brings you hosting, domain name, and SSL certification. However, the basic package that starts at $79 does not give you full benefits like usage of third-party extensions and add-ons which you need for better functionality. Moreover, Shopify can also affect cost at basic plans where you may need to pay 2.9 percent plus 30 cents, 2 percent, or 0.5 percent of your transactions as processing fees to Shopify for payments.
WordPress: in case of WordPress, you can use the Woocommerce plugin for free because of its open source availability. But it needs you to buy a domain name, hosting, and SSL certificate for starting your eCommerce store. In general, it may need you to spend $14.99, $69.99, and $7.99 respectively for each of them during startup. Though the cost may look very high, you can always opt for hosting plans which are specially designed for WordPress such as bluehost. This means you can start your store with a cost as low as $6.95 for a month. Moreover, when it comes to adding functionality to your eCommerce store on WordPress, there are endless options to choose for themes and extensions without any extra cost to pay on your part.
Usability
Shopify: it is a fully hosted platform which does not need you to install anything additional for working on your website. Also, it brings you great support on backups, security, performance, and compatibility related needs. However, the users may find it very limiting when it comes to controlling as it only allows the use of Shopify tools and plugins for development. For some developers, these features can be more than enough, while for some they are just limiting to design opportunities.
WordPress: WordPress powered Woocommerce is not a hosted platform which means you have to handle everything from backups, updates, to the security. But it can offer great functionality with more than 55000 plugins for customizations. Also, you may find it missing to use the drag and drop builder with the additional cost along with a learning curve which requires a lot of management. However, the benefits of functionality and opportunities are wide when you need to use WordPress for your eCommerce store.
Payment Options
Shopify: Shopify brings so many options for the payment process and it also brings its very own payment support solution called Shopify payment. The Shopify's own payment system is powered by stripe while there are some other third party options available as well. The only issue which can cause trouble to users is the 2 percent fees which you need to pay to Shopify for transactions. Though this percentage could be reduced to .5 percent it still needs you to pay for $299 plan. If you opt for a credit card plan, it may need you to pay 2.9 percent of the transaction money along with 30 cents of extra fees.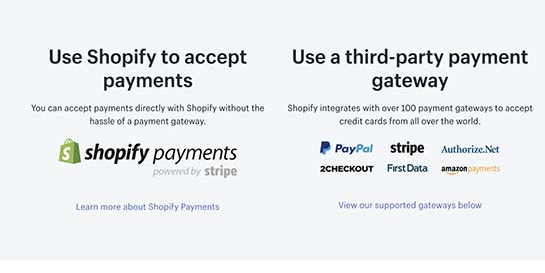 WordPress: stripe and PayPal are the two options which come by default when you build a store on WordPress. However, you can easily add other payment options using extensions and this also includes connecting less popular and regional payment options. Moreover, woocommerce based stores do not require you to pay any part of transactions which is good for the start ups, especially for the small firms.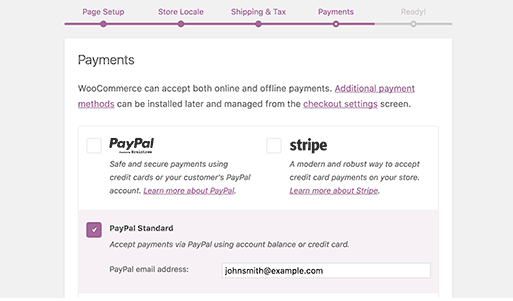 Extensions and Add-ons
Shopify: Shopify has a huge app store to help you with extensions and add-ons on your website or store. They have almost everything which is required for creating a fully functional store. Either it is about SEO, reviews, discounts, or lead generation, it brings you some great tools like Optinmonster for delivering smooth customer experience. All you need to do is run through all paid and free options and pick those which seems to be perfect for your website.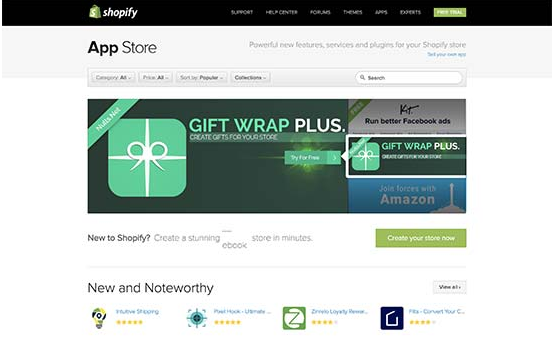 WordPress: when you decide to create your store on Woocommerce, it helps you get access to all the possibilities of WordPress open source community which means you can explore more than 55000 plugins without paying any cost. These plugins can be used for gateways, SEO, performance optimization, etc. it is also very easy to customize your store using Woocommerce because of its seamless integration option which can be worked by beginners.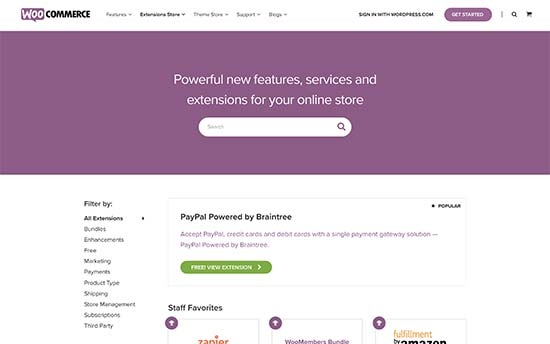 DropShipping Assistance
Shopify: drop shipping websites is very similar to any other store when you see it from the customer's perspective. It just needs you to explore categories, find the product, and add them to cart for payments. Shopify helps you to integrate apps for drop shipping through popular marketplaces like Aliexpress. But still, adding these marketplaces could bring extra payments to pay for a membership, shipping, etc.
WordPress: WordPress through Woocommerce brings you extreme power for customizing your website with dropshipping requirements. It helps you to locate extensions easily with quicker import and fulfillment. However, you still have to take care of the minimum order requirements, payments, and memberships that your vendors have with their drop shipping service but it is actually a breeze to work on dropshipping using WordPress.
Scalability
Shopify: Shopify handles every single thing which makes you bother about your website such as performance, security, etc. however, if you have growing business needs, you can always upgrade to bigger plans with scalability options. They help you avoid all the downtimes because of backup and security concerns but it requires you to upgrade for expensive Shopify plus plans. Though it may seem to be an additional cost you spend to keep your business running, it saves you the money that you may spend hiring a tech expert to manage your website/store.
WordPress: as WordPress is the self-hosted platform, you may need to work on your own to keep up with security, maintenance, backups, and scalability. However, you always have the control on your store because of the advantage that you can upscale your website using plugins or you can simply move to a better hosting plan that can help you improve the website performance. Though it may cause a rise in total cost you pay for managing the website it is always worth it when you are working with a hosting platform that can bring you to scale your website.
Support
Shopify: Shopify is a great platform because of its fully hosted features and it becomes more convenient to work on it because of its support options. It brings you 24/7 support to the customers where you can connect through live chat, email, phone calls or even using twitter. Moreover, it brings you how to guides, forums, video tutorials, documentation, and directory of experts who can be approached for any assistance. However, it does not provide any support on third-party apps you use on the Shopify store.
WordPress: because WordPress is one of the most popular eCommerce platforms available, it has so many options for WordPress customer service which can be accessed by anyone at any time. Though it brings you documents and forums for the common queries, you can always reach for the experts who are using WordPress for their eCommerce goals. Moreover, if you get into something that needs a technical expert to solve the issue, it is quite easy to find the developers for WordPress at very affordable costs.
Conclusion
Both Shopify and WordPress are extremely powerful platforms and it is entirely on your skills and preferences when you pick any particular platform for the development. Shopify and WordPress have their own benefits that may vary from business to business depending on their needs.
Also, both these platforms offer certain limitations like payments integration in Shopify and management with WordPress, but all these things could be worked with a little extra effort and pro grip on the tools. If you need control at affordable rates, there can be nothing better than WordPress and if you need a hassle-free platform that offers great scalability ease, Shopify can be the best pick. It is only on your choice that what is more important for you and what kind of needs you have with the development of your eCommerce store. All the best!