Influencer marketing is currently one of the fastest methods of marketing adopted by brands and marketers.
Influencer marketing is popular among millennials who offer their popularity and reach as a tool to marketers for marketing products and services.
This marketing method is proving to be very fruitful for brands. According to research by Mediakix, 89% of digital marketers said that the ROI (return on investment) from influencer marketing is more or equal to other digital marketing methods.
What's more?
Approximately 65% of the surveyed marketers were planning to increase their budgets for influencer marketing in the coming year.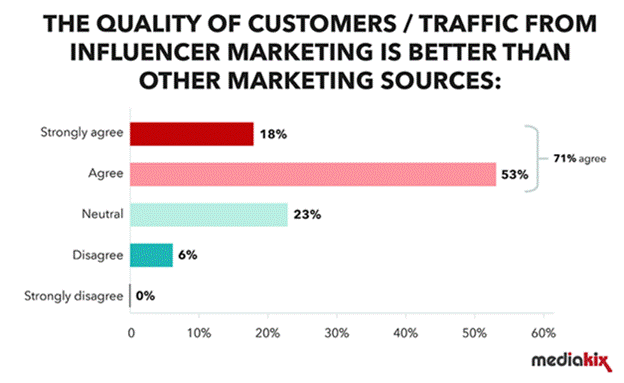 Image Source: Mediakix
Why Does Influencer Marketing Work?
Over the last few years, many brands have shifted to collaborating with influencers instead of investing in celebrity endorsements.
But why is influencer marketing effective?
The main reason behind the success of influencer marketing is the trust that influencers have built among their followers; the better the trust, the better the effectiveness of a campaign.
Today, it's not easy to get people to click on random banner ads. They try to ignore ads more often than clicking on them. In such a space, social media influencers are a more effective option. They can use their popularity to promote goods or services by suggesting them to their followers.
According to research, only 1% of millennials trust a brand based on advertisements, whereas, 33% of them read blog posts from influencers before making a purchase.
How Can You Get the Most Out of Influencer Marketing in 2020?
Like every field and sector, changes are going to occur in the influencer marketing arena as well. In this rapidly evolving landscape, brands, marketers, and entrepreneurs need to know how to frame the right strategy that can help them make the most of influencer marketing.
Here's how to get started:
1. Have a Plan
Before jumping in, you need to have a plan. You should know which aspects will take how much time, how different components will be executed, who will be responsible for specific things, what your budget is and how you will allocate it, when to publish the content, etc.
If you have a plan in place for everything, then executing and tracking your campaign will be easier. Also, you are likely to achieve your goals quicker.
2. Define Success Criteria
One thing that a lot of brands and marketers forget to do is to define their success criteria or KPIs for their campaigns.
You need to define metrics based on which success rate can be calculated at the end of the campaign completion. The success rate shows how well the campaign worked. Based on that, you can find out what went right, what went wrong, and what can be done to improve the performance of the next campaign.
Defining your success criteria will also help you measure and compare multiple campaigns to see which campaigns worked well and which didn't.
For instance, track the number of followers, likes, comments, hashtags, and retweets/shares. An increase in these things shows that your campaign is working.
These metrics will also help you evaluate your partnerships with different influencers. Then you can determine which influencers are working out well and which are not. You can then invest more in the influencers who are performing well and/or invite them to be a part of future campaigns.
3. Find the Right Influencers
You can't just form partnerships with random influencers for your campaign. You need to find the right influencers, specific to your products and industry. These influencers should have followers that are relevant to you.
Also, you need to determine which social media platforms are the best fit for your products or services. Generally, when we talk about influencer marketing, Instagram emerges as the first choice. But it is not the only platform out there.
Facebook, Twitter, and YouTube also have significance. Choose the platforms where your target audience is highly active. This will help you avoid investing in wrong influencers and wrong platforms.
4. Connect with Micro-Influencers
Micro-influencers don't have as many followers as mid-level and top influencers. But when it comes to engagement rate and authenticity, micro-influencers often win because influencers with a very high number of followers generally have lower engagement rates.
A study revealed that users with 1,000 followers or less receive likes on their posts 8% of the time, whereas, users with 10 million followers or more typically get likes only 1.6% of the time.

Image Source: Markerly
Users with follower counts between 1k and 100k are regarded as micro-influencers. These influencers are like consumers themselves. Hence, their followers believe what they post. Their reviews and suggestions seem more authentic as compared to top-level influencers.
With the increasing diversity in influencer marketing, influencers of all levels will play a key role in increasing sales for brands.
As a brand or marketer, your goal should be to find the micro-influencers who have a great engagement rate, are good in a specific niche, and influence the purchase decisions in specific markets.
Along with these, you should also check the quality of micro-influencers, what kind of relationships they share with their followers and the engagement rates on their posts.
5. Use Stories Effectively
Stories have become a popular feature on social media platforms, especially on Instagram. According to Statista, the number of daily active Instagram Stories users grew from 400 million in June 2018 to 500 million in Jan 2019.
Clearly, you should be using them to promote your products or services.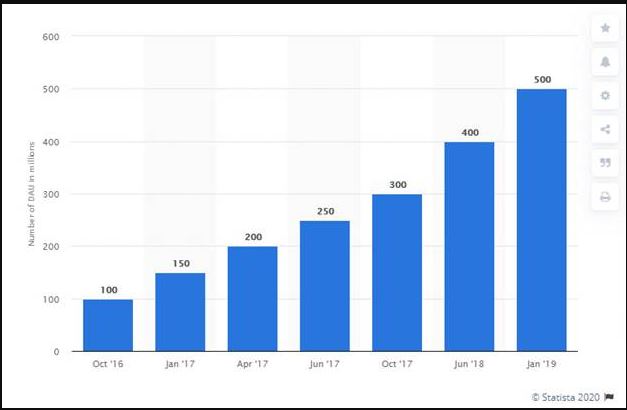 Image Source: Statista
Why do Stories work?
First, they are now shown on the "Explore" screen on Instagram that allows even your non-followers to view them. This increases the reach of your Story.
Second, they have a lot of engaging features, such as mentioning someone using '@', use of hashtags, and the ability to add location, videos, polls, questions, and more.
While promoting a product, influencers can mention your brand in their Stories, allowing interested followers to quickly visit your account to view more posts.
Conducting polls and asking questions are a few other effective ways to engage the audience through Stories. These features can also help you learn exactly what your audience is looking for.
6. Let the Influencers Post in Their Own Voices
Influencers can influence their followers for a reason. They know how to create high-quality, unique content, how to interact with their audience, how to engage their followers, what their followers expect, etc.
But one mistake that a lot of brands make is taking control of the content creation process. Restrictive content guidelines may act as a hurdle for the influencers that can impact the influence they have on their followers.
If you try too hard to control things, the influencers can't naturally deliver the messages. They may start sounding unauthentic and overly promotional.
In such cases, their followers won't be convinced and likely won't consider purchasing your product or service.
What's more?
Most influencers do not want to work with brands that try to control them or their voice. They should be given the freedom to be creative. You can share your requirements and expectations, but after that, give them some space to create the engaging content they're known for.
7. Find Video Influencers
Video creation is the latest trend and no brand should ignore it when it comes to influencer marketing.
Seeing the growing popularity of videos, many influencers have started using YouTube, with the number increasing consistently. According to research, 12% of the influencers in 2018 said that they would focus on YouTube, up from just 3% who said so in 2017.
A huge number of brands today have started investing in influencers on YouTube.
YouTube influencers talk about the products and review them to influence the purchase decisions of consumers. A few examples include the unboxing of smartphones, accessories, teaser campaigns of products, exclusive product reviews, etc.
Also, YouTube is not the only platform for using videos for influencer marketing. Instagram has also introduced IGTV and live videos, whereas Facebook has features for people to go live and share videos. In fact, almost all major social media platforms support videos in some form or another.
Ready to Harness the Power on Influencer Marketing?
To get the most out of your influencer marketing campaigns in 2020, you should follow the hacks and tips mentioned above. You need to have a plan, define your success metrics, find the right influencers and social platforms, work with micro-influencers, and provide them with the freedom to influence consumers and build trust.
Do you have any influencer marketing tips to add? Let us know in the comments below.