So many articles and blog posts may be found on the internet, but only a few can catch the reader's attention because of content writers' creativity and efforts into their writing.
You probably know that so many tools are available that can help you create SEO-optimized content with keyword research.
So here in this article, learn about 10 amazing tools that help content writers do keyword research and create SEO-optimized content.
Let's explore the top 10 keyword research tools for content writers
Top 10 Keyword Research Tools for Content Writers:
Google Keyword Planner: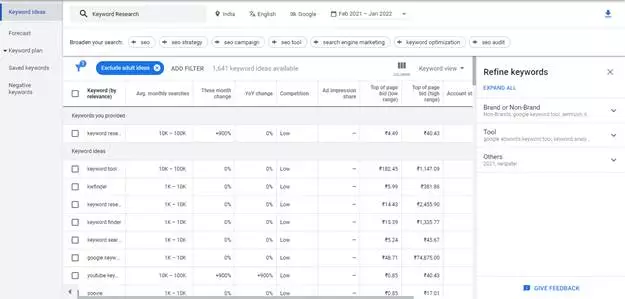 Google keyword planner is an astonishing tool to explore the keyword search volume, keyword competition, and cost per click for the particular keyword. Google keyword planner is more popular amongst content writers that can help you find the ideal keywords you may want to target and attract relevant traffic for your platform.
Keyword research helps your website rank higher in the web pages of google.
In terms of keyword research and SEO, it is one of the most reliable resources available. Even the most costly commercial instruments can't provide the same level of exact information.
Searching for new keywords is made easier with the help of the keyword research tool. Additionally, you can conduct keyword research to gain insights such as keyword search volume. It's possible to get an idea of how much you'll have to bid to get your ad viewed using your SEO keywords in a sponsored campaign.
Read: 8 Best YouTube Keyword Tools (Free and Paid)
Semrush Keyword Magic Tool: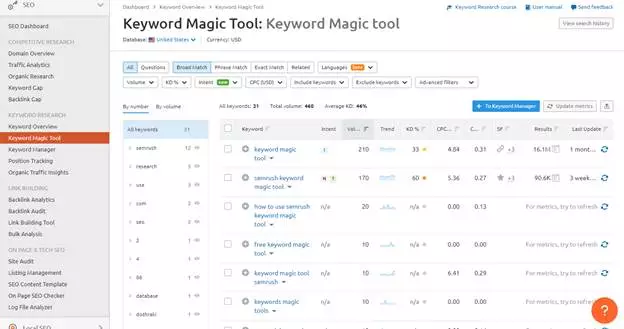 Semrush is one of the greatest keyword research tools that help you find out low competition keywords from the web that may help you rank your web pages higher.
The keyword magic tool from Semrush is the best tool for searching amazing and relevant keywords that help you to find out the ideal keyword to use for your content marketing strategy.
A lot of content writers are using the keyword magic tool to find out the relevant and ideal keywords for their Content Marketing strategy to get better results in SEO ranking for their blog posts and articles.
In addition to the study of keywords and competitors, SEMrush provides a comprehensive set of SEO article authoring tools. It is one of the most popular SEO research tools on the market for its comprehensive data.
You may use SEMrush's organic research tab to see what keywords you're currently ranking for. An estimate of the traffic and its value is displayed on this page. If you want to see where you rank for specific keywords, click on the link. This will tell you how well your SEO article writing and other actions work. Additionally, you may uncover new search terms for which your site is ranked without your knowledge.
Learn: How to Find Low Competition Keywords
Ubersuggest: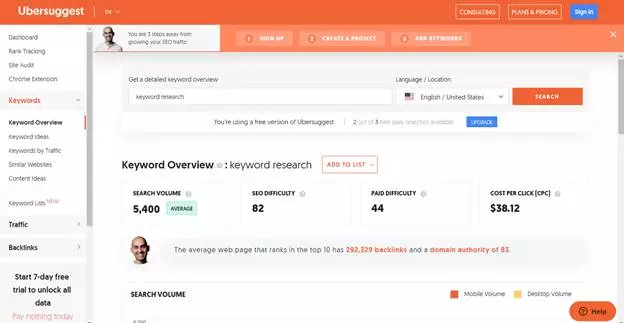 World's leading SEO marketing expert Neil Patel's Ubersuggest is one of the frequently used tools by content writers.
Content writers have to do proper keyword research before writing any articles that may help them to create good SEO-optimized content to rank higher on the search engine.
Ubersuggest gives precise data for particular keywords, but it has three search limits which mean If you want the other three searches, you'll have to wait for 24 hours.
You can add Ubersuggest Extension as well to get well accurate and precise data.
Learn: SEO Tips When Targeting Long Tail Keywords
KWfinder: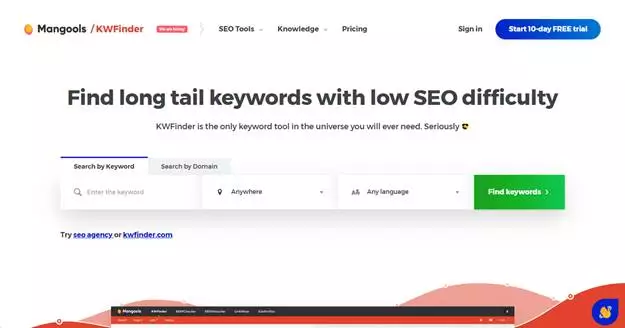 Keyword Finder from Mangools is the best keyword research tool to find different language keywords from different locations. Many content writers create content with several languages and create good SEO-optimized content.
KWfinder is one of the great tools for content writers to find relevant keywords to target and write content as per SEO requirements.
Keyword research is the primary focus of KWFinder. It's quite a shocker! Some of the other SEO research tools on this list have more functions. It was decided that keyword discovery would be the primary focus instead. It's an excellent tool for the job.
KWFinder can help you find relevant keywords for your SEO articles by providing extensive suggestions and ad hoc searches. In addition, it offers SERP-specific tools to help you learn how to increase your ranking on search results pages.
This is a fantastic tool for finding out what your competitors are searching for. You'll be able to filter out results that aren't going to be profitable for you with this tool.
Ahrefs Keyword Difficulty Checker: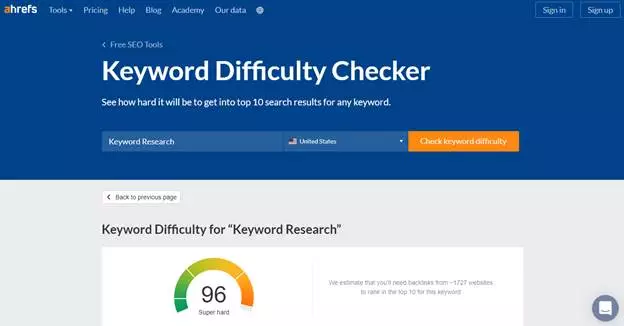 Ahrefs free SEO tools provide a Keyword difficulty checker tool which is the best tool for finding the difficulty to rank the keyword.
You can check keyword difficulty and analyze which keyword is ideal for you to rank your content on the web pages of search engines. One of the cons with the tool is it only provides three free searches and has limitations. If you want to explore more, you need to purchase the premium version of Ahrefs according to your circumstances.
Professional SEOs consider Ahrefs to be one of the best research tools available. It's probably not a surprise that this tool is a little more sophisticated than others on our list because the name refers to HTML code. Ahrefs, on the other hand, has a lot to offer once you get the hang of it.
There is a lot of value in the Ahrefs data, and the rating provides useful information. In addition, some measures may be used to increase the number of people who click through. Detailed SERP research is also provided to assist you in locating keywords that may be easily improved on your own.
The Ahrefs keyword explorer is not available individually, as with many of the other tools on this list. As a result, you'll have access to all of Ahrefs' tools. Site audits, site explorers, and rank trackers are all included. You may also use a content explorer tool to see how well your articles are doing.
Keyword Surfer: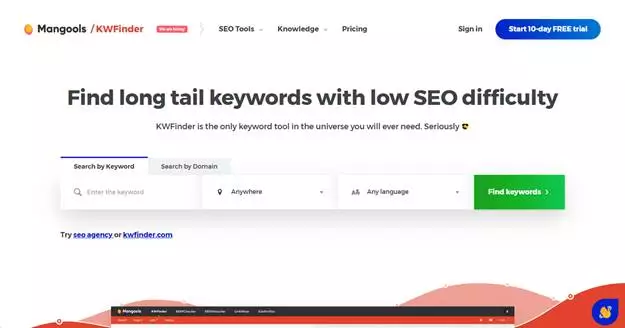 Keyword surfer Extension is one of the best tools that gives you keyword ideas and data of search volume and cost per click.
Anything you want to write about and rank higher on the web pages with low search volume, you can use the keyword surfer to get data about how it will help you with the keywords.
Keyword surfer helps you find out which keyword will help you get easily ranked with SEO on search engine web pages.
Answer the Public: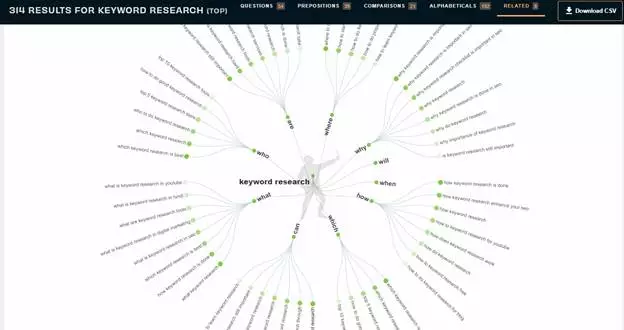 Answer the public is one of the amazing tools to find out keyword-related topics to write your blog post or article.
With the help of Answer the public, you can never be out of topic and find new topics to write about by doing proper keyword research with the help of SEO.
You can also download the CSV from Answer the Public and write amazing content with these topic ideas.
Keyword Sheeter: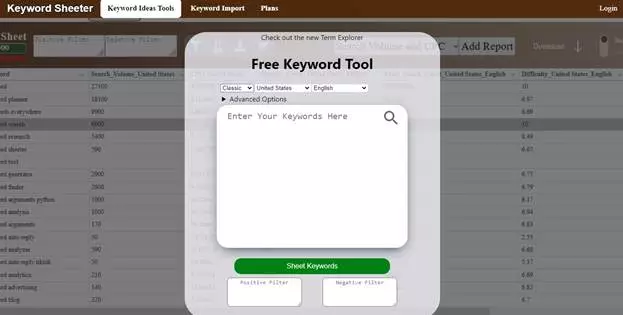 Keyword sheeter is one tool that gives amazing keyword ideas that people on the web might be interested in.
You can sheet the keyword, and it will show you 1000+ keyword search ideas that users are interested in and actually write on the web to solve their queries.
So, the Keyword sheeter is also one of the useful tools for all content writers across the globe to optimize their content with SEO better.
Questiondb: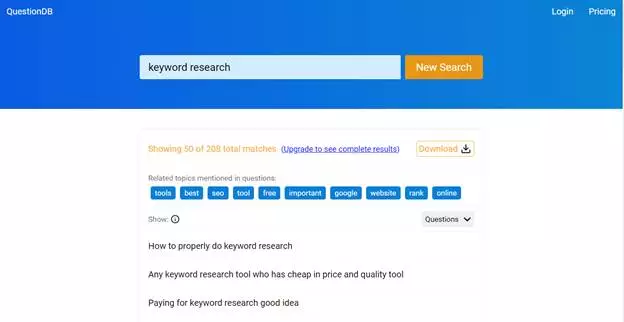 Questiondb helps you get blog topic ideas and generate amazing headlines for you for a particular keyword that you might be interested in writing about.
With the help of questiondb you can create an amazing blog post or article list for your content marketing strategy.
You have to figure out which of the following topics that questiondb have generated for your keyword is right for the audience you have on your platform.
We found QuestionDB to be one of the lightest tools. In order to use the tool, you enter a keyword or more general subject, and it returns a list of questions others have asked about it online.
QuestionDB's sourcing is what sets it apart. It's not only Google or Bing that QuestionDB uses to display you question-based keywords; It also gathers queries from all around the Internet, including from social media popular Q&A websites such as Reddit and Stack Exchange.
For example, you could type in "keyword research" into a search engine. Searching the web for popular questions concerning keyword research, QuestionDB can help you discover what people are asking and where they are talking about it. Discover what people are saying about a subject outside of the Google search bar and learn more about the context in which you should discuss it.
Soovle: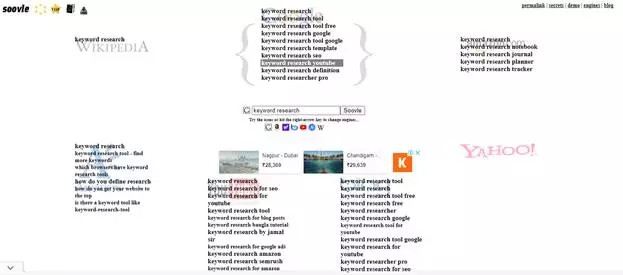 Soovle is a one-stop platform for content writers and content creators to get amazing keyword ideas from one particular keyword.
Soovle gives real-time data of the user's behavioral searches on different platforms such as google, youtube, yahoo, amazon, Wikipedia, etc.
This is why soovle is the most popular platform amongst content writers and content creators.