When you are entering the market with a new idea, business or with a new website then you should have to find the best keywords that can give you a maximum revenue for your SEO strategy. When you are building the list of your keywords then keep in mind your competitors are also doing the same and they are already ranking at the top with that keyword. Do you want to compete with them? Believe me you can do it but you have to be smarter than them, think smarter and do hard work. Find the keywords that are low in competition and high in volume.
To grow your website or business you should know about keyword research. Because when you are placing your keywords in your blog or in your content you should have believe that your visitors use these keywords to search the products. The benefit of using low competition keywords is that it will help you to boost your website ranking. The question arises here how can we find low competition keywords? Answer is that we use tools to find the best keywords that can boost your website like KWFinder by Magools, Ahref, Semrush, Keyword finder and many others.
How to do keyword research with KWFinder of Mangools?
In this article we will discuss the step by step guide of the KWFinder tool by the Mangools that will help you to find the best keywords for your site. KWFinder tools of Mangools have developed for Keyword research that keywords which have low in difficulty and high in volume. KWfinder has become one of the most popular tools to boost your business since 2014, it helps to create user-friendly content according to the search intent of the users.
Search By Keyword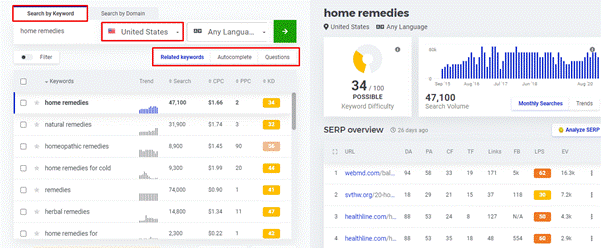 When you go for a keyword search you should have an idea or parent keyword that is quite relevant to your business niche. In the KWFinder of Mansools you will write your keyword in the search by keyword tab, set the location and click on the button to find the keywords. In the results you will see more than 700 suggestions about your parent keyword or niche which is from three data resources; Related Keywords, Autocomplete and from questions that users frequently asked at google in the form of search terms.
Search By Domain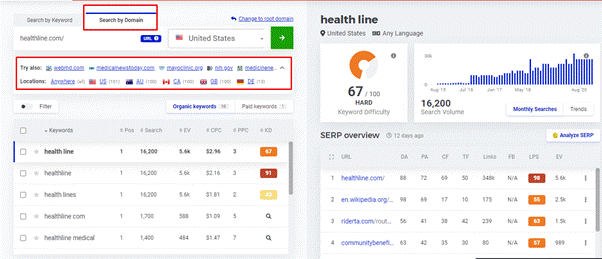 There is also another feature, if you want to find the keywords of your competitors you can use the feature of search by domain. Add the domain of your competitors in the tab and click on the button with a green arrow. It will show you the results of two types; one is Organic keywords and the other one is Paid keywords. Organic keywords in which websites rank for organic search terms and paid keywords are those in which websites rank for the results of the Google Ads. There are multiple locations in which multiple keywords are ranked for you can suggest the specific location to find the specific keywords for your site or business.
Keyword Metrics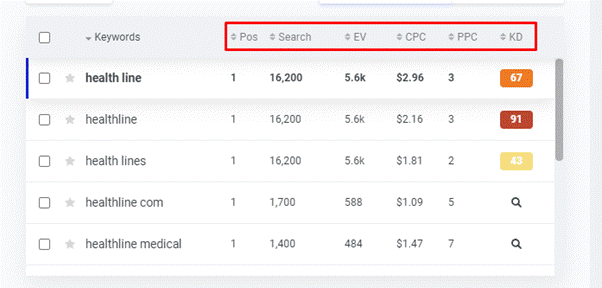 Keyword metrics will decide how good or how worst is this keyword or how much easy to rank and what about the SEO difficulty of this keyword. You will see the following metrics like;
Trend: It will tell you about the volume of searches of that keyword in the previous 12 months.
Pos: This feature of metrics only available when you search it by domain, it will tell you about the position of the website according to that keyword.
Search: In the metrice of this it will show you about the monthly searches in the average of the previous 12 months.
EV: Estimated visits according to the month and CTR according to the search volume.
CPC: Average cost per click for the PPC campaign of that keyword.
PPC: How competitive that keyword in PPC advertising.
KD: Keyword difficulty of that keyword based on the link URLs.
Keyword Difficulty (KD)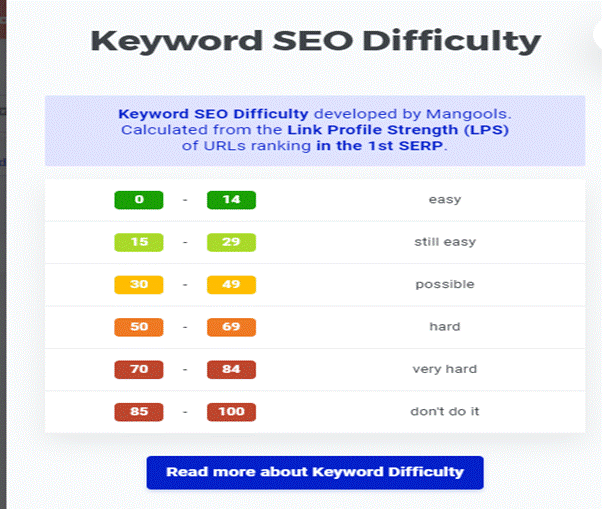 Keyword Difficulty (KD) or SEO Difficulty (SD) determines how much difficulty is for you to rank at top while optimizing your keyword. The difficulty and easiness of the keyword scales from 1 to 100. Keyword difficulty that is 0 to 49 can be possible and easy to rank with that keyword but if the KD is from 50 to 84 it is difficult to rank with that keyword. So, try to take keywords that have KD from 0 to 49 according to the KWFinder of Mangools and keep in mind never try to use the keywords that have KD from 85 to 100 as shown in the image.
Final Verdict
KWFinder Keyword research tool by Mangools is specially developed to find the low competition keywords for your business and blog as well as it gives you a free trial for 10 days without a credit card. In your trial period you can find 5 keywords and analyze 5 websites on a daily basis. Keywords which you can find the best for your blog or business that can boost your business with those keywords.