In this post we provide i­­­nstruction, how to install & Configure WordPress blog or webiste, if you havn't read our previous blog then you can read here.
Important Things You Have Before Installing WordPress
⦁ FTP client like FileZilla Or Login to your hosting provider to use of File-Manager
⦁ A Editor Like NotePad++
⦁ Web Browser
Download the WordPress Installation Package
To start the installation, first you need to download WordPress from official Website. You should always download and install the latest version of WordPress (How to Download and Upload WordPress Using FileZilla). Once Downloads is completed extract to the new folder.
Upload the WordPress Files to your Server
Now you need to upload the extract files to the server, the easiest way is FTP. You Can Use FileZilla for that or your hosting server through File Manager. Some hosting provider also provide WordPress Installation, So you only need to click Install Button. If you are using free hosting or 000WebHosting then you can use FTP for upload your files (How To Upload Files To 000webhost Using FTP Client FileZilla), then you need to create database.
WordPress CMS Installation Process
Now it's time to go to your website . If you have uploaded WordPress in your public_html directory you'll need to go to http://blog.wp(your website URL) through your browser.
First thing you notice that they asking for selecting your preferred Language on which you want to use on your WordPress website. Select your language then click continue.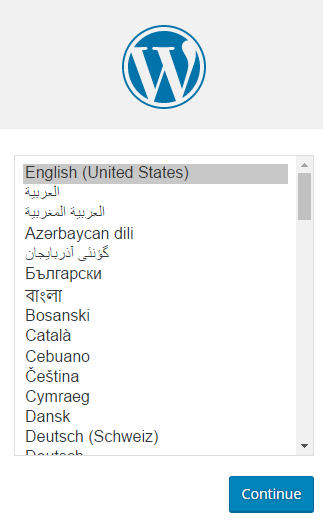 You will see a message, asking you to prepare the some information of the database for the installation like
⦁ Database username
⦁ Database password
⦁ Database host
⦁ Table prefix (if you want to run more than one WordPress in a single database)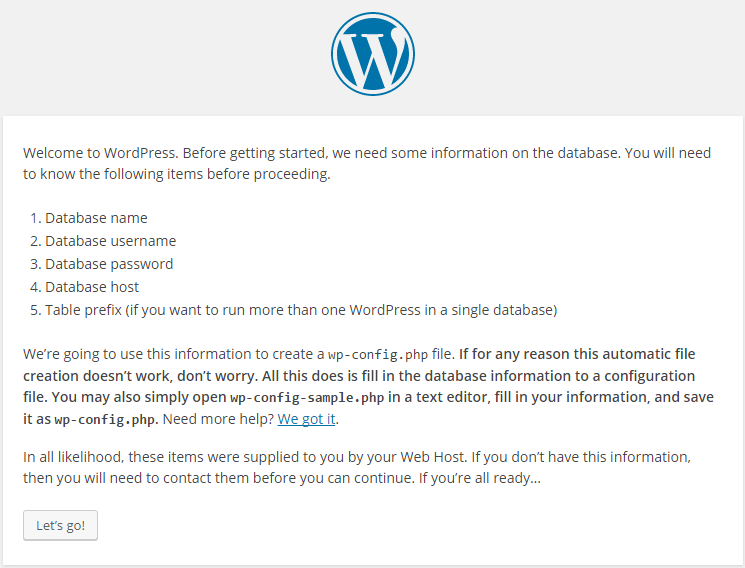 Since we already have this information, Click Let's Go! Enter the above mention Information.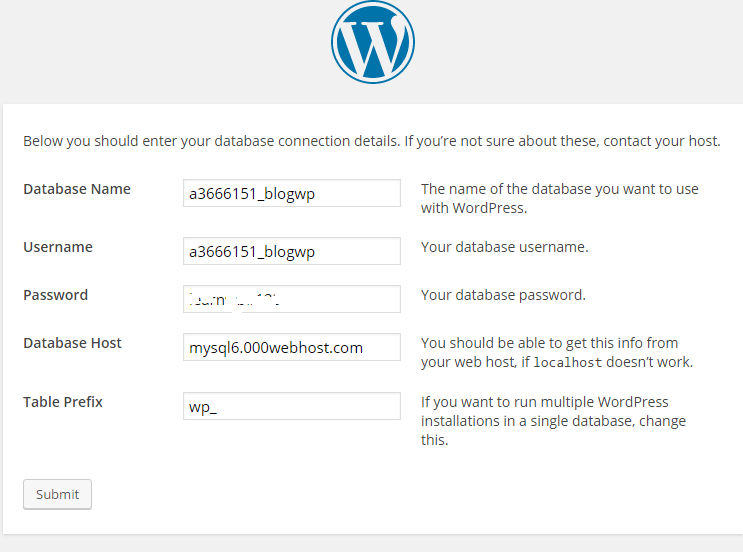 Click Submit
Run The Install
Once welcome message display you almost done your installation, enter the information like your website Title, Username, Password and your Email Address, Email Address can be later used in case you forget your password.
Note: If you don't want to index or shown visibility of your site to search engine then you can check the check box.
Click the Install WordPress Button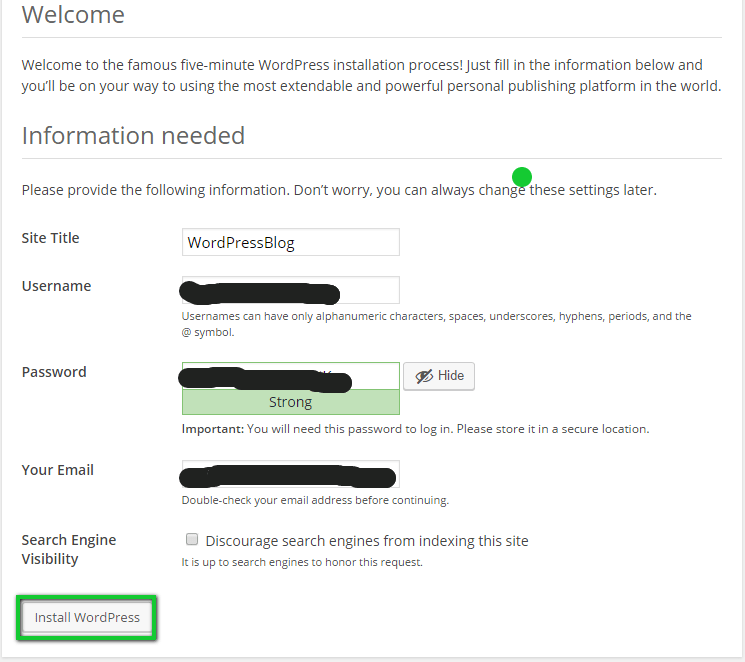 You can see Success Message. Click Login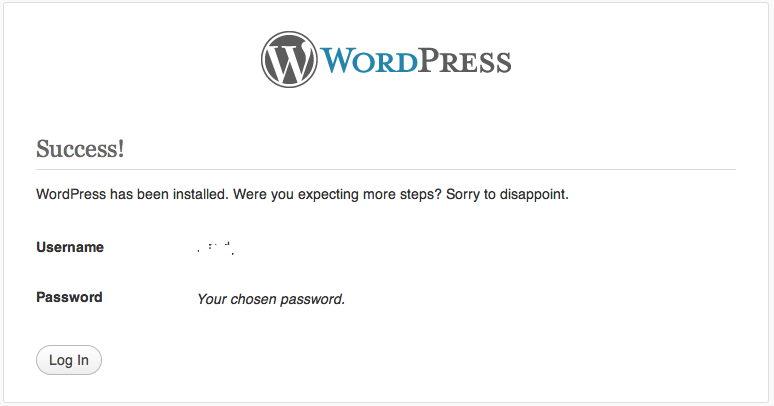 Enter the Username & Password, Now It's all Done, Your Website Is running by WordPress default theme. You can see Admin area of the website.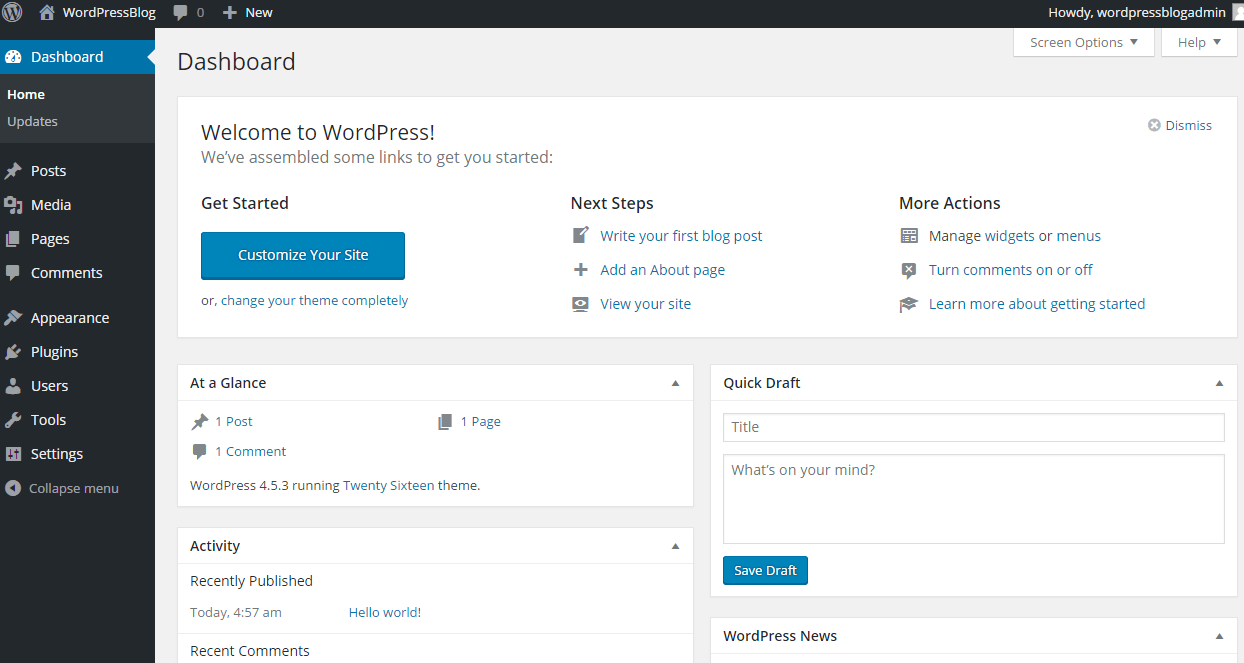 Now you can  visit your website, and it's look awesome.