Project Management is an art of communication. Communication is based on understanding between two entities. Understanding that creates belief in the relationship between an employer and an employee. And that belief, in work and toward each other creates a ripple and wave of success successively.
All these intertwined relationships between understanding and belief are essential to know the aspect of project management. And, the project management software tools are designed with similar principles.
The relationship between employers and employees must be transparent based on work ethics, time values, workloads, and motivation. It would help if you made people believe in something to work for it.
Project Management Software Tools are a technical playground where we cooperate, validate our availability to other members, and as an employer organize them. It is there visually represented; we see everyone's tasks and responsibilities. It gets you motivated to work when you know your colleagues are working too. It is psychological.
Project management tools help to accelerate work productivity and remotely excel employers' abilities. It's like sitting around a cubicle, everyone, boss and workers, and performing with distributed workloads.
Why Free Tools and What to Expect?
Free, why not? It's in our guts to yearn for free stuff. We love it.
You can get a lot of understanding about the software if there is a demo version of free usage. And, good software always puts the customer's preference in the priority. According to the need, customers must make an investment that develops a good relationship between two parties.
But, we as consumers tend to neglect and undervalue free tools. Now, what should you expect? Something basic or all. The answer is simple. Most of the tools provide a fulfilling experience so that you can trust the software with your needs. At a personal level, almost every one of them is enough. But, at an enterprise-level, you ought to be prepared to make some investments.
Let's talk about features. Normally, you can communicate with your teams, divide the workload, view the time compatibility of each other, and completed tasks. You can have discussions and leave notes. You can share your work, integrating with other applications online, and save your designs, models in the form of templates for the future.
The free project management software tools are a great way to boost your projects with your employees. You may find different tools online, use them and see for yourself.
Read: 10 Best Time Management Apps for Employees
What to look for in an online project management tool
Free Plans and benefits
Great User board or Interface
Best Task management
To-do lists
Time tracker Tasks
Collaboration features
Integration with other tools and software
Detailed Reporting of projects
Read: How A Team Management App Can Create A Better Workplace?
Here are some of them.
Lists of Free Project Management Software Tools
timeTracko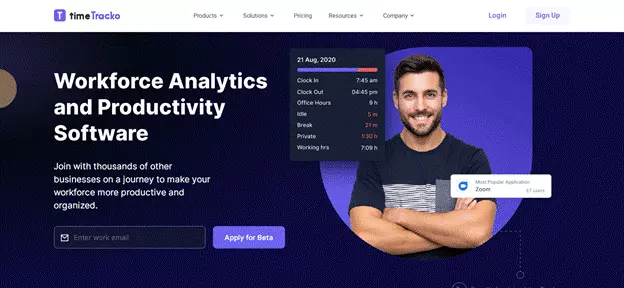 timeTracko is an easy-to-use project management and employee monitoring tool. It is a useful tool for tracking the time your team and you spend on each project.
It is a powerful tool for managing projects for agile teams. In timeTracko, Gantt charts are used for scheduling and visualizing project plans.
You can also track the timeline and important dates of your project by using milestones. The management of tasks can be done using task lists or Kanban task boards.
Free Plan Benefits:
Automatic Time Tracking
Screenshots
Real-time tracking
Productivity Labelling
Web and App Usage Tracking
Integrations
Chat and Community Support
Get Free Trial: https://timetracko.com/pricing.html
ClickUp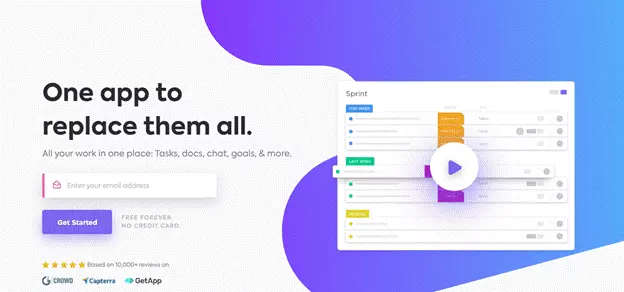 ClickUp is the project management software. Free forever, simple and elegant; it is the service motive of this software tool.
The features are also intriguing. Documentation, real-time reporting, and time management can easily be done with the help of ClickUp. They have 35+ click apps to assist you.
It has every functionality for team collaboration, and you can completely customize it according to your needs. There are different view layout options to overview the tasks and scale the volume of work and team.
Free Plan Benefits:
100MB storage service
Unlimited tasks
Unlimited members
Two-factor authentication
Get Free Trial: https://clickup.com/pricing
Trello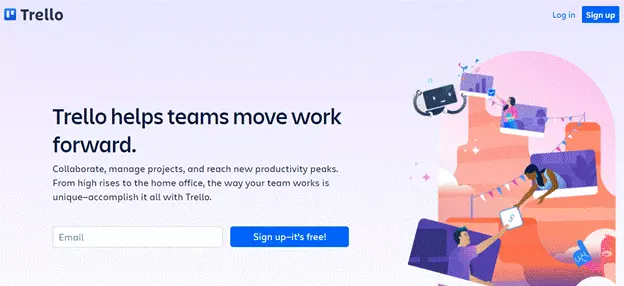 Trello is another best option to collaborate and manage projects. It has many handy features that you can be familiar with within no time and customize according to your needs.
Trello has a board structure where you manage your work in the form of cards and lists. You can mention everything here such as description, methods, time, and deadline.
You can share everything with your teammates, and it can collaborate with any other work tools.
Free Plan Benefits:
Unlimited cards and members
Unlimited storage (10MB/file)
Custom backgrounds and stickers
Unlimited activity log and many others.
Get Free Trial: https://trello.com/en/free-trial
Asana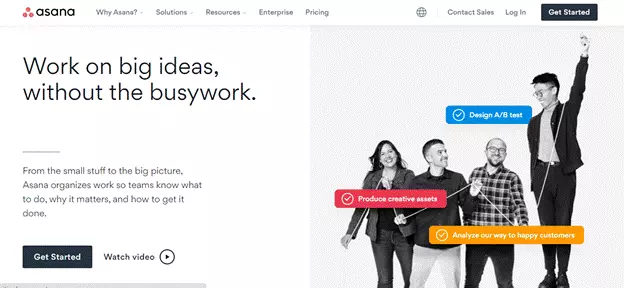 Asana is a free project management software tool for collaboration between team members in performing their official tasks. It helps in the management of the workloads between team workers.
It helps to see the work progress in data representation, charts, and graphs and has the real-time monitoring of teammates' work. Automation handles tedious calculations, and the workflow is uninterrupted.
You can see the gap holes in your system regarding time and effort and solve them. You can prioritize the work. It helps to store repeated work as custom templates to reuse. You can manage your team accounts easily.
Free Plan Benefits:
Collaborate with up to 15 teammates
Unlimited file storage (100MB/ file)
Unlimited tasks, unlimited projects
Unlimited activity logs and others.
Get Free Trial: https://asana.com/guide/get-started/begin/asana-trial-tips
Wrike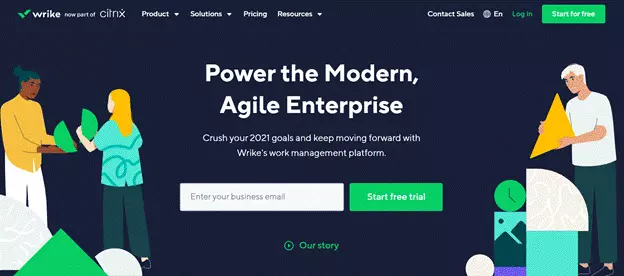 Wrike is a free project management software tool that is suitable for any work team. It lets you customize tools for better collaboration.
It has an intelligent comparison feature with which you can analyze the progress compared to the expected results. You can customize tools in a scaled manner for future needs.
Wrike is effective at remote resource management as it can be integrated with cloud tools like Google and works in agile methods.
Free Plan Benefits:
Unlimited users
2GB storage protection.
External and internal collaborators
Cloud app integration and many more.
Get Free Trial: https://www.wrike.com/free-trial/
Paymo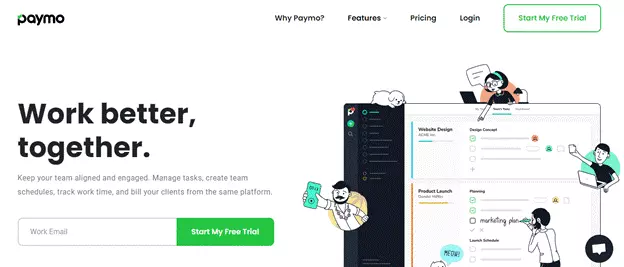 Paymo is a project management software tool that gives an insight into the project work to the client and maintains transparency between employers and employees.
It can be integrated with cloud tools like Gsuite or Slack and help you automate the workflow.
It helps with task management, time tracking, team scheduling, invoicing, estimating expenses, and timesheet reporting.
Use cases of Paymo comprise project management in creative agencies, web design, development, remote work, universities, etc.
Free Plan Benefits:
Unlimited Projects and Clients
Different Task views
Desktop and mobile views
Integration and many more.
Get Free Trial: https://www.paymoapp.com/pricing/
Airtable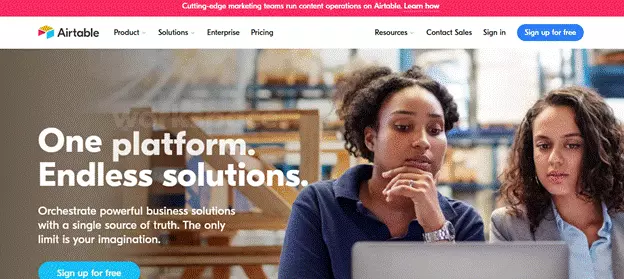 Airtable is a spreadsheet-like project management software tool with all the database features. It has customizable view options other than the spreadsheet.
Airtable apps and automation features help to accelerate the workflow.
There are templates for content operation, product roadmap, project tracker social media calendar, marketing campaign tracker ready, and others to ease your work.
Its use cases are for the marketing, product, operation, HR, Sales, and Finance teams.
Free Plan Benefits:
Unlimited bases
1200 records per base
2Gb of attachment per base
Grid, calendar, kanban, form, and gallery
Get Free Trial: https://try.airtable.com/product
MeisterTask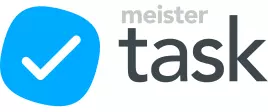 MeisterTask is a project management tool that visually describes tasks and workflow to the employer and employees. Its default view gives a kanban board setup.
It helps you with the use of automation that will remove the need to perform repetitive tasks.
Time Tracking helps to organize employees in a better way. You can increase the productivity of the whole team by micromanaging every employee's work time.
You can custom design templates for recurring tasks so that they can be easily implemented next time. You can share them with your team members.
Free Plan Benefits:
Up to 3 projects
Unlimited project members
Storage of 20Mb per file
Mobile apps and more.
Get Free Trial: https://www.meistertask.com/freemium
Bitrix24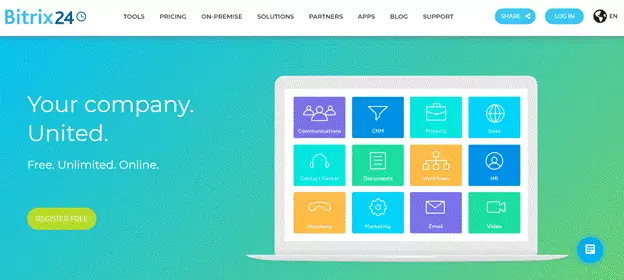 Bitrix24 has a claim of more than 9 million organizations using the product on its website. It must be something.
Bitrix24 is a project management software tool that has everything needed for a project. It provides 24 hours service for the customers.
You will have better communication with your teams and can conduct tasks and projects easily. CRM and project management tools provided by Bitrix24 help you to increase your sales or any business feats.
And, you can build a landing page for your website and start a business here and now. What more can we ask?
Free Plan Benefits:
Unlimited users
5GB storage
Communication channels
CRM facility
Get Free Trial: https://www.bitrix24.com/prices/30-day-trial.php
Teamwork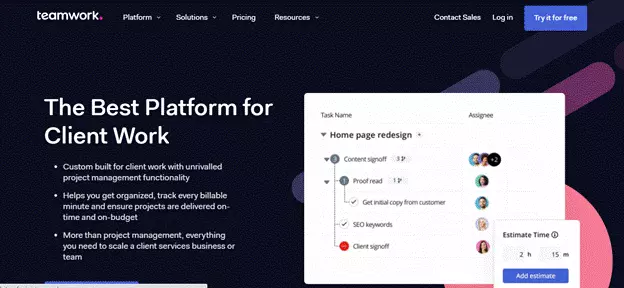 Teamwork is simple to use project management software with better user experience UI design. It starts with a generic application with signup, but you can scale the usability to a full functioning platform.
It is used by 20000 companies and is popular for handling basic operations and enterprise-level workflow.
The advanced features of teamwork are portfolio management, time tracking, workload management, Gantt chart, and boards views. It covers all the requirements.
It can be integrated with most common online tools like Slack, Google, Hubspot, Xero, etc.
Free Plan Benefits:
Free forever
Basic project and task management
Milestones
Messages
Get Free Trial: https://www.teamwork.com/pricing/
TeamGantt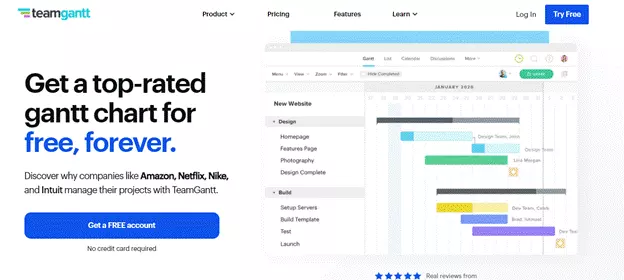 TeamGantt is a project management software tool that is easy to use with Gantt board view. It has a drag-and-drop simplicity.
You can see all the ongoing projects on one screen, which helps measure compatibility and time efficiency. It also helps in building teamwork and dependence among team members.
It has all the modern features and scalability. There is automation, time tracking, real-time monitoring, and many other features for bigger work processes.
The areas of usability are for digital agencies, marketing, construction, manufacturing, and all sorts of work where the manager needs to organize employees' schedules between many projects.
One million users around the world use this application.
Free Plan Benefits:
Three people
Limited features
Free forever
Get Free Trial: https://www.teamgantt.com/pricing
Conclusion
Project management tools give you the liberty to divide your workloads among the workforce without the need to deal with them face to face. No weird and awkward silence between the employer and the employees.
No need for repetition of "yes, sir" and fake smiles toward the boss. And, if things get weird even through the interface, you can be offline for some time and start again.
Free project management tools build relationships and trust toward our work and peers with efficiency in the work progress. They are available to us as a perk of technology.