Communication is the crux of every business, and all free vector icons are one of the best means to strengthen it. Icons are the direct and the most engaging way to convey your ideas and goals to your clients. It reflects your creativity as an entrepreneur and aids in captivating the attention of your target audience. Using them on your business website, especially, will make the interface far more intuitive and upscale the attention rate. Integrating these in your online products like applications and plugins will also make the navigation user-friendly.
Here are the top 10 websites to download all free vector icons for commercial use.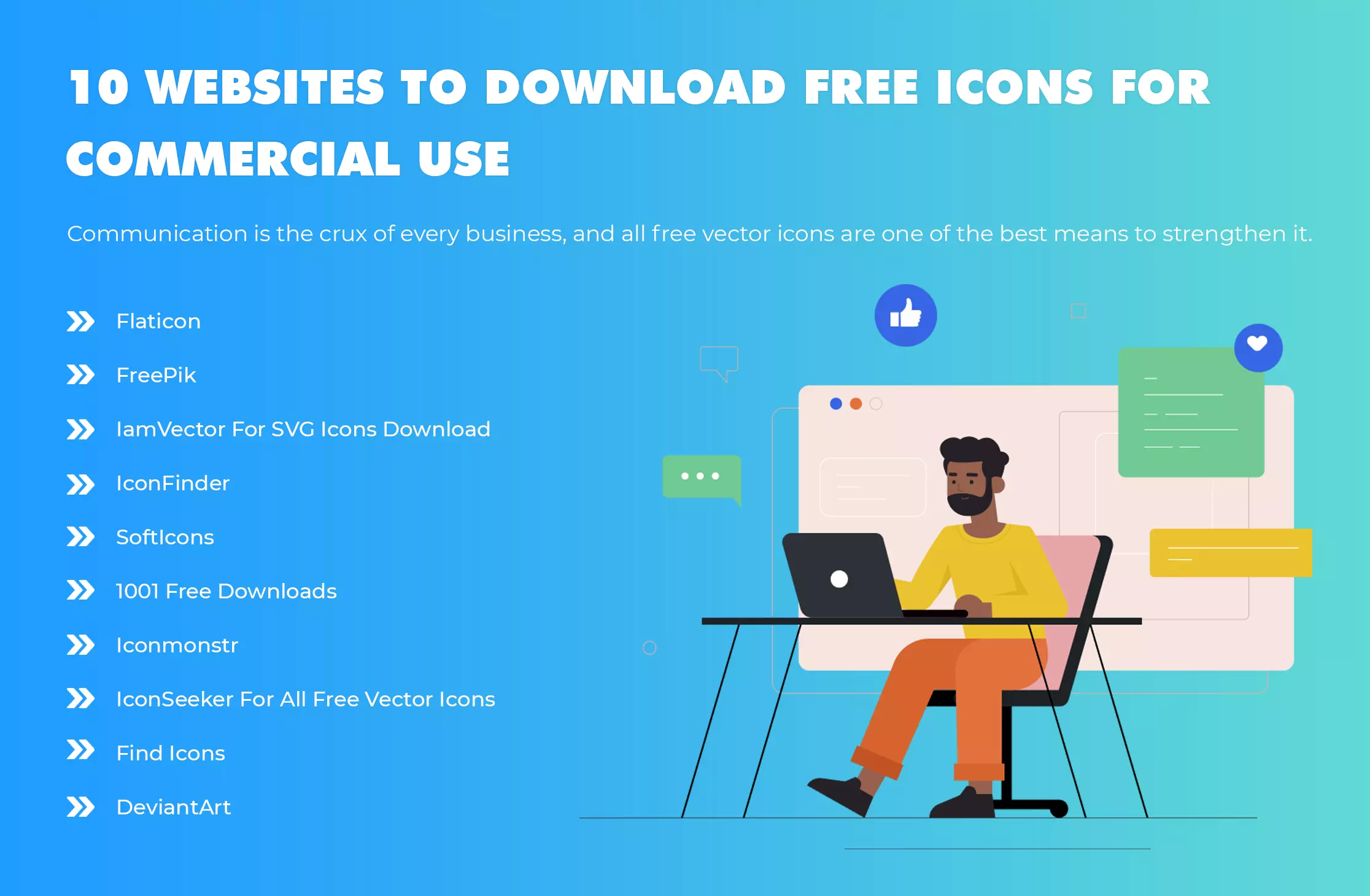 Best Websites To Download Free Icons For Commercial Use
1. Flaticon
If you're looking for an icon hub that lets you download and share a plethora of icons without having to log in, then IconArchive is the place. It has 500,000+ icons and is a treat for graphic designers, web developers, or even nascent creators. It allows the user to customize any interface they're working on. Plus, it is compatible with multiple operating systems including Linux, Mac, and Windows.
Website: http://www.flaticon.com/
Read: 10 Free Websites to Download Images for Marketing Campaign
2. FreePik
FreePik has a massive collection of all free vector icons, stock images, editable illustrations, and PSD files. It also has a dedicated section for popular searches allowing you to easily browse through and find the icon you need.
Website: http://www.freepik.com/
3. IamVector For SVG Icons Download
It is yet another, and one of the most sought-after resources for all free vector icons. Alongside customizable icons, it also lets you try your hands on stickers for your commercial use, whether it is a website, presentation, or an application. Moreover, the icons and images can be downloaded in various formats, including PNG, SVG icon download, among others.
Website: https://iamvector.com/
4. IconFinder
Find the right icon with this highly functional icon market. Its user-friendly search functions allow the users to search for their desired icons according to the pixel size and the license type. You can choose from over 598,4930 icons available in free and paid categories. These can be easily used for any of your commercial works including website or application UI, presentations, and onboarding flows as they're downloadable in SVG and PNG formats. You can also look through different filter families like light, regular, bold, feather, plumpicoms, and many more. The best part is that the icons are updated every week on the site, bringing freshly designed icons to your disposal.
Website: https://www.iconfinder.com/
Learn: 10+ Best Graphic Design Software for Beginners Free Download
5. SoftIcons
SoftIcons is yet another popular icon-download-destination for commercial users. It follows unique categorization of icons with more than 2849 sets, such as toolbar icons, payment method icons, game icons, and social media icons. It also provides special offers for paid icon sets if ever you wish to experience beyond free Vector icons.
Website: http://www.softicons.com/
6. 1001 Free Downloads
As the name suggests, 1001 Free Downloads is a one-stop shop for free vector icons with over a thousand varieties. Not just that, it also offers a multitude of fonts, clipart, wallpapers, brushes, patterns, styles, gradients, and textures to customize your graphics. The site has a regular inflow of new, updated icons and designs created by emerging designers, ensuring that you don't just run out of icons but also get fresh and unique designs.
Website: http://www.1001freedownloads.com/
7. Iconmonstr
Iconmonstr is another enormous free icon store that you can approach for your commercial project. It has 4,000+ icons categorized in 316 collection sets ranging from business, finance, interface, logos, badges, different operating systems, and whatnot! It will serve your design purpose, whether you are designing a new user interface (UI) for your application or creating graphics for that email campaign.
It also lets you search through all free vector icons based on the latest uploads, so you can quickly get your hands on the newest icons in the market. Plus, you can save these tiny design wonders without registering on the site. Isn't that cool?
Website: http://iconmonstr.com/
8. IconSeeker For All Free Vector Icons
IconSeeker is a perfect destination for icon seekers. It has more than 50,000 free vector icons. These can be downloaded in high quality in PNG, ICO, and ICNS formats. Its high functionality and compatibility with Windows, Linux, and Mac systems make it a desirable hub for all free vector icon lovers.
Website: http://www.iconseeker.com/
9. Find Icons
As simple as its name, you can view and download 450,000 icons for free! Do not feel overwhelmed as it has certain smart search functionalities that let you find your icon by filtering according to size, color, license, and style. Another interesting feature associated with this website is that it allows you to convert the icons into any format you like, including ICO, ICNS, and PNG.
Website: http://findicons.com/
10. DeviantArt
Visiting DeviantArt will make you feel happy as a child in a candy store! This giant resource for all free vector icons also has more than 200,000 icons you can use for one or many business projects. It is also a great place for engaging in intriguing discussions with fellow icon-hunters and creators. However, in order to avail of some of the resources, you will need to register as a member of the DeviantArt Community.
Website: http://www.deviantart.com/
With the massive influx of startups, growing entrepreneurship, and digital marketing ventures, the use of icons will continue to witness manifold growth. No matter how many free vector icon sites are rolled out, the audiences will need more of them in the years to come. While the ten websites mentioned above offer great sources for downloading all free vector icons, we can expect more amazing resources with more functionalities for finding, creating, and customizing the icons.