Osmose Technology is a Pune, Maharashtra based Affiliate Program & online Shopping platform that provides daily bonuses and also Income/Payout. The company is an e-commerce online store called osmarket.in. Osmarket deals in the most effective and highest rated Health care products, Backpack & Travel Bag, Men, Women, Kid's products, Sports & Gift vouchers through the Online Shopping website: osmarket.in, such as Flipkart and Amazon. The shopping website came into the market in January 2020 and lots of people eager to use it.
The parent company of Osmosetech is Mindskill Gaming Solution that is popular in developing android games and social media applications. Also, the company has been registered with Income Tax.
Services Offered by Osmose Technology Pvt Ltd
The e-commerce portal of Osmose Technology "Osmarket.in" offers various products such as health care products, electrical appliances, electronic gadgets, gifts for men and women, travel bags, Eyeglasses, etc. These products available online and you can buy from it. They also offer an affiliate program through which you can refer someone and earn real money on a bank account or via PAYTM.
The parents company offers a wide range of services such as gaming, e-commerce, social media applications, system support, database services, and digital marketing they believe in delivering the best and a better experience for its users.
Advantages of Osmose Technology
• It is an earning platform
• You can earn by adding members to the company
• There are various essential items such as healthcare products, electronic gadgets on their website
• The website has no-active social media accounts on Facebook, Instagram and Likedin and you can easily search 'Osmose Technology Pvt Ltd Reviews'. The last post on Instagram was on OCTOBER 28, 2020 and 18th Dec'20 on Facebook.
Disadvantages of Osmose Technology
• Osmose Technology Pvt Ltd asks for Rs/- 1180- for becoming a member as of  April 2021 registration is not allowed.
• The company does not provide any contact number or contact assistance service.
• The registration amount is taken from the members and users have complained about it and claimed it as fraud or Scam.
• You can find bad reviews about the company on various consumer forums.
• No refund if user cancelled the product, who does that, its like fake company run by some people.
Osmose Technology Fake or Real
They say 24*7 Support but no phone number so they are fake.
They don't refund if we cancelled product so they are doing illegal thing.
They charge for rs 120 for delivery which is totally scam.


Osmose Technology Review
Initially, the company was selling products through online shopping and some people got benefits from them, but most of the people lose their money and time, and now it's not working. The website is showing products but we are unable to buy or register.
Osmose Technology Scam, Fraud, Legal
There is no clear transparency between the customer and their online shopping portal. All the information written on the website is either fake or misleading. They have shown company pictures on social media and people earning screenshots which can be lead to fraud or Scams for the people. I suggest to you that don't rush into something illegal activities, Do handwork and earn real money.
How does Osmose technology make money?
Osmose generate traffic and users for Osmose Shopping website osmarket.in and Osmose Applications(PikFlick) by his affiliate program and Selling something online.
Osmose Technology Pvt Ltd Details:
Company Name : Osmose Technology Pvt Ltd
Founded in : 2019, in Pune
Website link : https://osmosetech.com/
Website type: Ecommerce and Earning Platform
Shipping: 24 hours
E-mail address: [email protected], [email protected]
Facebook:  https://www.facebook.com/osmosetechnology
Instagram:  https://www.instagram.com/osmosetech.pvt.ltd
Youtube:  https://www.youtube.com/channel/UCOejRKpTbLUnUjecysrV-gw
linkedin: https://www.linkedin.com/in/osmose-technology-4830541a2/
How do I join Osmose technology?
You login or register here for join https://cpanel.osmosetech.com/NewJoining1 but currently not working.
Login: https://cp1.osmosetech.com/default
Who is the owner of Osmose technology?
Owner of Osmose Technology Pvt Ltd are Shubhangi Vaibhav Pataskar, Vijay Baburao Mahajan and Prashant Ramchandra Roundale.
Is Osmose technology safe?
It seems not safe to buy products or participate in any click or referral activity because no clear information is provided by the company. It can be lead to Scams.
Legal Information: Osmose Technology Private Limited(osmarket)
Osmose Technology Private Limited is located in Pune, was established on Dec 24, 2019. This Private Company is driven by Directors Shubhangi Vaibhav Pataskar, Vijay Baburao Mahajan and Prashant Ramchandra Roundale and is headquartered in Pune India. A non-government company that is registered in Pune with registration number as 188640 and its Corporate Identification Number (CIN) is U72900PN2019PTC188640 which is currently in active status currently.
The company's registered address is; Fl No A, Atulnagar Warje Highway S 79/B Nr Runwal Panorama PUNE Pune-411052 Maharashtra. Osmose Technology Pvt Ltd organized the Annual General Meeting (AGM) on Dec 31, 2020. According to the Ministry of Corporate Affairs (MCA) records, the balance sheet was filed on Mar 31, 2020, with an authorized share capital of 5, 00,000 and its paid-up capital is 10,000.
The company is engaged in research and development activities and focus on developing interactive systems to provide better solutions for customers involved in various organizations. The official e-mail address of the company is [email protected]. Their official e-commerce website is https://osmarket.in/index.php and their official website is https://www.osmosetech.com/. Their vision is; "Let's Work Together and Let's Grow Together".
• CIN: U72900PN2019PTC188640
• Registration Number: 188640
• Date of Incorporation: Dec 24, 2019
• Registered State: Maharashtra
• Registration of Company: RoC-Pune
• Category: Company limited by Shares
• Sub Category: non-govt Company
• Company Class: Private
• Company Status: Active
Share Capital Information
• Authorized Capital: 500000
• Paid-up Capital: 10000
• Number of Members (Applicable in case company without Share Capital): 0
Listing and Annual Information
• Whether listed or not: Unlisted
• Date of last AGM: Dec 31, 2020
• Date of Balance Sheet: Mar 31, 2020
• Address other than R/o where all or any books of account and papers are maintained: Office No. 4D/E, S.NO. 17/1B, P.NO. 14, Devgiri Area, Kothrud, Pune, Pune – 411038, Maharashtra – India
• Suspended at stock exchange
• Principal Business Activity: Computer and related activities
Documents of Osmose Technology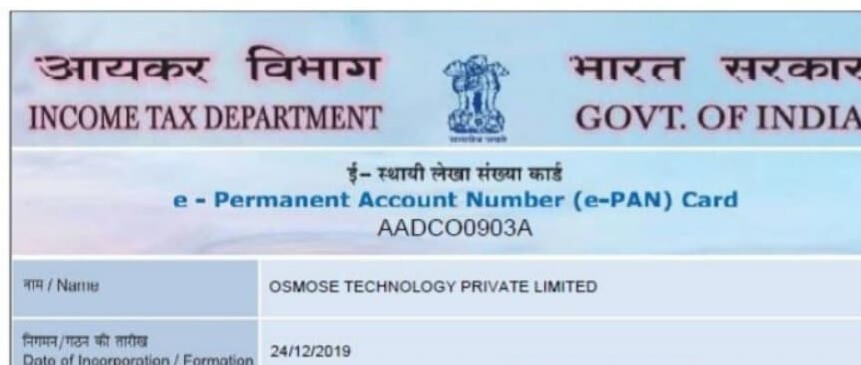 All legal documents is available here: https://www.instagram.com/p/CFgogLmAcvu/
Charge Details
No charges exists for this company
Contact Information
• Email Id: [email protected], [email protected]
•  Customer Support: https://cpanel.osmosetech.com/Complain_New.aspx
• Registered Office Address: Fl No A, Atulnagar Warje Highway S 79/B Nr Runwal Panorama PUNE Pune-411052 Maharashtra.
• OSMARKET Address: 4D/E, S.No. 17/1B, P.No. 14,Devgiri , Co-operative Society , Industrial Area, Kothrud, Pune, Maharashtra 411038
CONCLUSION
I advise all people to stay away from these kinds of money-making schemes or website and their members and do proper research before any involvement or money transfer. Also, if any, share your experience below.