Ah, this battle again!
Weight loss is one of the most difficult things to do, especially due to modern lifestyles. Most of us lead quite a sedentary life and binge on food absently. Then we suddenly realize – WEIGHT GAIN!
Getting into shape and staying in shape is quite a challenge, but you know, it isn't as hard as you think. It is not as bad, either! Of course, it needs hard work, but technology has provided tools that make the process hassle-free in the form of apps.
All you need here on is a reliable app on your android phone and some serious dedication from your end. These apps won't just tell you about exercise but will also help you keep an eye on calories, lifestyle, and other factors that influence weight gain/loss.
We understand the first obstacle for weight watchers in this process – finding the right app. That is why we are here to remove it for you. In our article, we have mentioned the top 10 proven weight loss apps that can be your best friends during your weight loss journey. Let's quickly go through them.
Must have Weight Loss Apps
1. Lose Weight in 30 Days

Lose Weight in 30 Days is the winner of multiple awards, such as Best Daily Helper App and Best Hidden Gem App. It follows a scientifically proven program that's effective and safe, helping you lose weight without risking your health. It mainly offers weight loss plans for legs, abdomen, butt, and arms. All of these are sketched by professional fitness coaches.
Its features are as follows:
• You don't need any equipment to follow the weight loss plans. You can do them anytime, anywhere.
• Offers video and animated guidance.
• Helps you track your progress
• Allows you to track calories spent/burnt
• Increases intensity gradually
• Allows you to set targets
• Offers low-calorie diet plans
• Gives a wide range of workout plans to choose from
• You can integrate the app with Google Fit
2. Lose it!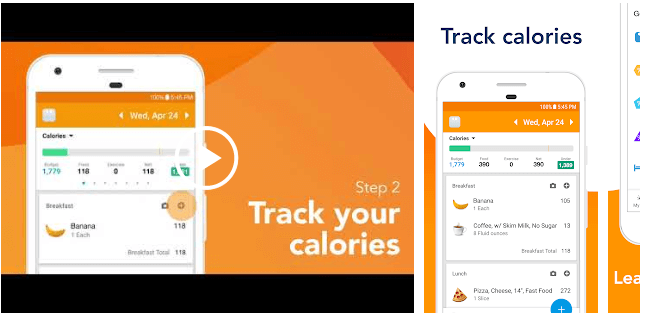 The name says it all! Lose it! is a user-centric app that has only one focus – to help you lose those extra pounds. It also tracks weight and the foods you love to ensure that you are eating right and exercising with dedication. The top-rated weight loss app provides a balanced approach, which makes the process easier and less troublesome.
Below are a few of its features:
• Lets you set goals based on your personal preferences
• Tracks the food you are eating so that you keep the calories within the acceptable daily range
• Tracks water intake
• Lets you create macro goals so that you get enough carbohydrates, proteins, etc.
• Integrates seamlessly with Google Fit and Apple Health
• Provides reports about progress and behavior regularly
• Has a scanner that scans barcodes and saves new foods that you are consuming
• Has the ability to identify and save foods you take pictures of as well
• It is completely free
3. Couch to 5K

Too lazy to get off your couch? This app will transfer you to the park so that you run the extra calories off. It is designed especially for those who want to be athletes or are new runners. It promises to make you confident enough for your first 5K run within 9 weeks.
Let's see what it has in store for you:
• Choose from 4 virtual coaches, each offering different programs
• Listen to audio cues through the workout
• Has in-app music
• Has free GPS support, allowing you to calculate your pace and distance
• Save and share your workout progress – it integrates with Facebook
• Has treadmill support
• All training plans come from active.com trainers
• Repeat your workouts whenever you feel like to get better
• Once you master 5K, you can move to 10K, half marathon, etc.
• It costs around $3.20
4. Noom Weight Loss App

Noom is unlike any other weight loss app that just tells you what to eat and which exercise you should do. The makers of this app have employed a psychology-based program that identifies individual triggers and thoughts to build a personalized weight loss plan so that your eating habits change completely. It has been recognized by Forbes, ABC, New York Times, etc. for its effectiveness.
Here are a few features for you to explore:
• Offers personalized feedback based on progress and activity
• Flexible coaching to achieve all goals – long-term and short-term
• Provides daily support
• Tracks blood pressure, exercise, weight, food, blood sugar, etc.
• Has custom workout and meal plans
• Its pedometer is battery-friendly and highly recognized
• Its users have lost 16 pounds on an average within 16 weeks
5. Endomondo

Make your walks and runs more fun and effective with the Endomondo weight loss app for Android. It is essentially a personal training app, which will encourage you to walk the extra mile and shed those extra pounds. And the best part? You can download it for free and use it at a nominal subscription price throughout the year.
Find out what you can expect from this stellar app:
• The GPS allows you to track 60+ sports, walking, running, and cycling
• Get audio feedback after each workout to assess speed and distance
• Allows manual recording of indoor workouts
• Provides a workout summary with details of calories, pace, distance, speed, and time
• Sends notifications to celebrate milestones
• Sync with multiple wearables
• Allows you to take on challenges and share results on social media
6. MyFitnessPal

This is a calorie counter that helps you lose weight by tracking food, creating a new diet plan, and enabling you to change your eating habits. You can download the app for free and embark on the healthy pathway immediately.
Below are a few reasons why it is a popular weight loss app:
• Has a database of 11+ million foods from multiple cuisines
• Scans barcodes of food items to record them
• Gives excellent food insights
• Allows you to calories, track macros, and keep an eye on all nutrients with ease
• Lets you log in your meals and create your own
• Has the ability to Track water intake
• Enables you to track exercise by logging your workout and steps
• Connects to wearables
• Helps you create and reach your personal health goals
7.Weight Loss Tracker & BMI

This is the perfect app if you want to lose weight and evaluate your goals. It also provides a detailed diary with representations so that you learn how to reduce weight and stay fit. It is easy-to-use and has quite a lot of diet charts to pick from.
Here are a few more features:
• Has a complete body weight tracker
• Offers plans based on desired weight targets
• Comes with motivational incentives
• Also has a body data tracker, which is optional
• Keeps track of BMI through its professional BMI calculator
8.Google Fit

Google is known for its reliability and customer-centric approach. Its weight loss product, Google Fit, lives up to its reputation wonderfully. The free app focuses on 2 main goals – heart points and move minutes. The makers came up with these goals after collaborating with experts from the American Health Association and WHO.
Here's a glimpse of its features:
• Allows tracking of workouts on watch and phone
• Helps you monitor your workout goals
• Provides actionable coaching and customized tips
• Shows daily progress and activity, allowing you to analyze how far you have come
• Gathers information from multiple apps such as Nike+ and MyFitnessPlan to give you a complete rundown of your progress
9. SparkPeople-Calorie Counter & Die

This is a Calorie Counter and Diet Tracker that will enable you to lead a healthy and happy life. It can be your very own diet and lifestyle coach, telling you what to do to stay fit. You can use the app absolutely free of cost!
Its features are as follows:
• Has a database of more than 3,500,000 foods
• Lets you track workouts and count calories
• Helps lose weight regardless of the diet plan you follow
• Offers fitness tracking, food tracking, macro counting, etc.
• Comes with a food and diet calculator
• Integrates with computers and phones and lets you access data from anywhere
• Connects with multiple apps and wearables
10. Weight Loss – 10 kg/ 10 days

Easy to use and highly effective, this weight loss app promises to help you shed 10 kg in merely 10 days. Of course, it needs commitment from your end, but it takes care of everything else.
A few more details about the app are as follows:
• Provides a total of 3 levels, suitable for men and women
• Has daily workout routines aimed specifically at weight loss
• Requires only 10 minutes of workout per day
• Helps you get lean and healthy
• Has a diet planner too
• Records progress and shows data
• Gives workout guides (videos)
• Has a set of brain waves to keep you calm
• Provide multiple diets with recipes
No matter which of these weight loss apps you download, you will find a great friend and coach. But, remember that these will help you only if you are willing to dedicate the required time and effort from your end.
All the best. We hope you all reach your fitness goals!