In a fast-changing digital world, visuals and video are taking over from text as the preferred content format to get your marketing message across.
It is in part due to users' shortened attention span, but also because we remember so much better when a concept is explained visually than when we have to read it.
Let's first list the main content formats available to you:
Content Formats
Social media                                   Viral content
Press releases                                 Audio and podcasts
Blogs                                                Articles
Newsletter                                      White papers
Reports                                            Music
Graphic animation                        Live presentation
eBook or gBook                              Images
Explainer videos                            Infographics
Webinars                                         Telecasts
Slide shows & galleries                 Video
Applications                                    Interactive games
Tools                                                 Print
Which of these content formats are right for you, depends entirely on your goals, and what you want to achieve – conversions, leads, followers, brand awareness, persuasion, education or entertainment?
We created The Content Marketing Matrix that lays out the different content formats to help you choose the best type according to your goal.
They grouped the formats according to whether they entertain, inspire, educate or convince, and also showed what effect they have on the user, be it awareness, an emotional or rational response, or whether it was likely to drive them to purchase.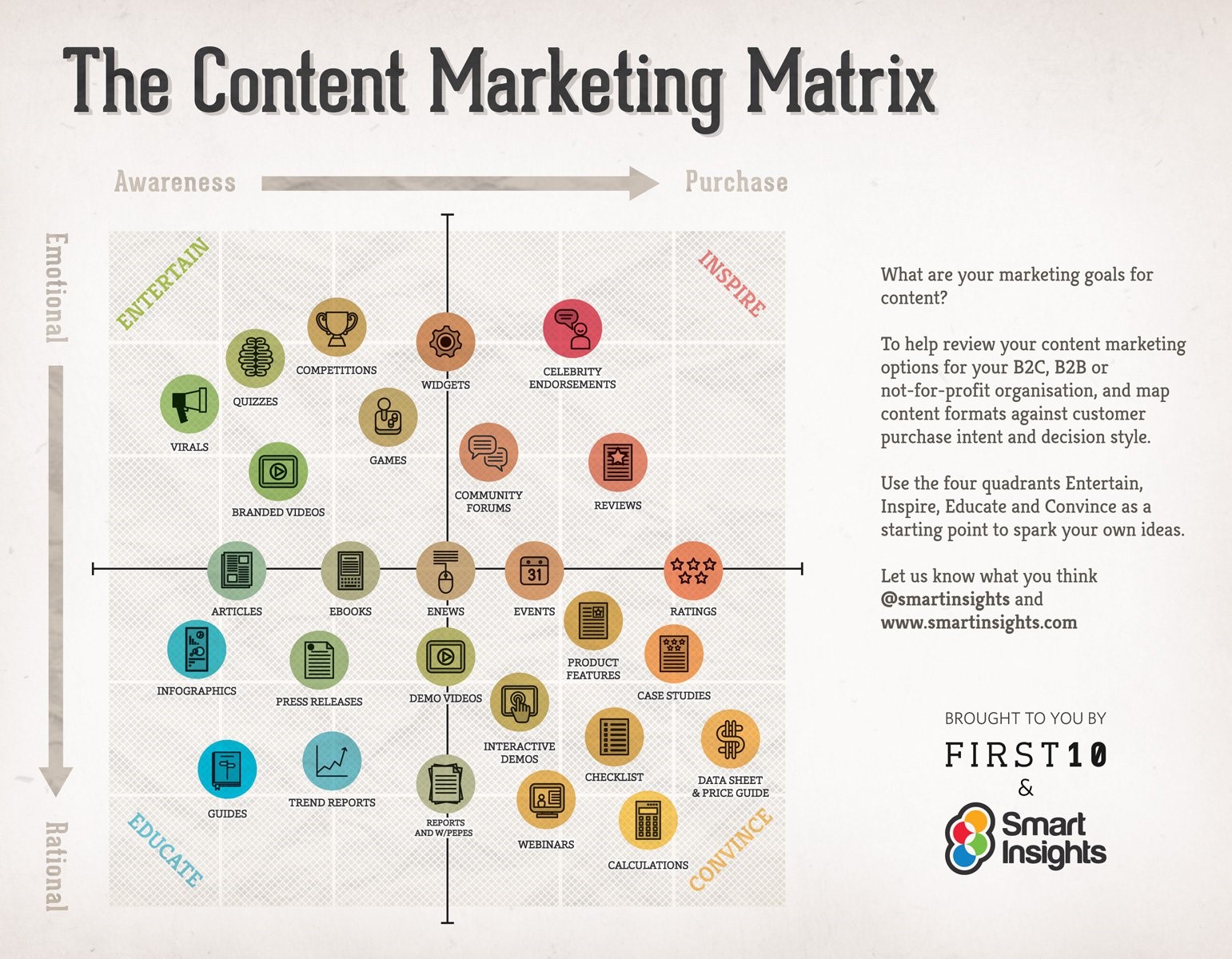 Which content formats would attract users and deliver your message best?
To help you fine-tune your content format selections, let's look at Content4demand'com's "Make Content Great Again" campaign where they polled thousands of B2B marketers during Marketo's Marketing Nation Summit in Las Vegas, USA in 2016.
They asked these marketers what they thought is the content format to watch in 2016, and these came out tops:
Motion graphic or explainer video (38%)
Interactive infographics (29%)
Graphical E-books (gBooks) (15%)
Listicles (14%)
Quizzes & Assessments (4%)
Video, in particular, is growing in popularity, and these stats go along with a Cisco survey that reported that video is expected to account for 69% of all consumer Internet traffic by the end of 2017.
The bottom line? Include more visuals in your text, and use a variety of visual content to get your message across. Words are so yesterday.