Undoubtedly, every small business requires a reliable platform. At least, if you're seeking to connect with more customers and clients, having a website would be a necessity. However, not every other business owner has enough money or time to invest in the process of finding out the best options.
In today's world, creating a website to promote businesses doesn't take a lot out from your pocket, thanks to WordPress. By selecting the right theme, you can have your site up and running within a few days.
You may come across several websites with similar looking layouts and templates. That's because people haven't been making unique choices at all. Keeping that in mind, here's a list specially created to help you out in this matter. After profound and in-depth research, these options have been taken out to match the requirements of different domains.
So, sit back and go through these options one-by-one. You'll find a variety of options and features in these themes, and that's because all of them differ from each other in several ways.
Whether you belong to the music industry or are working into a profession of consultancy, this list has something from everyone. Also, once you're done, don't step back from finding more about the theme that you liked the most. It would surely help you make a better decision.
Now, without any further ado, let's scroll down and know about the best WordPress themes available out there.
10 Business and Solopreneurs WordPress Themes
1. Solopreneur: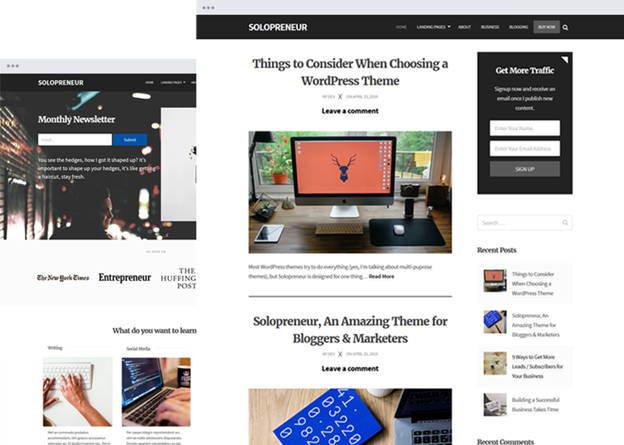 Specifically meant for bloggers, this particular theme is a responsive option and comes integrated with several advanced functionalities. The two different highly converting landing pages that this theme features would be enough to highlight your latest services or products. This way, gaining exposure wouldn't be a tough task for you.
Key Features:
• Custom landing pages
• Major browser support
• Mobile-friendly
• Widgetized sidebar
• SEO-optimized
Price:
Solopreneur can be purchased at a cost of $59.
Buy Solopreneur here. fancythemes.com/themes/solopreneur/
2. Solome: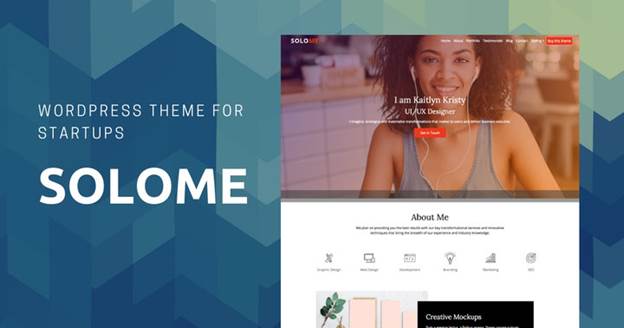 If you're working in the digital marketing field, Solome would be a perfect theme to consider. Being a one-page theme, this one wouldn't make your visitors hop from one page to another. With its pre-designed homepage, you can showcase your editing talent and enhance the appearance of your site altogether.
Key Features:
• Pre-built pages
• Responsive and mobile-friendly
• Compatible with several plugins
• Different styling option
• SEO-friendly
Price:
You can buy this theme by paying an amount of $27.
Buy Solome here. cyberchimps.com/store/solome/
3. Modern Studio: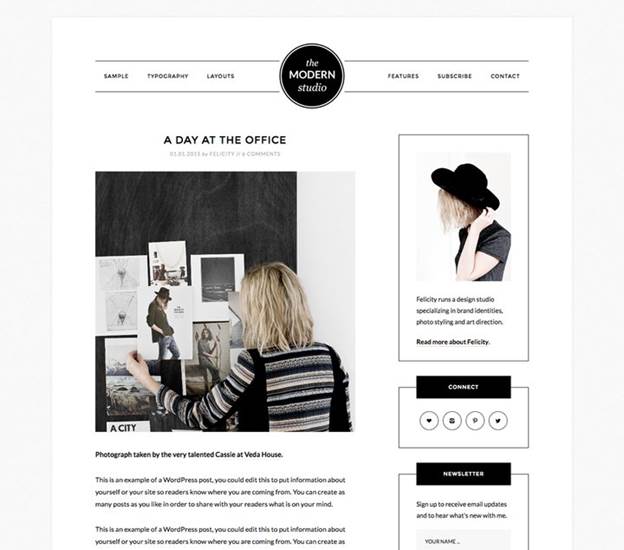 Being a designer, you'd surely want all the limelight on your artwork, right? And, with Modern Studio, you can achieve the attention you deserve. For designers, this theme highpoint the imagery in an attractive manner. The theme is clean and minimalist; hence, providing you all the space you require.
Key Features:
• Custom page templates
• Theme Customizer
• Homepage widget areas
• Customizable header
• Mobile responsive
Price:
This attractive theme is available at a rate of $99.95.
Buy Modern Studio here. my.studiopress.com/themes/modern-studio/
4. Marquee: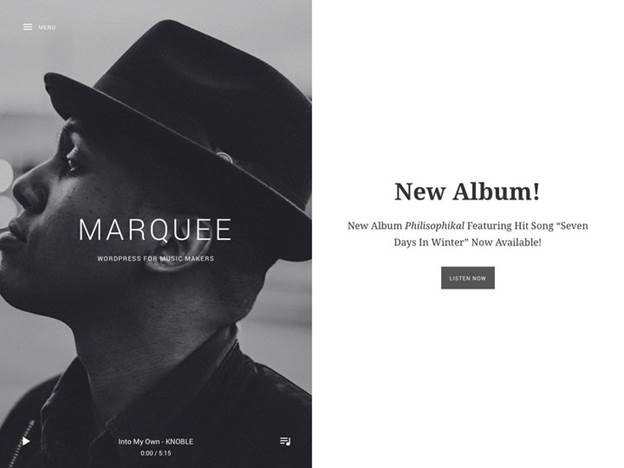 Designed to fulfill the requirements of musicians, Marquee is a delightful yet simple theme. Its amazing features, like an off-screen audio player and split screen layout, can provide you the kickstart you deserve. Its site-wide player can highlight your custom playlist that your viewers can listen while navigating through your site.
Key Features:
• RTL language support
• Customization options available
• Multiple menus
• Inbuilt widget area and social media functionality
• Video integration
Price:
This one is priced at $69.
Buy Marquee here. wordpress.com/theme/marquee
5. Entrepreneur: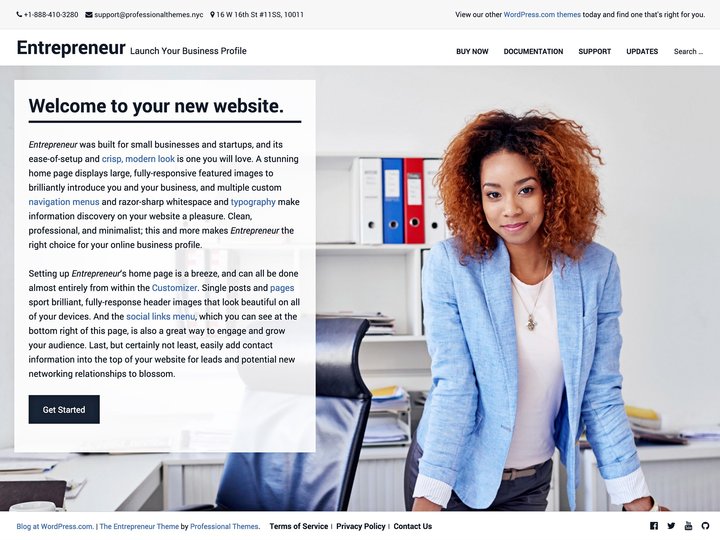 Just as the name suggests, this theme is developed for startups and small businesses. Its easy setup and crisp, modern design will surely leave you hooked for a while. To introduce your business well, you can feature a stunning large-screen image on the homepage. Professional, minimalist, and clean; this theme would be a perfect choice for you.
Key Features:
• Varied customization options
• Supports RTL script
• Accessibility ready
• Multiple menus
• Breadcrumb navigation
Price:
If you wish to purchase this theme, you'd have to shed $175 from your pocket.
Buy Entrepreneur here. wordpress.com/theme/entrepreneur
6. Soho: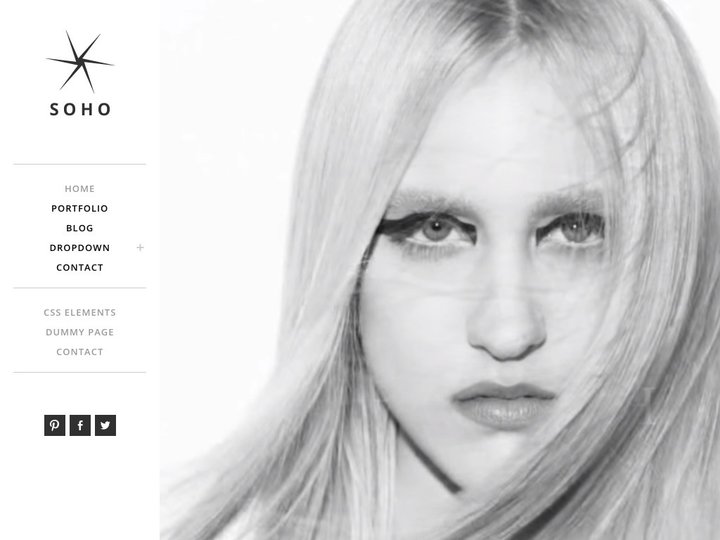 Next on the list is this modernized and classy theme, meant for fashion designers. This theme comes with a minimalist approach. Its responsive layouts ensure that your site is accessible to almost every person, irrespective of the device they're using. Moreover, its advanced functionality intends to help you create a charming website for your work.
Key Features:
• A slideshow or video embed
• Four different front page layouts
• Template for portfolio
• Integrated social media icons
• Easy customization
Price:
This one is priced at an amount of $49.
Buy Soho here. wordpress.com/theme/soho
7. Karuna: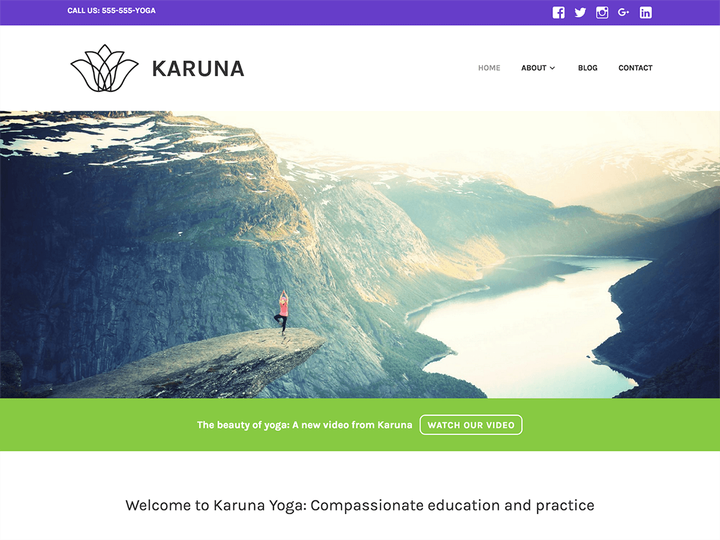 Karuna is one such theme that is designed by keeping health and wellness in mind. Thus, if you're a yoga instructor and wish to develop a website of your own, Karuna would be your best choice. With bold and bright colors, this theme makes sure that every aspect of your business gets adequate attention.
Key Features:
• Translation ready
• RTL language support
• Custom features
• Featured, full-size images
• Different sidebars available
Price:
This theme is available for free of cost in WordPress inventory.
Download Karuna here. wordpress.org/themes/karuna/
8. Lodestar: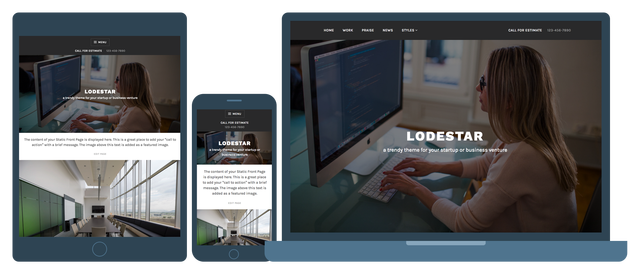 If you've taken up the job of a consultant, in any which field, Lodestar could be the theme to design WordPress website with. It's a one-page theme that's trendy enough to help you design eye-catching layout and platform. With adequate edits and alterations, you can tweak the entire appearance of this theme and can make it as you please.
Key Features:
• Ability to add different panels
• Placement for location and contact panel
• Various customization options
• Mobile-friendly
• SEO-ready
Price:
This theme is available for free.
Download Lodestar here. wordpress.com/theme/lodestar
9. Profile: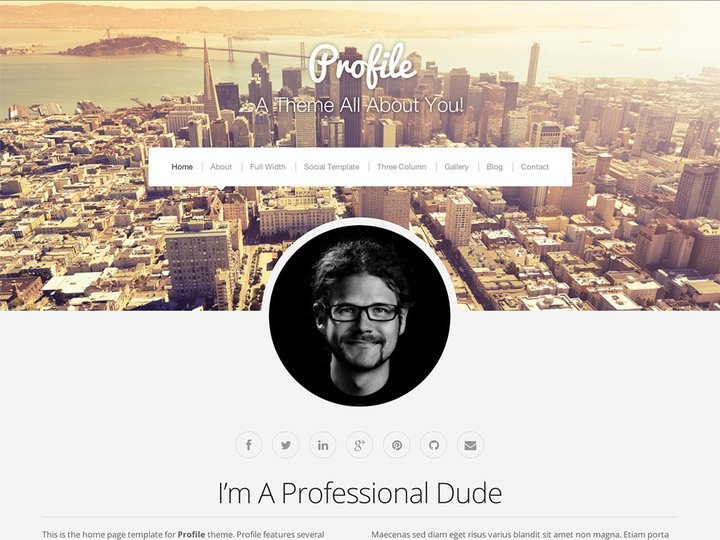 Moving down the list, here's Profile, which is a theme perfect enough for freelancers. Regardless of the niche you belong to, it's a multipurpose theme. With Profile, you can fulfill your requirements professionally. This one is backed by several amazing features, good enough to show the best of you.
Key Features:
• Responsive layout
• Homepage template
• Full-width blog
• Several customization options
• Integration of profile links
Price:
This one comes with a price tag of $69.
Buy Profile here. wordpress.com/theme/profile
10. Workstation: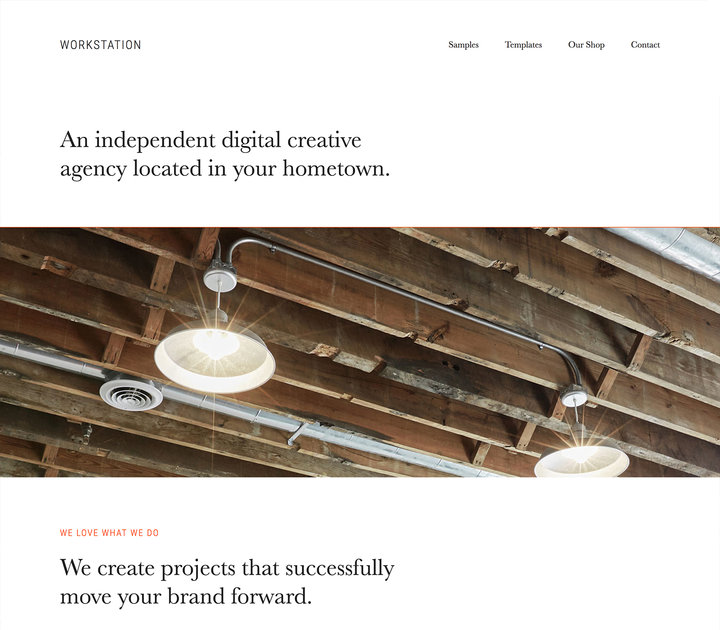 Last but not least, the workstation is a theme that's designed for architects and interior designers. This open, clean theme could be a precise choice when it comes to inviting the audience to see your work. With its elegant typography and appealing imagery, you can easily establish credibility among your target audience.
Key Features:
• eCommerce compatible
• Theme and customization options
• Mobile responsiveness
• Customizable header
• Homepage widget areas
Price:
You can buy this theme at a price of $99.95.
Buy Workstation here. my.studiopress.com/themes/workstation/
Wrapping Up:
Whether you're trying to create a new website or revamp the existing one, having a precise idea of what you want in your WordPress theme can help you amazingly.
At the end of the day, these were the top 10 WordPress themes for businesses and solopreneurs. It's a list crafted uniquely to help you out choose the best from the available lot.
So, before you dive deeper, check out these themes and more about their features. Once you've found the best one, embark on your journey.
Also, are you familiar with any other theme in this niche that isn't mentioned in the list? If yes, do share with us in the comments section.