62% of adults prefer solo entrepreneurship over the slogging 9 to 5 behind-the-desk job for a good career. But most take a step back, pondering over the responsibility that they have to shoulder.
While you get to call the shots and can chuck the constant paranoia about who takes the lion's share of profit, there are pits in being a one-person company. You have to do it all yourself. Not only do you have to deal with the mental pressure of being the lone hustler, but you also have to execute every business aspect yourself.
From managing appointments to sorting out taxes, from following leads to managing your social media pages; things can take a toll on you. But you want it to be a personal affair too. So who are you going to turn to for help? That is where technology comes in to remind you that life doesn't have to be that hard. And what's the best part? That the tools won't claim a penny from your profits!
To stand by the hard-worker in you, there is an army of entrepreneurship tools to fight by you and help you keep your head above the water. Read along!
9 Entrepreneurship tools that every solopreneur must have
Check out these fantastic business tools that will make working alone a lot easier for you.
1. ShoeBoxed for all your receipts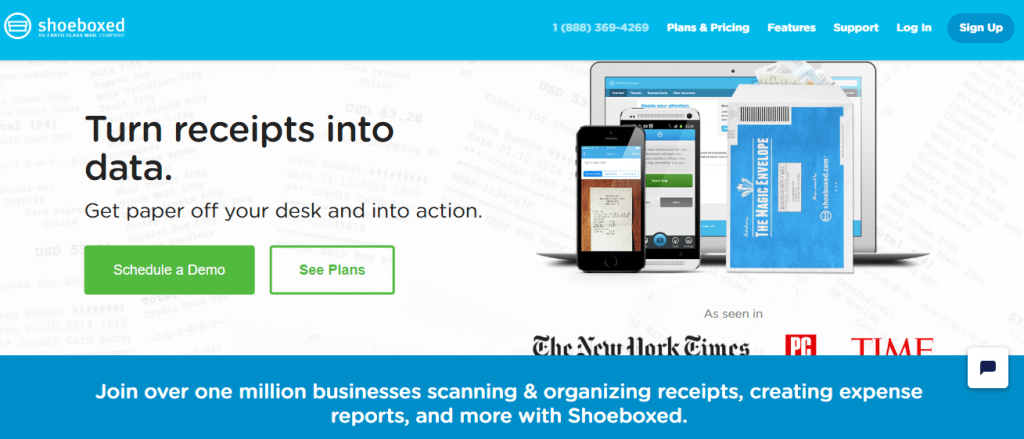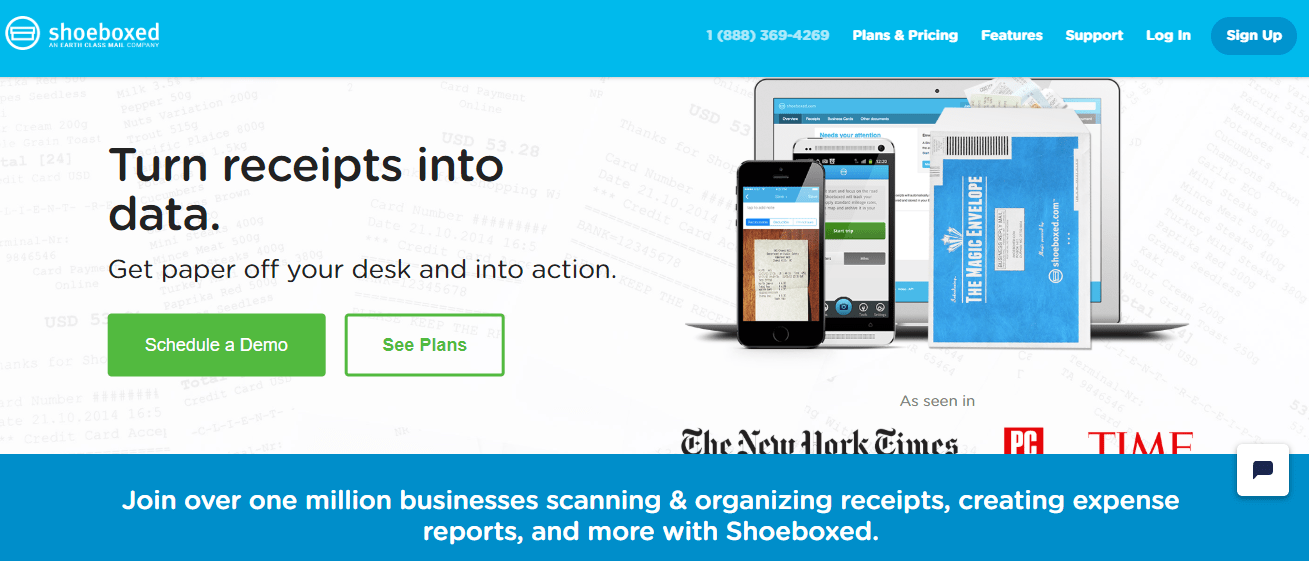 Imagine misplacing a tax receipt and having to bear the expenses all over again. Well, the first solution in your mind would be to get a tax management agent. But that means you will have to dish out hefty consultancy charges too. If you want to keep a trail of all the receipts and business documents for free, ShoeBoxed is what you need. You can scan all the important business papers and organize them in folders. This makes it easier for you to navigate through your information.
Key Advantages:
• Easy interface
• Free of cost version available
• Comes with cloud storage
2. Workflow Max to manage all your activities
Quite like its name, Workflow Max is an all-in-one project management tool that covers all aspects of establishing a business, like costing, quoting and more. The tool aids you in managing your clients, saving user data for future reference, scheduling meetings with interested investors, etc. You can also track time sheets, worksheets and payrolls, among other tasks. The tool is available in two versions suitable for desktops as well as smart devices for access on the go.
Key Advantages:
• Free trial for 30 days
• Cloud storage facility
• Customizations with the premium version
3. Momentum to avoid distractions
As a solo entrepreneur, you have a lot to do. You cannot afford to waste time and laze around. To keep a check on meandering thoughts and spans of procrastination, what you need is Momentum on the homepage of your laptop or phone. The app has been designed to keep you focused throughout the day so that you do not compromise your work. If you set your goal for the following day, it reminds you of the 'One Thing' that you have to achieve each day. Even when you spend too much time watching vines on YouTube or surfing through a friend's profile on Instagram, the tool gives you a gentle rap of reminder.
Key Advantages:
• Customization of parameters and goals
• Comes in 2 versions for computers and smart devices
• Free of cost tool with a premium version
4. Assistant.to for a non-salaried secretary
Who doesn't want to have a secretary, right? Especially when you are a solo entrepreneur, having an assistant who could remind you of things and share the workload with you would be helpful. But setting up a startup is already heavy on the pockets. So you might not be ready to afford a secretary as of now. In that case, Assistant.to can be your helping hand for sure. The tool sets appointments by assessing your client list and keeps track of time zones. Quite like its human equivalent, the tool reschedules a meeting in case something comes up.
Key Advantages:
• Free of cost trials for 60 days
• Premium version with added features
• Comes with a phone version
5. RivalIQ to keep a close eye on your contenders
For any business owner, it is essential to keep a check on one's opponents. And more so when you are a solopreneur, you need to know how other brands operating in your niche are doing to stay one step ahead of them always. RivalIQ does exactly that. The online business tool allows you to mine and monitor data of your contending brands by analyzing their website and social media pages. You get an idea of what is working in favour of them and what is not. Accordingly, you can design your strategy and improve your social media pages to get more traction. From social media marketing analytics to advanced competitive analysis; the tool offers it all.
Key Advantages:
• Comes with a free 14-day trial period
• Free SEO analytic tools
• Compatible with desktop and other smart devices
6. Slack to keep your clients in the loop
The smooth conversation is the foundation stone for building trust with your clients and Slack is just what you need for the purpose. Slack is a free chat app with an easy-to-use interface. You can touch base with your clients and notify them about the progress that you have made on their projects via the tool. Since Slack allows you to share files, you can send those documents and pictures and PDFs too. And, not just for your clients! Most solo entrepreneurs prefer to hire remote employees due to the lower rates. Slack can prove to be useful in communicating with your remote employees too.
Key Advantages:
• Customize channels for different topics
• Save files in an archive
• Sync and connect to other apps
7. Sighted to bill your remote clients
"Caveat Emptor or Buyers Beware. This is exactly why clients want value for money and financial transparency from your end. When you offer monetary safety, you come out as a credible brand in front of your clients", says Emilia Eckhart, the Customers Relation Head. That is precisely what Sighted does for you. The tool lets you generate invoices for your clients in various currencies. The tool offers a trial plan where you can create 20 invoices for multiple clients free of cost.
Key Advantages:
• Comes with cloud technology
• Link with PayPal and credit card
• Eco-friendly and permanency
8. WiseStamp for a customized email stamp
59% of customers consider a business more reliable when the emails and newsletters sent out by a brand carry the official data stamp of the company. Akin to a logo, an email stamp can lodge your company's name in your customers' memory. With WiseStamp in your list of tools, making a professional email stamp will be a matter of moments. You can include your contact information, links to your websites, your logo and all other information you want to convey into the signature box. Just embed it into your posts and emails, and you would be good to go.
Key Advantages:
• Compatible with Gmail and other email services
• More than 50 customization templates available
• The premium version lets you develop your template
9. Portent Content Generator for engaging content
Small or big, you need to rely on marketing to make your brand reach out. And when it comes to marketing, content sits on the throne. Since you have the mantle of running your business all by yourself, you may not find the time to get creative with the content you write. To help you out from a creative block, Portent helps you write appealing titles for your potential reader. All you need to do is put in the topic/keyword of your blog or content piece, and the tool will come up with a list of relevant topics that you can write on.
Key Advantages:
• Free of cost
• SEO solutions with the premium version
• Can be linked to Word-press
While the name claims that you go "Solo", always remember that you do not have to fight this battle alone. While it can be great to be all-in-one, you will still need a helping hand. But that does not necessarily mean that it has to be a human hand. It can be done by the above online tools that can work at your beck and call, free of charge. So if you are thinking of quitting and letting go of the dream of your company, hold that thought right there. Instead, get these tools NOW.
Cultivate hope and tenacity, and learn to notice even the smallest of achievements. Good luck!