Sketching, drawing, and recreating simple pictures into incredible photos are included in the daily tasks in the field of photography. People who are great photographers but hesitate to make sketched photos as they are not sure about the outcome should pay attention to the incredible programs in this regard offered by different software companies.
There are a lot of programs these days which enable you to make recreations with the old pictures and make them more unique. If you have never tried any photo to sketch converters before, you must add the use of these converters into your photography work.
When a photographer finds it easier to use an application instead of a long conversion process, he prefers the use of modern software to do so. These applications and programs will make your difficult picture to sketch conversion tasks easier along with several options provided to create better rendition.
How to convert photos to sketch through the photo to sketch converter?
SoftOrbits has created a popular photo sketch program. The basic and unique quality of this tool is that they are easier to understand and user-friendly.
The application provides several amazing options which are less common as compared to other applications. This application by SoftOrbits is easier to understand and comprises a user-friendly interface.
The process of converting photos into sketches is given below:
1. Open the application and click on the upload option.
2. Select one or multiple photos from the storage of the device.
3. The selected pictures will be opened in the application.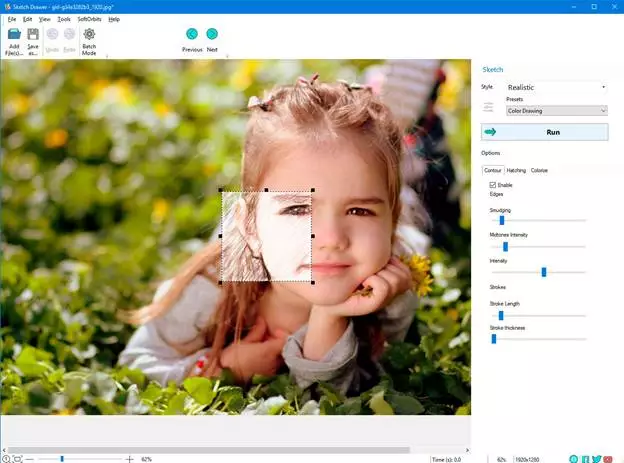 4. Now select the type of sketch you want to convert into.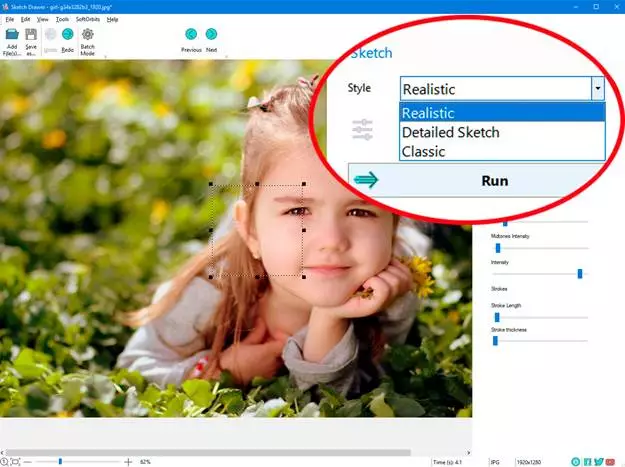 5. You can also add filters, effects and resize the picture after conversion.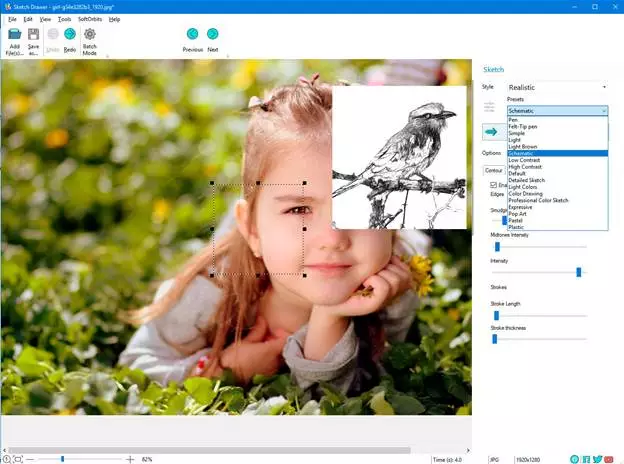 6. Click on the save button and the converted picture will be saved into your device free of cost.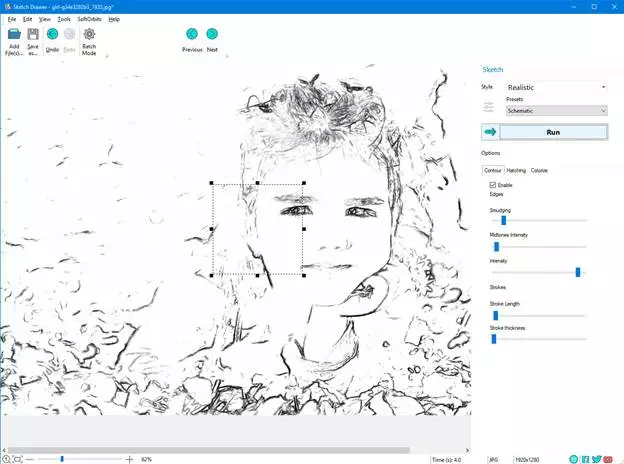 Why should you use them?
The old and time taking the task of converting pictures into a sketch does not attract the user these days. Users of modern technology do s not expect this process to be slower and time-consuming. The solution in this regard is the use of converter applications.
The converter software would require installation and an internet connection sometimes to work. You can get your desired results with a few clicks. Changing the old version process into a less time-consuming process is quite easier.
Convert Photo to Sketch online
To convert online, you only need an internet connection and you can find several websites and applications which are free of cost and provide maximum quality results. The features of different applications as compared to websites are not the same mostly. But you still have the opportunity to convert your pictures into wonderful types of sketches with a few clicks.
Nowadays, when artificial intelligence has revolutionized the field of technology and everything has become automatic there are remarkable programs to edit pictures. There are several websites that require only an internet connection to convert pictures. These websites do not ask the user to install specific applications to work such as the website of pencil sketches. image online allows doing so. Several other websites offer this facility online. To convert the photo into a sketch all you have to do is:
1. Open the website of the converter application to convert photos to sketch.
2. Now upload the picture from the device storage.
3. Some websites offer to select multiple pictures at the same time.
4. Add filters along with a sketch effect to make the results extraordinary.
5. Download and store the converted picture into your device.
Photo to sketch converters
Today, you are a click away from the vast world of online communities, website communications, cloud storage, and applications. In every field software development has Revolutionized the use of technology. In the field of photography, there is huge advancement as compared to just a few decades earlier.
The converter applications have made it far easier to edit, resize, add filters and effects to pictures. There are some limitations involved according to user reviews and usage of applications. Comparatively, the photo to sketch converter by SoftOrbits takes its place as it comprises fewer drawbacks.
Analyzing by comparing features and limitations of applications makes it easier to choose the best among them. Several applications are best known to answer the question of how to convert photos to sketch. Here is a brief discussion over some of the applications to analyze features and options offered by them.
Lunapic
Photofunia
Sketch Drawer
You can add pictures from different sources such as
URL, Facebook, or storage of the device.

The results can be shared on social media directly. Moreover, the results can be adjusted according to your desire.

It involves easier-to-understand options and has quite a simple user interface. It does not involve complex features so that the user does not find it difficult.

Moreover, the application has quick processing speed and the results are unique and quality pictures.

This incredible application provides several options to make the converted image more incredible. The features and interface do not involve any complexity.

The quality results this application provides are extraordinary and make it unique.

The limitation of this application is that the converted pictures and results are not clear pencil sketches. The quality of a sketch could not be achieved completely.
The capacity of uploading the pictures is quite small and sharing or uploading from and to social media is quite a complex task.
The only drawback involved in this application usage is that the processing speed is a little slower.
Conclusion
SoftOrbits is a popular website well known for its fabulous applications such as Watermark Remover and much more. The brief discussion over the features and options of different applications in the article will allow you to check the best application for your work. And let you analyze that the conversion of pictures into sketches is not a time taking or a long process.
You can easily try one of the photos to sketch converters to make the picture conversion task easier, after reading this article.