CRM:
CRM(Customer Relationship Management) is a set of Rules that a company can deals with its potential customers and it is the combination of strategies,practices and technologies that companies uses to manage and analyze its customers life cycle.
Why do we need CRM?
In order to get a better Results in Sales, every company needs a CRM Software which will help the organization to generate the leads and manage it's potential customers.
Market Researchers indicates that organizations that only concentrate on lead nurturing can generate more than 50% sales-ready leads, that to @33% low cost. Not every sales representative can sacrifices the time spended to Communicate with stronger leads, organizations should equip the CRM software in a proper way in order to cope up with functions that can nurture leads
There is a lot of craze for the CRM Softwares in the present markets but most of the talk Surrounded between two key players i.e Salesforce and Microsoft Dynamics 365 which are having some best features in the current market but the question arise that which one is better? I will give a briefing about these two key players below
1) Salesforce:
Salesforce is a CRM Software which is widely used by the organizations which involves mid to large size sales.While this software offers order and contract management and this tools is having some unique features like cross-sell knowledge base,therefore this tool more focuses on it's sales related activities rather than general business management.
Recently research specifies that Salesforce has spent more than 13 billions in the last 20 years on CRM applications which are delivered as a Cloud Services. The recent financial trend specifies that Salesforce is expecting to reach $16 billion at the end of 2020 and by 2023 salesforce will generate its annual revenue between $26 to $28 billion
By taking the overall expansion of Salesforce, it's not sure how much growth that is only driven by CRM. But Recent Research IDC(International Data Corporation)Specifies That Salesforce is having 20% of share in the CRM market which is growing continuously  and became one of the fastest growing sectors in the current IT Industries.
2) Microsoft Dynamics 365:
Microsoft Dynamics 365 is a CRM Software is used by the business professionals where the organization involves large number of sales and General operations management functionalities.It is a microsoft product works perfectly with the support of some the major microsoft tolls i.e microsoft word and excel and we can also purchase the modules like inventory management and accounting etc. it will not allow other third party related tools like quickbooks and mailchimp.
If we check the feature of capabilities the Microsoft Dynamics 365 CRM is having similar offerings when compared with Salesforce. But Microsoft Dynamics 365 has introduced after the implementation of Salesforce in the Cloud. Microsoft gained late CRM share and doesn't have the market value of less than 20% of the overall market, So Salesforce becomes one of the best CRM software providers in terms of market size.
Microsoft Dynamics 365 Vs Salesforce:
While we have taken in-depth research on these Two CRM tools and providing our findings in side by side in below table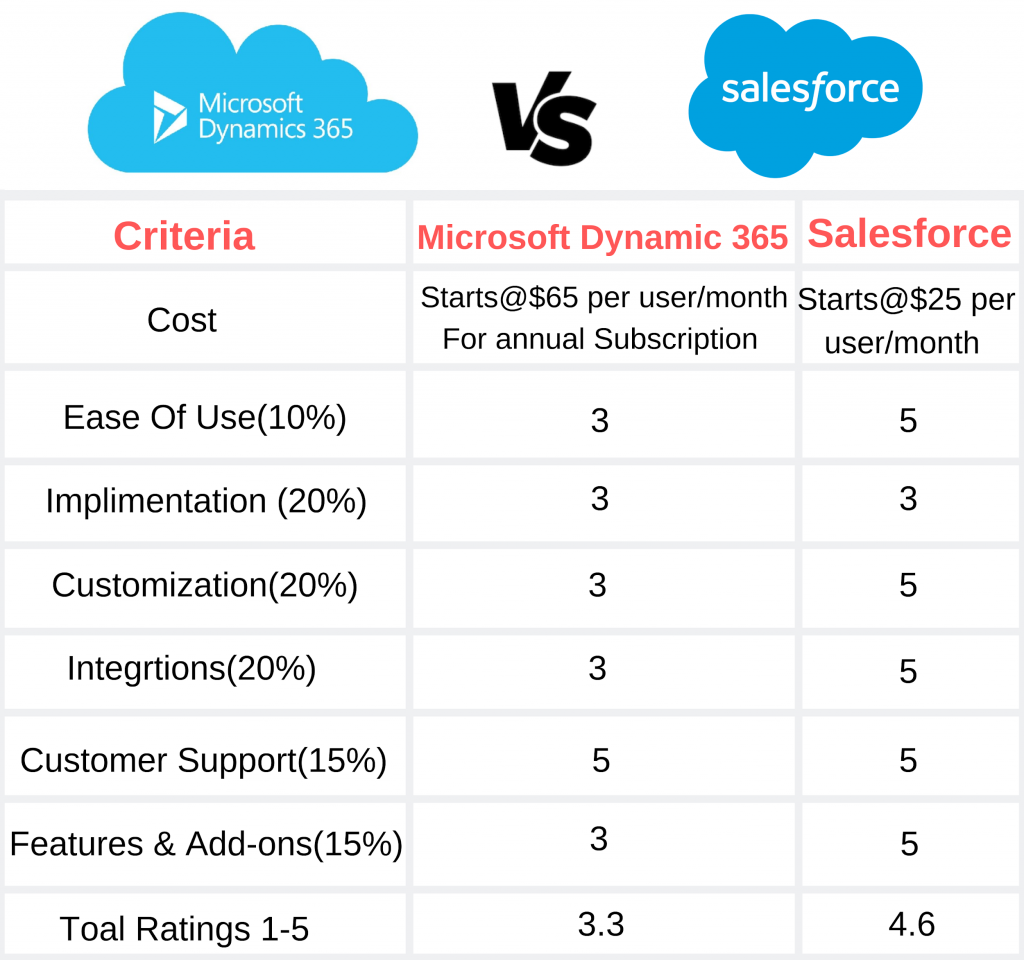 Cost:
Salesforce:
Cost of Salesforce has been divided in four types
Small business essential -$25/month/user (billed Annually)
Lightning Professional -$75 /month/user (billed Annually)
Lightning Enterprise -$150 /month/user (billed Annually)
Lightning Unlimited -$300 /month/user (billed annually)
Microsoft Dynamics 365:
Microsoft Dynamics 365 pricing has been designed for  various business professionals and has been divided into three types
Customer engagement plan -$115/month/user
Unified options plan -$190/month/user
Dynamics 365 plan -$210/month/user
Microsoft Dynamics 365 has charged higher charge when compared with Salesforce and the organizations have to carefully evaluate the cost and they can choose the perfect CRM software that is best suited for their organization.
Ease of Use:
Both the CRM Softwares having the same types of features but recently salesforce has invested heavily in making sure its applications consistently on multiple endpoints. in addition to this salesforce has also invested in Einstein platform which allows features like NLP(Natural language processing) and AI(Artificial Intelligence) to the end users. on the other side, Microsoft failed to update their current features and they are also committed to investing in similar NLP and AI technologies, but as AI applies to CRM, so Salesforce has become considerably ahead.
Implementation:
whatever features that are covered by the either Microsoft Dynamics or Salesforce gives a true"out-of-the-box" application experience.
Customization:
Microsoft dynamics makes it possible to customize the aspects of its CRM, it will always make ready to deals with the most complex projects. Salesforce will generate some lightning low-code development platform to customize the cloud applications which can be employed by power users as well as professional developers.
Integrations:
Microsoft Dynamics CRM offering fits with the context of dynamics 365 platform, which donates connections to Power Applications and Microsoft Power BI. It is also a natural extension of Microsoft Office-365.
On the other hand salesforce has invested in crm cloud, which integrates with highest offerings and with the acquisition of mulesoft, this offerings will more tightly integrate its CRM offerings.
Customer Support:
Microsoft Dynamics and Salesforce both are invested heavily in customer support. These two Softwares are having service like extensive partner networks that gives a customer with different types of support options.
Features and add-ons:
Both Salesforce and Microsoft Dynamics are having extensive features and make available wide range of complementary applications through their respective app stores. Among this salesforce has complimentary cloud applications that cover everything from marketing to customer support.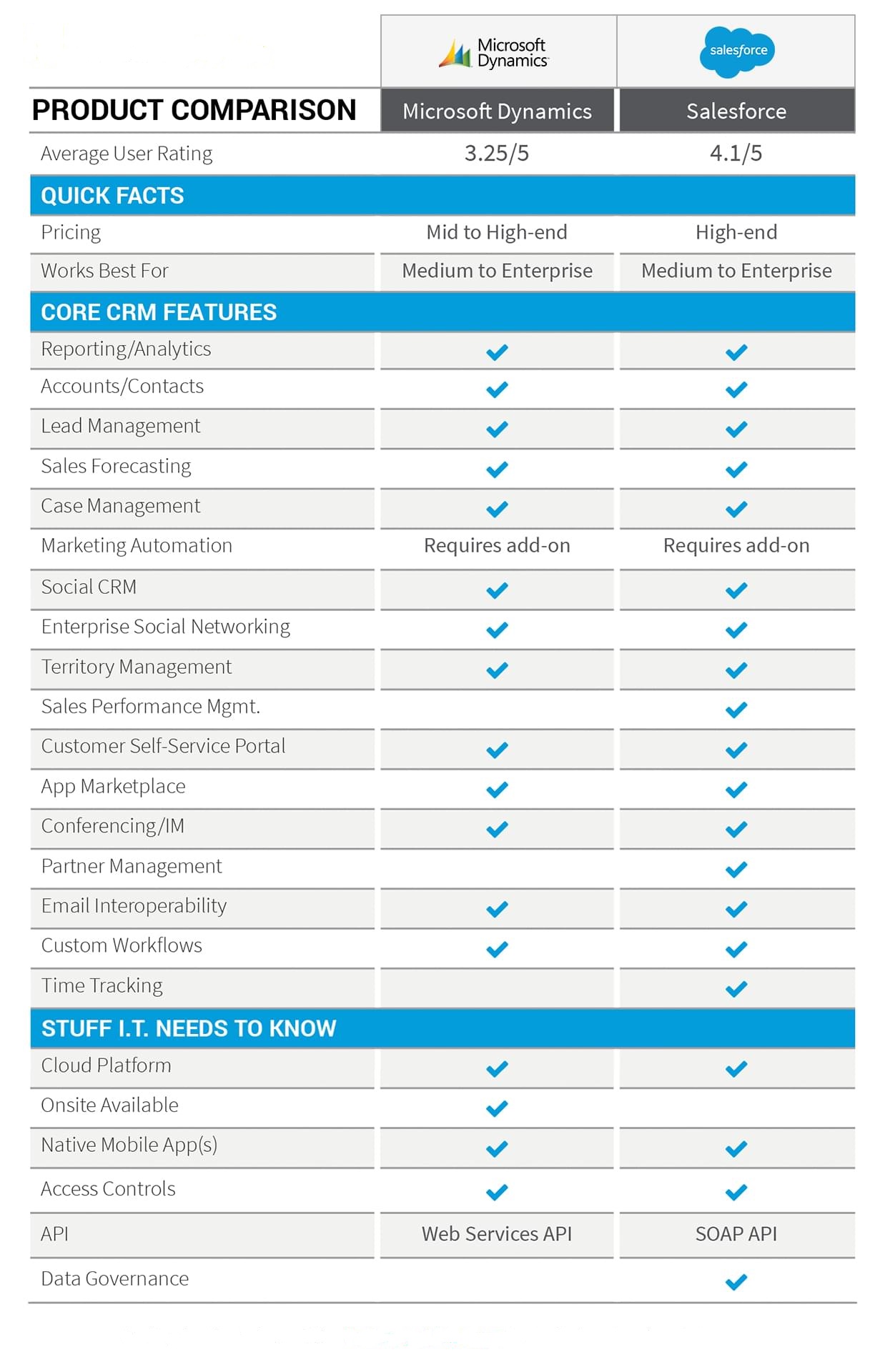 conclusion:
Microsoft Dynamics CRM is an ideal choice if you want to work with a familiar coding language.on the other way Salesforce can deals customer's data in the cloud and allow the  IT staff focus more not only to the projects that they got assigned  but also on other projects.But Microsoft CRM is ideal for your business because it offers better pricing and it is used widely by innovative enterprises.