People love SFDC Community primarily because it has a lot to give back to each. If you'd ever been to the Dreamforce, then you may know that the spirit of giving back is the motto of it. The same spirit resonates from the amazing members of the SFDC community too. In this article, we are discussing some of such amazing givebacks from the important members of the Salesforce community in terms of the Chrome extensions which can work wonders with Salesforce. Without much ado, let's start.
Chrome extensions for Salesforce
All these may not be ideal for one, but you can go through this comprehensive list to match your requirement with the capabilities of each and identify the ones which may work the best for you.
1. Force.com LOGINS

If you have multiple Salesforce accounts, then logging on to it multiple times could be trouble. So, by using Force.com LOGINS Chrome extension for Salesforce, one can manage multiple logins and quickly access the platform. This extension will store all your Salesforce account info like usernames, passwords, description, and security token, etc. and can group multiple accounts together and the users log in using a selected window.
2. Salesforce.com Quick Login

This extension of Salesforce Chrome is ideal for developers and Salesforce admins alike. It will help the users to login in easily and quickly. Just one click and it will show a pop up of users in the organization in the listing page, and you can select your corresponding user to log in. Also, while logging in, it will take you to the page where you had previously been.
3. Whatfix on salesforce

This is a multipurpose extension on Salesforce that can guide the users on this platform by providing an interactive walkthrough. This is a free extension for those who want to learn Salesforce themselves. Whatfix has a widget named self-help, which can list all such walkthroughs about Salesforce which is updated by the community. In a click, you can get access to the interactive walkthroughs, which are meant to handhold a beginner through each task. Apart from the basic version, Whatfix also has an enterprise edition which can be used extensively for Salesforce Onboarding and training.
4. Admin Assistant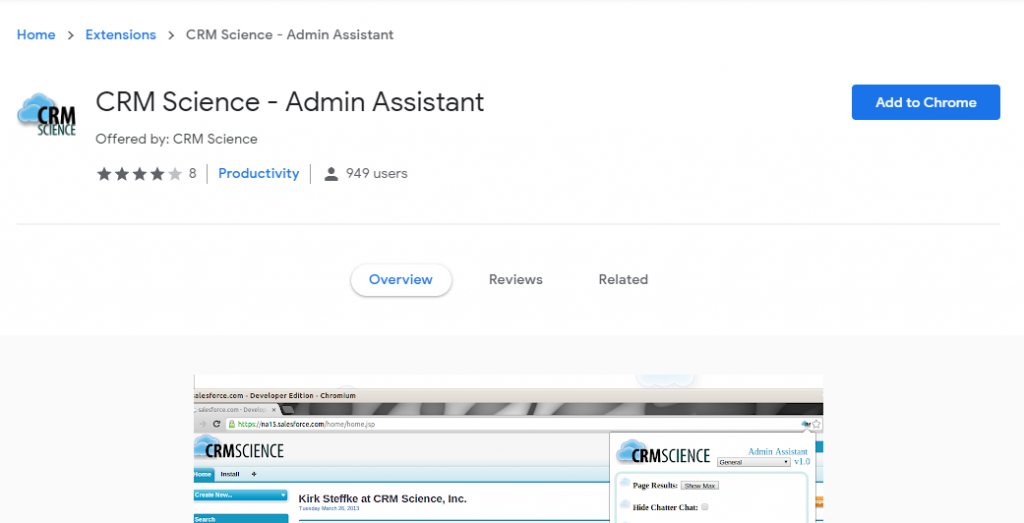 This is a highly functional toolkit for Salesforce admins which comes packed with many useful features. Some of the major features include but not limited to its ability to modify the user profiles, automate the update settings, mass deletion of records from given lists, floating chat window, and also to show maximum links of results on a single page at a single click.
5. Ebsta

Ebsta is another automated cross-reference for Salesforce, which is based on the web pages which the users work on. In a click on Ebsta, you can get all the cross-referenced records of Salesforce. For example, it can show you the record of a given prospect if you are exploring the Linkedin page of that prospect. Like Flosum ,Ebsta Chrome extension also will let you edit the records, update them, manage the tasks, and chatter, etc.
6. Force.com Utility Belt

Another mighty Chrome extension which will make your Salesforce experience easy. This extension is based on some focus features as:
• Quick Reference, which will let you to instantly look for the topics on the VisualForce, Apex, SOQL, etc.
• Search for the stuff to do a keyword search for any specific topic to find out the documentation.
• SFDC ID Converter to create Salesforce ID (18-digit) quickly from a basic 15-digit ID.
7. Salesforce Navigator

It is not an easy task to Navigate in and around the Salesforce platform. To make it easier and more comfortable, Salesforce Navigator is such an extension that will make navigation a breeze. You have just to type in what you have to do, and Navigator will show you how to reach to it instantly. This is an ideal tool for the Salesforce beginners until they gain some expertise on the platform for quick navigation.
8. Salesforce Searchbox

This is a simple search box to be displayed on top of all the configured items of the Salesforce setup with a list of fields for each displayed Object and a custom list of Visualforce pages and Apex classes. This search tool will also help you to filter out the list and display on the specific items against the keyword you used for search.
9. Salesforce Hotkeys

This is just released as the Beta version now, but one of the most useful Salesforce Chrome extensions for the users. This will help users to access multiple menus quickly while on Salesforce by using the keyboard shortcuts. You can check off the complete list of hotkeys listed out and then try to use them for more comfort.
10. Salesforce Inspector

This is a Chrome extension which can help you to look at the Salesforce metadata easily without the need to go and inspect it on the Salesforce user interface. For the developers and admins, it can be a huge time saver as there is a constant need for the developers to go and look it up for the field requirements, API names, field type, etc.
11. Record and Metadata Comparator

Going a step ahead to the Salesforce Inspector, Record and Metadata Comparator is an extension which lets the users compare any two random objects on the records and then highlights the differences. With this, you can easily identify all the missed fields, data types, changes in formula, value mismatches if any, etc.
12. SF Quick Metadata Lookup

This is another advanced search tool for metadata that will help you to find all Salesforce metadata instantly and easily. SR Quick Metadata Lookup will provide you with a custom search feature that combines both auto-search and select from the list to make searches easier. You can also filter metadata and search them based on the API names or labels.
Hope this compilation of the top Salesforce Chrome extensions helped you in making your Salesforce experience quicker and easier. We will try to enhance this list from time to time by adding more such useful extensions for the users.