A well-designed customer relationship management (CRM) is an excellent tool with any success-driven organization when it comes to saving valuable time identifying the opportunities and leads and automating the internal sales processes. It is a well-known fact that information helps business owners make smarter decisions and that's what a powerful CRM like Salesforce is designed to provide.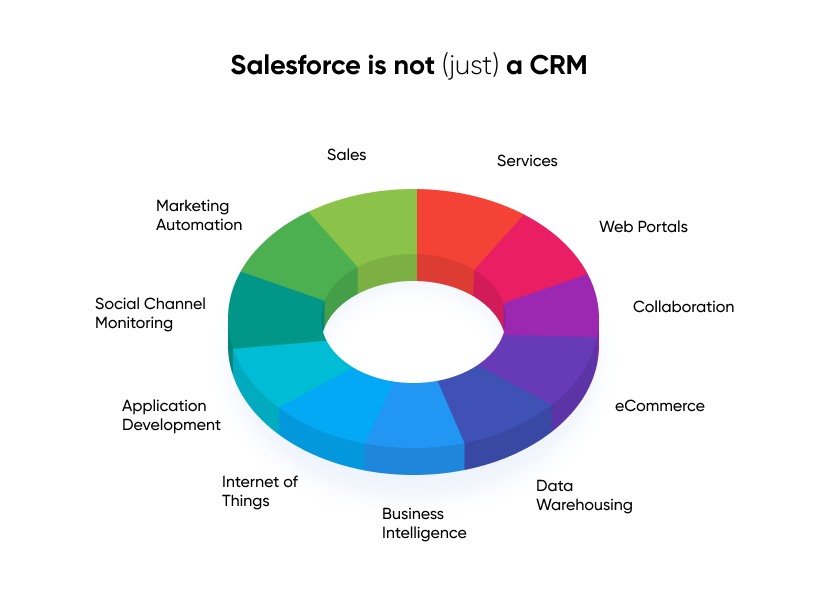 Salesforce, the world's number 1 customer relationship management organization, provides on-demand CRM solutions to organizations of all sizes. The products, services, and capabilities of Salesforce are explored and utilized by organizations to control interactions with vendors, partners, clients, and customers. Moreover, they are used to minimize costs and monitor & streamline business operations. The all-in-one solution, running on the cloud-based platform, provides customer service, sales management, partner relationship management, and marketing automation.
In this piece of information, we will be accessing Salesforce pros and cons and find out how Salesforce has managed to maintain its supremacy in the cutthroat CRM environment.
Salesforce CRM Pros
✔ Customizable dashboard: The Salesforce dashboard helps you access a wide range of report widgets that can be used to have a bird's eye perspective of how your organization is performing. The sales representatives of your organization can log in to the dashboard to access real-time summaries of customer data, customer journeys, and other relevant statistics.
✔ Cloud Solution: With Salesforce, you can easily take your business with you anywhere anytime as everything is placed in the cloud. Therefore, your business and sales, marketing, and service can perform better and experience improved productivity levels. If this is not all, the organization will need fewer resources on the ground to perform the core and other activities, making the information more secure.
✔ Cross-browser compatibility: From Chrome to Internet Explorer to Opera, Salesforce has its CRM compatible on all prominent browsers that organizations use today. This advantage makes it extremely easy to use products such as Chatter that is an online forum that lets businesses identify and utilize collaboration when they have a requirement for it.
✔ Quick start: Salesforce users don't have to install any hardware or software as the world's number 1 CRM organization lets them get started immediately after they've completed registration.
✔ Salesforce Mobile: Generally, cloud-based CRM systems offer mobile applications to users for simplifying the use of customer relationship management from tablets and smartphones. Today's tech-savvy users want their business tools to be accessible from any geographical location of the world. Powered by offline capabilities, the Salesforce mobile app performs on the iOS and Android operating systems. Your employees can easily access data even when they are on the move.
✔ Integrations: Salesforce Integration capabilities synchronize with and support operational procedures. By doing this, they facilitate sales, customer support, and marketing teams to stay connected with production, logistics, and accounting departments. Third-party integration services help deliver increase agent productivity, enhance customer service, automate data synchronization, and create single-point access for users.
Salesforce Cons
✔ Complexity: The greatest strength of Salesforce is also its weakness. Being a robust set of solutions, Salesforce is an excellent choice for many success-oriented small businesses. However, it may be overwhelming for microbusinesses that don't really require such a complex set of the software suite.
✔ Pricing: Pricing of Salesforce products may be a cause of concern for some small businesses. Despite the fact that the helpdesk solution provides affordable prices for small businesses, the problem may occur when it comes to software customization and if the small business prefers using third-party solutions. There are add-on costs for your organization to implement or customize the helpdesk solution.
✔ Problematic technical support: It has been reported by some users that the helpdesk solution provides problematic technical support, especially the tool's sales reps change from time to time quickly.
✔ Tricky reporting: At times, reporting even just basic information can be an extremely tricky affair when you use Salesforce. Some users are of the view that generating reports, compared with the rest of the features of helpdesk, is not as user-friendly.
Salesforce Pricing
Plan
Annual Pricing

($/user/month)

Main Feature
Sales Essentials
$25
Lead Management
Lightning Professional
$75
Campaign Management
Lightning Enterprise
$150
Advanced Reporting Features
Lightning Unlimited
$300
Unlimited Support
1. Salesforce Essentials: Opportunity Management, Lightning Dialer, Account and Contact Management, and Customizable Sales Process. Essentials include all basic customer relationship management functionalities to get the users started.
2. Lightning Professional: Extended Lead Management Features such as Rules-based lead scoring, mass email, lead assignment/routing, and campaign management make up the primary features. It is ideal for organizations that are looking to maximize productivity and sales.
3. Lightning Enterprise: This Salesforce Enterprise edition for Sales Cloud involves twice as much features with complete Customer Management, Lead Management, and Forecasting Functionalities. Lightning Enterprise comes powered with complete CPQ components for users to efficiently manage Contracts, Orders, and Quotes. The best thing is that pre-built AppExchange packages can be used to facilitate smooth functioning and inter-organizational collaboration to keep everyone perform in a coherent manner.
4. Lightning Unlimited: This Salesforce Enterprise Edition helps in the configuration of unlimited profiles. It is also useful for making unlimited business processes with Process Builder Tool and configuring page layouts along with permissions and roles. It includes components of Full Sandbox for free that allows the end-users to test and code in different environments without compromising on the quality and performance of operations.
On the surface, the pricing seems fair and reasonable but there are additional costs for lots of things just like with a lot of other enterprise software. The first hurdle is to access extra features or advanced functionalities and it is followed by integration with the rest of the Salesforce cloud services.
Salesforce's AppExchange (the leading enterprise cloud marketplace with ready-to-install apps, consultants, and solutions) has hundreds and thousands of applications but choosing the best for the specific requirements of your business is no small achievement.
Salesforce Competitors At A Glance
Microsoft Dynamics CRM
One of the most popular Salesforce's competitors, Microsoft Dynamics CRM offers the same features that are found in most customer relationship management platforms. It has an excellent reporting engine and boasts of a wide range of automation features. Microsoft Dynamics CRM drives marketing effectiveness and productivity through business intelligence, campaign management, and social insights in on-premise, cloud, or a hybrid solution.
Oracle Siebel
Oracle is a name the world associates with robust software suites and Oracle Siebel is no exception. The CRM platform of Oracle is designed to integrate with Outlook and offer tools that can be easily customized to meet the evolving requirements of a wide range of industry segments. Oracle Siebel delivers a seamless combination of analytical, transactional, and engagement features so that the end-users can easily and efficiently manage all customer-centric operations.
MotherNode CRM
A highly expandable and dynamic system, MotherNode CRM scales based on the specific customer and business requirements. Easy to configure, this application can be easily aligned with industry segments and customer requirements. The best thing is that editions and additional features can be integrated with an improved level of functionality as the businesses grow into themselves. The MotherNode CRM platform has the ability to enhance efficiency through automated workflows, collaboration tools, and integrated services.
Pega CRM
Pega offers a wide range of CRM applications and it lets businesses manage their sales, marketing, and customer service like other Salesforce competitors. Organizations through metrics such as customer satisfaction can quickly and comprehensively understand the consumer experiences, buying patterns, and purchase history. This data helps them identify and close deals faster. In other words, Pega CRM can be defined as the system that lets organizations put a system in place for gleaning business intelligence and predictive forecasting from everyday conversations and behaviors.
SugarCRM
Sugar, among the top competitors of Salesforce, offers a software solution that is designed for organizations ranging from small to medium-sized businesses or multinational corporations that require enterprise-level support. The list of its standard features includes those found in the majority of customer relationship management solutions along with sales forecasting, call center automation, and contextual intelligence from internal as well as external sources.
The collaboration tools of SugarCRM are embedded within the system to facilitate the breaking down of workflow silos and enhance employee engagement levels. In addition to these advantages, it provides users with access to contextual intelligence drawing both from internal as well as external sources. It also displays it through an intuitive dashboard so that the end-users can access actionable insights for their business.
Conclusion
Salesforce makes it extremely easy for sales, marketing, and customer service teams to achieve success by synchronizing their efforts under one centralized location. No wonder, Salesforce has gone on to become the industry standard as it quickly adapts and evolves to the specific requirements of businesses. The fact that it is endlessly and effortlessly customizable makes the Salesforce CRM platform an excellent choice for every business.
When it comes to customization and value-added CRM features, Salesforce is far ahead of its competitors that may be offering lower prices but fail poorly when it comes to advanced functionalities and performance. If you're looking for a power-packed business suite to transform your business, Salesforce should be your first choice for obvious reasons.