Have you ever been plagued by paperwork, applicants, and other administrative tasks?
You must have the wish to have a way that can eradicate all the hassles!!
But, you end up thinking that your tasks will not get organized anyways!!
It is known that the recruiters and the agencies have a complicated job. Handling the hundreds and thousands of applications/resumes is quite a time consuming and stressful job. We conclude that there is no method that files and organizes the incoming documents.
Despite the fact that there is a way that can help out the hiring managers and the agencies to manage everything but is also economical as well.
It is nothing but the Recruiting Software. Nowadays, the management software is making a remarkable impression in every industry. And, has given many reasons to choose it without any doubt.
These are known for making the daily business operations a seamless task. And, the hiring agencies are also adapting it with open arms
What is Recruiting Software
This solution has a set of tools that are used for streamlining the hiring process with many data sources to find the best candidates.
The significant operations it performs are; streamlining follow-ups, screening applicants, and offers data keeping the effectiveness of the recruitment model intact.
For some years, this CRM software has risen adequately. It is because of the reason that the labour market has become complicated and fiercer. The agencies are anxiously hiring experienced professionals to grow their business needs. Not to mention, there is also a huge decline in the average tenure per employee.
Also, the global market research company Fortune business insights have discovered that the Appointment CRM software or recruitment software market will reach $3,000 million until 2025.
The software is automating the hiring process and is aiding to save time. It is also enhancing the aspirant experience as well. With the rise in the demand for considering it, many recruitment software came into the market.
Here, in this article, we will give you the nine best recruitment software and tools. You can choose the one that fits perfectly in your business needs.
Why adopt Recruitment Software
Now, we know that the recruitment software is highly in demand. There are numerous benefits it holds. Check out below:
● Track candidates by hiring and meetings process
● Check database records easily
● Boosts social reach
● Match available jobs with the relevant applicants as per the records that describe their skills
● Conserves time doing tedious tasks
● Provides data collection effortlessly
● Offers automation to the recruiting process
● Develop a business's sourcing strategies
● 24X7 accessible
● Provide historical documents for hiring managers
● Create database records for every applicant
● Maintain historical records automatically for applicants
● Simply extract data from resumes and enter in database records
● Access extensive information of an individual's former occupations
Let's move towards the aim of this article and find the leading CRM tool for recruitment.
Leading CRM Software for Recruitment
1. HRM wage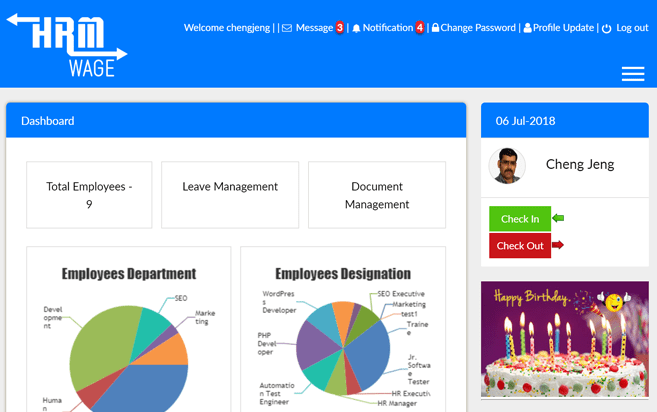 This CRM software helps to execute daily HR-related jobs seamlessly. HRM wage is one of the best software. It performs various tasks, like tracking the employee's performance, handling interviews of various job aspirants, salary calculation, leave management, etc. It reduces the work pressure that every HR manager faces daily while handling the operations. So, without wasting any further time, get this software today.
Overview of HRM wage Features
● Automatic Attendance Tracking
● Automatic Document Verification
● Paperless Onboarding
● Payroll Management
● Non-Compliance Notifications
● Easy Review Of Employee's Performance
● Remote Check-In Facilities
● Leave Balance Calculator
Website: https://hrmwage.com/
2. Zoho Recruit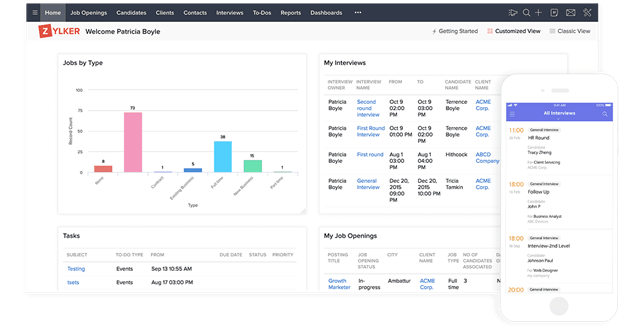 This is the web-based recruiting software for small and mid-size businesses. It has acquired the Customer's choice award and Great Customer Support Award for its outstanding range for the easily accessible and customizable features. The features are meant for professionals and for the novice. Zoho provides many specialized applications for users to collaborate with their competitors to enhance business volume. Apart from the flexibility and usability, it also is known for satisfying the transparency need and saves time accordingly.
Overview of Zoho Recruit Features
● Advanced Search
● Applicant tracking system with CRM
● Candidate status
● Careers website page
● Create job openings
● Emails inside Zoho Recruit
● Embed resume form
● Import from Zoho CRM
● LinkedIn integration
● Parse resumes
● Publish job openings
● Resume database
● Schedule interviews
● Track source
Website: https://www.zoho.com/recruit/
3. AppointEze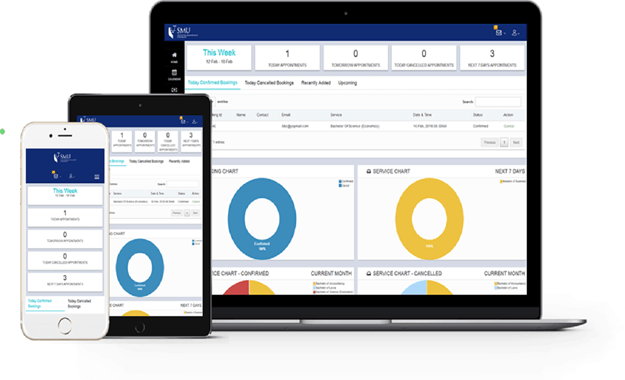 This recruitment software is specially designed for businesses of all sizes (small, medium, large). It is also termed as lead management and appointment scheduling software. It let you handle all the follow-ups and the leads and helps to find the leads in the sales pipeline. As a SaaS software, it amalgamates the outstanding feature that can suits your business objectives perfectly. It permits to accept the appointments online for the aspirants to get the demanded service in an easy and hassle-free manner.
Overview of AppointEze Feature
● Calendar Integrations
● Group Meetings
● Website Integration
● E-Mail Conversations
● Client Profile management
● Track Leads
● View Stats
● Appointment Reminders
● Automated Scheduling
● Calendar Sync
● Mobile Access
● Online Booking
● Online Payments
● Recurring Appointments
Website: https://appointeze.com/
4. Jobvite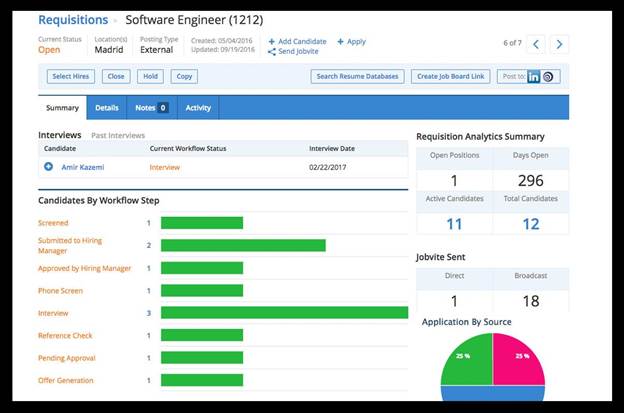 Jobvite is a cloud-based applicant tracking system (ATS) software that works for hire, insourcing, and onboarding the best talent.
It allows businesses to create a branded career website for aspirants. This software provides several tools for handling onboarding compliance and experience.
Jobvite amalgamates the CRM and the recruitment marketing module to permit the aspirants to develop the talented candidates that can transfer the brand campaigns and the communications.
Overview of Jobvite Features
● Applicant Tracking System.
● Creates talent pools and social campaigns
● Jobvite Onboard for mobile-friendly Onboarding portal.
● Create or update the career website.
● Jobvite Video will assist in the screening of candidates.
● Mobile App is applicable for iOS and Android devices.
● Jobvite Text to send text messages to active and passive candidates
Website: https://www.jobvite.com/
5. Bullhorn ATS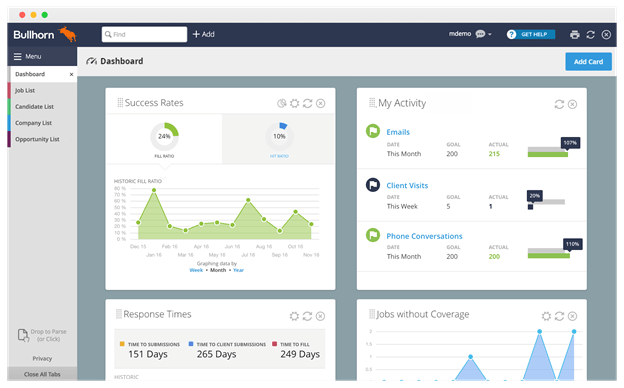 Manage every single part of your agencies' recruiting lifecycle with the all-in-one applicant tracking system (ATS) and recruiting software. It is a feature-rich and easily accessible tool that assists the companies in cutting down the time to fill and increase job orders. Bullhorn ATS solution completes 43% of job placements. Several staffing companies rely on this software for the placement of the capable aspirants in distinct roles and for developing a relationship with the customers.
Overview of Bullhorn ATS Features
● Candidate Tracking
● Internal HR
● Interview Scheduling
● Job Posting
● Onboarding
● Recruiting Firms
● Resume Parsing
● Resume Search
● Self Service Portal
● Workflow Management
Website: https://www.bullhorn.com/
6. Lever Software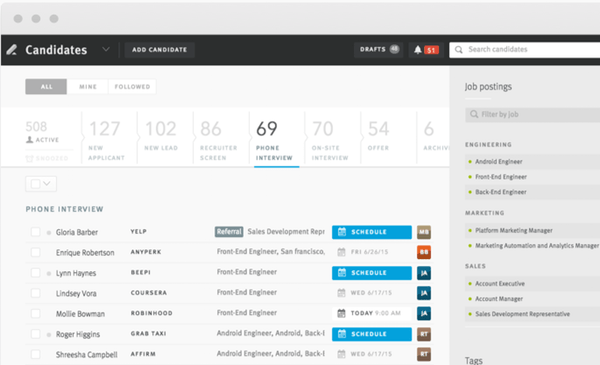 As a cloud-based recruitment software, it assists the recruitment firms in hiring the talented aspirants and for sourcing the interviews. Lever aids the businesses of all sizes to nurture, source, and manage the aspirants from one place only. It amalgamates the employee referral functionality such as shareable job links for Twitter, Facebook, and LinkedIn. This solution also incorporates the Google chrome extension to permit the employees to use the referral in the company pipeline of the browser. It offers three solutions for assisting you in the recruitment process. The lever can be linked with many tools.
Overview of Lever Features
● Assessments
● Candidate Tracking
● Job Posting
● Recruiting Firms
● Resume Parsing
● Resume Search
● Self Service Portal
● Workflow Management
● Interview Scheduling
Website: https://www.lever.co/
7. Greenhouse Software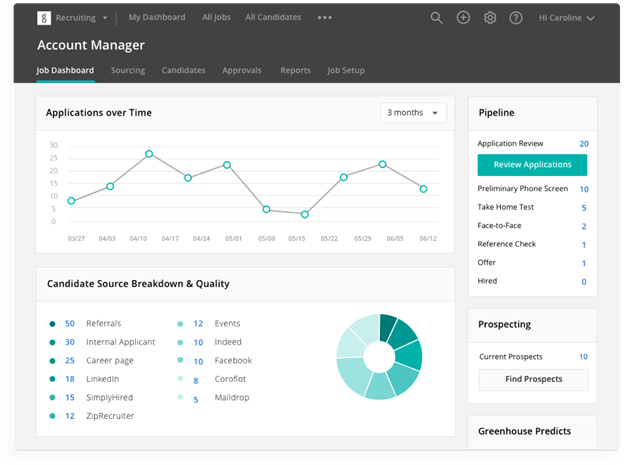 The greenhouse is a Recruiting and Applicant Tracking tool that assists the businesses in getting suitable candidates, handle focused interviews with recruiting process optimization.
It commences its hiring process by discovering the right aspirant from different sources like in-person events, job boards, through in-house referrals and external agencies.
This software also has a mobile app that is accessible on android and iOS devices. It is best for medium and large businesses. Get this software, stay ahead from your rivals by finding the potential candidates.
Overview of Lever Features
● Assessments
● Background Screening
● Candidate Tracking
● Internal HR
● Interview Scheduling
● Job Posting
● Onboarding
● Resume Parsing
● Resume Search
● Self Service Portal
● Workflow Management
● Pipeline view
● Scorecard with key attributes
● Customizable email templates
Website: https://www.greenhouse.io/
8. JazzHR Software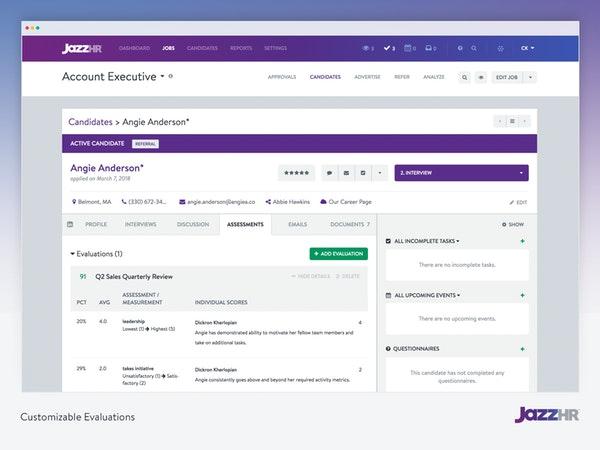 JazzHR is an applicant tracking system, Software-as-a-Service (SaaS) and recruitment software that assists in the whole recruitment procedure. It holds the exceptional features and functionalities such as Job posting and digitization to offer process.
With this, the agencies can add the jobs on their career website and can list the job on the host career page. This software provides support in the form of free and premium social job sharing and job postings. It offers HRIS integration and uses the system and upload the resumes in large quantity. JazzHR works perfectly for small and medium-sized businesses.
Overview of JazzHR Features
● Applicant tracking
● System Security & Software Management
● Applicant Workflow
● Application Integration
● Application Sharing
● Applications Management
● Recruiting Management
● Resume Database
● Candidate Management
● Collaboration Tools
● Interview Management
● Job Requisition & Posting
● Onboarding
● Self Service Portal
Website: https://www.jazzhr.com/
9. iCIMS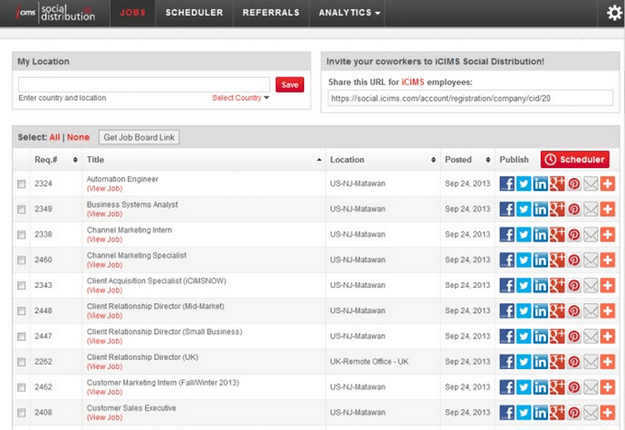 This recruitment software provides high quality products for the hiring life cycle and is accessible being the unified talent acquisition tool. It offers a solution for Employee Onboarding, Offer Management, Applicant Tracking, and CRM. iCIMS permits you to transfer the targeted emails for improving and retaining the engagement. It works adequately for all business sizes. This provides modern agencies with the features they require for recruiting.
Overview of iCIMS Feature
● Assessments
● Background Screening
● CRM
● Internal HR
● Interview Management
● Job Posting
● Job Requisition
● Onboarding
● Recruiting Firms
● Reference Checking
● Resume Parsing
● Self Service Portal
Website: https://www.icims.com/
Concluding Remarks
And, that's a wrap!! We have mentioned the promising recruitment software for your convenience. Consider opting for dynamic and regularly growing land space with the new market players getting everyone's attention.
Hence, it is evitable to research appropriately, check its pros and cons, determine your requirements, and then choose the one.
We hope you liked this article. If there are any queries and suggestions, then let us know in the comment section below.
Thank you for reading!!