As cloud infrastructures deepen their roots into business environments, offices are on the lookout for a diligent system that can help create a truly connected workplace.
SharePoint offered by Microsoft is one such software platform that enables organisations create centralized information sharing portals or SharePoint sites. These sites can be customized as per business requirement and can be grown into advanced use cases.
Underneath the SharePoint sites, is a easy-to-manage document storage system which allows your organization to collaborate on important files on the go.
But, is SharePoint the answer to your data sharing needs? Let's investigate by going over SharePoint Pros and Cons. We'll also look at some alternatives to SharePoint.
Microsoft SharePoint Pros Cons and Competitors
SharePoint Pros for Business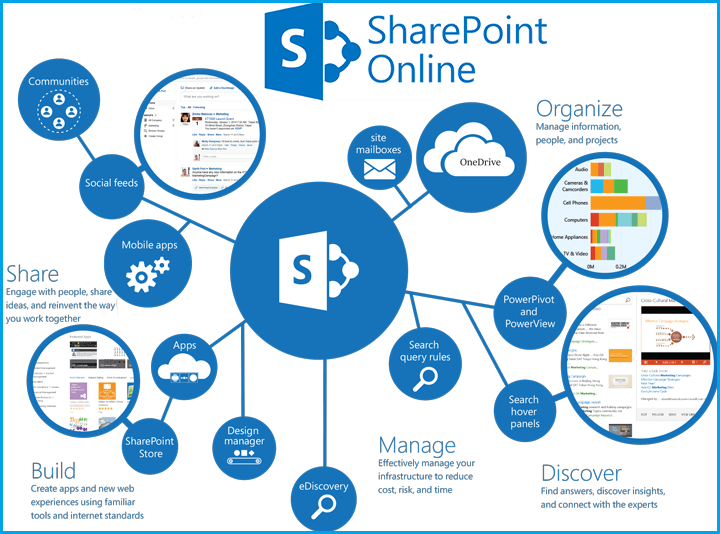 SharePoint belongs to the Microsoft Family
SharePoint is one of the MS products which means your go to MS apps such as MS Word, MS PowerPoint etc can be directly synced with SharePoint without complex setup.
You can use other MS products such as MS Azure with SharePoint, and get to enjoy a number of built-in easy integrations. This would be a breath of fresh air for your IT engineers who would be setting up SharePoint for you unless you're outsourcing it to a SharePoint development company.
SharePoint has a very high penetration into the Office Intranet market. Nearly 80% of the Fortune 500 companies use SharePoint for their intranet requirements. The primary reason for the same being MS Office is the standard document creation and management tool in the industry. SharePoint's native integration is hence, very lucrative.
SharePoint has multiple use cases
In a number of scenarios, workplaces require more than just document sharing. They need a full-fledged employee portal or a social media platform for their office. SharePoint is built to suit such needs.
It works like a platform for building custom solutions for your office. You can integrate it with ready-made applications to meet certain needs or you can formulate a totally new use case for yourself.
Developing a custom solution on top of SharePoint requires coding knowledge but it's much simpler than creating the same thing from scratch. The possibilities are endless.
A few common use cases of SharePoint are;
Employee Help desk Portal
Project Collaboration Tool
Knowledge Base for your Project
Employee Directory Tool
Discussion Platform
Inventory Tracking System
Personal Web Profile for Employee
Surves
Business Intelligence
As you can see that these use cases are pretty nifty. SharePoint, hence, gives you a lot of freedom to experiment.
Great Storage Solution for Documents
One of the key features of SharePoint is document storage. Microsoft has improved the feature a lot over the years, which helps you always keep a track of documents.
You can store various kinds of documents and access them from the SharePoint portal site. The documents are stored in a centralized storage which is cloud based, offering access from anywhere in the world. In large offices with multiple floors and rooms, this feature truly shines bright.
You can also departmentalize the storage according to the structure of your organization. Each department can have their own storage and member access so that chaos can be avoided.
Document Handling is Refined
Storing documents is one thing but when it comes to sifting and sorting through them, whole new set of dynamics come into play.
Thankfully, SharePoint comes with a refined system for document control. You can collaborate on a single document with multiple users accessing the same document in real time.
Further, you can also effectively track the versions that a document has gone through. There's a system that tracks the complete history of changes made to a document, allowing easy interpretation.
Finding your key documents is also easy as SharePoint offers advanced search capabilities for all the documents. Documents can be protected using member access restrictions and can be shared easily via email.
All of these points make life easier for employees who have to go back-and-forth on reports and charts with their managers.
Build a multi site System
More than 60% modern workplaces operate in a multi-tiered environment that comprises of several departments. In such a scenario, a single portal for all departments may not be a good idea.
SharePoint allows for a robust approach for this requirement and lets users deploy multiple websites for making a connected environment for all departments. Roles and authentication can be managed for each department separately for access.
SharePoint Cons for Business
Costs
SharePoint costs have been a debate among business users for a long time. Currently, SharePoint is offered in two tiers – The standard Tier offering three SharePoint plans and a The Small Business Tier offering three separate plans.
Let's look at the standard tier first
SharePoint 1 – $5 per user per month
This plan offers various SharePoint features with 1 TB One Drive Storage for every user. It does not include licenses for Office applications such as Word, Excel and PowerPoint.
If you already have licenses for Office applications, then this plan isn't so costly. For a business size of 20-50 people, your monthly bill would skirt around $100-250. It can be assumed as costly for certain business types who are primed towards using  G-Suite like products that offer more capabilities for a lesser price.
SharePoint 2 – $10 per user per month
This plan is just an upgrade from the previous ones with One Drive capacity tweaked to Unlimited per user and certain data validation features. Enterprises that produce a lot of data may benefit from such use cases. Otherwise, you get the pretty much the same thing in this plan.
This plan can be considered costly as G-Suite offers Spreadsheets, Docs and Slides, App Scripts and even video conferencing in this budget.
Office Enterprise E3 – $20 per user per month
This is the full blown plan that offers everything from Office apps to additional services like MS Exchange, Yammer and Skype for Business. All of it is accompanied by business email and secure cloud hosting for your critical business data.
Such a plan is although lucrative for users but ends up being costly as for just 50 users, you're looking at a price of $1k per month which may exceed the amount you'd pay to your cloud services provider the Small Business Tier.
The small business tier offers discounted plans for a commitment period of one year. The prices have been reduced to $8.25 per user per month containing access to Office Apps and $12.50 per user per month containing access to resources offered in the $20 plan.
Overall, this plan is better paced for the average user but still costs a significant amount as compared to other productivity providers.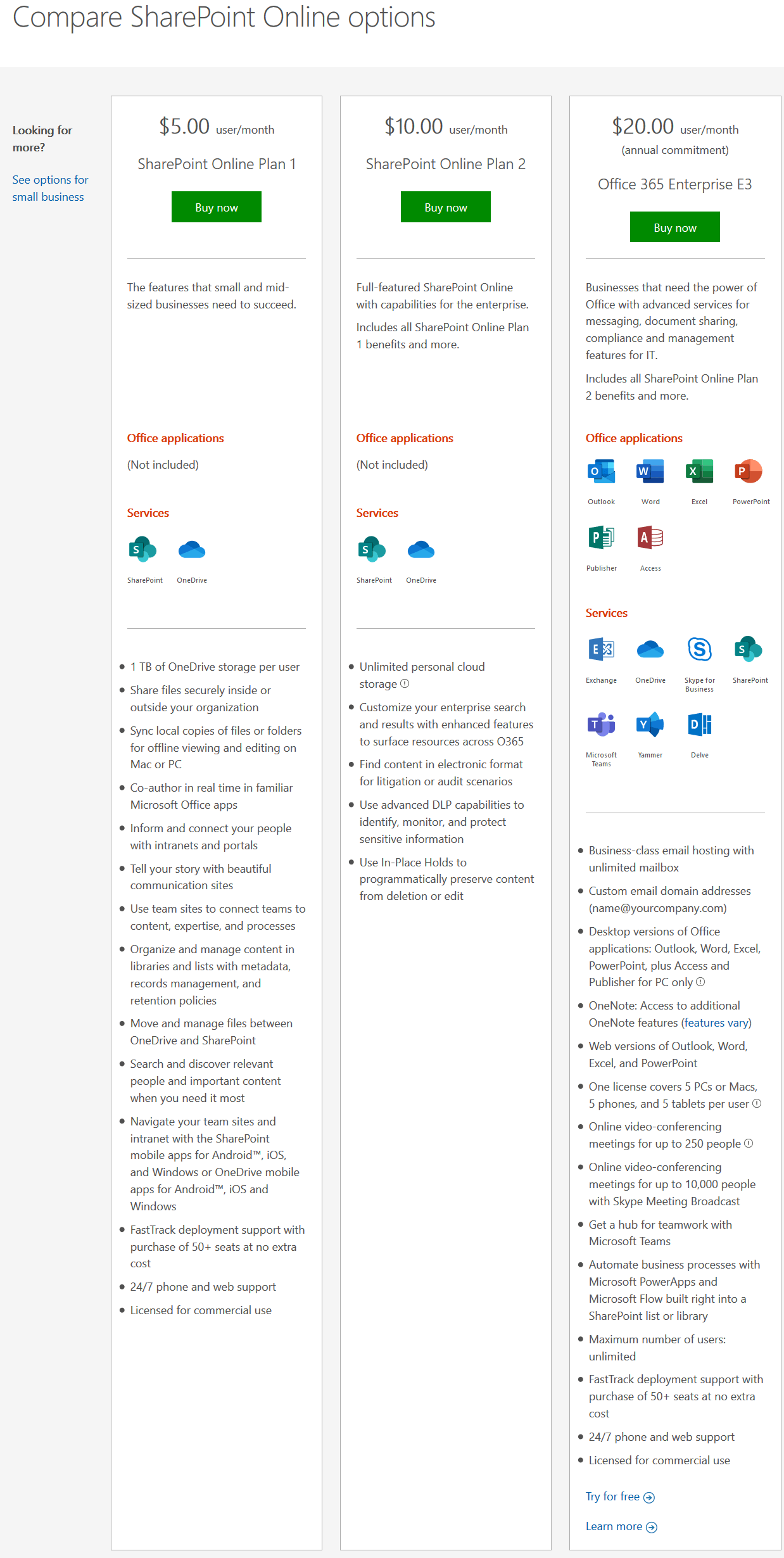 Developers are required for Setup
Unfortunately setting up SharePoint is far from a cake walk. As it's a standalone server application, it needs intricate steps for setting up and using.
It's safe to say that in most cases, you will need the help of a developer to do it. There are many SharePoint development companies that offer consultation and support for this purpose. Point in making is that you won't be able to suffice without a SharePoint developer in case you're looking to use SharePoint in your office.
Further, all kinds of complex use cases such as a IT help desk or a project management portal using SharePoint will require more developer effort and time. Which makes SharePoint tricky to handle in case you're not the expert.
Training is required
Some initial training is required to get used to SharePoint. If you're moving to SharePoint as a new solution in your organization, you will need to conduct a few workshops to prime everyone on it.
Although the UI and system is pretty intuitive, you would not want your employees spending time in figuring out stuff on SharePoint, for which training becomes an essential part.
What we've concluded
SharePoint is a productive application for modern workplaces, helping them synchronize data and collaborate in a much easier way. It serves a variety of use cases that can be specific to every business.
On the other hand, it's a little costly and requires professional support such as of a SharePoint company that develops solutions for it. It also has a mildly steeper learning curve.
Competitors
Google Drive / Suite: Google Drive is the biggest competitor for SharePoint as it replicates most of the features of the platform, with lesser cost constraints. The newly launched G Suite platform allows users to create custom email accounts and access all kinds of SaaS applications for office use.
The pricing starts at around $3 per user per month and goes up to $20 per user per month depending upon requirements.
SharePoint Alternatives
Workzone
Box for Business
Confluence
Intranet Connections
Igloo
Alfresco
Samepage
Huddle
Liferay Social Office
Nuxeo
Jostle.me
Wix
WordPress
Process Street
Redbooth
ONLYOFFICE
Podio
Papertrail
Dokmee
Webmerge
Wrike
eXo Platform
MangoApps
Yammer
Jive
HyperOffice
Crowdbase
Bloomfire
Glasscubes
G Suite
Box
Cyn.in
IBM Connections
Salesforce Community Cloud
SAP Jam
Confluence
Confluence takes a similar approach to centralization of data but is more directed towards a project management software rather than a file storage system. It works in the same way as SharePoint and allows collaboration on various file types inside the software.
The pricing allows up to 10 users per month for $10, which is cheaper than any of the competitors mentioned in this list.