In the world of search engine optimization (SEO), using "backlinks" to rank higher on search engine pages is one of the most popular strategies. In fact, the number one result in search engines has an average of 35,000 backlinks!
If you find that your competition is consistently ranking higher in search results, they're probably utilizing backlinks in a much more efficient way than you are currently.
Even if you're not an SEO expert, you realize the importance of backlinks. But with the plethora of information available regarding backlink tools, it can be quite overwhelming to choose one.
So, what are backlinks?
In simple words, a backlink is a link that connects users from another website to your website. Social media posts, content on other sites, and web directories are all responsible for bringing organic traffic to your site.
Quantity vs. Quality
There's an ongoing debate about what matters more: the quality or the quantity of backlinks.
Here's the thing: A number of sites are dying to add backlinks as it improves their rankings as well. In the eyes of Google, backlinks on these low-quality sites generate low-quality backlinks, which may have the opposite effect and hurt your ranking.
So where do you draw the line and start working on high-quality backlinks?
Brian Dean, the founder of Backlinko and a leading expert in the SEO industry stated:
"I started my first blog way back in 2010. Back then, spammy black hat link building was all the rage. These black hat links worked okay until Google unleashed its Penguin update. This update wiped out 98% of my Google traffic literally overnight. That's when I decided to go all in on white hat SEO."
So with Google's 2012 Penguin update, there's a high chance that going down the path of generating thousands of low-quality backlinks to your site is a sure¬-shot way of getting blacklisted.
Again, if you only generate a few backlinks from high authority sites, it still won't budge your ranking as much.
Developing an SEO strategy requires paying close attention to both of these factors instead of just one.
Why you need backlink checker tools:
No matter which point of the distribution curve you're going to lean toward, you won't get anywhere without analyzing data.
So, in this post we're going to discuss some of the tools you can use to understand where you're getting all the traffic from.
Each of these 8 tools has its pros and cons. You can choose any of these resources based on your requirements.
7+ Best Backlink Checker Tools of 2022 (Free & Paid)
1. Ahrefs (Free and Paid)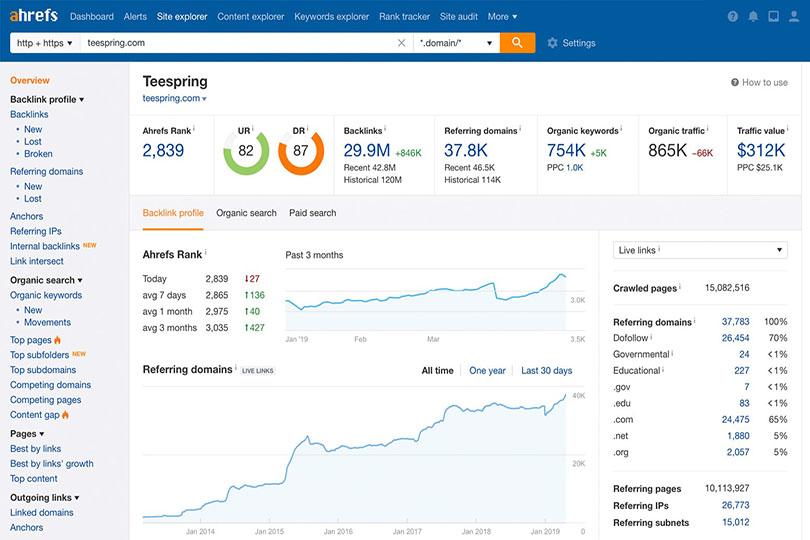 If your competitors have huge marketing budgets and aggressive SEO strategies, it's probably a good idea that you invest in Ahrefs backlink tool.
Ahrefs is one of the most popular tools and packs a ton of powerful features.
It has its own web crawler that is only second to Google's and their backlink index is updated with fresh data
every 15 minutes.
Before you start working on any business strategy, the first step is to analyze the industry and learn what your competitors are doing and Ahrefs is great for conducting competitor analysis. It provides you with the number of generated backlinks for any website domain or website page. Domain Rating (DR) and URL Rating (UR) provide you with an insight into your competitors' SEO practices.
If your competitor has recently hired new backlink services to improve their traffic you'll obviously want to check out their level of growth after the implementation. Ahrefs generates graphs that show you the change in the number of backlink profiles over time.
With the paid version, you have the option of generating a spreadsheet, which breaks down the backlink report according to different factors such as language, platform, DR, UR and link types. Information on referring domains can be used to launch your own SEO campaign to counter.
Another awesome feature packed in the paid version: estimate the amount of organic traffic a site is likely to receive. This feature is missing from some other popular backlink tools.
To eliminate poor-quality backlinks Ahrefs offers the feature of identifying spammy backlinks that can be removed by the owner to bump up their site ranking.
If you use the free version, you'll have access to only some of their features. Their free plan offers a user to analyze up to 10 backlinks along with 3 comprehensive reports in a month.
Users can also carry out two domain comparisons and 2 batch analysis.
The professional plan offers 5000 backlinks per request and 100 backlink reports in a month.
2. SEMRush (Paid)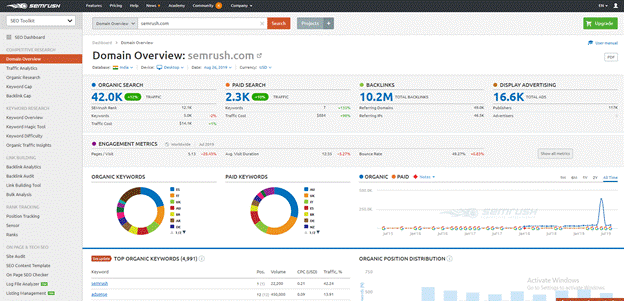 SEMRush, provides a host of features.
Imagine you've spent days compiling a list of links that have not yet been crawled by search engines; but in the end, you realize that your SEO tool doesn't allow you to upload your personal list. That would be frustrating as hell. SEMRush helps you in this regard by giving you the option of uploading personal external backlink lists in a .csv format. In addition, they also use data from search engines.
For backlink analysis they use 45 different factors to rank the list of backlinks. Google's Disavow Tool allows users to report spammy backlinks to prevent link-based penalties.
Growing businesses need to invest time in turning social media mentions in backlinks. If you're in the same boat, SEMRush's unique feature of locating external site mentions can help you leverage social media mentions to increase your ranking on search engines. After you're done gathering hundreds or even thousands of backlinks to analyze and optimize, the next hurdle is reaching out to the source of those backlinks.
SEMRush realizes how time-consuming this task is and automatically generates a list of sources, along with the option of reaching them directly. Their dataset may not always be accurate, but it can save you a lot of valuable time.
For data integration purposes, you can seamlessly integrate data from other sources such as Google Search Console and Majestic's SEO backlink data.
3. Majestic SEO (Free and Paid)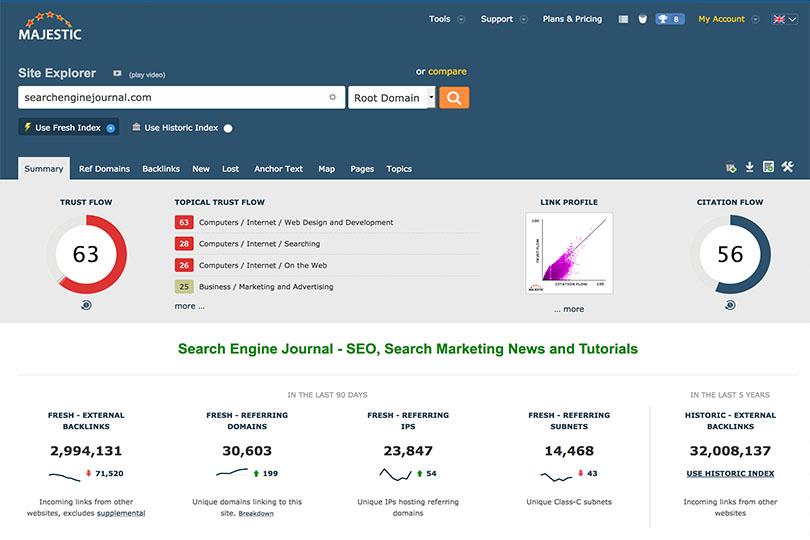 Most backlink tools have a limited dataset of links in their directory. That wouldn't be an issue if you were running a site with a large undifferentiated target audience. But if your business targets a niche market segment you're going to want your backlink tools to have an extensive link directory. If that's the case, Majestic SEO will suit your needs the best.
In terms of size, Majestic SEO boasts one of the biggest collections of links. This list is updated regularly and ranked according to their criteria. They can find deep links that other web crawlers are unable to reach.
They're based in the UK and their service stands up to its name. It has its own web crawler that indexes millions of pages and also has its own search engine! It's a great tool for professionals to analyze their SEO strategy, analyze competitors' strategies and get ahead of them. If you go ahead with the choice of Majestic SEO, you'll gain an advantage in your competitor analysis. You can download comprehensive analysis of your competitor's backlink profile and tweak it according to your own needs. You can also filter by anchor text, link types, merchant ID, crawl dates etc.
If you're constantly working on your SEO strategy you have probably developed the habit of going through each link's backlink authority. People who like to check backlink authority as they browse the web can install the Majestic Backlink Analyzer browser extension. With this simple extension, you can see who's linking to the page you're visiting without having to leave the tab.
The 'Trust Flow' and 'Citation Flow' are visible beside the URL bar along with a summary. 'Trust Flow' shows how closely the site is linked to a trusted seed site and 'Citation Flow' measures the number of sites that link to that page. If the analysis piques your interest, you can simply 'Add to Bucket' for a later time.
According to your needs and level of expertise, you can choose from 3 plans: Lite, Pro and API. Their monthly subscription prices are $50, $100, and $400 respectively.
You can visit their pricing page for a complete list of services attached with each plan.
4. OpenLinkProfiler (Free)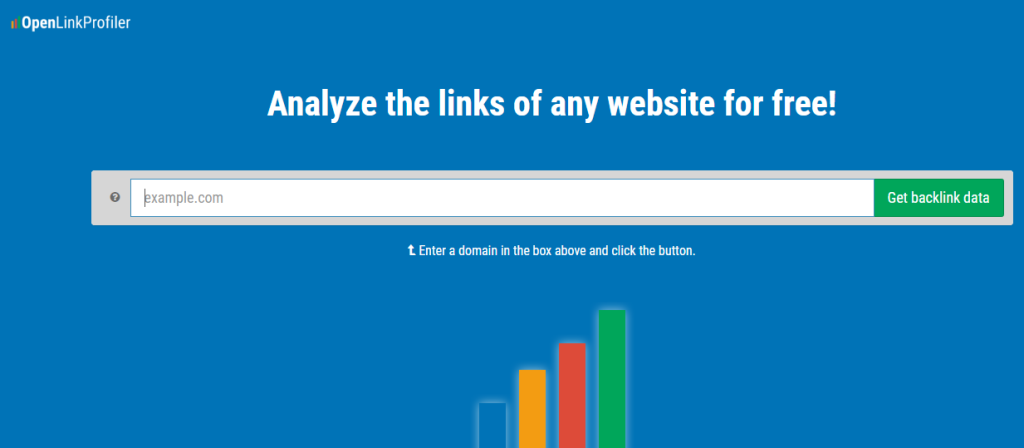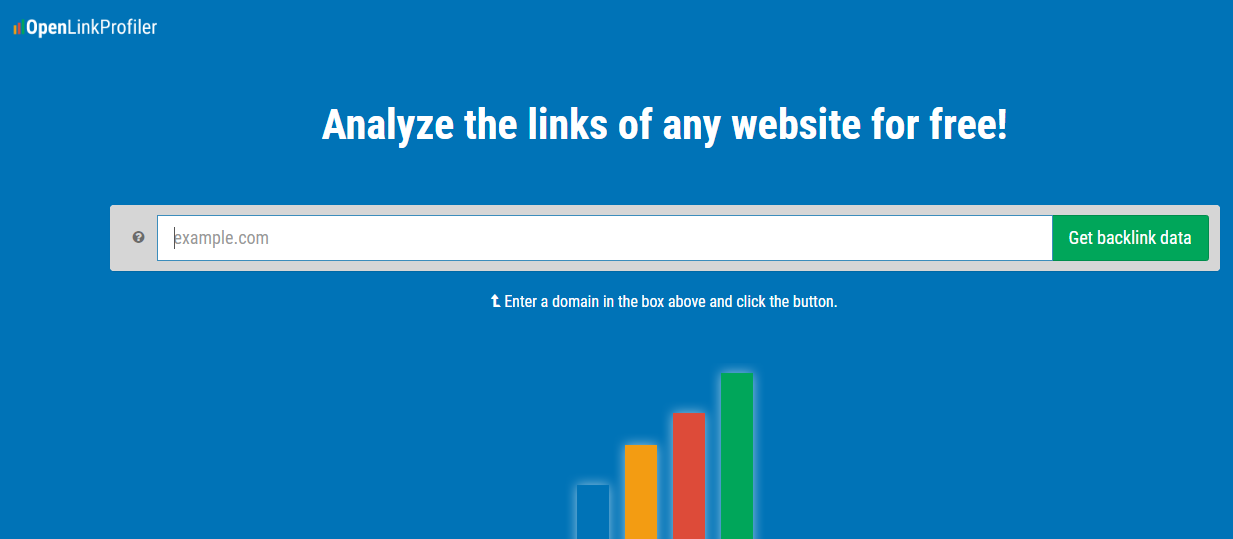 OpenLinkProfiler is one of the relatively new tools in the SEO landscape introduced by SEO Profiler. It doesn't have all the features that come with a paid service but you'll be impressed with the features it does provide for free.
If you're running a small business with a limited budget, this is a great tool for optimizing your ranking without spending anything.
One of the problems you may face when analyzing backlink data is the inaccurate analytics due to outdated and expired links.
OpenLinkProfiler overcomes this problem by updating their database using only those links that have been active in the last 90 days. This ensures that you get the latest and relevant analysis.
Their database of the freshest backlinks amounts to 200,000, which can be downloaded in a .csv format for your convenience.
You're provided a 'Link Influencer Score,' which determines the quality of backlinks. It provides statistics on the number of unique links so you can determine if your backlink quantity is derived from duplicated links or not.
You can also check out the breakdown of links according to 'dofollow' and 'nofollow.'
While analyzing stats, you can filter the information by industry, page title, link context and add your own personalized filter as well.
SEO report generated by OpenLinkProfiler is concise and full of useful information that can help you determine the factors that influence your search engine ranking the most.
This tool is arguably the best free version of the many backlink services available.
5. BuzzSumo (Free & Paid)


BuzzSumo is perfect for marketers looking to optimize their content and outreach.
"As a growing brand and business investing a lot into social media appearance, you need to know what people are saying about your company and products." – Jordan Kasteler
If you care about the conversations people are having about your business, you can use BuzzSumo's 'Monitoring' feature. It will ask you to enter your brand name, and then sift through millions of web pages to find where and when your brand has been mentioned. This is helpful if you're already being mentioned in social media posts or blog posts but without the links to your site.
You can reach the writers and request them to add your site link to their content. This tactic will ensure that users are given immediate access to your site.
People are going to talk about your brand, whether you want them to or not. So it's best to see what the conversation is about and join in.
You spend time producing quality content that's relevant to your audience, so you're going to want it to generate shares and backlinks for at least some time.
BuzzSumo helps you out in this regard by offering an 'Evergreen Score'. This determines the rate of backlinks your site is generating each month and helps you track your content's relevance over time.
If people are still talking about and linking your content on their blogs it means you're doing a good job with your marketing efforts.
BuzzSumo provides numerous subscription plans for individuals and organizations to suit their unique needs. They start from $79 and go up to $500+ per month. Although a bit pricey, if you're looking for a link building services tool that offer a complete solution to your SEO needs, BuzzSumo is a viable candidate.
6. LinkMiner (Paid)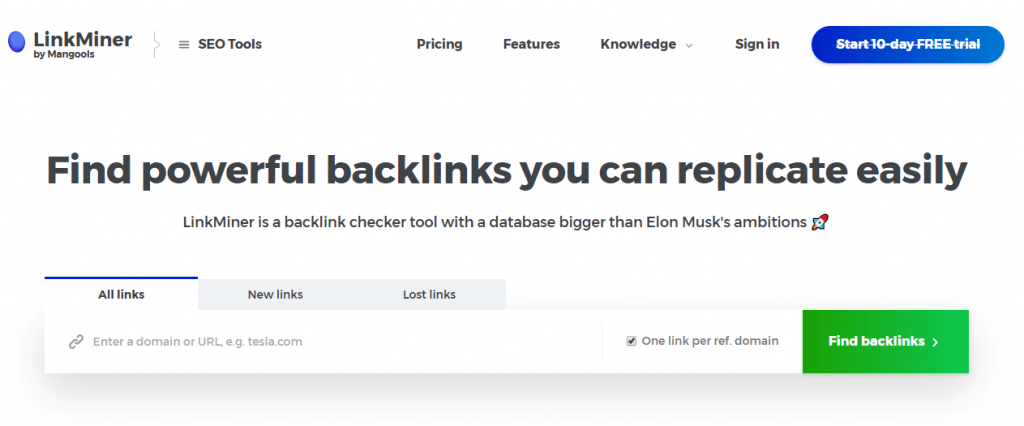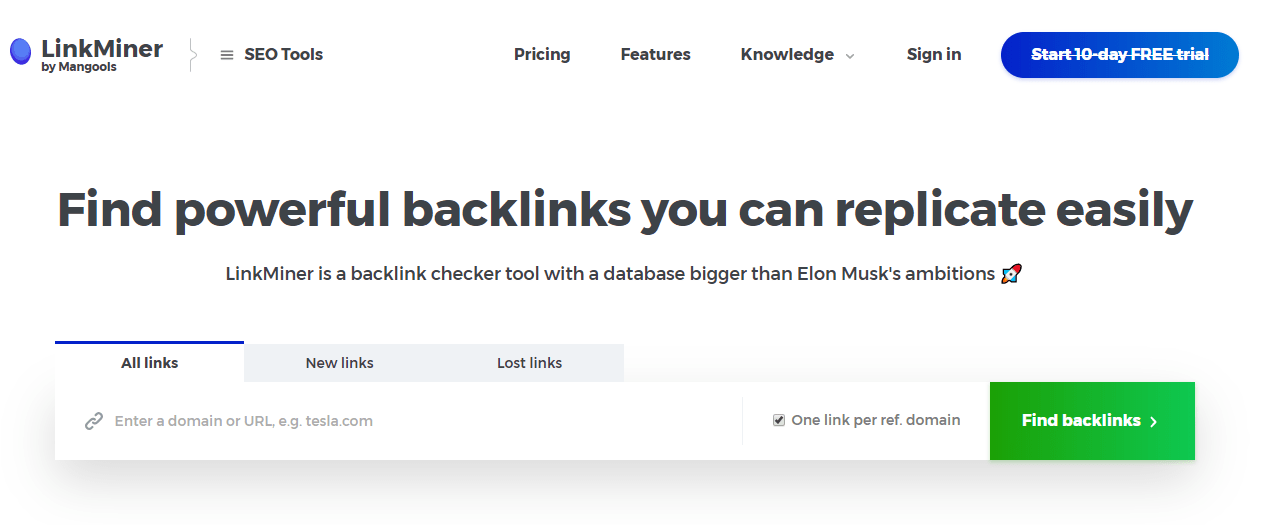 LinkMiner is the product of Mangools. A company started by a couple of marketing and digital enthusiasts. In early 2018, they released the dedicated backlink analysis tool, LinkMiner, and have been improving their service ever since.
If you're a beginner in the SEO world, you may be confused and intimidated by the number and complexity of features your backlink tool offers. If that's the case then LinkMiner is perfect for your SEO needs. It has an easy-to-use interface along with a very helpful guide that explains the process to you at every step of the way.
LinkMiner has successfully grown its backlink database from 2 trillion to more than 9+ trillion links in a short period of time. They're constantly updating their database with the most relevant links all the while deleting lost and spammy links.
For easy access, LinkMiner breaks down their database for you into these categories:
• Blog
• Forum
• Q&A
• RSS
• Other
As their service is based on providing users with a convenient and easy-to-use interface they have an in-built website preview option. This means you can view the site that contains the backlink in the same tab while going through the data.
For a more in-depth analysis you can click on the button "URL Profile."
You can save the URL links to view at a later time by clicking the 'star' button. This will save the link in your favorites tab. And for carrying some analysis of your own you can simply export the data in a .csv format with a single click.
LinkMiner's browser extension offers users with backlink data for any site they visit. It also displays the total external links present on the page.
Backlinks can be categorized by "All Links", "New Links" and "Deleted Links." Use this great tool to gain a competitive edge by making smarter decisions, quicker.
You can start a 10-day free trial to test out their services.
7. Moz Link Explorer (Free & Paid)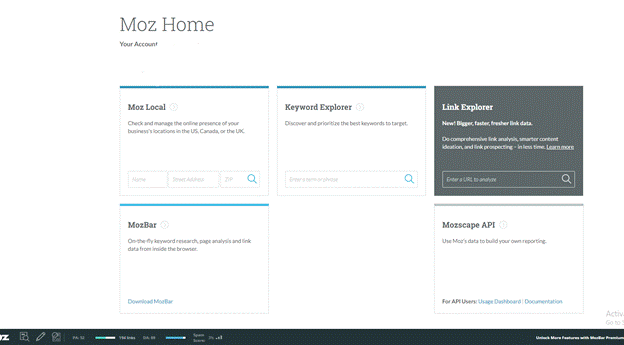 Of all the tools mentioned, Moz Link Explorer is among the early ones and still quite popular. It has remained competitive by always offering current SEO solutions that are high in demand.
If you're a subscriber, it's going to provide a great return on your investment. But you're still able to use the service without a paid subscription plan.
If your competitors are constantly on top of their game and beat you in search engine rankings, you're going to spend a considerable amount of time dissecting their SEO strategy. In this regard, Moz Link Explorer's most popular feature "Link Intersect" comes to the rescue. You'll be able to enter in your top 5 competitors and generate a list of backlinks that feature these competitors but do not mention your brand. Instead of going through thousands of backlinks for each competitor separately, now you're able to save a lot of time and check where you stand in your industry.
Compared to other tools, Moz Link Explorer is one of the best for competitor analysis.
In an analysis of different backlink tools, Moz Link Explorer held its own against the more popular Ahrefs and SEMRush. So you don't need to worry about missing out on the more expensive features offered by other backlink tools.
8. BackLinkWatch (Free)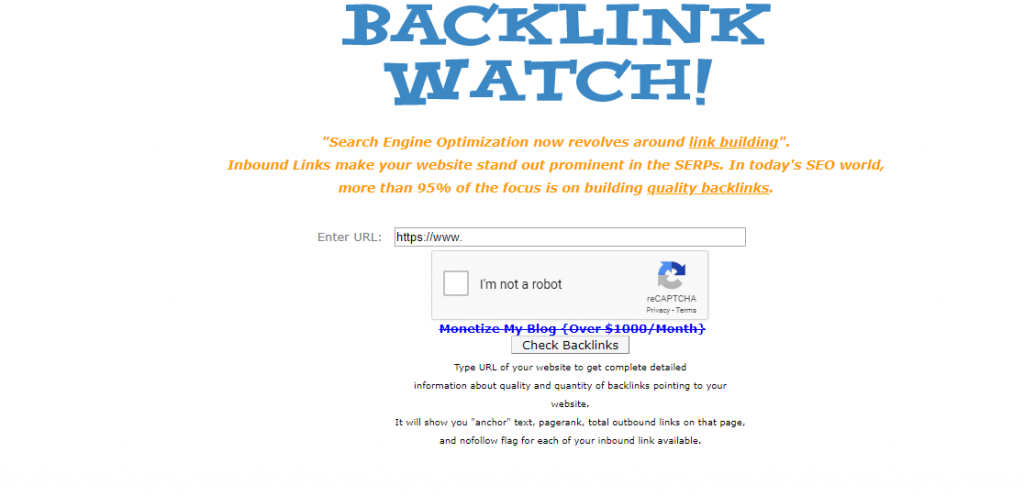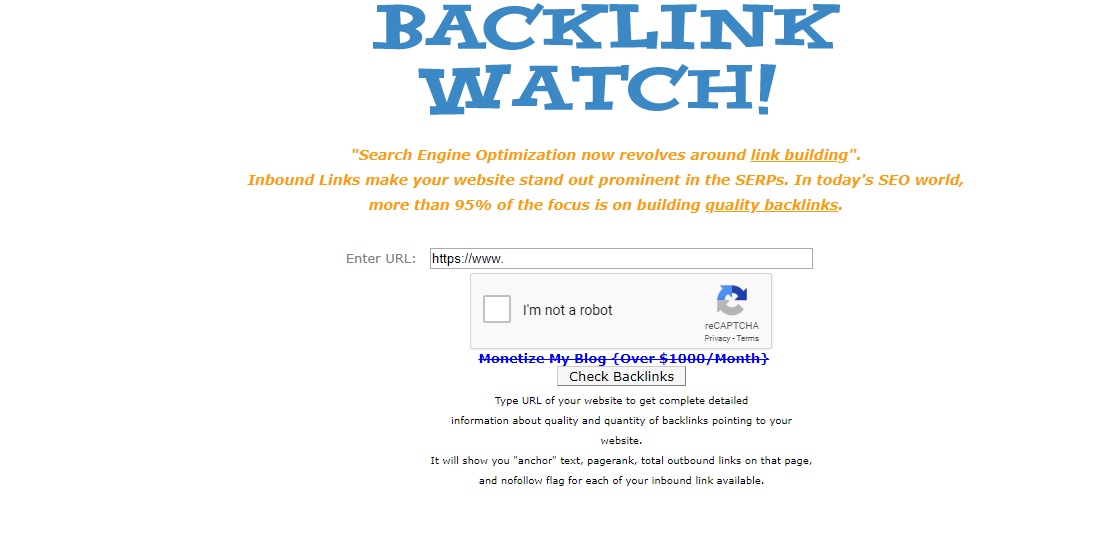 BackLinkWatch can be a decent tool for backlink analysis if you're running low on budget.
One drawback of BackLinkWatch is that they generate revenue by running ads on their site. However, it uses Ahref's API so you can be pretty sure that the results are reliable.
In Conclusion
If you need backlink services for your site, there's not really a single, best solution for your SEO needs.
The choice will really depend on the amount of investment you're willing to make, the size of your business/site, what your competitors are doing and the type of audience you cater to.
If you want to go all-in and make sure your competitors don't have any advantage over you, you can choose between Ahrefs and SEMRush. Their comprehensive list of powerful features will cost you a bit, but you can be sure that you'll be covered in every way.
Majestic SEO offers more or less the same features but has a powerful competitor analysis tool that can be handy if your competitors are aggressive in their SEO strategy.
OpenLinkProfiler and BuzzSumo can be great backlink tools if your business is still in the initial phases of growth and you want to maximize your content and reach.
And if you're a beginner in the SEO landscape and want a simple, easy-to-use tool to meet basic needs, LinkMiner is as good a choice as any.
The point is: no backlink tool is perfect and with any decision you make there's going to be an opportunity cost you're going to incur. Always remember, each business is unique and there's no uniform strategy that can be replicated for you. So the best way forward is to carefully analyze your needs and the options you have before making a decision on which backlink tool is going to work for you.