Mobile applications or mobile apps are like bridges between businesses and target audiences. Mobile apps allow enterprises to reach out to a wide audience base digitally.
According to Statista, downloads of mobile apps with specific functionality have touched the sky limit in 2021. During the year, approximately 120 billion Android mobile apps have been downloaded from Google Play Store. Whereas, with 36 billion iOS app downloads, Apple App Store stood in the second-largest app store worldwide.
The figure below depicts the historic and forecast of mobile app downloads from 2018 to 2025.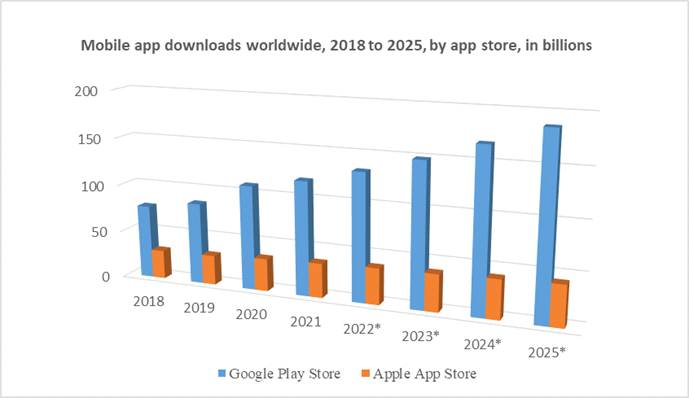 This figure reflects the future of mobile apps. Such increasing demand for mobile apps is particularly drawing from social media and chat apps. These app categories have captured 91% and 88% of total downloads respectively.
This figure reflects the future of mobile apps. Such increasing demand for mobile apps is drawing from social media and chat apps. These app categories have captured 91% and 88% of total downloads.
As of 2021, due to the COVID pandemic, online chatting and business communication apps are in a race. Similarly, TikTok, Instagram, and Facebook messenger-like social apps have also grabbed the attention of smartphone users.
Hence, to stand in the front line of this terrifying digital race, organizations across diversified industries are making their investments in mobile app development. Healthcare, retail, travel agencies, and manufacturing companies are rushing to invest in mobile apps development. They are on their way to spreading their brand name globally in cost-effective ways.
This craze for mobile applications is giving wide opportunities for mobile app developers. If you wish to digitize your traditional marketing models, spread your brand name globally, and optimize your brand credibility, mobile apps development is the best and right choice.
Herein, we have listed leading mobile app development companies in San Francisco (California, USA).
Our team of market analysts have performed deep research and picked a few mobile app development services providers in San Francisco based on their brand value, industry experience, portfolio of delivered projects, and end-user feedback on app stores. We hope that this article will help you find top Android and iOS app developers in San Francisco without any hassle.
List of the Top Mobile App Development Companies in San Francisco
Hyena.ai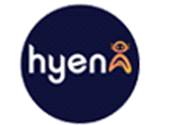 Hyena Information Technologies (Hyena.ai) is one of the leading mobile app development companies in San Francisco, USA.
With a strategy of adopting current market dynamics and embracing the latest technologies, the company aims to build flawless apps for entrepreneurs and multinational companies.
Further, the company is ranked as the best Artificial Intelligence (AI) app development company. Leveraging the power of AI, speech recognition, machine learning, and predictive analytics technologies, Hyena's app developers are experts in delivering innovative and user-friendly Android and iOS apps for mobile devices and smart devices.
The company is headquartered in Chantilly, VA.
USM Business Systems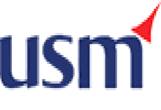 USM Business Systems is a reliable, transparent, and dedicated application development services provider in the USA. Backed with over two decades of experience in providing digital solutions, USM assists enterprises in unlocking the hidden potential from their rustic business operations.
The company has expert and skilled software developers, creative application designers, and QA experts who deliver futuristic app solutions that meet the vision of the application.
Be it native or hybrid, USM's app developers develop an app that ensures the best business results.
Moreover, its agile app development approaches and capabilities in designing user-friendly interfaces let them create bespoke and modern applications.
The company offers end-to-end web, Mobile app development services in San Francisco and ranging from User Experience (UX)/ User Interface (UI) design, prototyping, and app features development to deployment and app maintenance.
FuGenX Technologies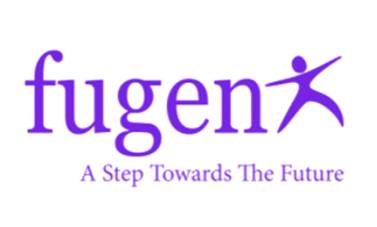 FuGenX Technologies is the Best Mobile App Development Company in the USA. It is specialized in creating enterprise-level software and mobility solutions. Its services include:
Mobile app development services
Web app or E-commerce app development
The Internet-of-Things (IoT) app development for wearables and smart devices
AI and ML consulting and app development services and solutions
UX/UI design for web applications
The company has 14 years of industry experience in developing cost-effective, efficient, and highly responsive Custom Software applications.
OpenXcell

OpenXcell is the largest custom software and mobile apps development company in the USA. It has its footprint as a top Android and iOS app developer in UAE and India.
Since its establishment in 2008, OpenXcell has developed over 1,000 projects for small, mid-size, and multinational companies. It has proven experience in developing next-level healthcare apps, digital payment apps, online learning apps, food delivery apps, etc. Here are the services of OpenXcell:
Custom Software Development services range from ideation, UX/UI design, and development to testing and maintenance.
Native and Hybrid mobile apps Development
Artificial Intelligence (AI) and Machine Learning (ML) integration and development
Progressive and responsive web application development services
Blockchain development services: Smart contracts development and cryptocurrency wallet development
Magento and WooCommerce like marketplace app development services
CitrusBits

CitrusBits is the best mobile app development agency that is engaged in the design, development, and deployment of highly responsive, efficient, and easy-to-use mobile applications for all enterprises.
The company is a reliable app development partner for most of the brands in the USA. Zoetis, Burger King, Johnson& Johnson, Harman, Mercedes-Benz, and other Fortune 500 companies are on the list of its clients.
Its services include:
Mobile Apps Development
UI/UX Design
Restaurant App Development
Augmented Reality Apps Development
Healthcare App Development
Enterprise Mobile App Development
Digital Strategy and consulting solutions
Corporate Websites design and development services
Matellio

Matellio is a top mobile application development company in San Jose, California, USA. The company is backed with over ten years of long experience in delivering creative, intelligent, and leading-edge software development services. As of December 2021, the company has delivered 300+ mobile and web applications.
It is an expert in native iPhone and Android apps development using Java, Kotlin, Swift, Objective C languages. Besides, the company is also specialized in developing React Native and Flutter apps for banking and finance companies and retailers.
Its services include:
Web app development
Native Android app development
Native iOS app development
IoT development and solutions
B2B app development services
Cloud migration and implementation services
GIS application development, etc
This full-stack app development firm is famous in San Jose, San Francisco, and Chicago and has a client base across France, Germany, and the UK.
Quy Technology Pvt Ltd

QuyTech is a top Web and Mobile Application Development company. Blending industry experience and quality and balancing customer demands and pricing as core strategies, the company is flagging its success signal across the USA.
Its cravings to emerge as a leader in the software development industry are helping it to deal with app development challenges with ease. The application development services of QuyTech include:
Android app development services
AR and VR powered mobile gaming apps development
SaaS app development services
Custom CRM development services
React Native application development services
Artificial Intelligence development services
On-demand service delivery apps like Food apps development, grocery apps development, cab booking apps development, etc.
Blockchain development
Enterprise mobility solutions
Mobile app development consulting and outsourcing
QuyTech has its footprint as a mobile app development services provider in the USA, UK, Canada, UAE, and Europe.
Simpalm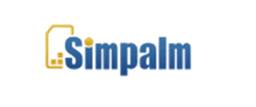 Simpalm is a USA-based custom software design and development company. It is engaged in offering web and mobile app development services for enterprises of all sizes. It is established in 2009 and is headquartered in Washington DC, USA.
The company has adopted a strategy of integrating advanced tools and technologies into mobile apps to create cutting-edge applications and bring digital innovation in clients marketing approaches.
Simpalm software development services include-
UX/UI design
Mobile app development and deployment (iPhone, Android, flutter, and React Native apps)
Web development
IT staff augmentation services
Cloud-based web services
As of December 2021, the company has delivered approximately 300 flawless mobile and web apps.
AppClues Infotech

AppClues is a scalable, robust, and efficient custom mobile apps developer. It uses agile development procedures and creates unique and flourishing digital solutions for brands and enterprises across all niches.
The company is a familiar Mobile App Development Company In America. The company's app development team has acquired the best practice on developing software and mobile applications with perfect color schemes and cool graphics.
From requirement analysis, wireframing, and UX/UI design to app development, QA testing, deployment, maintenance, and support, AppClues is your one-stop destination for all app development needs.
Here are the futuristic app development services of AppClues:
Custom iOS application development
Custom Android application development
Custom Cross-platform mobile app development
Enterprise app development services
E-commerce or M-commerce app development services
Customizable E-wallet apps development services, etc.
Datarockets

Though established in 2014, datarockets is has occupied a space in the list of the best mobile app development companies in San Francisco, the USA, with its trustworthy application development services.
The company picks the best programming languages such as Java, Kotlin, Swift, Node.js, React Native, Ruby to write code for Android and iOS apps. The company has delivered 34 projects to clients located across 11 countries.
Wrapping Up
How can you make your application unique from millions of mobile apps available in the Google Play Store and Apple App Store?
It will be possible if you hire an experienced mobile app developer.
We have listed top mobile application development companies in the USA to make your search easier. Though a few of these companies from the above list are not headquartered in San Francisco, they have a strong presence and a strong client base in San Francisco.
If you are looking ahead to hiring the best app development company from the USA to get your dream app developed, this article will help you in choosing the right development partner.