For those of you who haven't heard of a content management system (CMS) before, it refers to an application that can be used to manage the content publishing process, allowing webmasters to monitor many aspects of their blog 24/7. A CMS is a type of software that contains a stored database filled with default themes and templates.
The core features of a CMS are as follows: Users have the freedom to create and edit content at will. They can use it to organize their workflow and track the number of revisions on any web page or blog post. A CMS is capable of storing published content, all in one area, by saving the latest update to an article or web page so that users can easily access them at a later date.
Some CMS may be open-source, enabling multiple users to contribute to the same project at different intervals. Others will offer helpful features such as the ability to add interactive elements to a website without having to learn any programming.
WordPress is arguably the most popular CMS platform, boasting thousands of themes and a wide range of plugins to choose from. But there are other content management systems that are more suitable for beginners who prefer one-click installation as well as a drag and drop builder.
With this in mind, let's start by taking a look at some of these alternative CMS platforms, featuring incredible tools that could rival WordPress in terms of available custom options.
Best WordPress Alternatives CMS
1. Weebly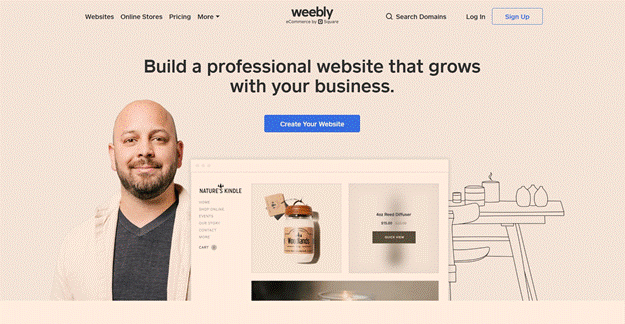 Weebly is the go-to platform for making a professional website that reflects well on your business. With Weebly, you'll get instant access to many responsive themes, featuring online stores, portfolios, personal blogs, and other attractive web templates. The best part is, you can try it for free and receive a set of pre-installed marketing tools, eCommerce integration, and an SSL certificate to secure your domain.
Weebly provides website solutions to help you advertise your products and services. There is also a tutorial to guide you on using its drag and drop builder, whether you want to edit images or customize fonts on your blog. All you have to do is signup for an account and pick out a theme to begin designing your new website. In no time, you'll be able to get your site discovered online and gain more followers, as long as you keep publishing quality content.
2. Drupal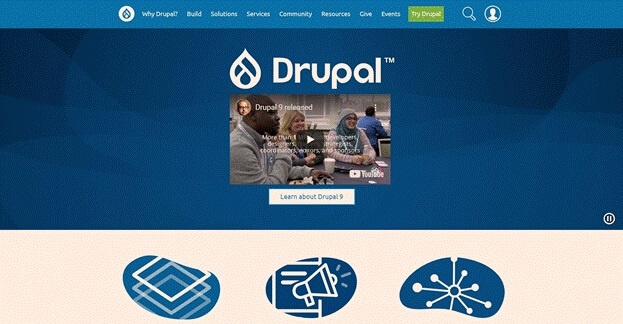 Drupal empowers growing businesses with its cutting-edge tools and latest upgrades to content management. This open-source CMS supports developers, marketers, and agencies alike, allowing them to create optimized content on their websites. Whether it's delivering retail solutions or promoting multi-channel publishing, Drupal is sure to impress people from all kinds of industries. Business blogs will likely benefit from its versatile API architecture.
Developers can leverage Drupal's robust architecture by referring to its code repository, which contains all the files they need to create a database or configure modules, according to the developer's guide. Drupal also plays a significant role in marketing, as an agile platform for lead generation, driving online sales, or even brand outreach. And last but not least, it works for agencies, enabling them to achieve their business goals while budgeting their available resources.
3. b2evolution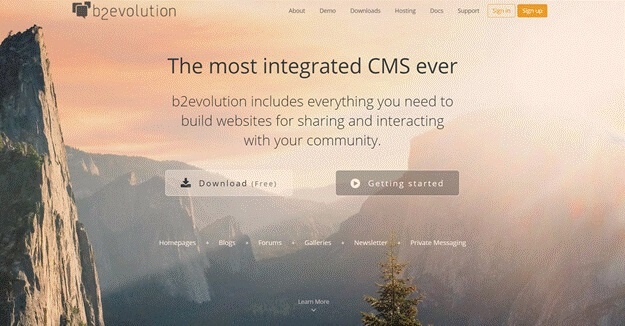 b2evolution has positioned itself as the "most integrated" CMS to ever exist. This platform prides itself on streamlining the website building process, and is designed for group collaboration since users can easily exchange information, just like in a public forum. Its most important features are the homepage builder, multi-blog customizer, shareable photo albums, and of course, the structured content publisher.
It's safe to say that b2evolution was designed for running multiple blogs considering that all skin widgets and plugins can be transferred across different blogs. On top of that, you have the option to assign individual contributors to each manual or document that is stored on the platform. Not only is it a free CMS, but you also get full ownership of your blog. It even has HTML5, CSS3, jQuery, and Bootstrap implemented into the framework on the backend.
4. Squarespace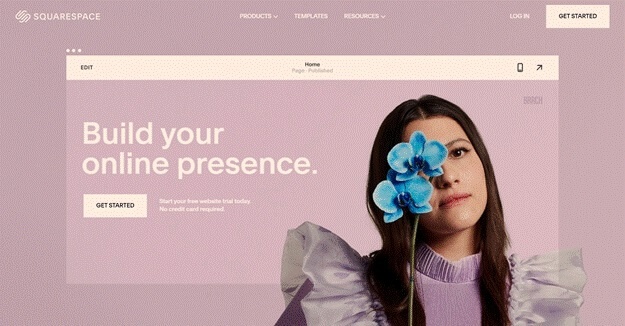 Squarespace is the ideal CMS platform for establishing an online presence, so to speak. To get started on a website, simply choose a personalized template that matches your writing style and browse through all the tools and extensions they have in store. Then, you'll get to decide whether to monetize your blog and turn it into a business or run an eCommerce shop to attract a larger client base. It won't require you to code anything that's a given.
Squarespace lets you launch email campaigns and even share engaging stories on social media. For instance, if you're planning to create a blog, you can make use of its products such as the built-in marketing tools. As a CMS, it has a dashboard for managing workflows, tracking analytics, and scheduling posts in advance. This informs users about the overall performance of their blogs, via measuring the amount of traffic they're receiving.
5. Movable Type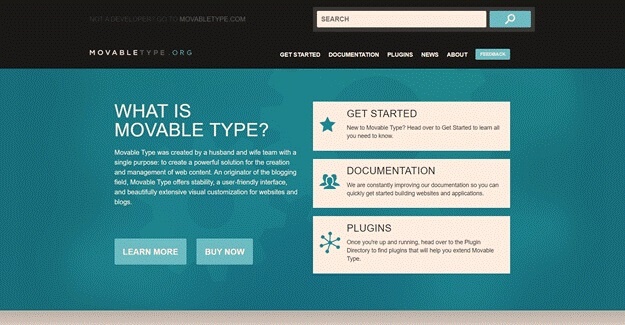 Movable Type was founded with the purpose of resolving content management issues, namely keeping everything together on an intuitive user interface, rather than having published blog posts listed in the wrong order, making them a real pain to find. With Movable Type, you will have a stable, visual web customizer at your fingertips in no time. If you're unfamiliar with this CMS, feel free to check out the installation guide. It explains how to get a license and register on the site.
Movable Type is compatible with hundreds of themes and plugins, introducing a bit of extra functionality to your blog. Finding the right plugin is simple enough, just click on one of the keywords and it should pull up a list of relevant plugins, to enhance your web page with all kinds of custom widgets. During the content planning step, you can assign editing privileges to other users to receive feedback on your drafts, turning them into open-source projects.
6. Joomla!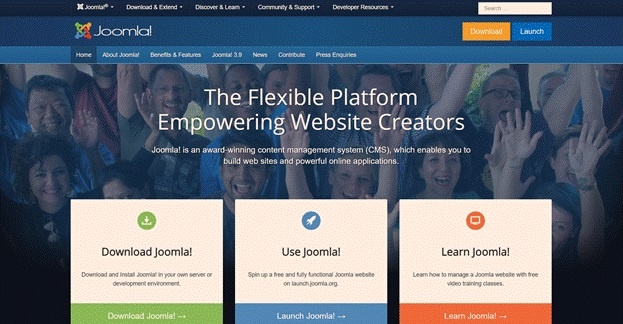 Joomla is what you'd call a popular CMS, featuring thousands of free templates and extensions tailored to your website building needs. Moreover, you can learn to develop your own online apps by watching their step-by-step video tutorials. To whip up a new website, simply download the latest version of Joomla and extract the zip file. But if you prefer to skip over all the technical stuff, you could just launch a fully functional site on Joomla.org using their hosting service.
This CMS has been translated into more than 70 different languages. It features over 8000 extensions and counting, catering to businesses and media publications of any size. Joomla makes content management a breeze as you and other team members brainstorm, write, and distribute content. If you need assistance, Joomla's tech support is there to identify and solve any problems you're experiencing. To learn more, go read up on their FAQs page.
7. Ghost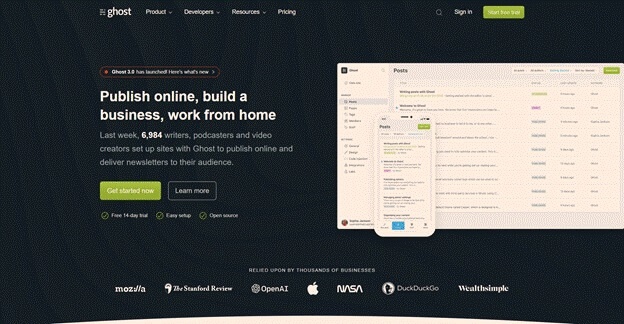 Ghost is another CMS designed to give you a hand with content marketing so you can maximize your blog engagement. This platform offers built-in email newsletters and premium membership options to help you monetize your blog and address your audience's pain points. Whether you're an entrepreneur or a publisher, Ghost gives you the option to blog from literally anywhere in the world. This means you have access to one clean-looking editor on top of several SEO features to get your brand out in the open.
Enjoy an open-source platform through a front-end powered by Node.js and REST API. As the top recommended CMS on GitHub, it even claims to be 19 times faster than WordPress, providing users with custom integrations on hundreds of content publishing tools. This way, you'll have complete control over the structure and format of your dynamic content blocks. The same applies to using category or section tags to separate your blog posts so other team members can work on them.
8. Jekyll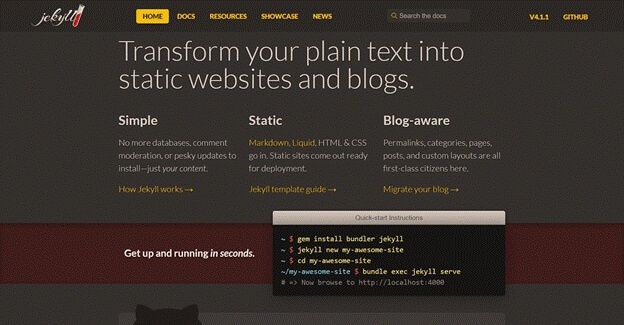 Jekyll is a minimalist CMS that will convert plain text into static blog posts and websites without relying on a database to archive your content. This CMS works off of command lines by responding to user inputs. It can create a blank website, a new theme directory, or remove previously generated files. Jekyll is known for being "blog-aware", supplying users with custom layouts, categories, and permalinks.
Don't worry about having to pay for a hosting provider when you can deploy your site on GitHub Pages free of charge. Get your blog up and running by selecting from a long list of site migrators such as Behance or Blogger. Although Jekyll is not the most visual-oriented CMS, it does make use of Liquid templates to store your HTML/CSS output and help you prepare your website before it's ready to launch. It certainly won't drag you down with frequent updates and add-ons.
How to Recognize a Good Content Management System for Blogging
By now, you should have a better idea of which CMS platform will work for you. These blogging software all have their own benefits and drawbacks depending on the available features. Therefore, if you're not a huge fan of WordPress, and you feel overwhelmed by its steep learning curve, you're always welcome to try making websites on alternative platforms.
In fact, the most important thing is to determine what your business requirements are and what kind of problems you're trying to solve. Depending on your budget, you may need to ask the following questions before you sign-up for hosting: Is a premium plan truly worth the investment? How much content are you planning to publish per day? And what kind of technology integrations are essential?
After all, a reliable CMS should be easy to use, SEO optimized, able to support web analytics, and compatible with many online apps. At the end of the day, blogging software is supposed to raise the efficiency of content creation so that end users can focus on projects that drive business operations. As a result, your team will save more time on content management.
That being said, what is your favorite CMS for writing and editing blogs? Leave a comment below to share your thoughts.