If you are looking for the best blog templates for an awesome blogging experience, you need to check out the list that we have prepared but first, let me tell you something interesting.
Businesses are getting benefits from blogs as they can get on a more personal touch with their clients. We can say that the blog is a necessity for every business in the market.
There are creative individuals that are very much passionate about writing on different sectors like healthcare, digital equipment, technologies and more.
To say so, there are thousands of blog themes that you can easily get for free on WP or WIX and more. As you go deep into the ocean you will find it harder to select one best template for your website from the pool of the templates.
We have hand-collected some of the majorly used free blog templates around the world so select and try it in your new blog.
Top HTML5/CSS3 Blog Templates
#1 StoryHub: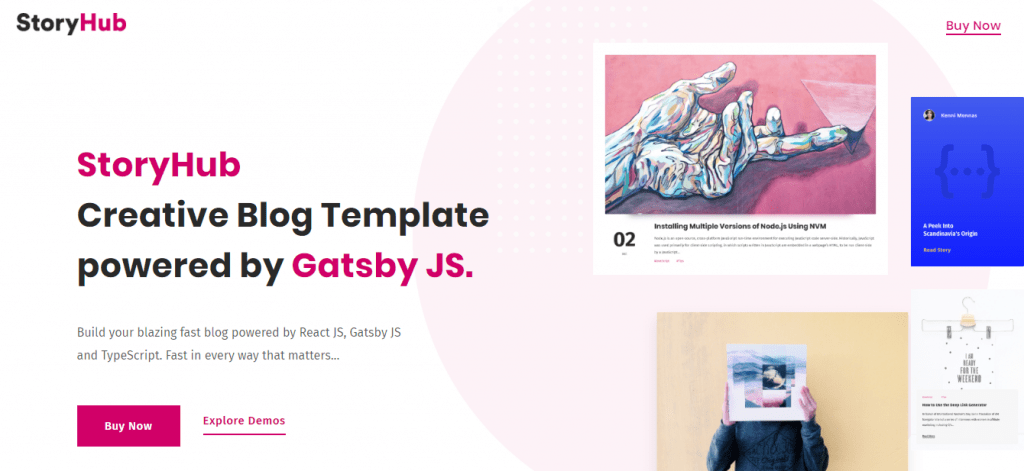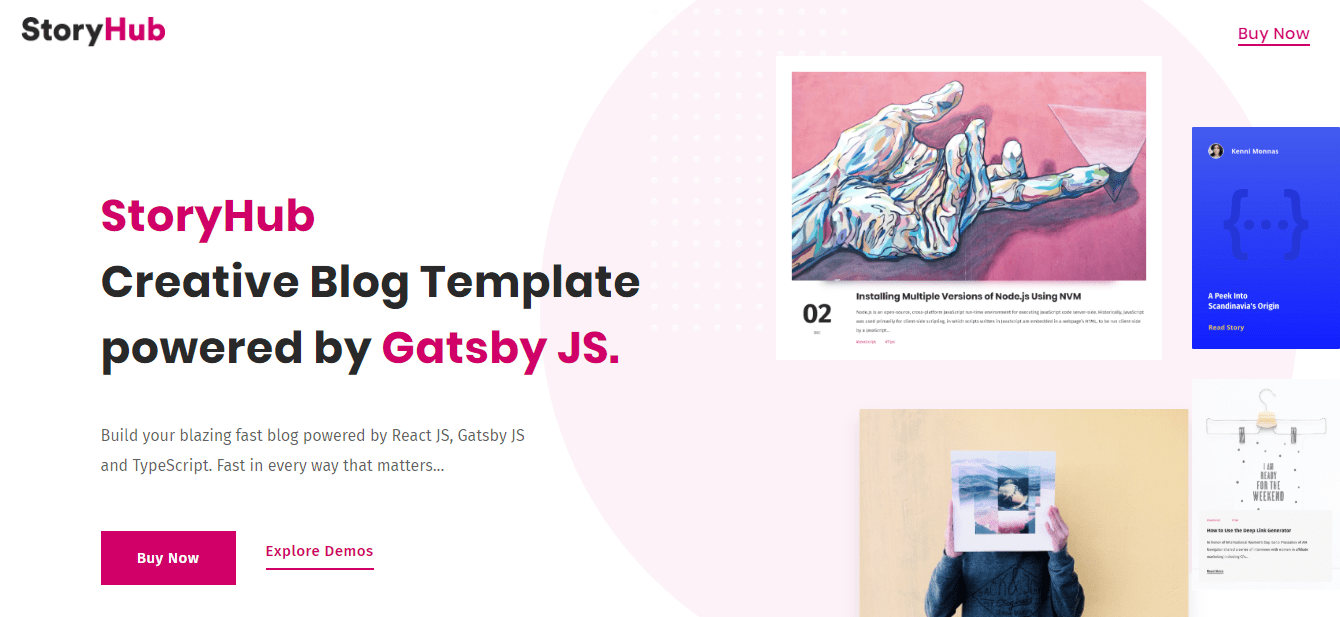 A blogging template that is built by React JS, Gatsby JS, and typescript. It is a Gatsby blog starter for all users.
All the components are written in Typescript that supports reusable components across different blog templates.Story hub uses styled system and style components making it easy for use.
It also has Monorepo support with Lerna configuration. It provides you with Gatsby hosting and deployment. It provides a lot of markdown templates to create blog posts.
It is simple and easy to use for new users. it is a fully functional blog template making it a widely used static template. In comparison with WordPress, StoryHub provides better performance.
Storyhub lets you host anywhere like now.sh, GitHub, s3 and more
Awesome features that are provided in the template:
• Mailchimp integration- helps design email newsletters and share them in social networks.
• Disqus integration- it helps in engaging the audience and retain readers in your blog
• Monorepo support- supports managing of JS projects with multiple packages
• Instagram feed integration- helps to display Instagram posts
• SEO friendly- helps site ranking better in search engines as Gatsby is server-rendered
• Built-in components- making it very simple for customers to use
• Fast performance- it is quick and provides faster dev compilation
#2 Staker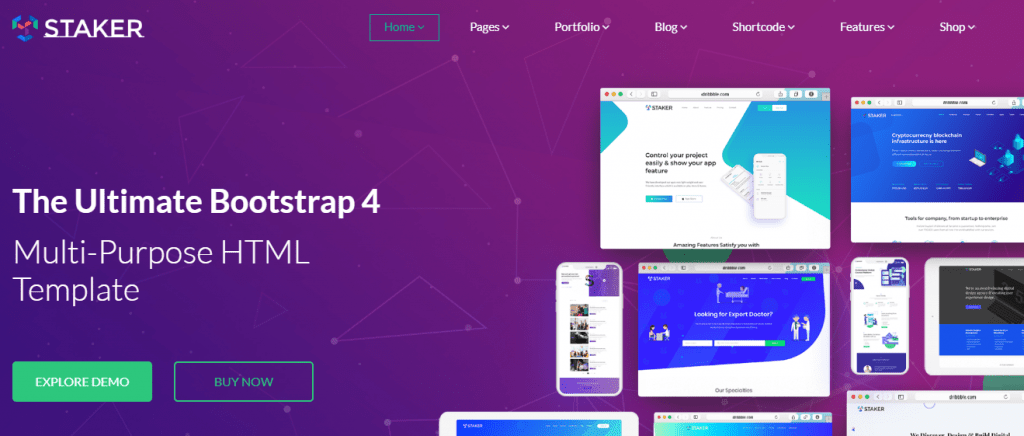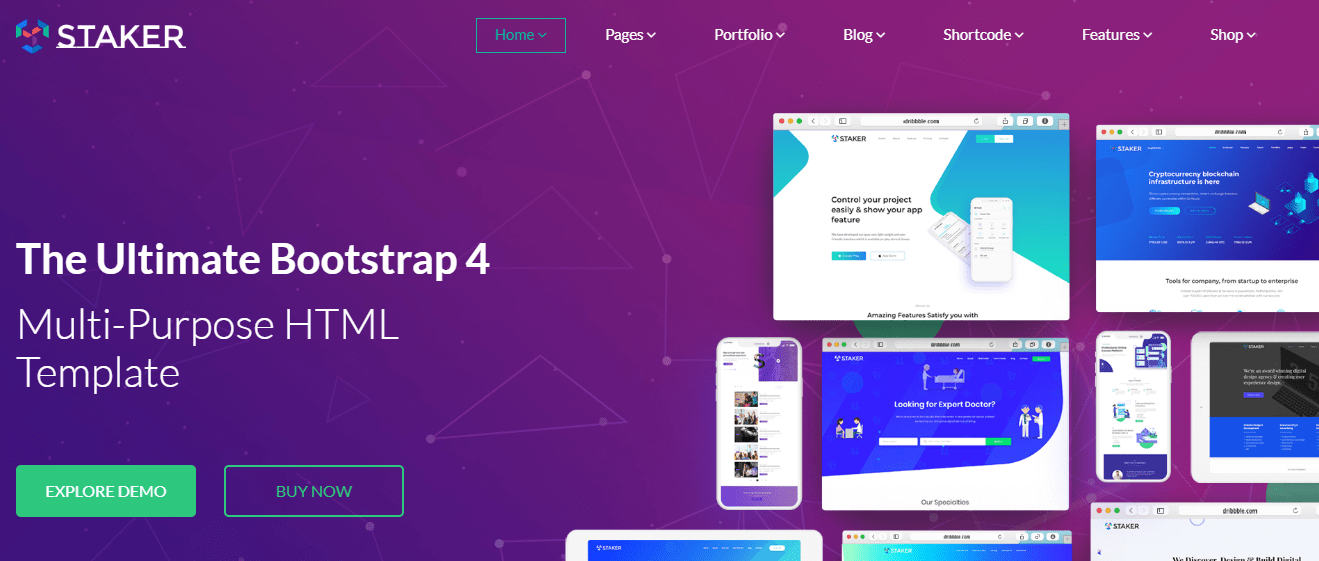 A multipurpose HTML5 template that is highly responsive. It is built with Bootstrap 4 that renders fast loading. It is very well coded and documented and is also well optimized for search engines.
It is widely used by users of business corporates, real-estate businesses, online shops, blogs, cryptocurrencies, e-commerce and even more like app landing. Its vast usage around the globe had put it up in the air.
Awesome features of staker:
• It provides more than 260 web demo pages included in it.
• It has 40+ elegant home page demo
• It has more than 60 awesome portfolio layouts in it
• It has more than 35 great and clear blog layouts
• It has 8 complete projects with inner page design
#3 Polo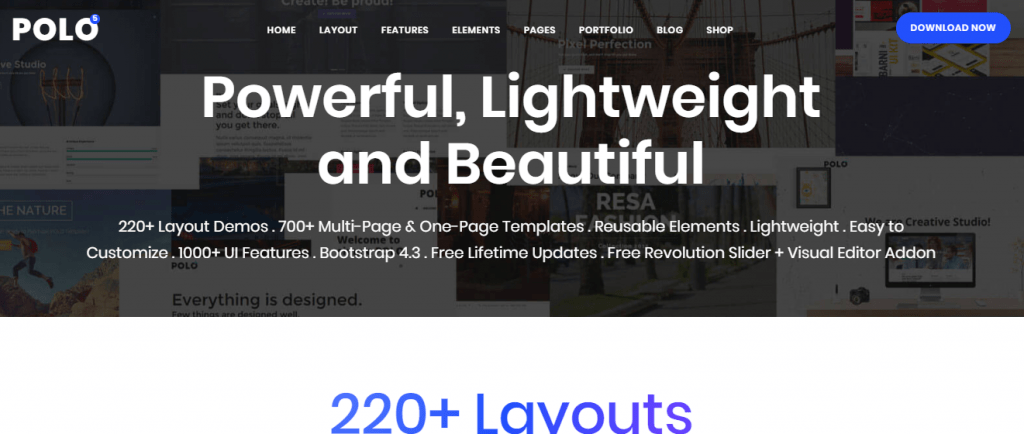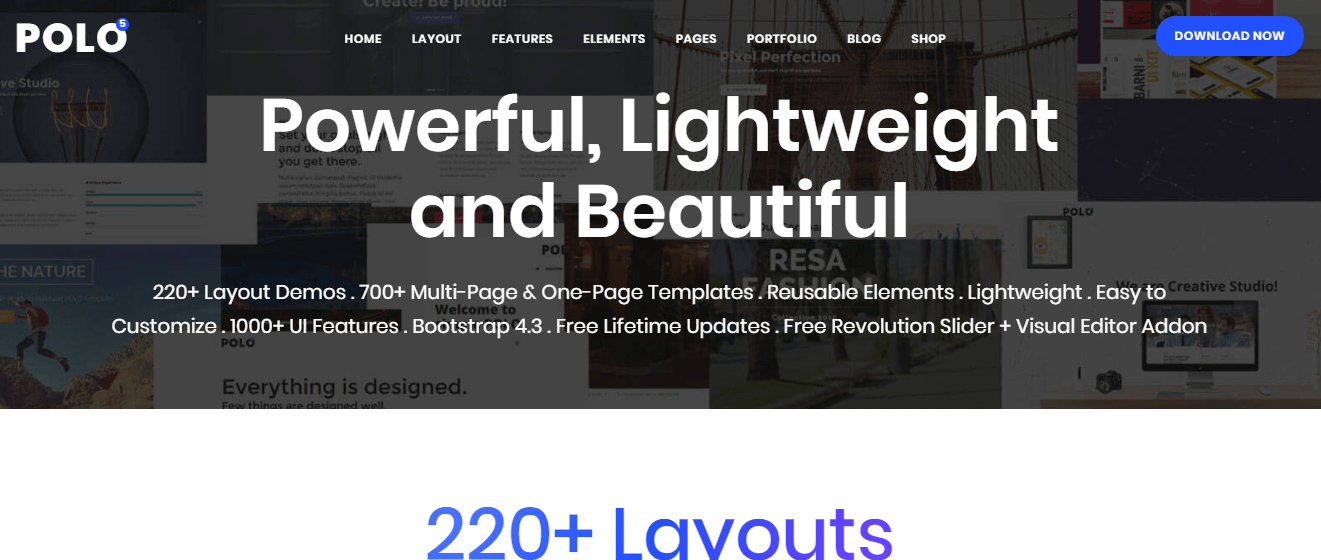 The Polo enables you to create responsive and attractive websites for blogging and much more like corporates, portfolios, hotel, restaurants shopping.
It supports websites making for every business. It is very fast and is effectively responsive. It gives an amazing look at smartphones, tablets, and PCs.
Awesome features provided by the polo template
• It has included 206 layout demos that can be loaded and charged
• It includes more than 670 multi-page and one-page templates
• It has more than 1000 UI features that can be used to create your own blog
• It provides free lifetime updates for all its users
• It provides a free revolution slider and visual editor Addon to make things more attractive.
#4 Canvas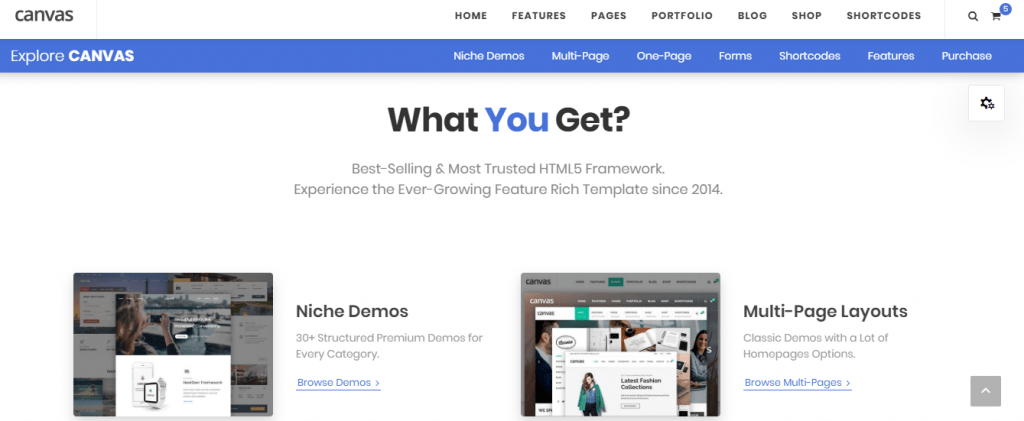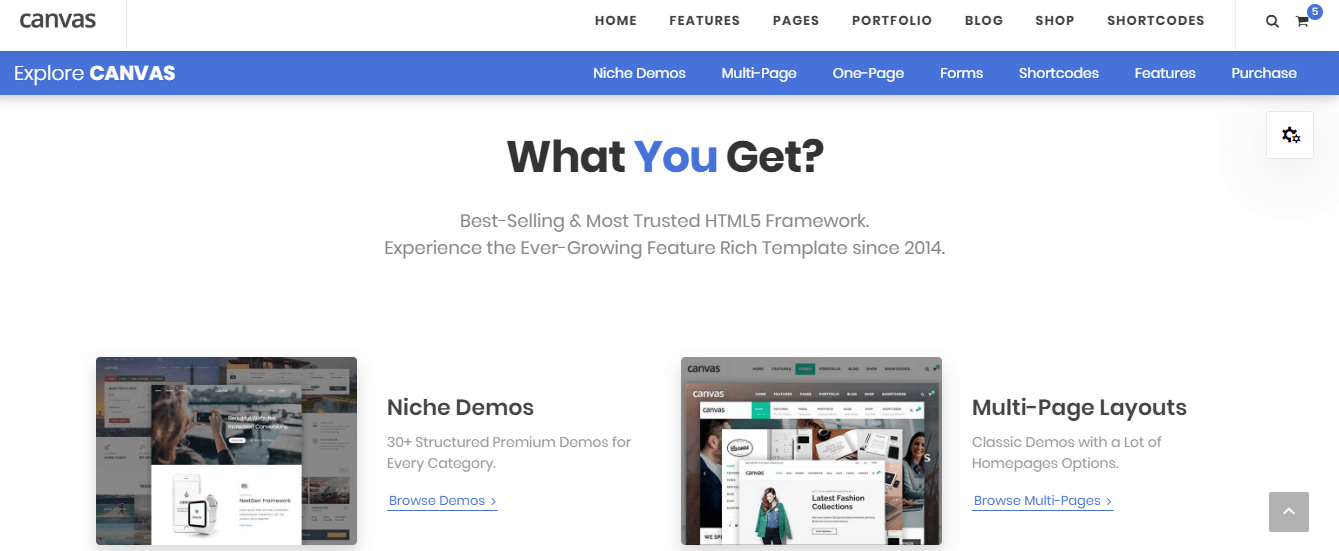 It is a powerful and multi-purpose HTML5 template. It is highly responsive and contains multi-pages and one-pages.
It is used by bloggers, corporates travel, construction, media agency, parallax, app showcase andmore to build websites.
Awesome features provided by canvas:
• It has included more than 100 homepages that are active to be used
• It also includes more than 800 HTML template files wrapped up in the package.
#5 H-code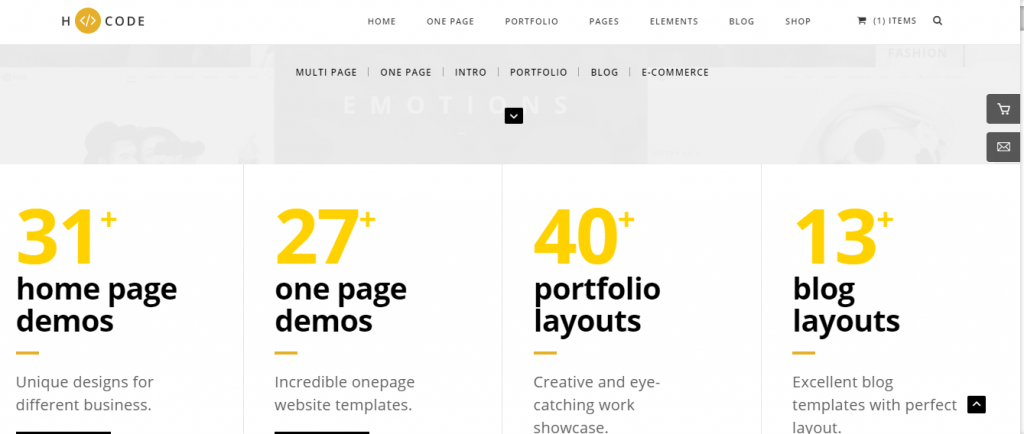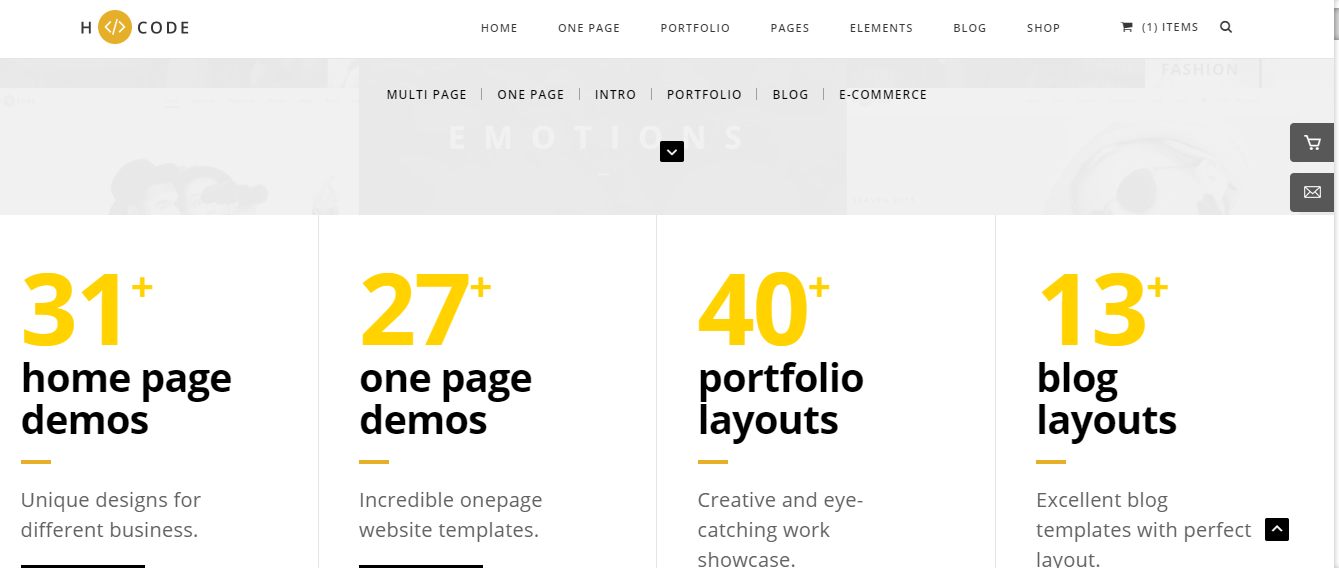 This is a creative and powerful template that has the latest web designs. H code is a multipurpose multipage and one-page template that results in a highly responsive website.
It covers various sectors of the industry like fashion, e-commerce, blogs, products/services, design agency and more. It includes ready to use templates to kick start the online presence. It is fast and SEO optimized.
A well-structured, documented and easy to use web template.
Awesome features of H-code
• More than 100 readymade templates to use
• It is Developer friendly as it provides easy to use code
• Customization is easy using thousands of layouts
#6 Frexy
This is a highly responsive powerful template. It is created and built with Bootstrap 3. It is a multipurpose pages template. It is highly responsive to every device like smartphones, tablets and more.
Likewise, it also covers all most every sector in the industry like healthcare, medical, amusement, and etc. It is among the best-selling WP themes of 2021.
• It provides more than 100 HTML pages readymade to quick start the session.
• It is easy to customize
• It provides 25+ blog layout options
• Full shortcodes of typography, tabs, buttons and more are ready to use.
#7 lambda
This has been a term that has been very popular. Likewise, the lambda template has also been a lot popular as it goes by the saying "one template with unlimited options".
It is used by every industry like bloggers, restaurants, shops, personal and more. It is ready to bring in some more features. It also provides readymade templates, revolution slider and much more to site-up and run quickly.
Awesome features by lambda:
• It provides more than 60 amazing pages
• It includes more than 10 fully working demos for testing
• It also includes a SASS skin customizer that enables users to change every aspect of the website
#8 SuperFine
It is a web blog template built by using features of HTML5/CSS3. It is very much appreciated by creative companies and also by freelancers who need some professionalism to showcase the products and services.
It is highly responsive and works nicely on every device or can be depicted as it is retina ready. It is built-in integration with the Bootstrap responsive framework. It is powerful, fast, light and easy to use a framework.
Awesome features by superfine:
• 13 Predefined skin colors and unlimited mixing of colors
• It provides 5 blog layouts that are retina ready.
• 95 portfolio pages and more
#9 Lydia
This is themost used magazine HTML template. It is a highly responsive blog template. It is very much useful for bloggers as it provides you attractive journals and for other professions like artists, photographers, to flaunt in their portfolio.
It also includesa multi-page and one-page option. It is built or created with twitter bootstrap 3. It is compatible with every browser like internet explorer, safari, opera, chrome.
It is very well documented and coded that helps users in building a website.
Awesome features by Lydia:
• It includes 30+ cool HTML templates
• It provides around 11color options to make the website interactive
• In includes 3 different headers and 8 home layouts
• Lydia also provides an Ajax portfolio
#10 Intense
It is a fully multipurpose responsive HTML5 template. It includes trendy layouts that are highly dynamic and flexible. Intense includes various shop pages and components.
The templateshosts pages of various types. You can easily upgrade your blog, create portfolios, make your business website, effective corporate page and more.
Intense provides you with extravagant customization options, user-interface kit, and social media access. It also includes sub-themes that owners can obtain for free of cost.
Intense also provides regular updates and RTL support to the users.
Awesome features by intense:
• It provides 20 portfolio pages
• It includes 23 blog pages that are trendy and captivating
• It provides free support call 24/7 in case of any problems
#11 Materialzine
It is a multi-purpose HTML5 template that is retina ready. It is fully responsive and is used for blogs, newspapers, and magazines.
It is responsive to every different screen size of tablets, desktop or phone.
It also features Material Design by Google and its effects. It is very well documented and has high resolution.
Materialzine is compatible with different browsers like explorer, edge, firefox, Safari and more.
It is bootstrap compatible and contains material icons.
Awesome features by MaterialZine:
• Its Quality is checked by Envato
• It provides you free lifetime updates
• It includes 24 files of HTML files included in the package
• It also provides 10 PSD files in the package
#12 Matrox
Matrox is a multi-purpose HTML template that is highly responsive. It is a material design that utilizes elements and principles that comes with more than 200 HTML pages.
It contains over 150 content blocks. It provides its services to every sector like corporate, blog, charity and more. It is based upon bootstrap.
Matrox provides you with free updates for lifetime, excellent customer support and more. The theme features provide great support to the user.
Awesome features by Matrox-
• It provides more than 10 unique blog layouts
• It also contains more than 10 header styles and 5-footer styles
• it includes 5 full websites demo to test before deployment
• it also includes 16 call to action styles and much more
#13 Sphene
Alike every other template, Sphene also provides features with which you can build a website of any kind as per your requirement.
It is very easy to use. Sphene provides fullscreen one page and over 2000 premium icons that come in 53 different categories.
It is a well-designed pixel and are ready for IOS, websites, and android.
It also contains the revolution slider and was developed keeping the different screen sizes in mind so it is always retina ready.
Awesome features by Sphene:
• It includes a JPanel menu like for Facebook or YouTube
• It supports video and off-canvas menu
• Sphene provides you with page Preloader and dynamic Ajax load portfolio
• Its premium resources includethe slider revolution responsive JQuery plugin that is also very useful to you
#14 King News
When it comes to Blogs and magazines, King News always comes at the first preference by the developers or users.
It is a multi-purpose and highly responsive HTML5 template.
It is totally built with bootstrap that ensures that the website will be adjusted to every different screen size and resolution. It provides a Rock-solid view of your website.
Awesome features provided by king news:
• It is WordPress 5.0 ready and Gutenberg editor ready
• It provides more than 15 layouts ready to use
• Customization of the theme is very easy
• It provides tags and categories to follow
#15 Juno
This is a polished, interactive, fast and highly responsive HTML5 and CSS3 multipurpose website template.
It is a comprehensive photography and magazine HTML template provided with various blog options and portfolios.
It is mostly used by freelancers, digital studios, and photographers.
It is built with twitter bootstrap ensuring the adjustment of the website to various mobile devices like phones, tablets and laptops and more.
Awesome feature provided by Juno is:
• It provides 11 color schemes and header and slider plugins.
• Juno includes free premium plugins within the base price
• It enables Instagram integration and 12 different demos that are ready to use
• It provides various blog and portfolio layouts from which you can choose your branding layout
Conclusion:
Every business needs a platform to showcase the skills of what they are good at. Blogging about a business gives the business a new perspective on the market.
For new and old users that are following blogging as a passion need to create a medium on which they can share their views and knowledge.
We here collected some major free blog templates that give an amazing blogging experience. The best part about these web templates is that they all are SEO friendly that means it ranks your website.
They all contain lots of features and have responsive designs. You can easily place ads in any of the templates as they are Adsense ready.
They also provide you regular and fast updates and are always social bookmark ready.
To avail better services, you can use the premium versions that give more flexibility to the website and its owners.